Sei Price Prediction as Binance Listing Sends Price Soaring – New Airdrop Coming?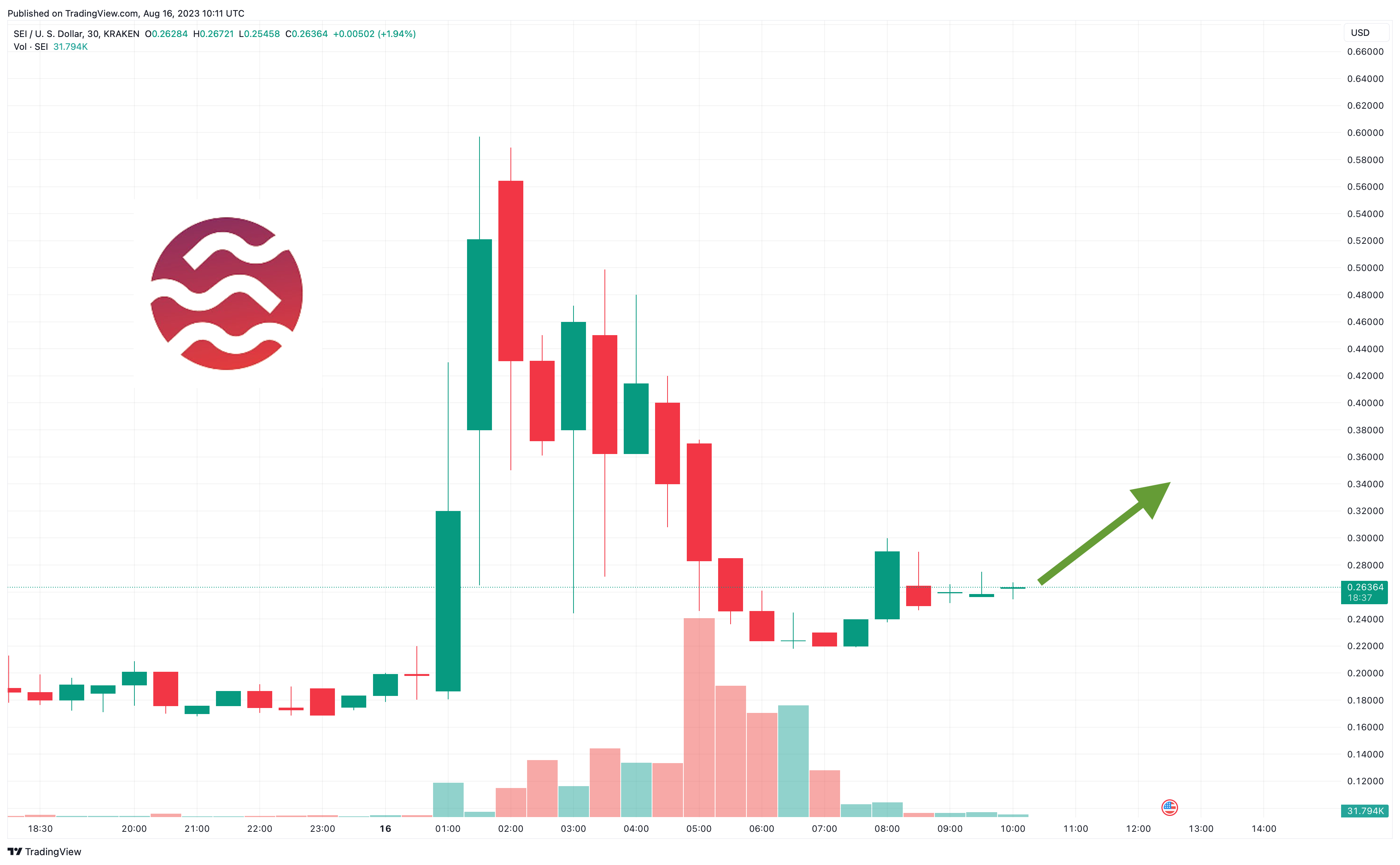 The Sei price has rocketed by 29% in the past 24 hours, surging to $0.256859 after the new utility token was added to Binance and other major exchanges yesterday.
The native token of new layer-one blockchain Sei, which is designed to facilitate speedy cross-chain trades and transactions, SEI has also risen by 60% since CoinGecko began tracking it yesterday.
On the other hand, it has fallen by 43% since hitting a record high of $0.455153 yesterday, yet given it's very early age, it could easily rally again in the next few days.
Sei Price Prediction as Binance Listing Sends Price Soaring – New Airdrop Coming?
Given that SEI has been listed on exchanges for barely more than a day, there isn't too much to say about its price action, other than the fact that it seems to be regaining some strength again after yesterday's surge and correction.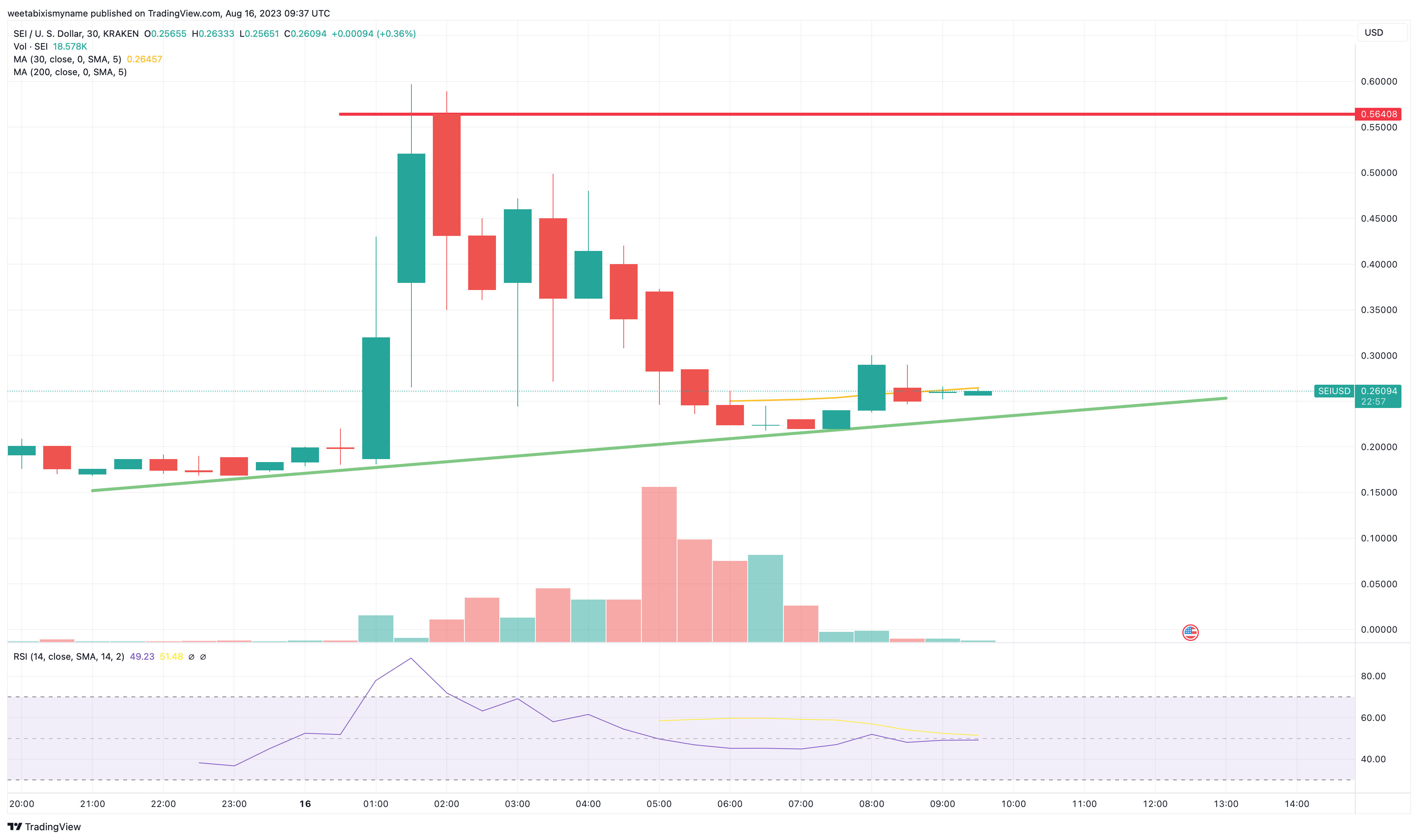 Its relative strength index (purple) has refused to fall below 50 after surging past 80 yesterday, meaning that it has still retained some buying momentum even after many traders took profits.
And given this it is an extremely new – and much hyped – cryptocurrency, it could easily rise again in the next one or two days, potentially pushing back up to $0.30 or even higher.
SEI is the native of the Sei Network, which is a proof-of-stake layer-one blockchain that is "specialized for trading," as its whitepaper explains.
In particular, Sei's network innovates with "novel approaches" for transaction ordering, block processing and parallelization, while also providing "a highly optimized order placement and matching engine."
This means it has been designed to cater to exchanges and to DeFi platforms, with its network having cross-chain interoperability features that should give it wide application within the crypto ecosystem.
It seems that much of the market agrees with this assessment, given how strongly SEI's price has moved in the past 24 hours.
And while many people will be buying SEI in the near and more distant future, the Sei Foundation has organized an airdrop that will enable participants to claim some SEI for free.
This will be open to users of Solana, Ethereum, Arbitrum, Polygon, Binance Smart Chain and Osmosis, and it will require users to create a Sei wallet, such as Compass.
Participants should be able to claim their free SEI in the coming days, "following an initial warmup period while the Sei Ecosystem get prepared."
Looking to the future, it's likely that SEI will continue to rise steadily upwards, with the new altcoin likely to reach $0.50 in the next few months.
Other New High-Return Altcoins
Yet SEI isn't the only new high-return altcoin in the market, with traders now having a variety of options if they want to diversify their portfolios and increase their exposure to potential upside.
Indeed, one of the most promising new cryptocurrencies in the market right now is Sonik Coin (SONIK), an ERC-20 meme token that bases its memes around the ever-popular Sonic the Hedgehog.
SONIK has launched its presale last week and has already been passing various milestones, with the sale aiming to reach a hard cap of $2,098,547.
What sets SONIK apart from other many other meme tokens is that, as an Ethereum-based cryptocurrency, its holders will be able to stake it and earn a passive income.
40% of its overall supply – of 299,792,458,000 SONIK – will be reserved for staking rewards, meaning that active users have the potential to accumulate a significant quantity of the token.
Further improving its decentralization is the fact that another 50% of this supply is reserved for the presale, with this wide distribution likely to have the effect of motivating retail investors to engage more heavily with the coin.
And in combination with SONIK's playful memes and marketing, the new altcoin has every chance of proving a success once it lists on exchanges in the next few weeks.
Interest investors can get involved by visiting SONIK's official website, with 1 SONIK costing $0.000014 during the sale.
Of course, this could easily rise much higher once SONIK is added to exchanges, with the meme token aiming to become the fastest coin to reach a market cap of $100 million.
Disclaimer: Crypto is a high-risk asset class. This article is provided for informational purposes and does not constitute investment advice. You could lose all of your capital.
---