The Rise of Love Hate Inu: Investors are Rushing to Buy This New Crypto Before It Lists on Exchanges – Here's Why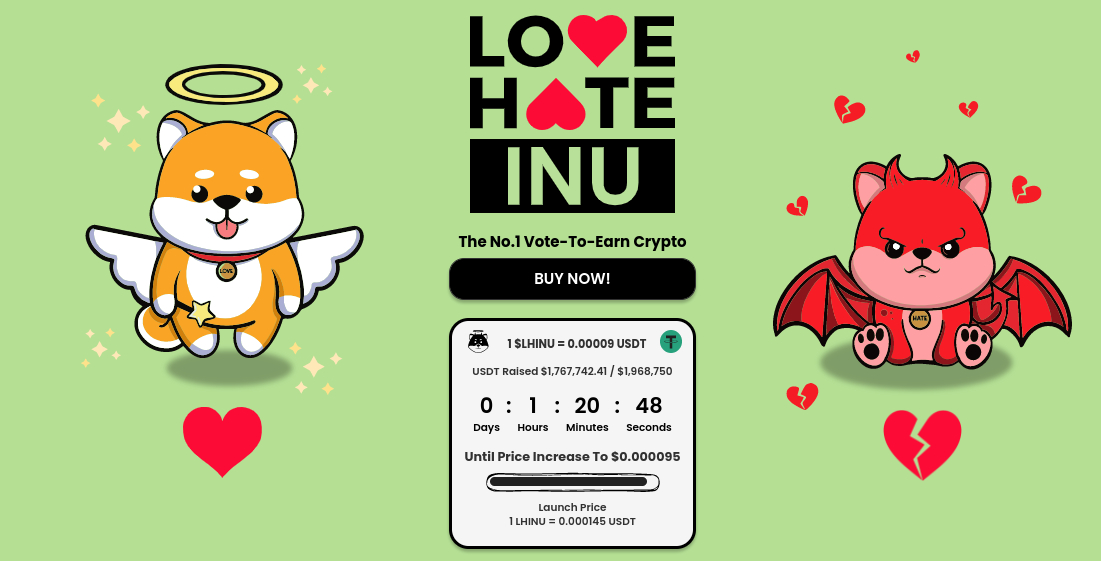 With less than two hours remaining in Stage 2 of its presale, the new vote-to-earn (V2E) project, Love Hate Inu ($LHINU), has reached another astounding milestone of $1.76 million.
The start-up platform incorporates a meme-inspired and crypto-powered survey protocol that enables members to share their opinions on viral and contentious debate issues and earn financial perks.
The V2E project media hype, core utility, and hot presale act as propellers for its community and token rapid growth.
However, there's more to this meme project.
Love Hate Inu: A New Era of Utility-Driven Meme Coins
The meme coin genre in the crypto space is known for its high volatility, which can play a major role in generating a massive return on investment for early backers. However, they are short-lived and take a deep downtrend due to their lack of real-life use cases.
What makes Love Hate Inu fundamentally different from existing meme projects like Shiba Inu and Dogecoin is its versatile utility for its members and the world.
The new meme sensation is building a new era of a utility-driven meme ecosystem.
The project is deployed on the Ethereum blockchain and enables users to vote on controversial polls and surveys, including questions on celebrities like Elon Musk and Andrew Tate.
To vote, users must stake Love Hate Inu native token, $LHINU.
All poll and vote results are transparent, legitimate, untampered, and recorded to the blockchain.
Love Hate Inu's vote-to-earn model utility is designed to be a feedback mechanism, an important use case for all industries.
Industrial sectors and brands keen on gauging customers' opinions or satisfaction with a product will partner with the meme project to create a sponsored poll or survey.
Members of Love Hate Inu that engage are rewarded with incentives ranging from crypto and merchandise and products from metaverse-themed brands.
The more accurate and legitimate the polls and results are, the wider the potential reach of Love Hate Inu in the mainstream online channel and the growth in value of its token, $LHINU.
Leveraging the Fast-Rising Survey Industry
The Love Hate Inu meme project was introduced recently but has set waves that align with its aim of taking on the popularity of Dogecoin and Shiba Inu while offering more utility.
As aforementioned, the platform is based on providing a hub that gives people voting rights on subjects they feel attached to and get amazing perks.
The project runs on the vote-to-earn model; the more members engage in polls and surveys, the more their earnings increase.
This has made the new meme ecosystem exciting for developing various discussions on viral and controversial topics.
The rise of Love Hate Inu may be attributed to social media, which has, so far, enabled people to share their opinions on a long list of subjects.
The meme platform intends to reconstruct the structure by rewarding members for airing their views.
It is worth noting that the survey industry is worth $3.2 billion and could rise to $5.6 billion before the end of 2027 – making it one of the most extremely valuable sectors.
With the concept of the meme sensation, users can enter the survey market, share their opinions on matters geared towards entertainment, social issues, sports, and politics, and earn commercial perks, all in a fun-filled environment.
$LHINU Presale Is Achieving Enormous Sucess
Two weeks into its presale journey, $LHINU has raised a staggering $1.76 million.
At the moment, the crypto asset trades at $0.00009 USDT. The development team announced via its whitepaper that 90% of the total 100 billion token supply is up for sale.
The $LHINU tokens have garnered strong interest as it is being purchased at an incredible speed. New milestones are achieved constantly, indicating its enormous potential to be the best meme coin in the market.
There will be no vesting period, and it requires a minimum of 10 $LHINU to be an early backer.
Investors keen on participating in its presale should do so before the meme token lists on crypto exchanges and soar in market value.
Disclaimer: The Industry Talk section features insights by crypto industry players and is not a part of the editorial content of Cryptonews.com
---