Ripple (XRP), Solana (SOL) and Orbeon Protocol (ORBN) remain investor favorites - Here's why
Disclaimer: The text below is an advertorial article that is not part of Cryptonews.com editorial content.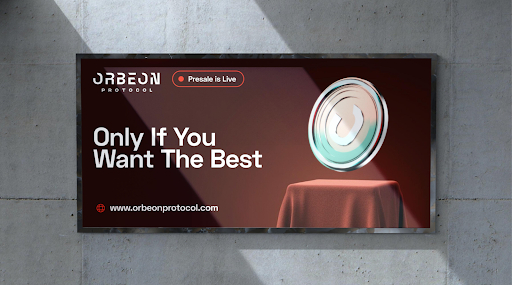 Ripple vs SEC inches slowly but surely towards a conclusion, one which many hope will be bullish for crypto. Solana continues to have network problems but its scaling solution is still the fastest currently available. Orbeon Protocol shows enormous gains entering the 9th stage of presale with already a price increase of 1988%.
Ripple, the crypto company that launched a 1000 lambos
At the beginning of 2018, XRP became the second largest crypto by market cap, and made a swathe of crypto millionaires. XRP is not, as is often thought, intended to become a payment system, but rather was developed as a new method of calculation for the existing banking system, making transactions faster and cheaper.
Sadly for many of those millionaires who forgot to take profit, much of the gains seen when the coin hit its highs of $3.84 were reversed by changing market conditions, and the SEC's aggressive pursuit of Ripple. XRP is currently trading at around $0.37.
Although it often seems as though the two entities' fight will never end, the most recent developments in the case suggest that a win is more likely for Ripple than previously thought, the key question being is XRP considered a security and if so, since when? Relevant SEC Emails were found dating back to 2017, when Ripple raised its capital. Whilst the content has not been disclosed publicly, the response of the founder seems to suggest that ETH and therefore XRP, were not classified as securities back then. This is bullish news for XRP holders and perhaps for the entire crypto market.
Is Solana really the Ethereum Killer?
A lot of the hype surrounding Solana is related to the fact that it is a Layer 1 blockchain that runs on its own programming language, Rust. The Proof of History blockchain therefore, is not limited by some of the constraints of Ethereum, such as high fees and slow transaction fees.
TPS is an often over simplified number, with theoretical numbers touted as real ones, The Solana Compass shows that the average transaction is currently at around 5000 TPS, though in testing up to 65k was possible. Other data by Santiment shows that if we don't include vote transactions submitted by validators, it's closer to 500-700 TPS. Solana aren't the only ones to present high theoretical speeds though, as bitcoin.com points out that even Visa's actual TPS is around 1,700.
Regardless, when we compare this to Ethereum's approx 30 TPS, it's clear that Solana is leading the way in terms of scalability. Critics of the network point to the many outages and incidents and centralisation of the network, but the Solana team say they are continuing to make improvements. If they can make these things better before Ethereum speeds up, then it may well be that Solana one day overtakes ETH in market cap.
Orbeon Protocol reinvents crowdfunding and financing for SMEs
Whilst XRP has the potential to change the banking system for the better, and Solana has the potential to bring accessibility to DeFi at blazingly fast speeds, Orbeon Protocol has the potential to shift the current methods of financing and investing in early stage companies.
Using the team's knowledge of big tech and traditional finance, Orbeon Protocol plans to allow ordinary investors to provide seed round funding to promising web2 and web3 projects. Orbeon Protocol then fractionalizes NFTs which have a safety mechanism built in (to refund investors from projects that fail to meet their funding goals).
Orbeon Protocol can offer these NFTaaS to represent equity or rewards in these companies. Investors are bullish about the idea and are already in profit as their token ORBN is up by almost 2000% since November 2022.
Find Out More About The Orbeon Protocol Presale
Website: https://orbeonprotocol.com/
Presale: https://presale.orbeonprotocol.com/register
---