Ripple is Going to Zero as XRP Price Drops 15% in a Week and Evil Pepe Just Raised $950,000 – How to Buy Early?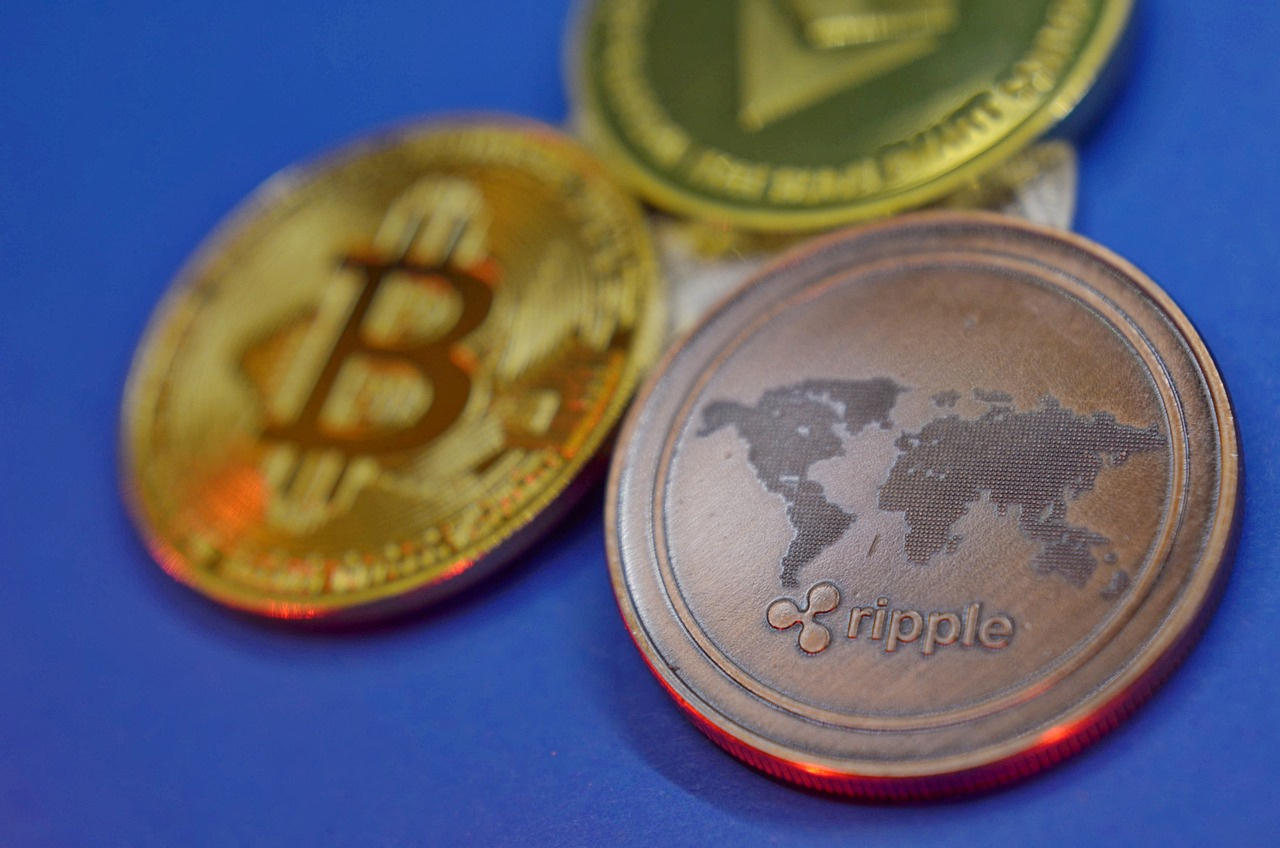 As Ripple remains jubilant following recent lawsuit victory against the Securities and Exchange Commission (SEC), price action for network native XRP token remains in a tumultuous retracement.
Far from the dreams of riches that had enticed many intrepid investors to stack large amounts of XRP ahead of the case ruling, lacklustre performance by the XRP token has sent ripples of disappointment through crypto markets.
XRP Trapped in Retracement Down to 20DMA
Despite the initial +96% surge on July 13, a serial retracement move has stolen the momentum behind XRP's anticipated seismic climb, leaving price action reeling.
Currently XRP is trading at a market price of $0.715 (a 24 hour change of -0.14%).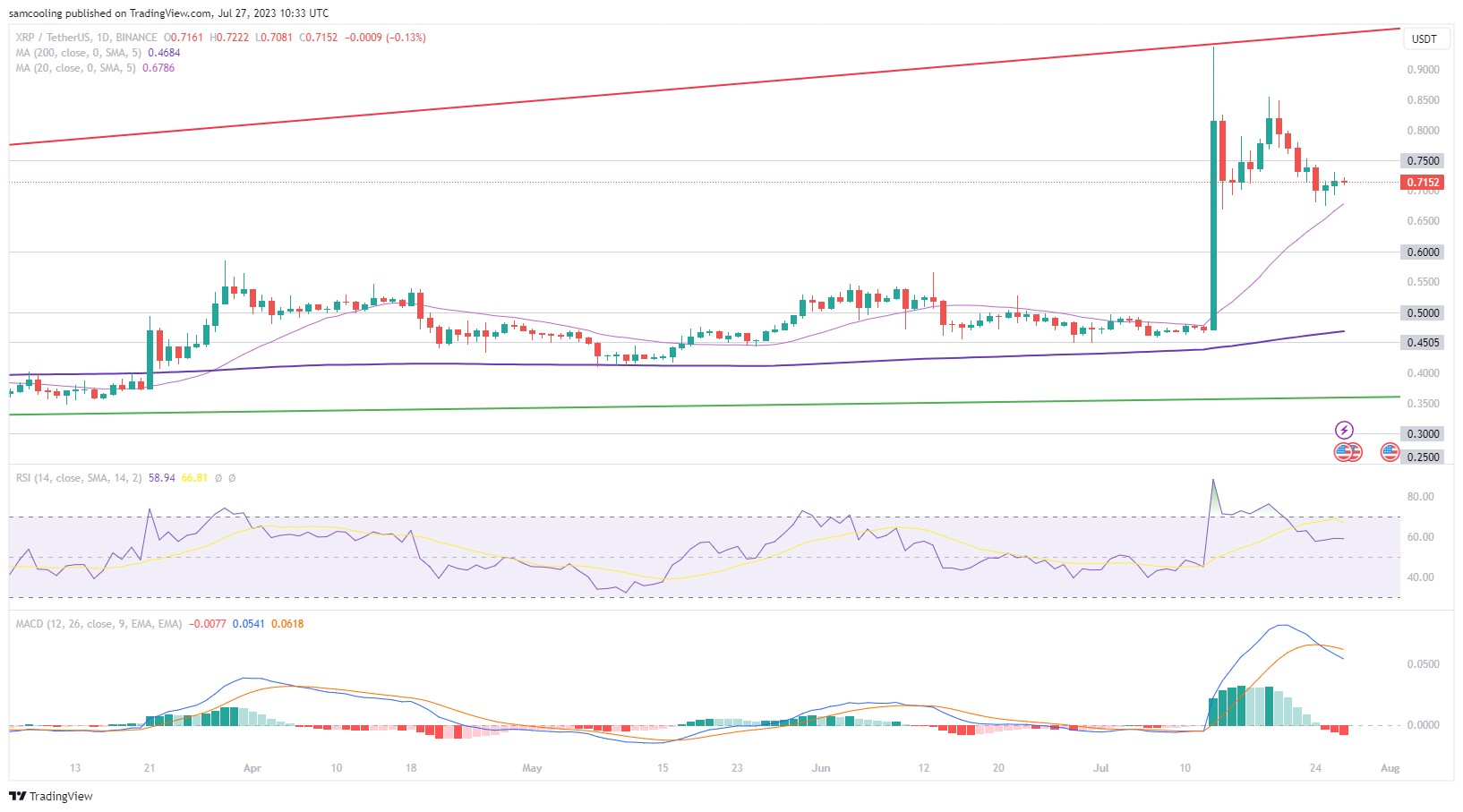 This comes after a failed recovery from retracement last Wednesday, which saw a +28% move reject from similar resistance around $0.8.
As the retracement move seems set to continue, week-on-week performance now stands at a resound -16% as committed bag holders continue to weather significant headwinds.
A crash course down to the 20DMA ($0.68) seems likely, with this critical moving average yet to be tested for support since the dramatic +96% move up.
XRP indicators seem to confirm this view, with Ripple's RSI still showing a strong overbought signal at 58.7.
This minor bearish divergence likely demands that price action will push lower in coming days - with consolidation at the 20DMA a realistic outcome.
Confirmation for the view is further received from the MACD, signalling further bearish divergence at -0.0078.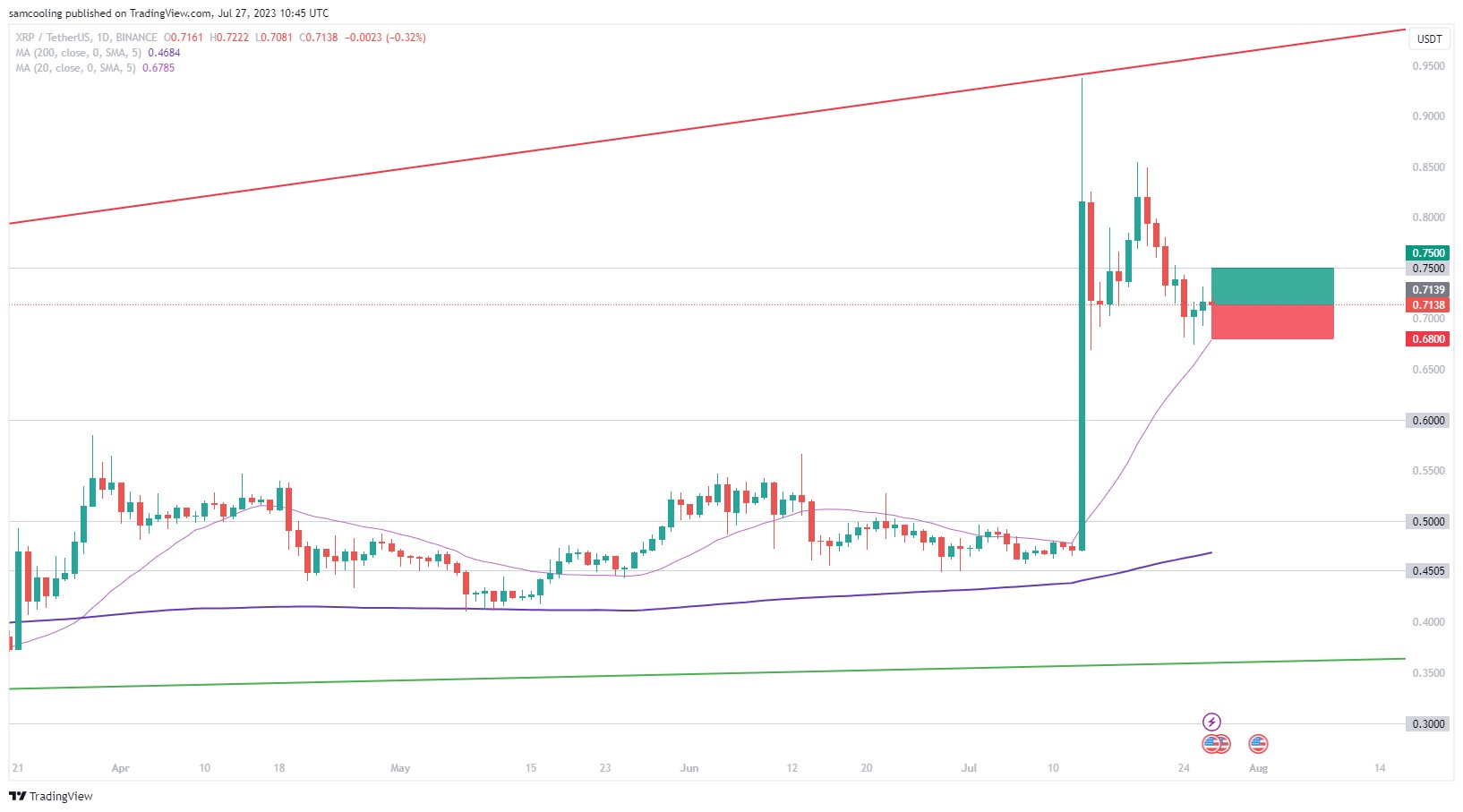 Overall, this leaves XRP with an unattractive risk: reward ratio of 1.06, facing an upside +5% to reclaim the $0.75 support level, and downside risk at -4.75% down to the 20DMA.
But while XRP is facing a bleak outlook on the short-time frame, smart money are already rotating topside XRP profits into more lucrative plays.
Evil Pepe Presale Set to Surge on Pepecoin Comeback
In a return to the dramatic May meme coin season, top trending meme coin Pepecoin ($PEPE) is seemingly on the comeback, with an impressive +17% push over the last 48 hours breaking up to smash through upper trendline resistance last night.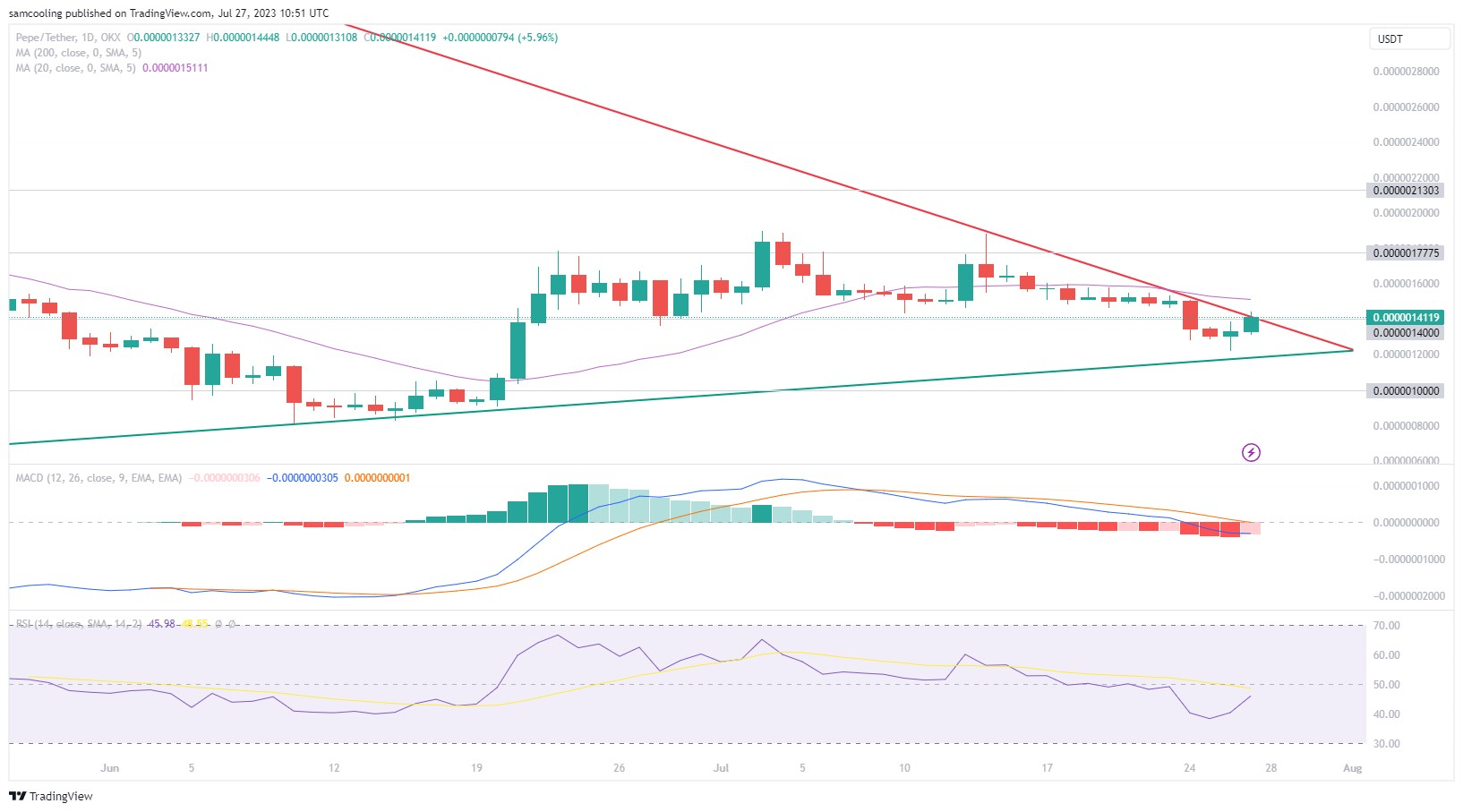 The strong move by the leading meme coin is likely to reinvigorate price action across the meme coin vertical, and few projects are better positioned to benefit from this catalyst than Evil Pepe - $PEPE's sinister sister.
Evil Pepe Coin ($EVILPEPE) stands out not as a mere imitator but an innovator with exponential growth potential.
The audacious cousin of 2023's best-performing meme coin, Pepe Coin, $EVILPEPE is set to ride the wave of its predecessor's success with a twist of its own.
The initial valuation of this promising token is at a measly $2 million, presenting a ground-floor opportunity for potential investors.
With proven teams behind it that brought us Thug Life Token ($THUG) and SpongeBob ($SPONGE), $EVILPEPE is expected to replicate or even surpass the success of these meme coins which saw gains of up to 100x.
But $EVILPEPE's prospects do not rest solely on its team's pedigree - its marketing approach, leveraging influencer partnerships and strategic promotion across social media and crypto news outlets, ensures wide visibility, an essential ingredient for growth in this space.
The success of $THUG and $SPONGE attest to the efficacy of this strategy.
How Do $EVILPEPE Tokenomics Ensure Moon-Rocket Success on Launch?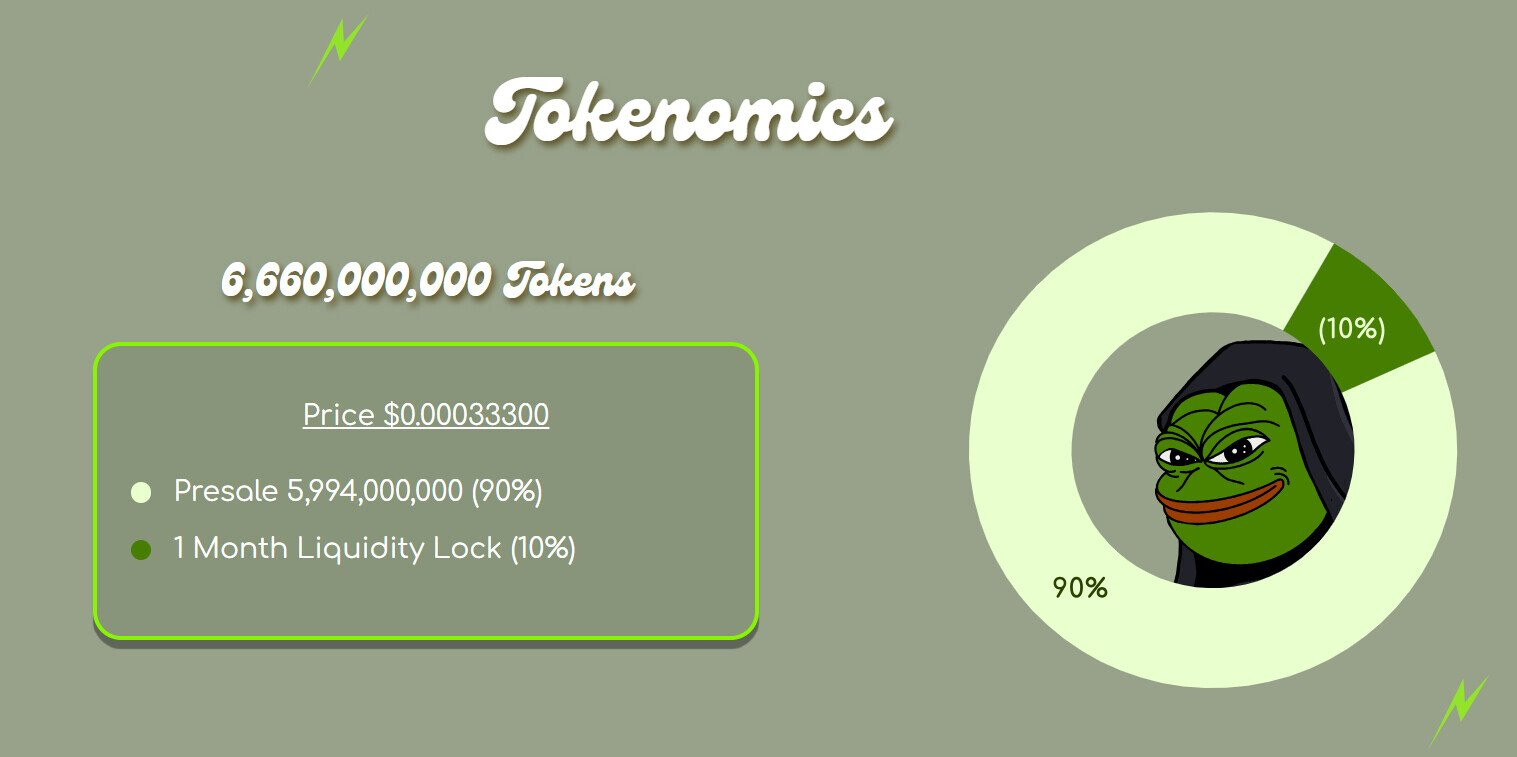 Moreover, $EVILPEPE's commitment to community reflects in its initial token offering.
With 90% of its supply up for grabs during the presale and a one-month lock on 10% for DEX liquidity, the coin reassures investors about stability and fairness.
It sidesteps pump-and-dump pitfalls and instils confidence in its serious commitment to long-term value generation.
The $EVILPEPE team has an ambitious market cap goal of $100 million, a near 50x from its initial valuation.
This, coupled with the team's dedication to pushing boundaries in the meme coin space, underlines the immense growth potential of this new entrant.
Disclaimer: Crypto is a high-risk asset class. This article is provided for informational purposes and does not constitute investment advice. You could lose all of your capital.
---