RichQuack Price Prediction as QUACK Shoots up 66%
Disclosure: Crypto is a high-risk asset class. This article is provided for informational purposes and does not constitute investment advice. By using this website, you agree to our terms and conditions. We may utilise affiliate links within our content, and receive commission.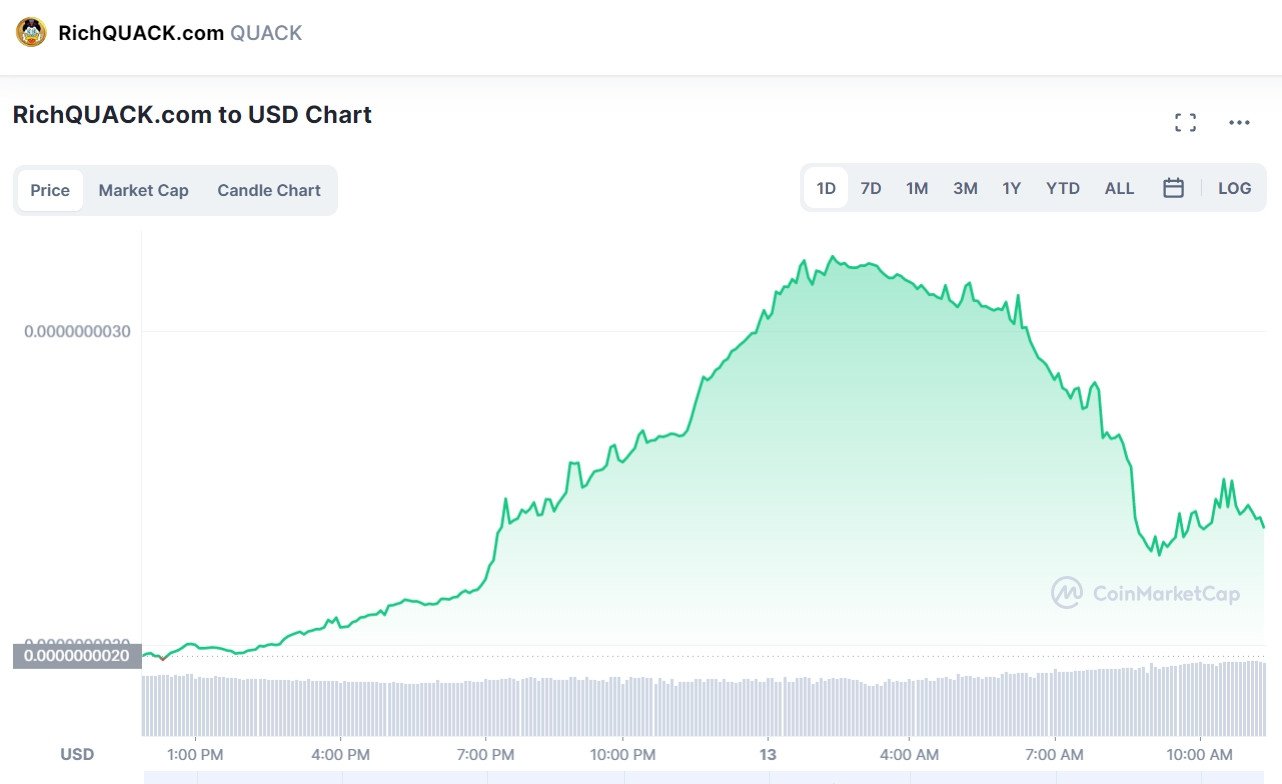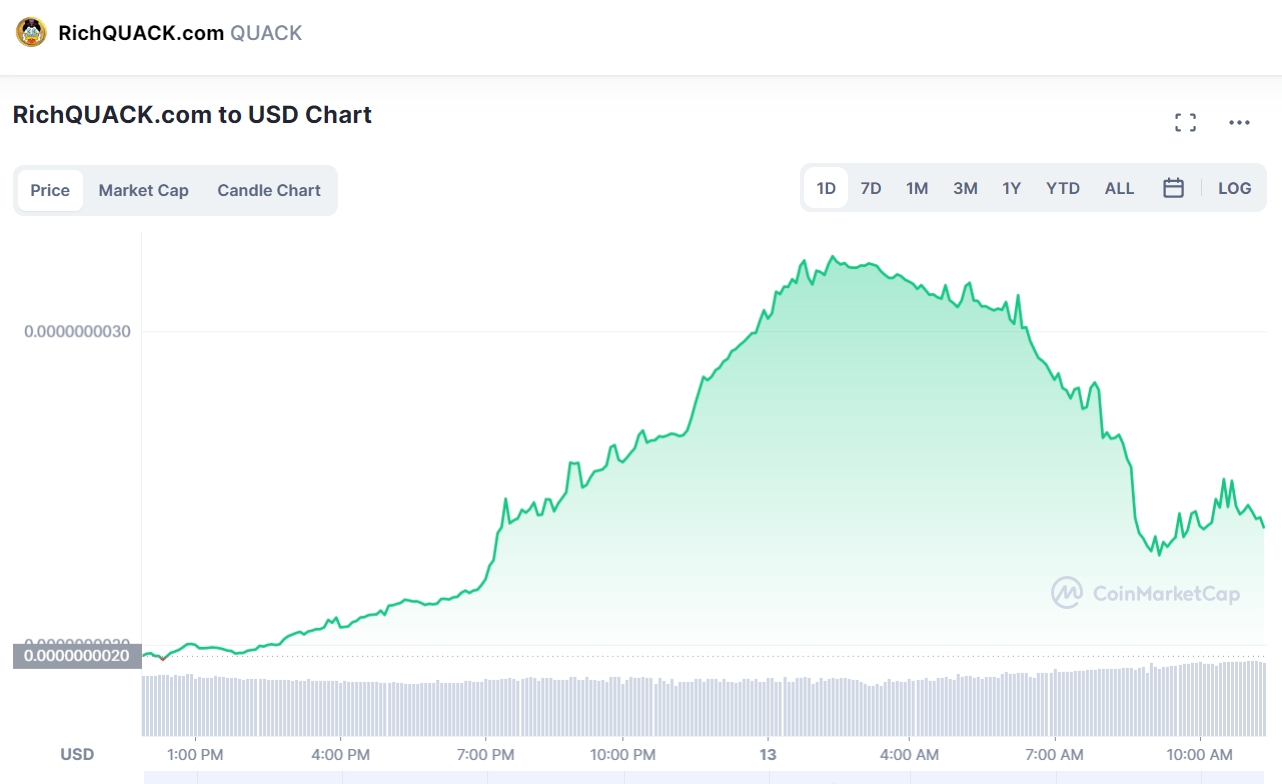 RichQuack pumped again overnight with the meme coin peaking as high as 66% in the past 12 hours.
QUACK has retraced as investors and traders took profits on Thursday morning, but the coin is still up 24% in the past 24 hours.
Zoom out, and the price is even better, with investors 155% up in 7 days and more than 200% in a month.
Those figures were as high as 245% and 310% when QUACK hit its 24hr peak of $0.000000003240, with the coin reaching its highest price in 9 months.
In fact, the last time the coin was above $0.000000002 was January, and the coin reached a yearly low of $0.0000000004 in June.
Investors who bought at that time have made 400% if they still held until now now.
What is RichQuack?
RichQuack is a hyper-deflationary meme coin that started with a gargantuan supply of 100,000,000,000,000,000 (100 quadrillion).
However, the robust burn mechanism has already taken 53.5% of the coins out of circulation, cutting supply to 46,775,855,335,611,000 – still a massive number but ever decreasing.
The burn mechanism works by attaching a 12% fee for each transaction – although holders are rewarded.
Each transaction distributes 4% back to holders, another 4% to the QUACK/BNB liquidity pool, 2% to pump and burn wallets, and 2% to the marketing and developer wallet.


The RichQUACK developers have also introduced other quirks that have made it attractive to speculative investors.
There is an anti-whale feature which means no single wallet can hold more than 1% of the total supply, and sales are restricted to a maximum of 1% of the supply, while developer liquidity is locked for five years as an anti-rug pull mechanism.
RichQuack is also developing a launchpad and incubator for other projects, with QUACK holders voting on which projects move forward and getting rewards from them, benefiting with early access to their ICOs and IDOs.
The roadmap also promises upcoming play-to-earn games and even a RichQuack Metaverse.
Why is RichQuack Pumping?
It's unclear what exactly has sparked the sudden pump in the last 30 days, but the RichQUACK community is extremely active on social media.
Rival meme coin projects do not come close to competing with the QUACK community, which is consistently top-of-charts that show social media activity and impressions.
As CryptoInsights revealed on Thursday, RichQUACK had more than three times the social engagements (12.85 million) of second-place BabyDoge (3.54 million).
📢TOP #Memes Tokens by Social Engagement last 24h🔥

🥇 $QUACK @RichQuack
🥈 #BABYDOGE @BabyDogeCoin
🥉 $PULI @Puli_Token$COLLIE @Collieinu_token$KIBA @KibaInuWorld$MILO @MiloInu $LVM @LakeviewMeta $DIGGY @GettinDiggy$VINU @VitaInuCoin $FLOKIM @FlokiMooni$PINU @PigeInu pic.twitter.com/gUxPeYDiIv

— Crypto Insights (@CryptoInsightsX) October 13, 2022
While that would be expected amid a massive pump for the coin, RichQUACK has been consistently top in recent weeks.
A similar tweet from September 29 shows also shows the project on top on social media, though meme coins have exploded back into the forefront of traders' and investors' thoughts after the incredible launch of Tamadoge.
📢Most Mentioned #MEMES Tokens last 24h🔥

🥇 $QUACK @RichQuack
🥈 #BABYDOGE @BabyDogeCoin
🥉 $FLOKI @RealFlokiInu $BOBA @inu_boba$PULI @Puli_Token$VINU @VitaInuCoin$LVM @LakeviewMeta$SUZUME @s_shitakiri$TAMA @Tamadogecoin$KIBA @KibaInuWorld$PIT @BscPitbull #CryptoNews pic.twitter.com/W9knat7SFI

— Crypto Insights (@CryptoInsightsX) September 29, 2022
RichQuack briefly became the third-largest meme coin by market cap overnight, trailing only DogeCoin and Shiba Inu, before profit-taking dropped it back to fifth, below BabyDoge and Dogelon Mars.
For volume, it is now fourth, just over $9 million, below DOGE, SHIB, and Tamadoge (TAMA).
QUACK is also top of the bullish sentiment charts for meme coins, according to Coinvote, while few holders are selling.
TOP #MEMECOINS BY HIGHEST BULLISH SENTIMENT🚀 $QUACK @RichQuack$PULI @Puli_Token $VOLT @VoltInuOfficial $VINU @VitaInuCoin $FLOKI @RealFlokiInu $ELON @DogelonMars $MARVIN @Marvin_Inu $PETS @MicroPetsBSC $WINU @WalterInuBSC $MILO @MiloInu
#BSC #BNB pic.twitter.com/x8nSNGu8tS

— Coinvote (@CoinvoteCC) October 12, 2022
The coin now has more than 130,000 holders, its highest-ever amount.
RichQuack Price Prediction
The price of meme coins is particularly difficult to analyze, especially long term.
However, there are several signifiers that can help.
QUACK's massive supply could be seen as both an advantage and a disadvantage, depending on how you look at it.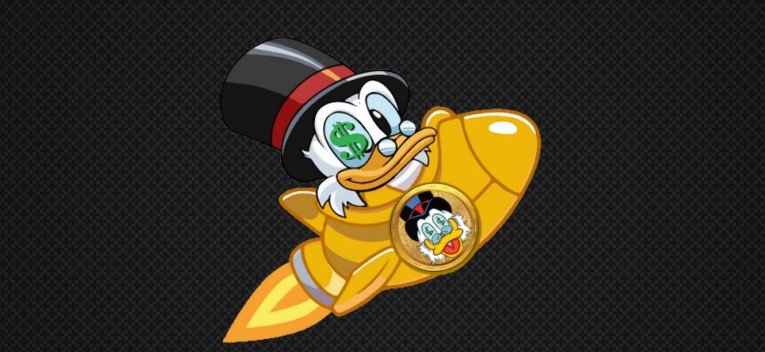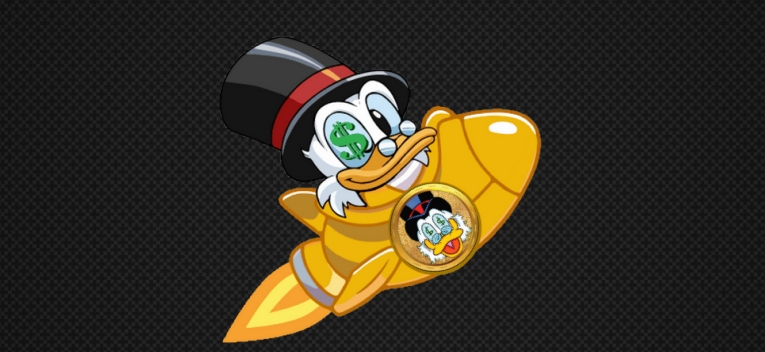 The robust burn mechanism has taken trillions of coins out of the supply, as well as rewarding holders, but the supply does remain huge.
It will remain large for a very long time, and at some point, that will stop the coin from reaching a large price per token.
However, individual tokens will not have to reach a high price to reward investors with big gains.
If the project can maintain its current social media momentum, then there is no reason it cannot catch up to the likes of DOGE and SHIB.
Those two coins enjoyed exponential growth in 2021 off the back of community growth and investor momentum with far less utility than the QUACK ecosystem has.
DOGE is still only a peer-to-peer currency and while SHIB has recently added utility, it appears momentum has been lost from that coin.
QUACK has a launchpad and incubator that will benefit holders, and its features – such as rewarding holders with reflections – make it a coin many will want to hold.
It is not unforeseeable that RichQuack, with a current market cap of $110 million, could eventually catch SHIB ($5 billion) and DOGE ($7.5 billion), given how quickly things can catch on in crypto.
Flipping SHIB would see 45x returns for QUACK holders and DOGE 70x.
RichQuack currently has momentum and brand recognition in the space, which often counts for a lot, especially with meme coins.
However, once that momentum is lost, it is difficult to regain, especially with large supply coins – DOGE and SHIB being prime examples.
Update – as covered on our updated RichQuack price prediction post, QUACK retraced most of its October gains when Bitcoin dropped to nearly $15,000 in November.
RichQuack Alternative – Tamadoge
Tamadoge is a strong alternative for investors over RichQuack.
The native TAMA coin continues to attract huge volume for a meme coin, trailing only DOGE and SHIB, despite the project being only a couple of weeks old.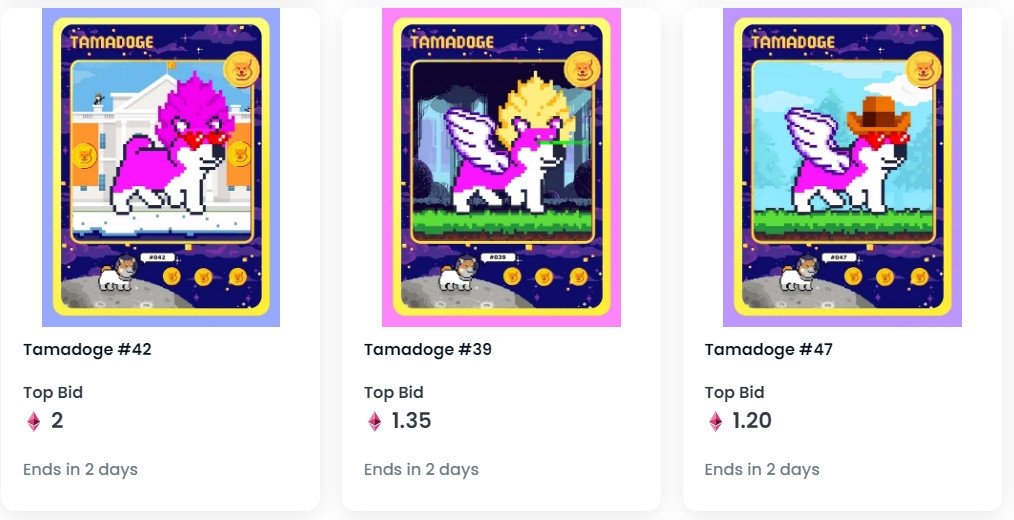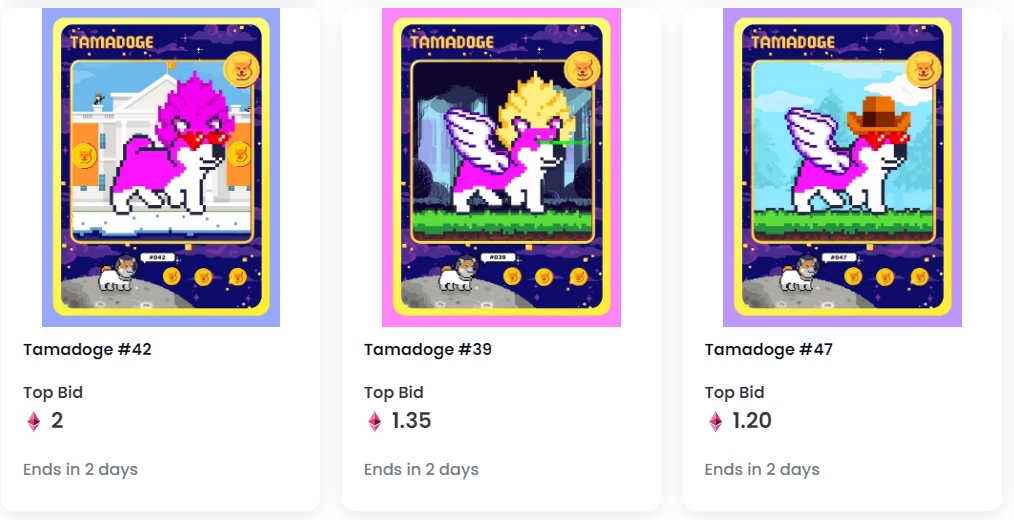 The project is also one not just relying on its meme coin credentials but building a much wider ecosystem to bring value to holders.
Tamadoge has a play-to-earn NFT game, styled on 90s craze Tamagotchi, that should be fun for casual and hardcore gamers and make the TAMA token deflationary through its 5% burn on in-game transactions.
Furthermore, with a 2 billion max supply, the coin only needs a market cap of $2 billion to reach $1.
That would mark a 28x from the current price while flipping SHIB would see TAMA trade at $2.50 – a 69x or a 105x to flip DOGE.
---