This Revolutionary New Crypto Let's Users Earn Money While Exercising – 20x Potential in 2023?
Disclosure: Crypto is a high-risk asset class. This article is provided for informational purposes and does not constitute investment advice. By using this website, you agree to our terms and conditions. We may utilise affiliate links within our content, and receive commission.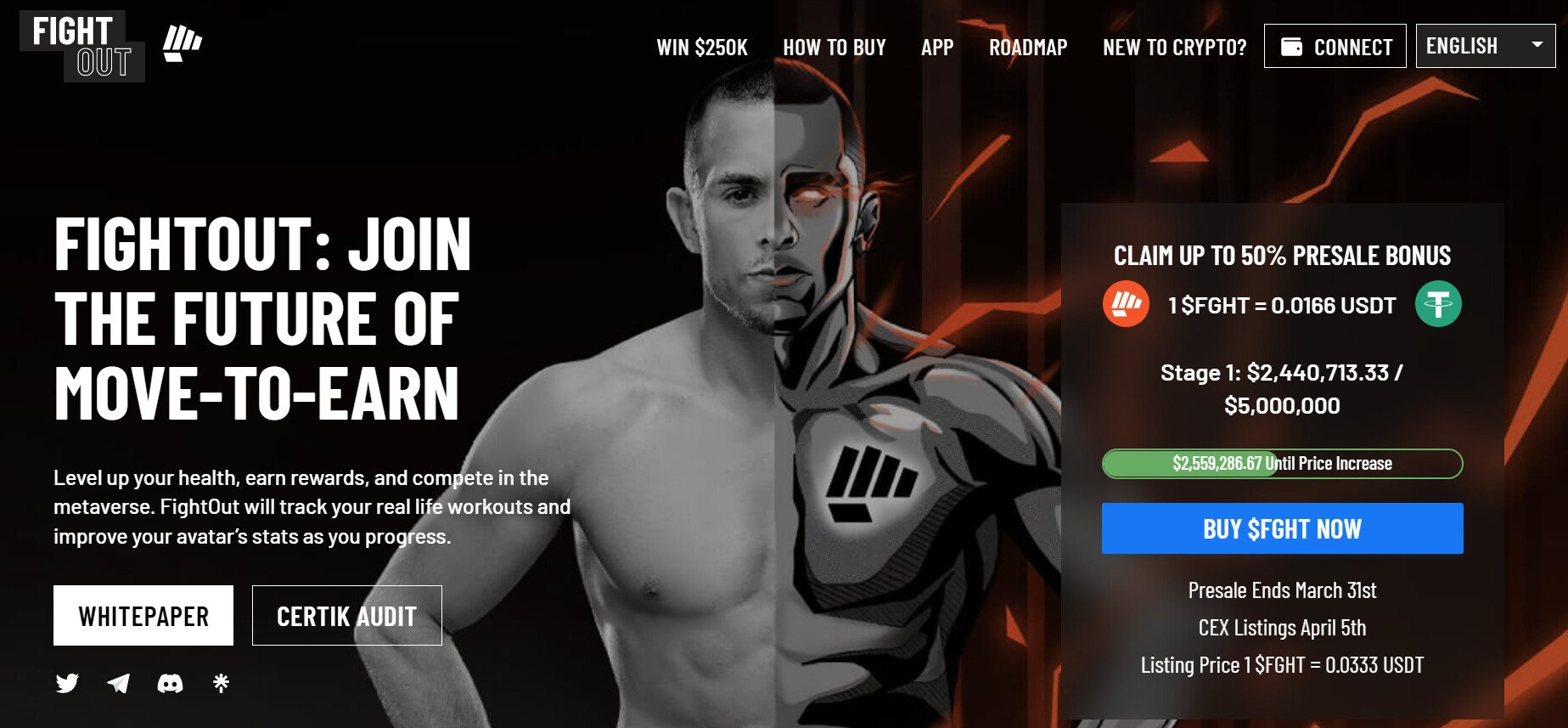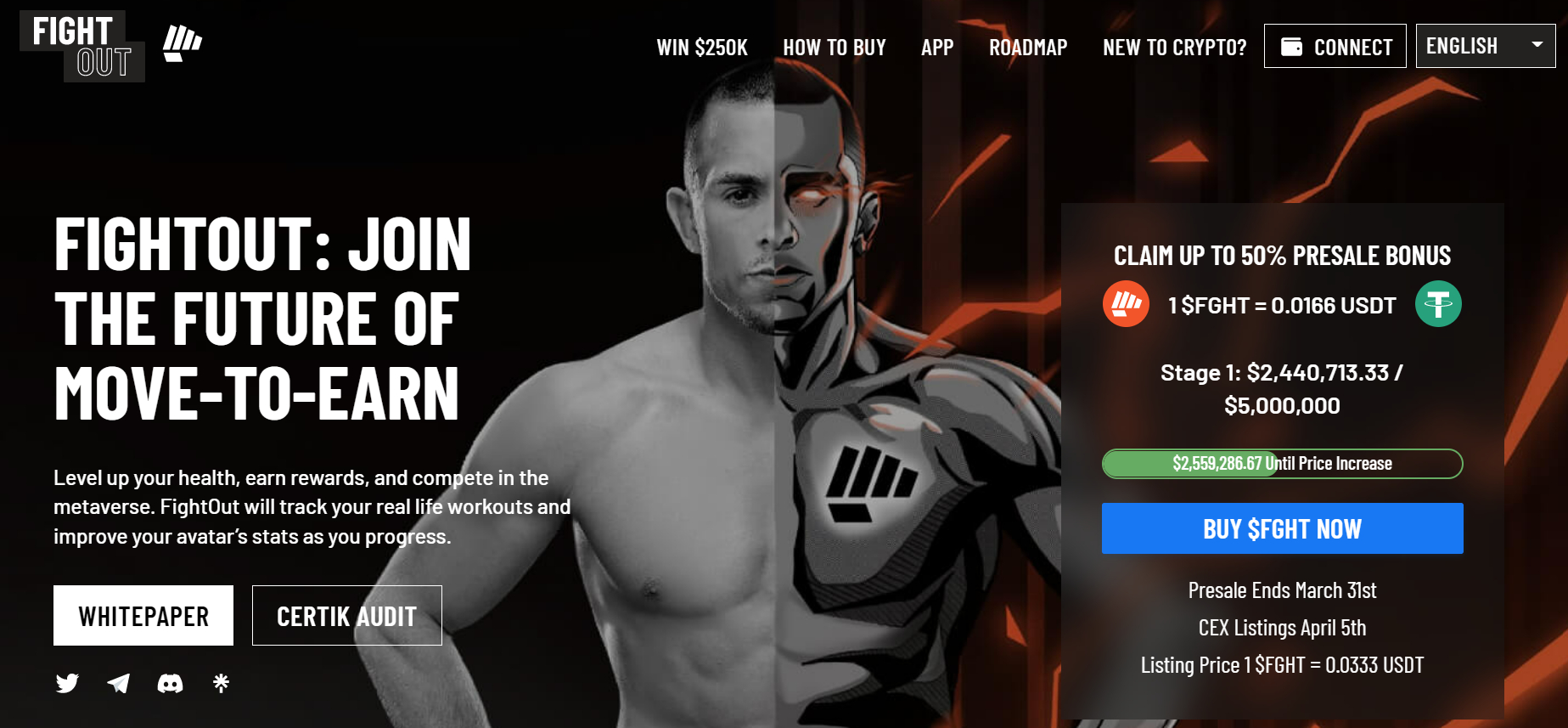 Platforms like STEPN and Sweatcoin have done a lot to popularize the idea of "move-to-earn" in the cryptocurrency space. Move-to-earn essentially means that users can earn cryptocurrency by completing movement-based challenges/competitions. The idea and its early implementation has been hailed as revolutionary, in that it encourages individuals to adopt a more active lifestyle by offering monetizable rewards.
But platforms like STEPN and Sweatcoin have big limitations that have and continue to prevent them from gaining greater mainstream adoption. Both are focused on steps and recordable movement, which means that users essentially only get rewarded for walking, jogging and running. That's not much good for people who prefer working out in a gym. Meanwhile, STEPN has erected big barriers to participation – users must purchase expensive non-fungible token (NFT) trainers in order to start earning.
Enter FightOut, the next evolution of a move-to-earn cryptocurrency platform. FightOut is a brand new web3 fitness application and gym chain that rewards its users for working out, completing challenges and competing within a first-of-its-kind fitness metaverse.
FightOut takes a more holistic approach to tracking and rewarding its users for their exercise and activity, and doesn't require any expensive buy-ins to take part. FightOut also seeks to combine the physical and web3 worlds. The project aims to eventually acquire gyms across all of the world's major cities, whilst simultaneously promoting an integrated web3 fitness experience.
At the center of FightOut's digital ecosystem will be its smartphone application which, according to FightOut's whitepaper, is scheduled for launch in Q2 2023. The FightOut app will harness smartphone and wearable technology to measure and track physical performance.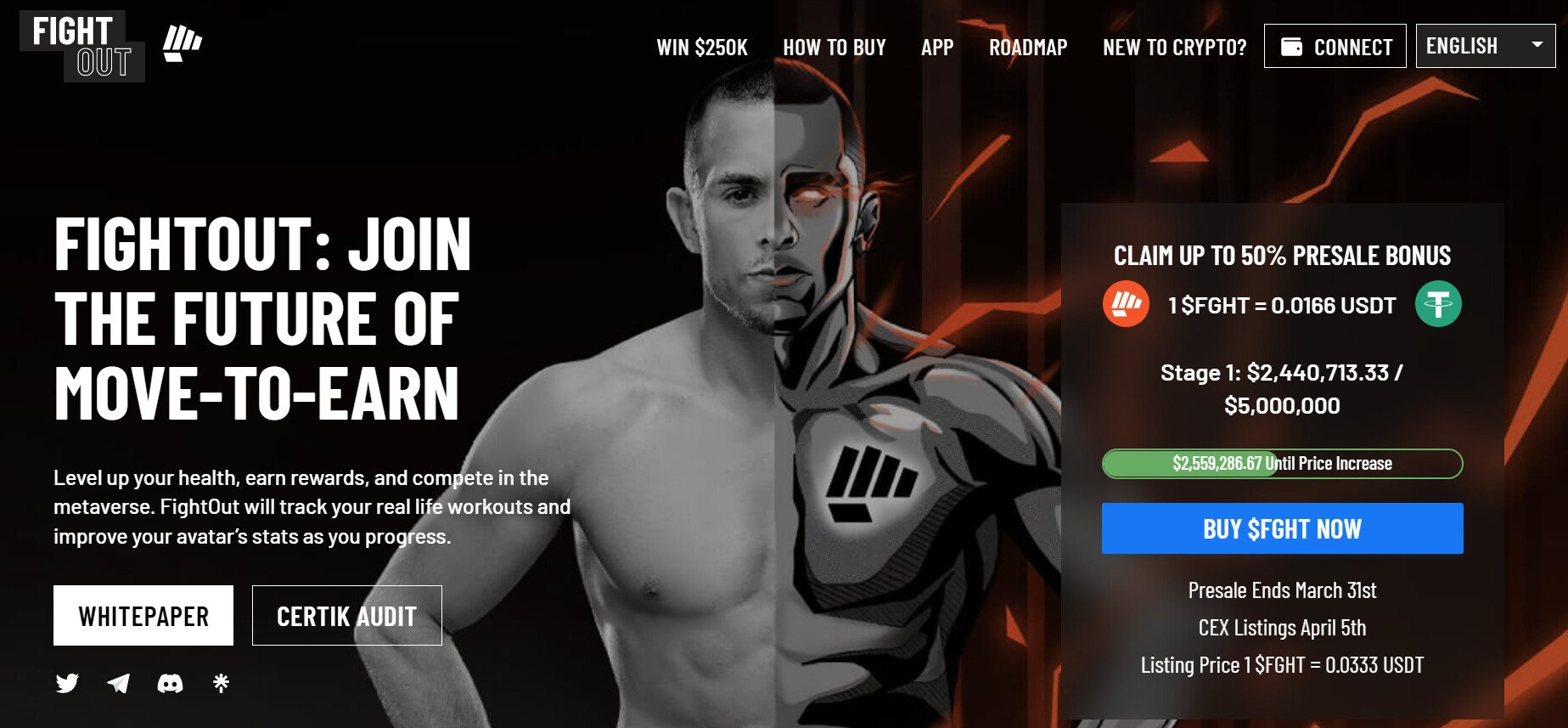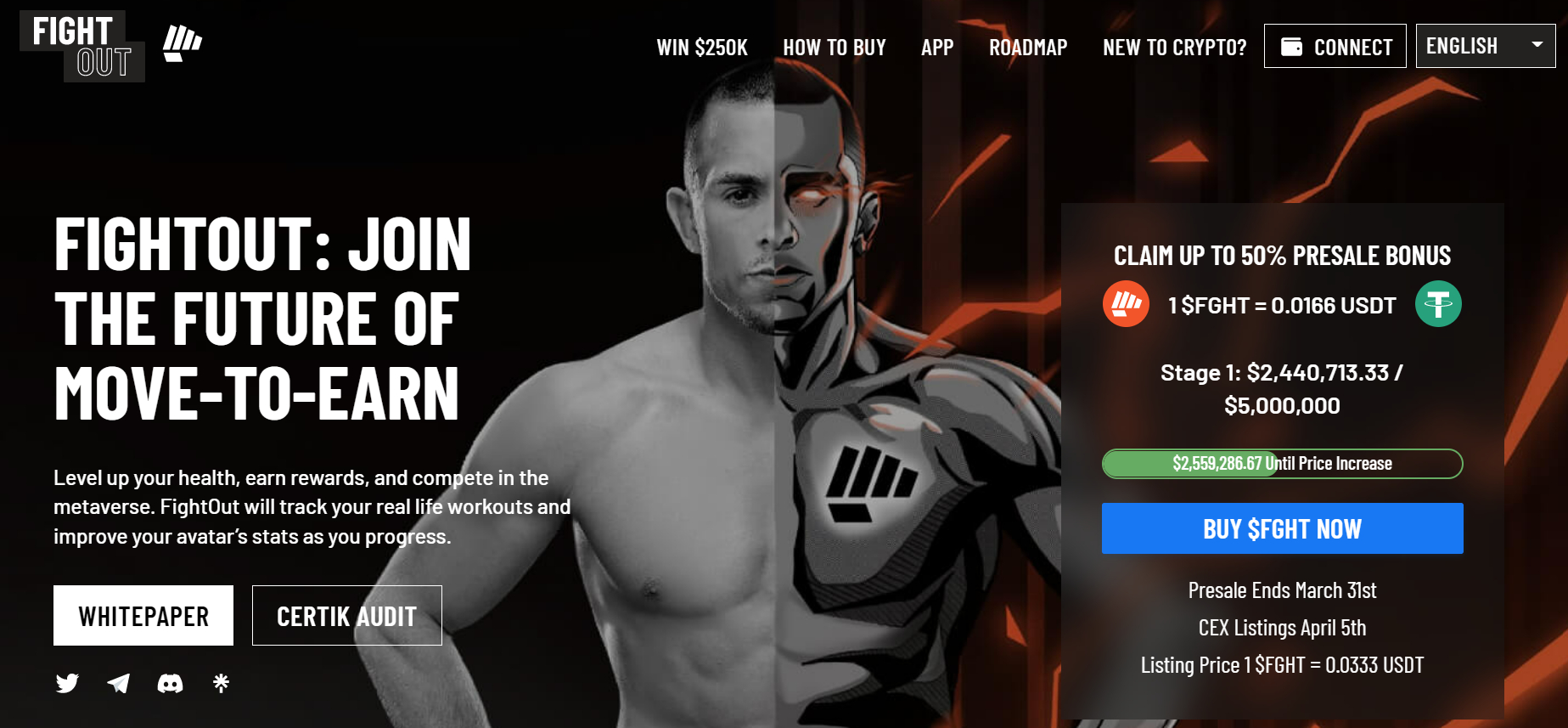 What is FGHT?
The FightOut app and ecosystem will run on a tokenized economy, where users can earn rewards for completing M2E tasks, and can mint their own soul-bound token avatar, through which the user will be able to interact with the FightOut metaverse. FGHT is the token that powers the FightOut metaverse ecosystem. Users will pay to enter competitions and leagues with FGHT and winnings will be paid out in FGHT. The FGHT token can also be used in peer-to-peer fitness wagers.
FightOut is currently conducting a pre-sale of its FGHT token and they are being scooped up fast, with the pre-sale having already raised close to $2.6 million in just over a week. Tokens are currently selling for 60.06 per 1 USDT.
Investors should note that FightOut is conducting a $250,000 giveaway that is only eligible to FGHT holders, another reason why they might want to bag FGHT.
https://www.twitter.com/FightOut_/status/1608100624997965827
Can FGHT 20x in 2023?
2023 is going to be a big year for FightOut. According to the project's roadmap, FGHT will be listed on centralized exchanges and the FightOut application will be launched alongside pro-fighter workouts in the first half of the year. In the second half of the year, the first FightOut gyms will open and the FightOut metaverse will launch, all while the platform and crypto ecosystem undergoes continual upgrades.
All going well, FightOut has the potential to gain significant traction amongst fitness enthusiasts and cryptocurrency investors alike. Can FGHT 20x as a result? Well, given the past success of other move-to-earn cryptocurrencies after their listings, a 20x rally for FGHT isn't out of the question.
Take STEPN, one of the more established move-to-earn platforms in the space. Its native GMT cryptocurrency debuted on exchanges in March 2021 and debuted at $0.01 per token. By late April, the token had come close to $4.40, a 440x return. Despite 2022's brutal bear market, at its current price of around $0.255, GMT is still around 25.5x up versus its ICO price.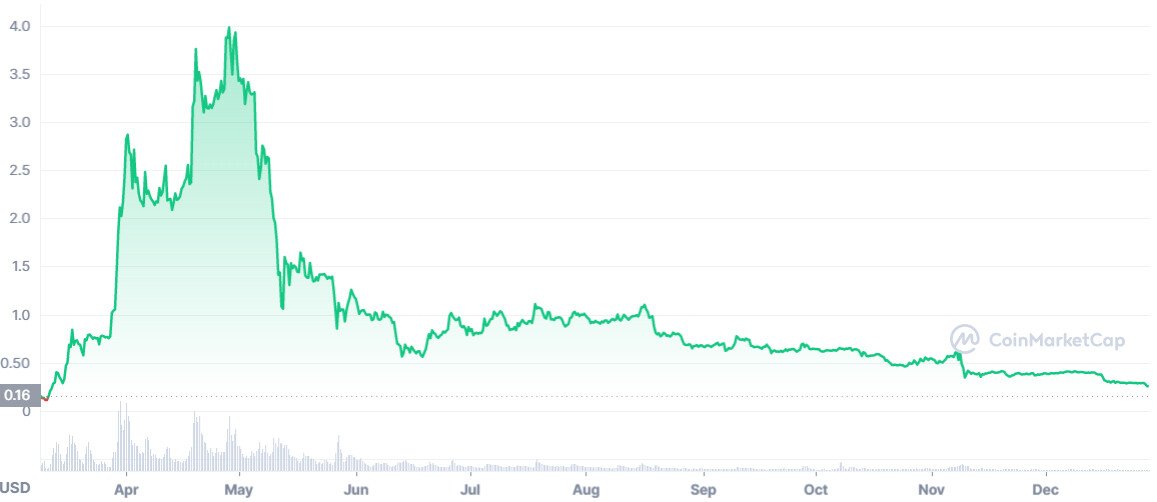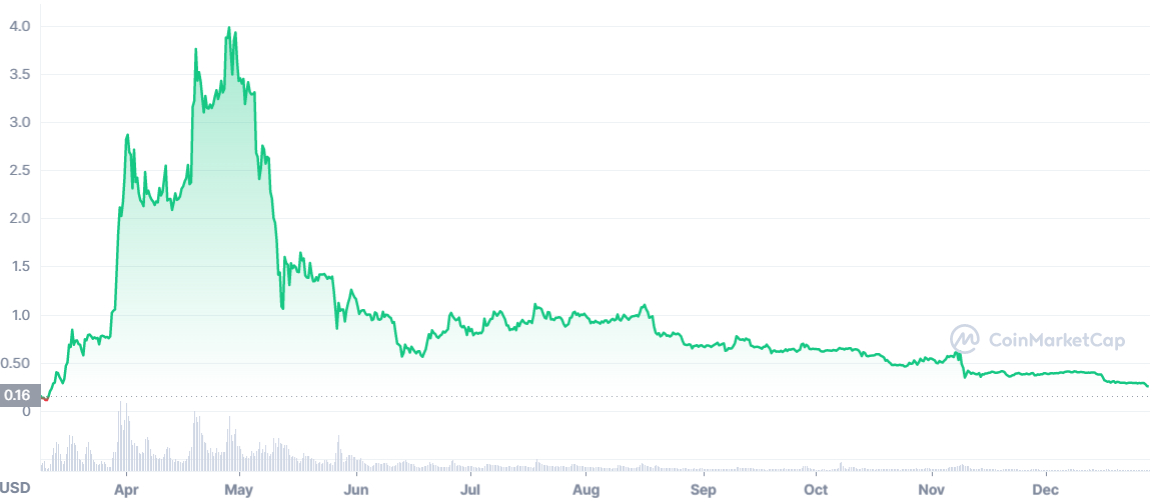 That suggests that FightOut's FGHT token has every possibility of being able to 20x, even if the ongoing cryptocurrency bear market does make things more difficult. Of course, conditions in cryptocurrency markets could quickly change in 2023 and become more bullish. One potential trigger of a rebound could be if the US Federal Reserve pivots towards signaling rate cuts as inflation comes quickly under control and the US economy weakens, just as the Fed's hawkish pivot in 2022 was the main trigger for the bear market.
---