Response to Ray Dalio: Banning Bitcoin Is a 'Game of Whack-a-Mole'
Following a statement by Ray Dalio, American billionaire investor, founder of major global investment firm Bridgewater Associates, that governments would outlaw bitcoin (BTC) should it get too big, multiple responses came out from the Cryptoverse on why this is impossible, or at the very least, highly unlikely.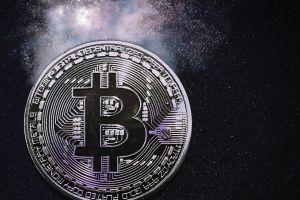 Source: Adobe/Kevin McGovern
If bitcoin becomes "material, the governments won't allow it, I mean they'll outlaw it," said Dalio in a November 7 interview with Yahoo Finance. "They'll use whatever teeth they have to enforce that." The governments would forbid people to transact in bitcoin, putting people in a position where such a transaction might be a felony, argued the investor.
Meanwhile, according to Parker Lewis, Head of Business Development at Unchained Capital, "bitcoin cannot be banned" - it would be "a fool's errand" that would set a global, "hopeless game of whack-a-mole." He stated that it is irrational to believe that all the people in the world who adopted bitcoin for financial freedom and sovereignty would simply accept the "ultimate infringement" of the most basic freedoms it's designed to provide and preserve.
Furthermore, "setting aside the constitutional issues, it would be technically infeasible to enforce a ban of bitcoin in any meaningful way." Lewis argued that,
"The idea that somehow bitcoin can be banned by governments is the final stage of grief, right before acceptance. The consequence of the statement is an admission that bitcoin "works." In fact, it posits that bitcoin works so well that it will threaten the incumbent government-run monopolies on money in which case governments will regulate it out of existence to eliminate the threat."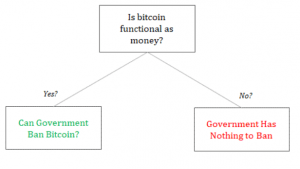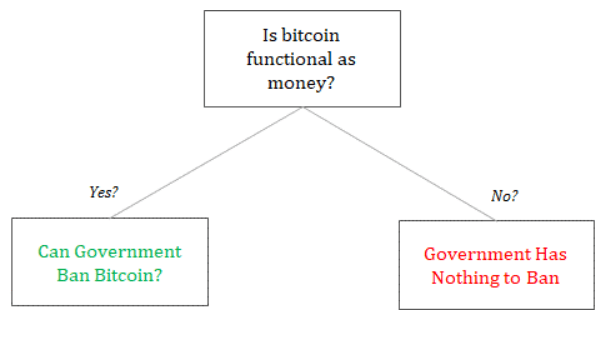 Source: Parker Lewis, Unchained Capital
Following the interview, numerous other counterarguments came from the Cryptoverse, stating that the idea behind Dalio's statement is overestimated, unreasonable, even impossible, and that banning it might actually lead to its accelerated adoption.
One such commenter is Moon Capital, finding that the threat of governments banning BTC "is HIGHLY overestimated" and "NOT possible or even reasonable," adding that governments have been unsuccessful at banning even those things that exist physically.
Per their comments, a person who presents such an argument has already conceded that BTC is the world's most valuable monetary good, and understand that BTC will become valuable to such an extent that the governments will find it threatening. Furthermore, as Dalio mentioned the US banning private gold ownership in the 1930s, Moon Capital argued it's because the USD was redeemable for a fixed amount of gold and "they needed to break the peg to expand credit (to stimulate)," while today it's not pegged to gold, certainly not to BTC, so "they can stimulate as much as they want."
Popular generalist investor Lyn Alden, who's also an advisor to Swan Bitcoin, a BTC investing app, seems to agree, saying that it was difficult to enforce the gold ban in the first place, and though "governments can ban exchanges and make it illegal to own [BTC], which would drive out institutional money and put bitcoin into the black market" - the problem is that large investors and companies already own it. These include Paul Tudor Jones, MicroStrategy, and Square, as does former US congresswoman now elected to the Senate, Cynthia Lummis. Others, like Fidelity and PayPal, are now heavily involved too. And as its capitalization and institutions' exposure to it grows, BTC will only become harder to ban, said Alden.
"Bitcoin was already an unusual asset that grew into the semi-mainstream from the bottom up, through retail adoption. Once the political donor class owns it as well, which they increasingly do, the game is basically over for banning it. Trying to ban it would be an attack on the balance sheets of corporations, funds, banks, and investors that own it, and would not be popular among millions of voters that own it," she argued.
However, Alden added that regulatory hostility is still a risk to watch out for while the market capitalization is sub-USD 1tn. Today, it stands above USD 290bn. This risk can be managed with an appropriate position size for "your unique financial situation and goals," she said.
Meanwhile, Lewis also stated that "when the US made the private ownership of gold illegal in 1933, gold did not lose its value or disappear as a monetary medium," but it "increased in value relative to the dollar, and just thirty years later, the ban was lifted."
At pixel time (11:47 UTC), BTC trades at USD 15,800, dropping from USD 16,125, reached today for the first time since January 2018. The price is still up by 1% in a day and 7.5% in a week. It rallied by 37% in a month and 79% in a year.
__
Learn more:
There's Still a Non-Trivial Chance of a Ban on Bitcoin - Kraken CLO
Can Donald Trump Ban Bitcoin and Cryptocurrencies?
Crypto Adoption in 2021: Bitcoin Rules, Ethereum Grows & Faces Rivals
---