'Reports of the Death of Privacy Coins Have Been Greatly Exaggerated'
Speculation of the death of privacy coins has been greatly exaggerated as regulators are not advocating an outright ban and these coins are already preparing to comply with the infamous Travel rule, according to cryptocurrency intelligence and blockchain security company CipherTrace.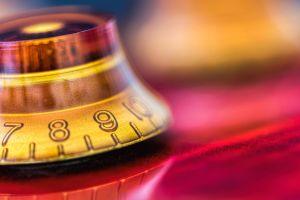 "Cryptocurrency users ultimately have to cash out to fiat currency somewhere to spend their money in the real world. That involves linking to blockchain addresses to user accounts at off ramps such as exchanges, P2P marketplaces, bitcoin ATMs and other MSBs [money service businesses]. This has led several regulated exchanges to begin delisting privacy coins out of fear they may violate [anti-money laundering] regulations," the company said in its Q3 2019 Cryptocurrency Anti-Money Laundering Report. (The company also claims that 76% of dark market transactions and ransomware use Bitcoin (BTC) for payments.)
As reported on Tuesday, Poland-headquartered, Central and Eastern Europe-focused cryptocurrency exchange BitBay has become another platform that will delist privacy-focused Monero (XMR). Meanwhile, in 10 October, OKEx announced it reversed its decision to delist Zcash (ZEC) and Dash (DASH).
In either case, CipherTrace stressed that the U.S. Treasury's Financial Crimes Enforcement Network (FinCEN) and the Financial Action Task Force (FATF) are not advocating an outright ban on privacy coins as long as controls are in place to mitigate the risks associated with their anonymity enhanced features.
"This position is reflected in FinCEN's USD 110 million enforcement action against BTC-e [now defunct crypto exchange] in 2017. The regulatory agency did not specifically take action against BTC-e for its use of DASH per se. Rather, they took issue with the lack of appropriate money laundering controls in place while offering privacy enhanced featured," CipherTrace explained.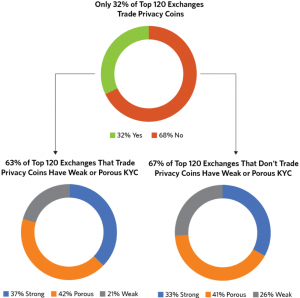 Also, when it comes to the Travel rule, things might be better than one might think. As a reminder, the rule necessitates that VASPs share customer info with each other, so that one exchange can confirm, for example, that a customer on another platform it's sending 10 bitcoins to has a verified identity.
"Many of the top coin developers have already released statements on how they could comply," the security company said, referring to announcement by Monero, Zcash, and Dash.
Also, according to an April 2019 Zcash Regulatory and Compliance Brief, "The fact that a VASP (virtual asset service provider) supports Zcash or that a customer intends to trade Zcash does not impact the VASP's ability to carry out customer due diligence checks… Zcash was designed to be compliant with the Travel Rule."
Moreover, VASPs just launched the OpenVASP initiative that aims to solve one of the biggest regulatory challenges, known as the "travel rule."
Privacy coins

___
Learn more: Are Privacy Coins Being Driven to Extinction? Good Luck, Governments!
---