RenQ Finance (RENQ) Presale stage 5 SOLD OUT, will this Shiba Inu Rival(SHIB) give similar returns or will it be better?
Disclaimer: The text below is an advertorial article that is not part of Cryptonews.com editorial content.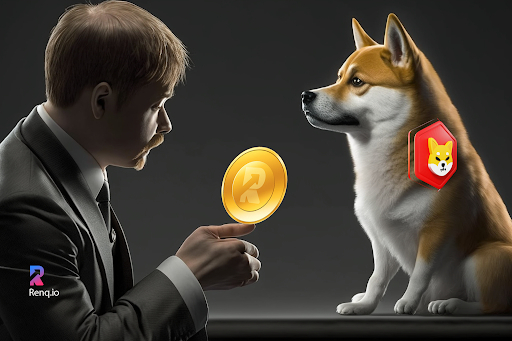 RenQ Finance (RENQ) has been making headlines in the crypto world with its innovative approach to decentralized finance (DeFi). The platform has attracted many investors, with its presale stage 5 selling out quickly.
Meanwhile, Shiba Inu (SHIB) has also been gaining attention as a "meme coin" and has seen its price surge in recent months. But can SHIB provide similar returns to RenQ Finance, or will RenQ Finance come out on top? Let's take a closer look.
What is RenQ Finance?
RenQ Finance is a decentralized finance (DeFi) platform that aims to provide an inclusive and accessible financial ecosystem for all. The platform offers various DeFi services such as yield farming, staking, and liquidity provision. By utilizing blockchain technology, RenQ Finance eliminates intermediaries and centralized authorities, making financial services more accessible to everyone.RenQ Finance's innovative approach to DeFi and its AI-Blockchain connection has caught the attention of many investors. The platform's potential for growth and its ability to solve some of the major challenges faced by traditional finance systems have made it an attractive investment opportunity.

What is Shiba Inu?
Shiba Inu (SHIB) is a cryptocurrency that was created in August 2020 as a "meme coin" inspired by the popular internet meme featuring a Shiba Inu dog. It is similar to Dogecoin in that it was created as a joke and has gained popularity through social media and celebrity endorsements.
Shiba Inu has been gaining attention recently due to its surging price. As of writing, the price of Shiba Inu is $0.00001093, representing a significant increase from its launch price of $0.00000001.
Can SHIB provide similar returns to RenQ Finance?
While Shiba Inu's price has been on the rise, it's important to note that the token's value is largely driven by social media hype and celebrity endorsements, rather than its underlying technology or utility. This makes it a much riskier investment than RenQ Finance, which has a strong foundation in DeFi technology and a growing community of users.
RenQ Finance has already demonstrated its potential for growth, with its presale stages selling out quickly and its price increasing by over 125% since its launch in the Q1 of 2023. Industry experts predict that RenQ Finance is well-positioned for continued growth and success, with some analysts predicting a minimum gain of 100x on investment by the end of 2023.
While it's possible that SHIB could provide similar returns to RenQ Finance, there's no guarantee that its price will continue to rise or will hold its value over time.
Final Thought
RenQ Finance's success in selling out its Presale stage 5 is a testament to the growing interest in the project and its potential for success in the DeFi space. The fact that the Presale was sold out in a short amount of time shows that there is strong demand for the RENQ token among investors.
This success is particularly noteworthy when compared to the current performance of Shiba Inu (SHIB), a meme-inspired cryptocurrency that has gained popularity in recent months. While SHIB has seen significant price increases, it has also experienced significant volatility, with its price dropping by more than 50% in just a few days.
In contrast, RenQ Finance's steady growth and strong fundamentals make it an attractive investment opportunity for those looking for a reliable investment in the DeFi space.
Furthermore, RenQ Finance's commitment to creating an inclusive and accessible financial ecosystem for all has garnered support from a diverse range of investors. Its success in selling out Presale stage 5 is just one example of the growing interest and confidence in the project.
Overall, while Shiba Inu (SHIB) may offer quick returns, RenQ Finance (RENQ) provides investors with a more reliable and promising investment opportunity in the DeFi space.
Click Here to Buy RenQ Finance (RENQ) Tokens.
Visit the links below for more information about RenQ Finance (RENQ):
Website: https://renq.io
Whitepaper: https://renq.io/whitepaper.pdf
---