Redefining the Future: Investors Flock to this AI-Related Crypto as Polkadot (DOT) Loses Momentum
Disclaimer: The text below is a press release that is not part of Cryptonews.com editorial content.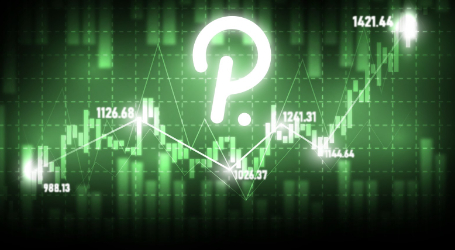 As a disruptive technology, Artificial Intelligence (AI) has made its presence known in many industries and our daily lives, thereby being hailed as the future.
The crypto landscape is one of the latest sectors to adopt AI, with investors now shifting their attention to AI-related cryptocurrencies. Out of this pool, one AI-related crypto stands out: InQubeta (QUBE).
With Polkadot losing bullish momentum, InQubeta has become a preferred investment for investors interested in capturing the future of AI and its exciting growth potential.
InQubeta aims to redefine the future of cryptocurrency, which we will delve into in this article.
InQubeta (QUBE): Reshaping the Future of Crypto
AI is an innovative technology and one of the fastest-growing industries in the world. As a new and burgeoning market, there are key gaps to be filled, one of which InQubeta proposes a solution to.
Despite its vastness, one of the challenges facing the AI market is funding, which startups struggle with.
To solve this, InQubeta is introducing a unique approach that taps into the liquidity of the crypto market.
InQubeta will be the world's first crowdfunding platform for AI startups. Through the investment platform, AI entrepreneurs and developers will be able to raise funds for their startups.
On the other hand, enthusiasts will own stakes in promising AI startups and enjoy their enormous yield when they flourish.
As a crowdfunding platform, AI startups will be able to raise funds via its NFT marketplace. This will be done by offering stakes in their startups through fractionalized equity-based NFTs.
That is, investment opportunities will be minted or tokenized, which will in turn be listed on the marketplace.
Their purchase will result in funds that emerging AI companies can utilize for their operations.
Similarly, AI enthusiasts can invest in promising AI companies at their early stages and enjoy significant profits.
They will be able to browse the marketplace and invest fractionally in chosen projects.
Fractional investment means there will be no buy limits and investors can choose their commitment level, which further makes InQubeta appealing as an investment platform.
Poised to become the world's first crowdfunding platform for AI tech startups, it has raised over $1.6 million in presales.
This proves investors' confidence in its vision and its soaring popularity within the crypto community.
QUBE, the utility token at the heart of the InQubeta ecosystem, will be used for all activities.
This includes raising funds for AI startups and investing in startups for AI enthusiasts, making the utility token valuable.
In addition, it has a low supply of 1.5 billion tokens. The token is also deflationary, meaning its supply will decrease over time.
And with reducing supply and increasing demand, QUBE will surge stronger and its value will increase, making it perfect for both short- and long-term investments.
The presale is in its second stage at $0.0098 per token. It has been predicted to give a 10x return before the end of the year, making it promising.

Polkadot (DOT) Declines as Bullish Momentum Decreases
Polkadot is known for its interoperability and scalability solutions and has emerged as a key player in the crypto space.
However, the competition within the crypto market and its evolution have resulted in Polkadot losing momentum.
With Polkadot in decline, investors are now exploring alternative investments with higher growth potential.
Polkadot has been in a gradual decline since its uptrend in late February when it was hovering above $7.
However, larger market concerns and a reduction in its activity have resulted in Polkadot losing bullish momentum.
Nevertheless, Polkadot is expected to rally in the coming months as market conditions improve.
Conclusion
The new shift in cryptocurrency has seen investors look towards AI-related cryptos like InQubeta, which combines blockchain and AI technologies.
The integration of AI and blockchain technologies is set to transform the crypto landscape, with InQubeta being one of the leading tokens.
While Polkadot, an established project, continues its decline, InQubeta has become a favorite among investors.
---