Reddit Coin Blasts Up 50,000% on DEXTools and Crypto Whales are Stacking Wall Street Memes as the Next Crypto to Explode – 100x Potential?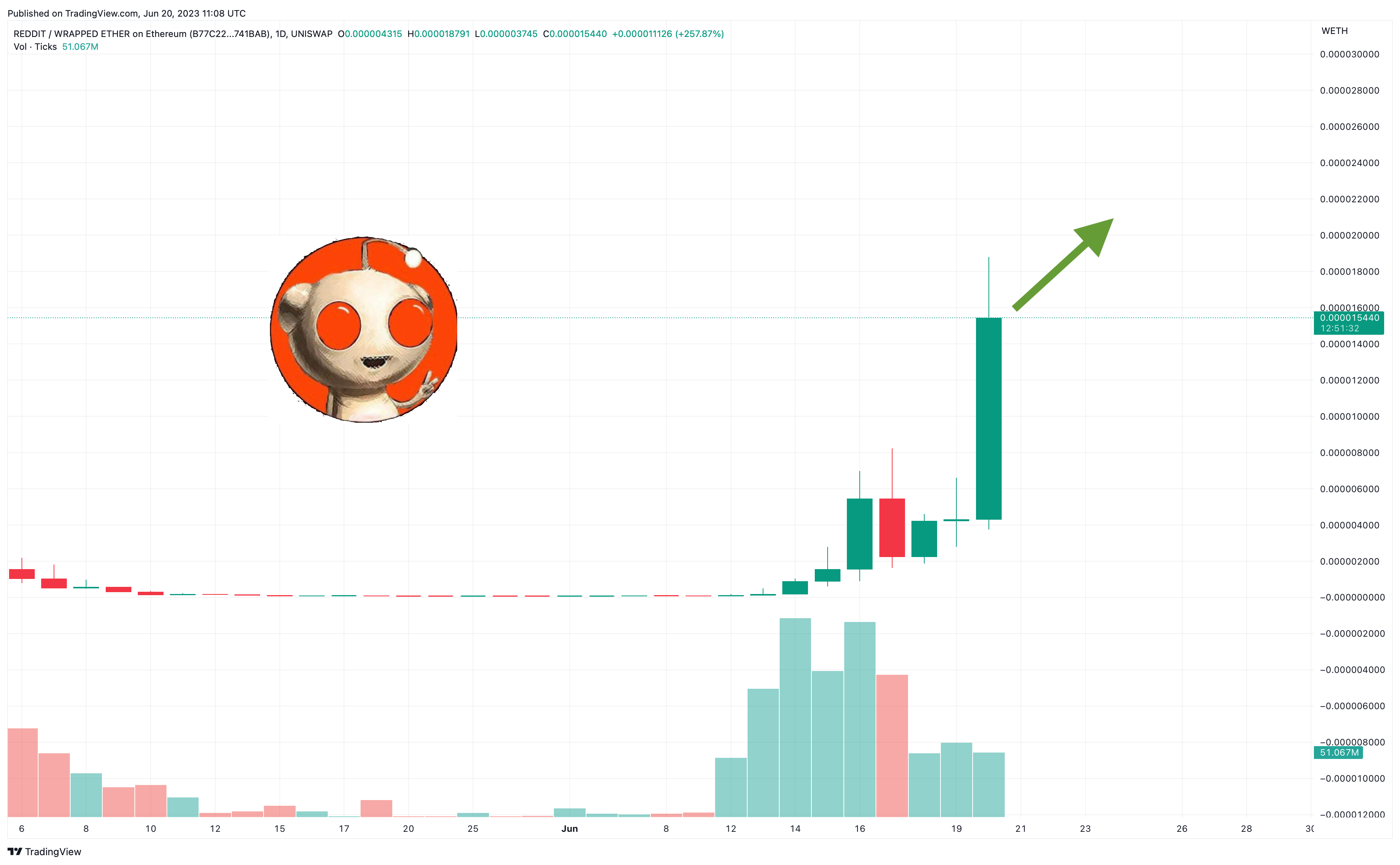 The Reddit Coin price has jumped by 220% in the past 24 hours, with its surge to $0.01888 representing a 50,000% gain since the meme token listed on Uniswap.
Following in a long line of meme coins launched this year, REDDIT is also up by just over 1,700% in the last seven days, as investors race to find profitable new coins in the ongoing bear market.
However, Reddit Coin's own website acknowledges (in the small print) that "We don't have any connection or affiliation with the following website or company: https://www.reddit.com," meaning that its current rally may not be sustainable.
This is particularly the case when other, more promising meme tokens are also being launched to take its place, with the increasingly successful Wall Street Memes (WSM) presale suggesting that it may soon be superseded.
Reddit Coin Blasts Up 50,000%
There's no doubt that REDDIT is currently in the ascendancy, with its price overtaking its shorter-term moving average (yellow).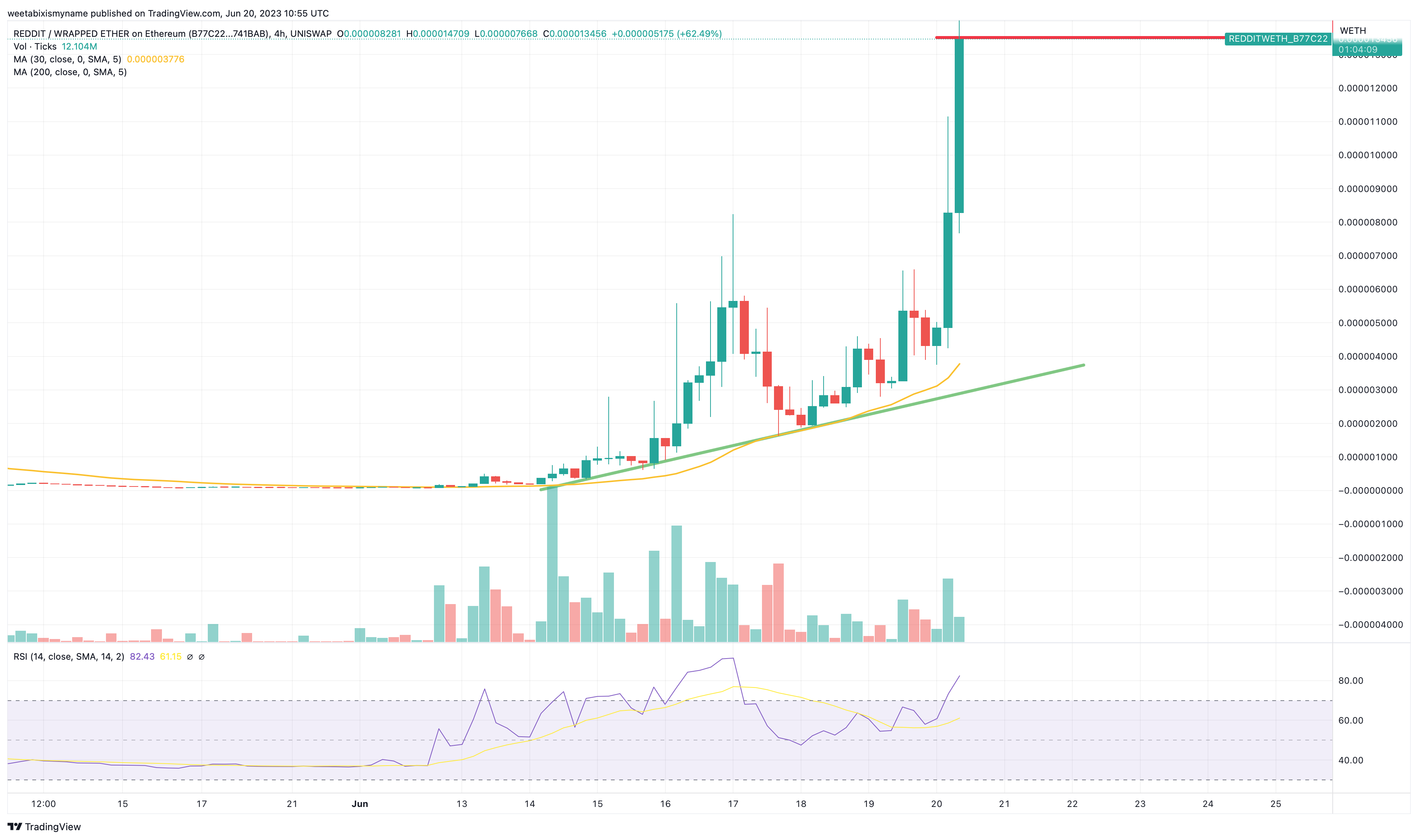 REDDIT's relative strength index (purple) has also shot up to 80, indicating some very strong buying momentum as more investors flood into its market.
It's worth pointing out that REDDIT is actually 17% down from its all-time high of $0.02308, which was set today.
It will therefore be interesting to see if it can decisively smash through this resistance level, with a clear break signaling that further sustained gains may be incoming.
As a pure meme token, there's no fundamental reason to believe that REDDIT will continue to rally.
The only thing that can be said in its favor is that 2023 has brought plenty of similar meme tokens (including PEPE and 4CHAN), with many of them enjoying big gains in a market where investors are starved for more profitable alternatives.
REDDIT may potentially have the advantage of being associated with the popular Reddit social network, but as mentioned above, it has no actual link or relationship with the latter.
Investors may therefore turn away from the token when they realize this, preventing REDDIT from enjoying sustained growth.
Of course, the cryptocurrency market is famous for not always behaving rationally, so there is a chance that REDDIT will continue to rally for a while longer.
Crypto Whales are Stacking Wall Street Memes as the Next Crypto to Explode – 100x Potential?
It also needs to be said that, having risen by more than 50,000% since launching on Uniswap, REDDIT probably has its biggest rallies already behind it.
As such, traders looking for the next big payoff may look to other meme tokens that haven't even been listed yet, which usually means presale tokens.
One of the biggest presales right now belongs to Wall Street Memes (WSM), a new altcoin that has already raised more than $8.8 million, despite its token offering beginning only a few weeks ago.
Emerging out of the meme stocks movement responsible for the 2021 GameStop and AMC rallies, WSM has already been successful in attracting a sizable community of holders, while its Twitter account boasts over 234,000 followers.
This is hugely promising as far as WSM's longevity is concerned since if a meme token needs one thing to survive for more than a few rallies, it's a healthy community.
Its speed in raising nearly $9 million also suggests that it could rally very strongly once it lists on exchanges in the next couple of months.
Investors can join its presale by visiting the official Wall Street Memes website and connecting their crypto wallets.
The sale is currently in its 15th stage, with 1 WSM now costing $0.0295, with this price scheduled to climb to $0.03370000 by the time the final 30th stage gets underway.
This is likely to seem cheap once the sale ends and WSM lists, with the coin's growing following suggesting big rallies to come.
Disclaimer: The Industry Talk section features insights by crypto industry players and is not a part of the editorial content of Cryptonews.com.
---