QUBE Investors are Safe in Crypto Winter, InQubeta Presale Gathering Steam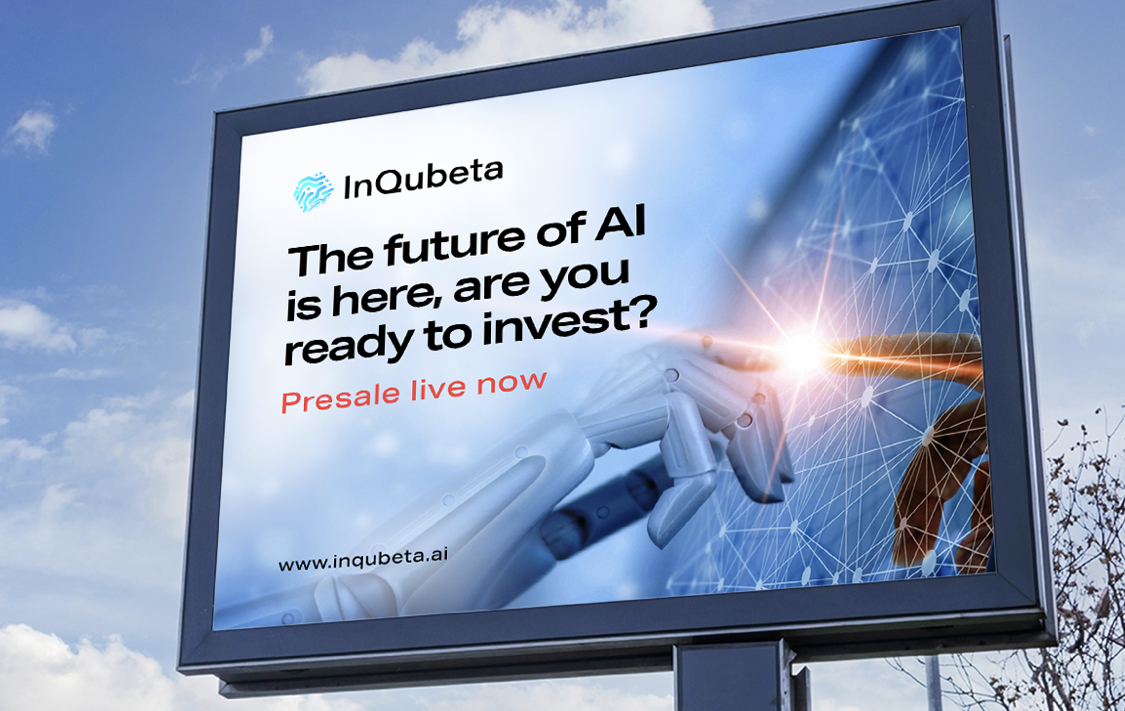 Disclaimer: The text below is a press release that is not part of Cryptonews.com editorial content.
Artificial intelligence (AI) is a technological advancement that replicates human intelligence. Its global adoption is increasing, with numerous companies utilizing AI to simulate and automate their inventions. InQubeta (QUBE) is a new AI-focused project thriving in the decentralized finance (DeFi) space. It provides investors with assurance regarding the safety of their investments, especially during crypto winters that negatively impact the value of many cryptocurrencies.
InQubeta's diverse ecosystem is recognized by crypto analysts for its high-profit potential that promises substantial returns. It incorporates profitable features such as a deflationary model, non-fungible token (NFT) staking, AI innovation, rewarding strategies, and a progressive roadmap. The ongoing success of its presale, swiftly gathering steam, further solidifies why the QUBE coin is considered one of the best cryptos to buy now.
Let's investigate why QUBE investors are safe in the crypto winter as the InQubeta presale gathers steam.

The InQubeta (QUBE) Presale is Leading the Mass Adoption of AI Technology
The live InQubeta presale showcases the best DeFi growth potential as it progresses, reaching new high yields daily. The presale is on track to reach the $2 million milestone, having so far raised over $1.9 million. The success of the presale has positioned InQubeta as a highly recommended investment option for crypto enthusiasts seeking profitable opportunities in the AI sector. Investors in the DeFi market have shown great interest in the presale, securing over 240 million QUBE tokens at a market-friendly price of $0.0098 per QUBE coin before it rises to $0.0112 in stage 3.
The InQubeta presale presents the platform's incorporation of an innovative approach to AI funding, connecting beginner AI companies with investors looking to capitalize on the profitability of AI technology while enjoying its innovative benefits. InQubeta serves as a reliable platform where AI companies can raise funds by selling popular NFTs, accelerating the development of startups. InQubeta's funding method solves the transparency and reliability issues often faced by traditional investment mechanisms.
QUBE token holders can perform low-cost transactions and NFT staking. InQubeta facilitates fractional investment in AI startups, democratizing access to AI investment opportunities for both new and experienced investors in the DeFi market with varying budgets. This approach contributes to expanding the AI industry and the pool of potential backers.
The QUBE coin is based on a deflationary model that motivates QUBE token holders to hold their tokens for future gains, even during unexpected crypto winters. To implement the deflationary model effectively, InQubeta has established a dedicated burning wallet and a reward pool for the burned QUBE coin. A 2% buy and sell tax is directed to the InQubeta burn wallet, while a 5% sell tax is channeled to a reward pool from which QUBE token holders are rewarded for staking their tokens.
The InQubeta presale has introduced the best DeFi NFT marketplace for NFT traders, unique NFTs, and AI startups. The marketplace establishes a symbiotic relationship as AI startups attract NFT traders by offering unique NFTs for purchase, and in return, the startups reward their investors with equity-based and popular NFTs. This makes NFT traders active participants in the foundational progress of AI startups.
Apart from its exceptional investment potential, the InQubeta presale has outlined a comprehensive 5-stage roadmap, including having the QUBE coin listed on top decentralized and centralized exchanges, developing a mobile application for Android and iOS, and introducing a decentralized autonomous organization (DAO). The DAO will enable QUBE token holders to actively participate in decision-making processes related to InQubeta's growth.

Conclusion
The QUBE coin stands out as one of the best cryptos to buy now in terms of significant growth potential as its second presale stage draws to a close. InQubeta provides a supportive community, a secure platform, a reliable investment process, and a strong commitment to transparency. The QUBE coin highlights features such as a deflationary mechanism, AI innovation, a rewarding NFT marketplace, a user-friendly interface, and a comprehensive roadmap. With the presale continually gathering steam, QUBE investors are safe in crypto winters while other prominent cryptocurrencies struggle to maintain market performance
---