Qori Launches Europe's First Multi-channel Pay by Bank & Pay by Crypto
Disclosure: Crypto is a high-risk asset class. This article is provided for informational purposes and does not constitute investment advice. By using this website, you agree to our terms and conditions. We may utilise affiliate links within our content, and receive commission.
Disclaimer: The text below is a press release that is not part of Cryptonews.com editorial content.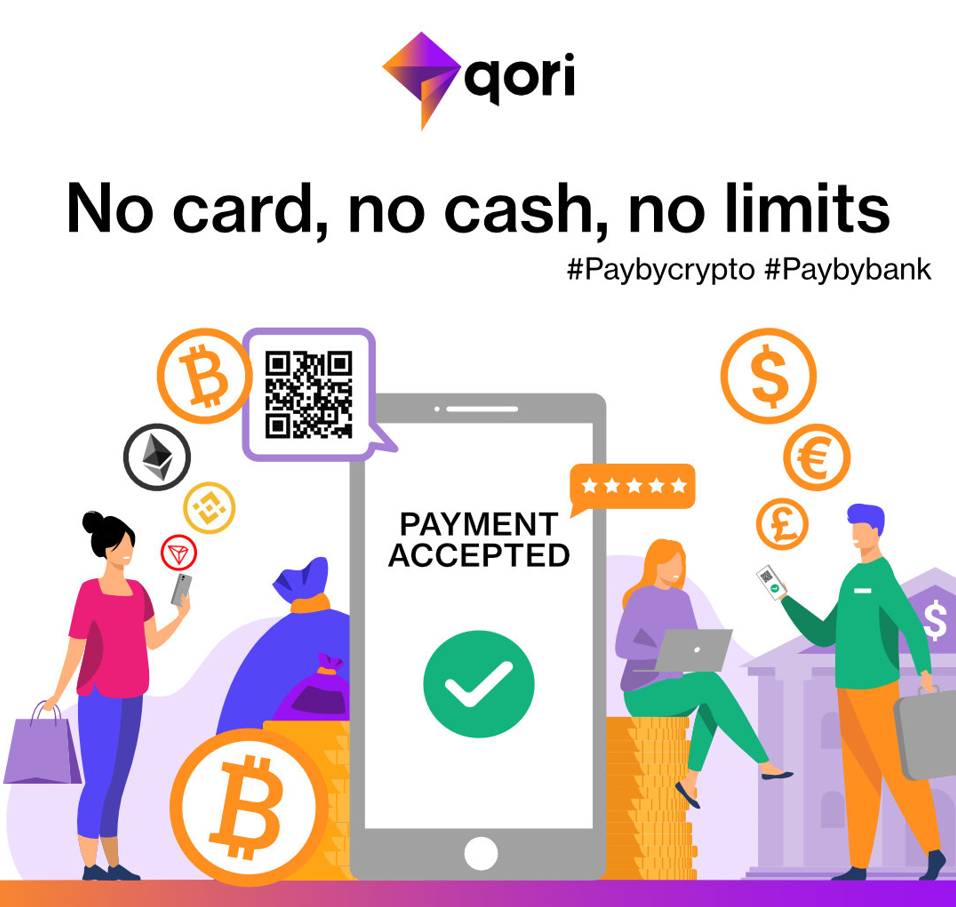 Qori announces the launch of its new frictionless merchant payment method that enables the acceptance of Pay by bank and Pay by crypto payments and closes a EUR 1.8 million seed financing round
Paris – Monday 11th of July 2022
With the official launch of its product, Qori will enable over 350 million European consumers to pay in store, remotely or online with their bank or crypto wallet without having to download a proprietary app.
Qori's mission is to transform the payment experience – for merchants, their clients and their payment partners – by offering a fully digital, multi-channel and cheaper alternative to card payments, combined with innovative client engagement features. Today, Qori announces the completion of a EUR 1.8 million seed funding round and the official launch of its product on the European market.
Qori was founded in 2021 by serial Fintech entrepreneurs Alain Falys and Daniel Maurice-Vallerey – who launched the payment platform Yoyo Wallet in the UK (acquired by SaltPay) – together with David Zerah, Meghan Lenaerts, Joakim Vivas and seasoned VC and entrepreneur Olivier Schuepbach.
Investors in the round include Hottinger AG and Golden Record Ventures – a European based Blockchain VC fund backing the next generation of innovative businesses in the financial industry – as well as Firestartr and Systema VC. Prominent technology and Fintech angels also participated in the round, including Guillaume Princen, formerly Head of Stripe Europe, Mark Ransford, Leonid Gluzman and Sean Obispo.
After months of product development, the company is launching its Pay by bank and Pay by crypto solutions to hundreds of thousand merchants through signed partnerships with leading European PSPs (payment services providers), terminals distributors, ecommerce integrators as well as SmartPOS manufacturers, with an initial focus on France, Spain and the UK.
Qori will use the funds to expand its development team and deploy its product at scale into the luxury, hospitality and lifestyle sectors, with its payment partners, as well as online marketplaces.
"Today, two fundamental trends are disrupting the payments industry and challenging the central role of cards: open banking and crypto. Qori is seizing this unique opportunity to become the preferred multi-channel payment method for in-store, e-commerce and remote transactions." says Daniel Maurice-Vallerey, co-founder and CEO.
Alain Falys, co-founder and CSO says : "With Qori, merchants have a better and significantly cheaper alternative to card and cash payments and can create unique digital experiences for their clients via a set of advanced CRM tools, without changing their existing payment infrastructure in store. This is a breakthrough in the world of payment."

About Qori
Qori is a regulated mobile payment platform that allows brick and mortar and online merchants to accept bank payments (through Open Banking) and crypto payments (whilst receiving EUR, GBP or USD).
Qori was founded in 2021 by serial Fintech entrepreneurs Alain Falys and Daniel Maurice-Vallerey – who launched the payment platform Yoyo Wallet in the UK (acquired by SaltPay) – together with David Zerah, Meghan Lenaerts, Joakim Vivas and seasoned VC and entrepreneur Olivier Schuepbach.
With the Qori merchant application running on a phone, tablet or an android payment terminal, the merchant simply generates a QR code which is read by the client's phone camera: no app is needed on the client side. After simply scanning the QR code, the client automatically enters her/his mobile banking or crypto wallet to authorize the payment. The Pay by bank feature is now available in all of Europe with circa 100% bank coverage. For crypto payments, the client can choose to pay with any wallet and up to 70 crypto currencies, whilst the merchant will continue to receive fiat (EUR, GBP, USD).
Qori can be used for in-store, remote and online payments. Qori is available as a merchant app for mobile devices, on the app store of leading payment terminal providers as well as an API plug-in for android-based SmartPOS and e-shops.
Benefits for the merchant:
Up to 5x cheaper than cards and other crypto acceptance methods (e.g. crypto cards, proprietary wallets)
Faster settlement than cards – No chargebacks
Fully mobile (iOS & android) or integrated into android payment terminals*
New generation of fully digital client engagement
Simplified crypto acceptance without a wallet on the merchant side
*Available on the PAXSTORE and other leading android terminals
Benefits for the client:
No need for a card or app
No more card limits or sharing of card details
Crypto wallet and mobile banking agnostic
Full transparency on crypto fees
Merchant driven rewards direct on the mobile
Why now?
Open Banking is now proven and growing fast
Open Banking adoption in Europe (PSD2) and the UK created the required infrastructure for Pay by bank to become an attractive alternative payment method to cards. Platform aggregators are now enabling access to hundreds of millions of bank accounts via a single API.
Growing demand for Crypto payment
The increasing volume of crypto currencies, the emergence of stable coins and the desire to buy with crypto at physical and online stores are strong factors. Merchants are listening and want to easily accept any crypto, without necessarily owning a crypto wallet.
Interest in Crypto exploded from 2020 to 2021, with the total market cap of all cryptocurrencies increasing from $192 billion at the beginning of 2020 to $2.2 trillion at the end of 2021. Crypto trading volumes have followed a similar trend, driven by expanding retail and institutional adoption. Total estimated transaction value on the blockchain grew 307% from 2020 to 2021. Newer use cases such as non-fungible tokens (NFTs) and Decentralized Finance (DeFi) have also spurred significant interest and activity in both the retail and institutional markets.
SMB retail is underserved
Even though in-store commerce is where 82% of the global payment volume takes place, it has not benefited from the same level of technological advancement as online commerce.
The Covid crisis of the past two years has accelerated the use of QR Codes on the mobile, an everyday occurrence for most people in Europe, the US and Asia.
Origin of the name Qori: Qori is another way to spell Quri in the Quechuan language. Quri (Qori) means Gold and it's also a mountain in the Cusco Region in Peru. Our goal is to become the gold standard of payments and as a solid and unshakeable as a mountain.
---