Is Pomerdoge (POMD) the New Doge Star? Shiba Inu (SHIB) and Dogecoin (DOGE) Fans Think Twice
Disclosure: Crypto is a high-risk asset class. This article is provided for informational purposes and does not constitute investment advice. By using this website, you agree to our terms and conditions. We may utilise affiliate links within our content, and receive commission.
Disclaimer: The text below is an advertorial article that is not part of Cryptonews.com editorial content.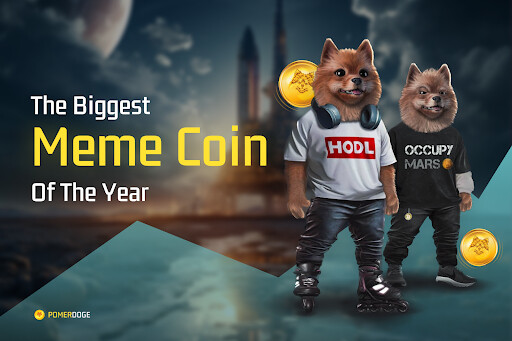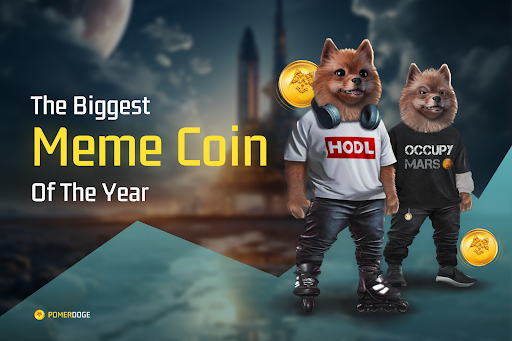 As the fascination with memes and the crypto market intermingle, a new star is on the horizon: Pomerdoge (POMD). Evoking interest among fans of established canine-themed cryptocurrencies like Shiba Inu (SHIB) and Dogecoin (DOGE), Pomerdoge is turning heads and making people think twice about their loyalties.
Click Here To Find Out More About The Pomerdoge (POMD) Presale
Pomerdoge (POMD)'s Vision for a Utility-Driven Meme Token
At the heart of Pomerdoge's meteoric rise lies its innovative approach to the memecoin space. More than just a humorous token, it marries the light-heartedness of memes with genuine crypto utility.
Pomerdoge has designed a comprehensive Play-to-Earn (P2E) platform that promises players and participants entertainment and tangible benefits. This gaming realm allows participants to earn POMD tokens, acting as the economic fuel driving the entire ecosystem.
The immersive Pomerdoge universe also encompasses the "Pomerplace", an in-game marketplace that simplifies the trading of assets, further embellished by a diverse selection of Non-Fungible Tokens (NFTs). This dual experience ensures that while users are entertained, they're also presented with profitable opportunities.
Starting at $0.070, the price of POMD tokens has been adjusted to $0.0165 in the current third phase of the presale. Those who jump on board early stand to make gains as POMD increases in price during each subsequent presale phase.
While Dogecoin's mass appeal was primarily driven by celebrity endorsements and Shiba Inu gained traction due to its community charm, Pomerdoge is crafting its narrative differently. By offering utility and ensuring users get more than just a meme token, it's setting itself apart in the crowded memecoin market.
Traditional Dogecoin and Shiba Inu loyalists are now pausing and reevaluating. Is it time to diversify their portfolios with a token offering that has entertainment and economic value? The growing popularity of Pomerdoge, with more than $6 million raised, suggests that many believe it might be.
As the crypto world watches with bated breath, the question remains: Will POMD ascend to claim the memecoin throne? Only time will tell, but it's giving the old guard a run for their money.
Shiba Inu (SHIB): The Road Ahead Amidst Emerging Rivals Like Pomerdoge (POMD)
Shiba Inu's 10,000% rise in 2021 was due to the euphoria surrounding memecoins, Shiba Inu's vision of "killing" Dogecoin, and the influence of social media and celebrity endorsements.
However, maintaining such parabolic growth is challenging, especially in a sector as volatile and erratic as the crypto market. Shiba Inu's price stagnation and subsequent decline can be attributed to a lack of bullish narratives and utility beyond being a "Dogecoin killer".
The team's efforts towards building an ecosystem, including ShibaSwap, are steps in the right direction. However, the road ahead is paved with challenges as they compete with Pomerdoge, which offers a P2E gaming platform and utility beyond just being a memecoin.
The forthcoming crucial hurdle for Shiba Inu is at the $0.000010 mark. Surpassing this could signal the inception of a bullish wave potentially reaching $0.000020 — the final significant milestone before revisiting its former zenith.
Analysts note that the current Shiba Inu price of $0.000007360 must rise above the $0.000010 resistance for a greater uptrend to be confirmed. Until then, Shiba Inu will remain in limbo with Pomerdoge and other challengers hot on its heels.


Dogecoin (DOGE): The Importance of Utility and Acceptance for Steady Growth
The original memecoin, Dogecoin's rise to fame was driven mainly by its community, which has been described as one of the most passionate in the crypto world. Its simple design and low price made it accessible to all, causing a surge in popularity among retail investors.
In 2021, Dogecoin reached a high of $0.7318 due to Elon Musk tweeting that Dogecoin was the "people's crypto" and that he would mention Dogecoin when he went on Saturday Night Live.
However, the SNL event would mark the top of Dogecoin's rally as it crashed by more than 50% the following week. Dogecoin's value has continued fluctuating, dipping below $0.10 in recent months to $0.063.
This rollercoaster effect, majorly influenced by Musk, highlights Dogecoin's inherent instability. The Dogecoin community must focus on practical uses and broader acceptance to achieve steady growth.
Meanwhile, the allure of the Pomerdoge presale has caught the attention of many Dogecoin enthusiasts. Drawn by memories of Dogecoin's golden period and the potential of Pomerdoge's innovative play-to-earn model, they're eager to see if this could be the next chapter in the memecoin tale.
Find out more about the Pomerdoge (POMD) Presale Today
Website: https://pomerdoge.com/
Telegram Community: https://t.me/pomerdoge
---