Playing to Win: Earn Crypto via CoinPoker's Referrals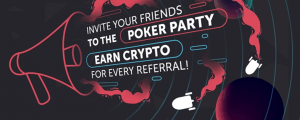 Disclaimer: The text below is a sponsored article.
_________
Cryptocurrency poker platform CoinPoker has launched yet another set of features designed to promote earning opportunities for both its new and veteran players. While the platform's new features usually work in concert with one another, at least two stand out now – a novel referral system which, combined with the platform's existing zero rake (fee taken by a cardroom operating a game) policy, provides players with new opportunities to earn limitless money and save some, too.
While a round of crypto-based poker is a reward in itself for many players, its financial rewards depend on the player's changing fortunes. Yet, CoinPoker's new referral-based reward system is a gift that keeps on giving – each player now has an opportunity to earn and collect his/her rewards in CHP tokens for every player they refer via referral links provided under one's mobile account and the CoinPoker app. Desktop client user will be able to access the same feature via the cashier menu.
All that is required is having a functional account with CoinPoker, paired with the willingness to spread the word about the platform without the need for complicated signup procedures or forms. Users can share links with friends, fans and social media audiences. As soon as the link is clicked on, a referral will be directed to an account setup page on the platform's website and this is the only way by which that user will be treated as a genuine referral.
The only initial criteria for the participation in the referral scheme involve referring a minimum of two players and having each player earn at least 500 CHP in community contributions. As soon as these conditions are met, the players will be able to collect 50% of the rake collected by all the players which were referred. The rewards will be made visible in the "My Share" section under the cashier tab on mobile or desktop platforms.
Now, this is the point at which new features combine to offer a unique player experience: it is these community contributions which actually allow CoinPoker to ask for no rake from its players. Here, the main difference between rake and CoinPoker's contribution system is the fact that a rake usually amounts to around 5% with 15 big blinds cap, with this amount being taken by the operator.
Instead of this, CoinPoker's community contributions are only 2% with 3 big blinds cap (3BB), which is the lowest rate in the industry. Moreover, the 3BB cap is applied for the lowest of stakes, with higher ones offering even lower caps. Finally, the whole of the collected amount is used solely to improve the game experience for the players. A portion of CHP contributed by the community is burned to increase the value of the player holdings (in CHP), while the rest is returned to the players through various types of promotions or schemes such as referrals.
The players who collect these rewards surely want to see them in their virtual pockets as soon as possible, prompting CoinPoker to offer them a system of instant deposits/withdrawals. Here, the word "instant" is hardly a marketing ploy, as CoinPoker's playrooms use cryptocurrencies instead of fiat, meaning that both deposit and withdrawal speeds are limited only by the speed of the player's network. Operations with ETH and CHP are handled instantaneously while those involving BTC may take a few hours.
Getting into the game should be just as fast as the payment, with players having an opportunity to complete their sign-up and start playing within a span of a few minutes. Those in a hurry to play do not have to spend time buying CHP on exchanges, as they can use the in-app ETH->CHP and BTC->CHP functions for deposits and withdrawals alike.
Recognizing that much of the perception of the quality of service rests on its claim to being transparent, CoinPoker decided to play the transparency card all the way when it designed its RNG system. To that effect, the platform made the card shuffling processes as transparent as possible, considering that some poker rooms sacrificed their reputation for good, on the grounds of alleged cheating practices.
With CoinPoker, players can use their own input word or phrase to affect the manner in which the deck is shuffled. Claims to transparency would count for nothing if a platform is not ready to stand by its words, and CoinPoker offers no less than 1 million CHP tokens to any person that can present evidence that it engages in unfair practices.
Finally, CoinPoker is all about its community and the removal of barriers between the players, allowing them to play against poker pros including to TonyG, Isabelle "NoMercy" Mercier, TheGrinder and others, alongside the regular players. At the same time, thousands of these players are more than willing to help both each other and newcomers, in addition to live support the platform offers as part of its Telegram group.