Play-to-Earn Meme Coin Tamadoge Launches 5th Arcade Game, Tama Run – Bybit Exchange Approaching Fast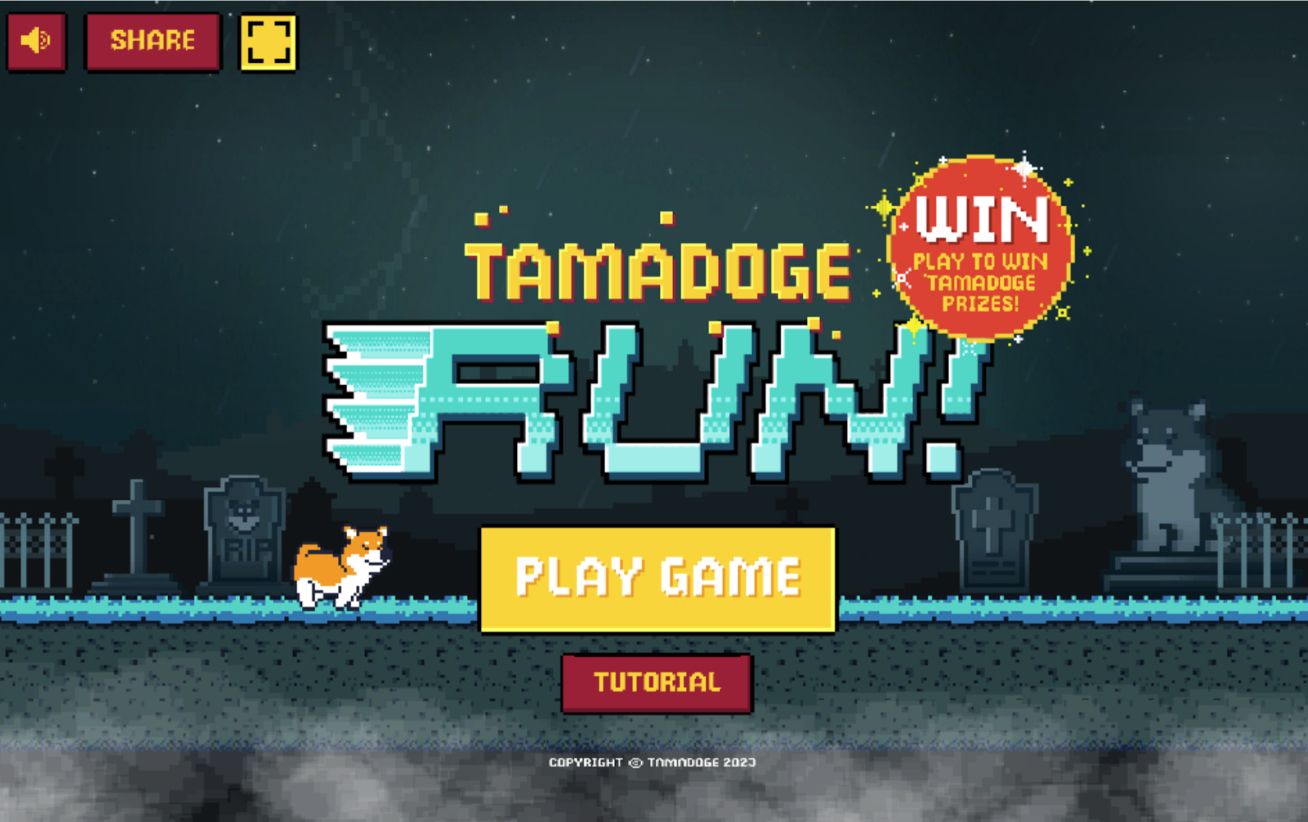 Wednesday March 29th 2023 – Tamadoge, a renowned play-to-earn (P2E) gaming platform, unveils its fifth captivating arcade game, Tama Run, further expanding its engaging gaming offerings.
The news follows four successful arcade game releases by the leading P2E-based meme coin game ecosystem.
Tama Run continues in the vein of the four previously released fun and accessible arcade games that have been enthusiastically received by the growing Tamadoge community of casual gamers.
In Tama Run, players must hone their skills as they do their best to outrun and dodge the devils, ghouls and ghosts that lurk in the haunted graveyard.
Sprint for your life and collect rewards along the way as you climb the leaderboard and earn rewards.
As with the previous game releases, there is a free practice mode.
To play the P2E version, you will need to buy credits and you can use one of the three types of Tamadoge NFTs: common, rare and ultra-rare.
The three collections of Tamadoge NFTs come with varied skill and strength attributes, to improve your chances of success.
Success breeds success: 81,000 credits bought; 17,000 users; 270,323 $TAMA rewards paid
Every week there are prizes distributed to the leaderboard winners. If you finish in the leaderboard top 20 in the weekly competition, then you are in line to win a portion of the prize pool rewards.
The prize pool is reset every week so there's always the opportunity to start afresh and win.
Jon Bishop, CEO of Tamadoge, commenting on the launch of Tama Run, said: "The team has delivered all five games on time and as promised, which is a great achievement.
"The games are also showing early signs of success with over 81,000 credits purchased, 17,000+ MAUs (monthly active users) and a grand total of 270,323 $TAMA, to date, already paid out to players on the leaderboards.
"With all five games delivered, we turn our focus to the mobile app, which is already being built. Having our games on mobile is a pivotal part of our rapid growth plan and will go a long way to proving that our approach is the best way to scale and monetize Web3 games.
Tamadoge arcade games prize pool and rewards – how it all works
Each game has its own leaderboard and prize pool. The prize pool resets weekly, so there's a chance to win every week.
The prize pool competitions close every Wednesday at 23:59 UTC and the payouts begin from the following day.
1. Credits to play
Players will need to own some credits to join the competition
Current prices: entry package is 100 arcade credits = 600 $TAMA (there are three packages – see more details below)
2. Prize pool distribution
50% goes to winners in the competition
10% goes to the staking pool
40% goes to marketing & game developments/burnt pool
3. Leaderboard – prize pool distribution
1st – 40%
2nd Second – 20%
3rd – 10%
4th to 10th placed players – 1% (each)
11th to 20th placed players – 0.5% (each)
Everyone else gets an equal split of the remaining 18%
To get started with Super Doge and Rocket Doge you will need to purchase credits.
There are three credits packages:
100 credits = 600 TAMA
500 credits = 2400 TAMA
1,500 credits = 6,000 TAMA
The four previous game releases were:
Tama Blast – Test your skill in this precision game as you try to score as many goals as possible.
Rocket Doge – Help your Tamadoge navigate a perilous course on board an out-of-control rocket.
To The Moon – The moon is your destination as you help your pup soar to new heights!
Super Doge – Tamadoge is pitted against multiple enemies in this classic side-scroller. Collect coins to win!
Enter the Tamaverse with the AR smartphone app in development now
The arcade games are tasters for the main event, which is the Tamadoge AR app, upon which work has already started.
Using augmented reality (AR) technology, players will be able to nurture their Tamadoge pets 24/7, as well as interact with them in a mixed reality world.
No headset is required to enter the Tamaverse – just the smartphone app.
Time is ticking on the Bybit competition – Vote for Tamadoge and earn $50 of TAMA tokens
In other news, for a limited time you can vote for $TAMA on Bybit crypto exchange and earn a guaranteed $50 worth of $TAMA tokens to boost your investment.
Bybit, the fifth-ranked exchange according to data site coinmarketcap.com, and Tamadoge have teamed up for a great competition in which you can claim $50 in TAMA tokens for signing up on the exchange and making a first-time deposit (FTD).
If Tamadoge secures 500 first-time deposits on the exchange from members of the community or Tamadoge wins the vote against two other projects, then the token will be listed on the popular trading platform.
The first-time deposits – depending on region – must total $100 in one of the following stablecoins: USDT, USDC, USDD, DAI, CUSD and BUSD.
Here's how to enter:
Sign up to Bybit & complete Level 1 KYC
Make a first-time deposit of $100
Take a screenshot of your Bybit balance by 29 March 23:59 (UTC)
Vote for $TAMA in the Byvotes & take a screenshot of your vote
Upload your screenshots to the Gleam link below and earn $50 in $TAMA tokens!
Voting opens 30 March at 03:00 am (UTC)
Voting closes 31 March 03:00 am (UTC)
For more details and to enter, click the links below:

To enter the competition, head over to the Gleam page and complete the tasks:
https://gleam.io/GOT2P/tamadoge-x-bybit-sign-up-deposit-100-kyc-vote-share-to-claim-50-of-tama-tokens
To create your Bybit account, visit the Tamadoge Bybit competition page here:
https://dns0.bitesly.io/b_BybitTamadogeByvotes
TAMA is listed on 15 centralized exchanges (CEXs), including top 10 crypto exchange OKX, as well as on the leading decentralized exchange Uniswap.
---