Play-to-Earn Meme Coin Tamadoge Confirms Listing on Bybit Exchange – Here's How to Claim $50 TAMA Giveaway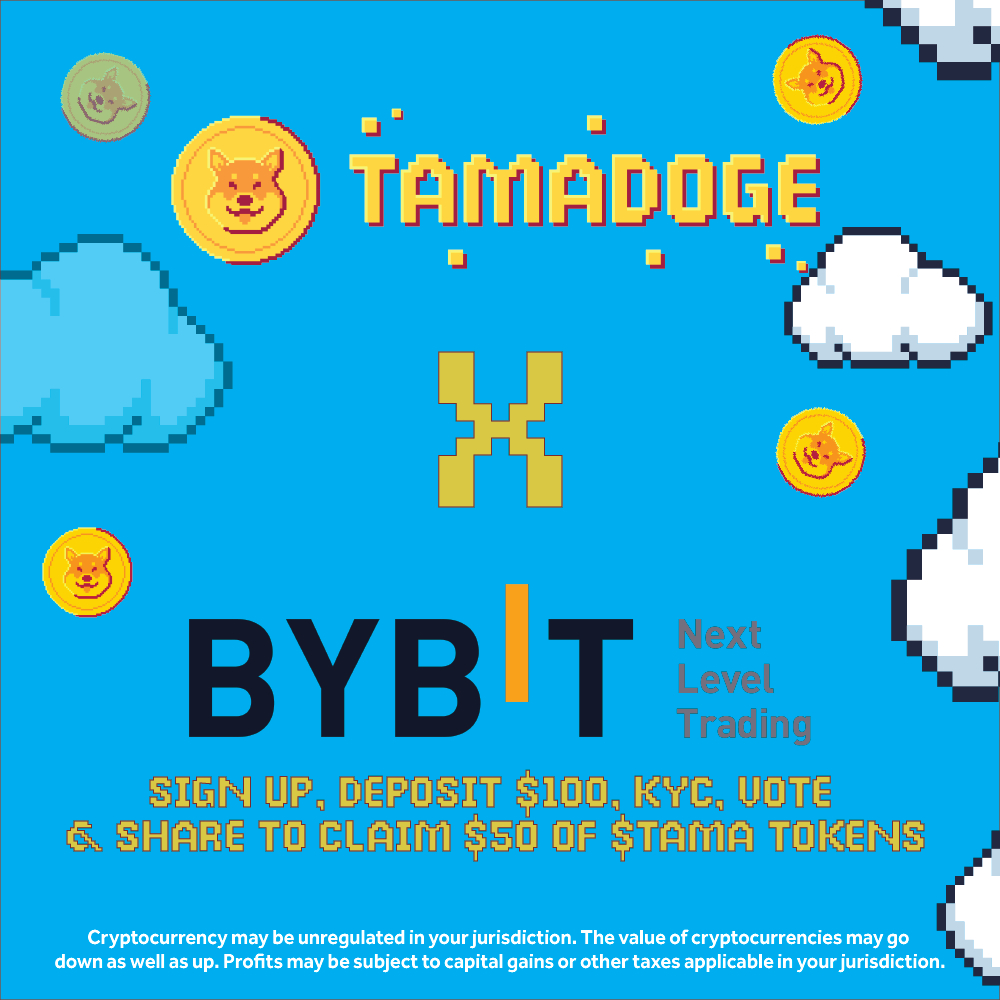 Tuesday March 21st 2023 – The play-to-earn gaming platform Tamadoge is garnering attention, following the release of its fourth arcade game and the recent announcement of a listing event on Bybit.
Bybit crypto exchange and Tamadoge have teamed up for a great competition in which you can claim $50 in TAMA tokens for signing up on the exchange and making a first-time deposit. What's not to like?
If Tamadoge secures 500 first-time deposits (FTDs) on the exchange from members of the community or Tamadoge wins the vote against two other projects, then the token will be listed on the popular trading platform.
So as well as being incentivized to take part in the voting, TAMA token holders will benefit when Tamadoge is successful in the Bybit listing competition.
Bybit listing event competition – deposit $100 in stablecoins and claim $50 of TAMA
The first-time deposit must total $100 in one of the following stablecoins: USD, USDC, USDD, DAI, CUSD and BUSD.
All eligible deposits must be accumulated within 7 days of the first deposited amount. Deposit amount in regions such as India, South East Asia, Russia, and Turkey have a lower minimum of $50.
However, entrants would still need to deposit at least $100 in these countries/regions in order to claim the free $50 in TAMA.
If you already have an account at Bybit but it is unfunded, then you can still take part – simply fund your account.
Don't forget to complete the Bybit Level 1 KYC – and then vote for Tamadoge!
To vote, all eligible first-time depositors must complete the KYC level 1.
Each 1 USD worth of stablecoin entitles participants to 1 vote, up to a maximum of 10,000 votes. So if you made a first-time deposit of 10,000 USDT, then, if you wish, you could vote 10,000 times for Tamadoge.
You can also deposit the native token of the Bybit exchange – BIT – if you do not have the requisite stablecoin.
The exchange started counting FTDs from March 18th. Eligible deposits end on March 29th, when a snapshot is taken at 23:59:59 UTC.
Voting starts: 3:00:00 AM UTC, March 30th and ends 3:00:00 AM UTC on March 31th.
Users will need to make sure their funds are in their account for the snapshot and will be able to vote 3 hours later, for a period of 24 hours.
To enter the competition, head over to the Gleam page and complete the tasks:
https://gleam.io/GOT2P/tamadoge-x-bybit-sign-up-deposit-100-kyc-vote-share-to-claim-50-of-tama-tokens
To create your Bybit account, visit the Tamadoge Bybit competition page here:
https://dns0.bitesly.io/b_BybitTamadogeByvotes
TAMA is listed on 15 centralized exchanges (CEXs) including top 10 crypto exchange OKX, as well as the leading decentralized exchange on the Ethereum blockchain, Uniswap.
Disclaimer: The Industry Talk section features insights by crypto industry players and is not a part of the editorial content of Cryptonews.com.
---