Pepe Coin Price Prediction as PEPE Blasts Up 250% in 7 Days – Can PEPE Reach $1?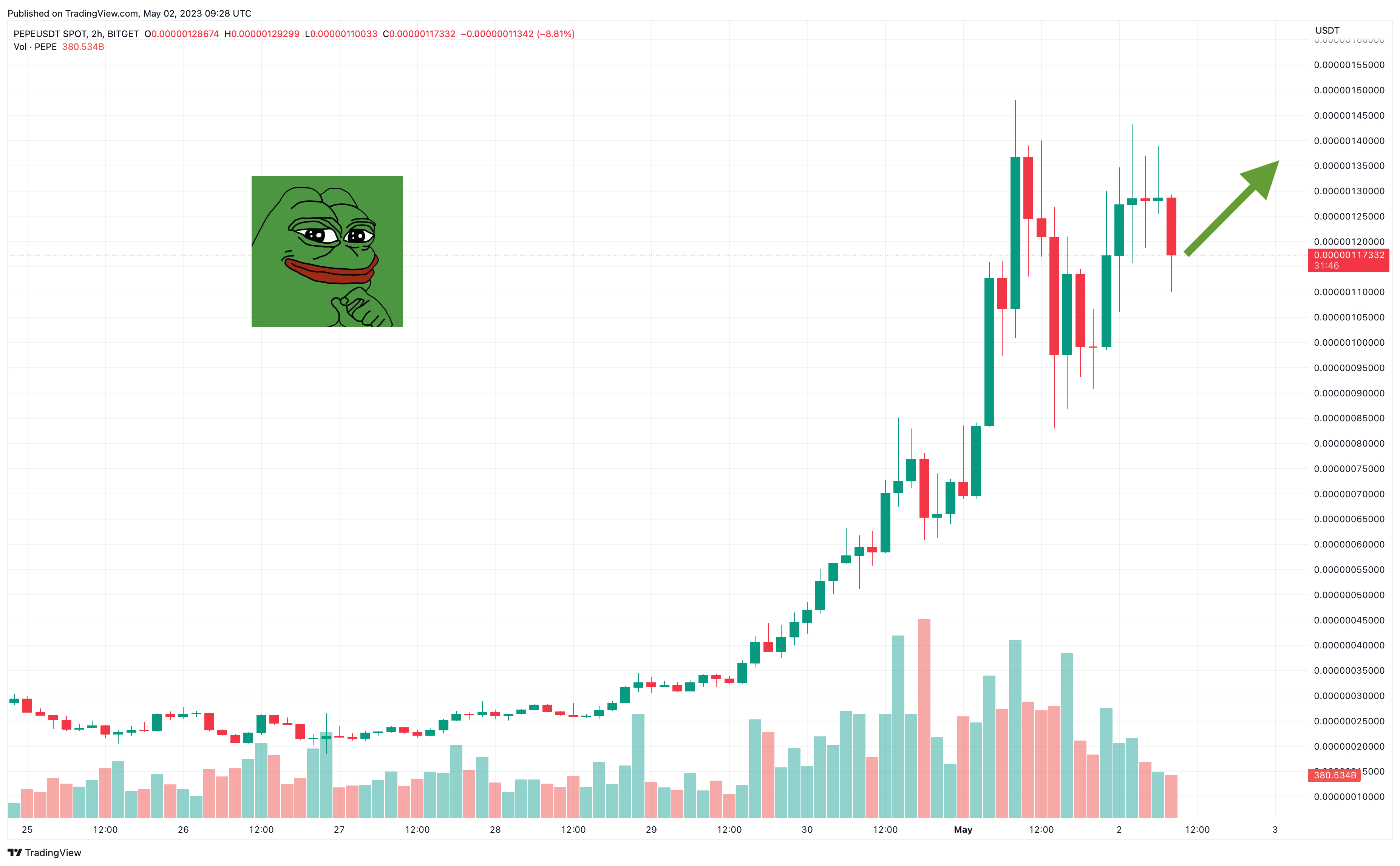 The Pepe Coin price has dropped by 7% in the past 24 hours, although its level of $0.00000126 also represents a massive 250% gain in the past seven days.
This surge has enabled PEPE to enter the top 100 cryptocurrencies by market cap, with the new Pepe-themed meme token also rising by 525% in two weeks, having launched on April 16.
This makes it the best-performing cryptocurrency of the past few weeks by quite a wide margin, and it seems as though its rally hasn't quite run out of momentum yet.
However, with the coin offering no fundamental value beyond a 'funny' mascot and a small community of holders, there remains every chance that it could witness a big correction soon.
Pepe Coin Price Prediction as PEPE Blasts Up 250% in 7 Days – Can PEPE Reach $1?
Despite the surge of the past couple of weeks, PEPE is actually down in the past hour, as indicated by the last red candle in the chart below.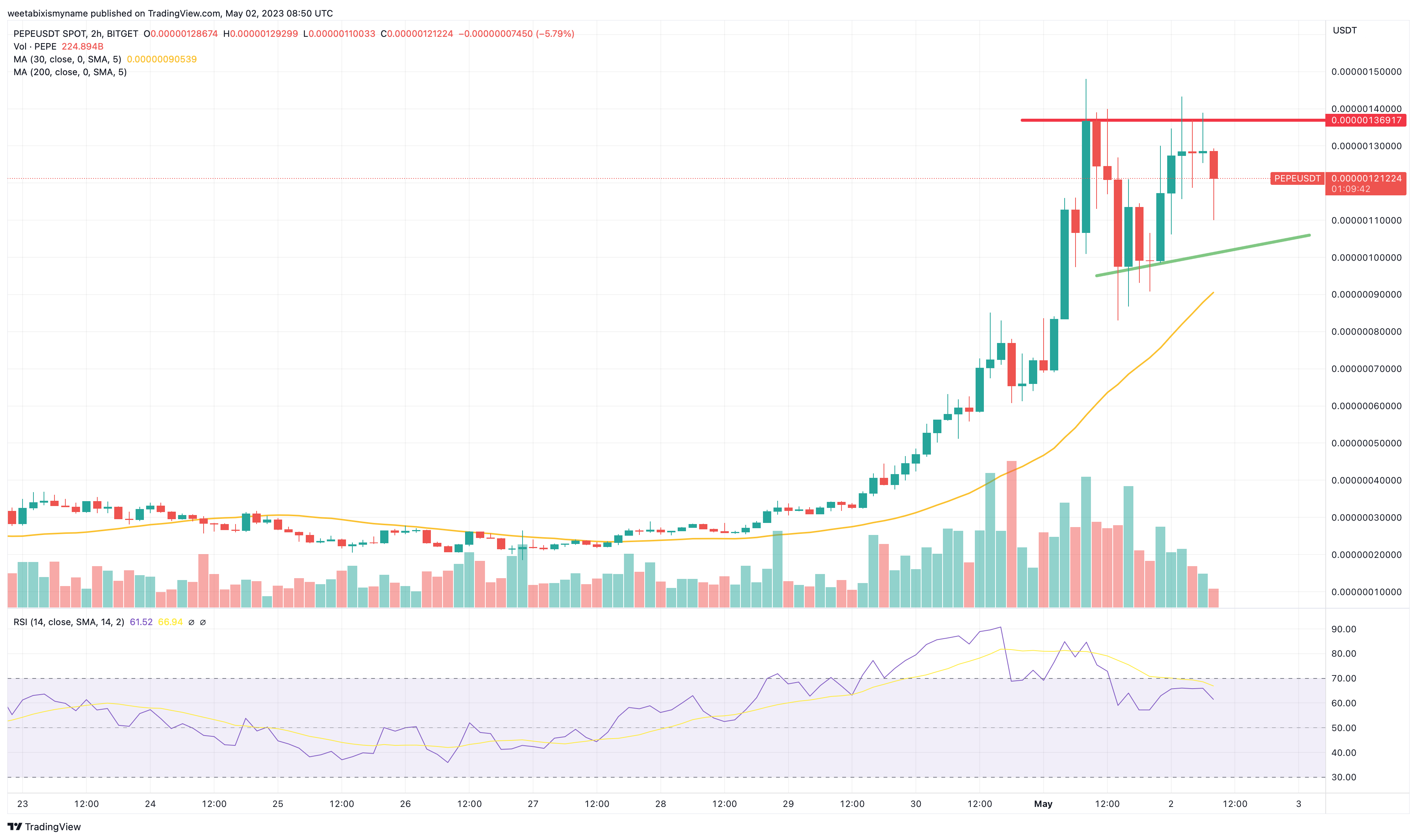 The meme token's relative strength index (purple) has also begun to slide downwards, having reached a very overbought level of 90 at the end of last month.
This would usually signal that a correction is coming, although its support level of $0.000001 held up well when the coin dipped yesterday, so any falls may not be that dramatic.
And with the rest of the market largely subdued because of fears surrounding another rate hike and also surrounding the collapse of First Republic, it's possible that traders are rallying behind PEPE at the moment because it's the only game in town.
Of course, the million-dollar question is whether PEPE can sustain its rally, given that there's nothing going for the token beyond its meme value.
Launched a couple of weekends ago, it's an ERC-20 token with a total maximum supply of 420 trillion (a reference to 4/20 cannabis culture).
It currently has just over 74,000 holders, up from 43,000 on April 25 and 7,500 on April 17.
This indicates a significant growth in interest in PEPE, although to put these numbers in some perspective, Ethereum (ETH) has 230 million holders.
It's worth pointing out that PEPE has no connection to Matt Furie, the original creator of the Pepe the Frog meme, while the identity of its creators is completely unknown.
This anonymity could potentially indicate that it may be a classic pump-and-dump/rug pull type of endeavor, with such suspicions reinforced by the fact that the registrants of its official domain have chosen to remain anonymous, using a privacy service associated with a number of scams.
Analysis from Lookonchain has also found that five addresses related to Pepe's 'pepecexwallet.eth' wallet bought 7.76 trillion PEPE early and dumped it on the market for a profit of around $1.23 million.
Still, despite Lookonchain and others offering such warnings more than a week ago, PEPE has continued to rally.
This suggests that, irrespective of its fundamental value (or complete lack thereof), a growing number of traders have latched onto it, providing it with something like a community of holders and supporters.
If so, PEPE could be in for further gains in the medium term, if not the long term.
And while a surge to $1 would entail an improbable gain of 79,999,900% over its current price, it could certainly lose a few decimal places as the year progresses.
Other High-Potential Alternatives
There's no denying that PEPE has made some impressive gains in the past few weeks, but its lack of fundamentals raises the possibility that it could crash in the future.
As such, traders may prefer to look at other new high-potential altcoins that also happen to have serious fundamentals, with another Ethereum-based platform, Launchpad XYZ (LPX), being one of the most interesting new projects in crypto right now.
Conceived as a one-stop shop for users wanting to enter Web3, it opened the presale for its native LPX token several days ago, and has already raised just over $160,000.
Launchpad XYZ is a platform and ecosystem that will integrate the many different applications, tools and services that comprise the rapidly expanding Web3 sector.
Far too often, these different resources are effectively siloed, something which makes it difficult for the general public to really enter the Web3 space, seeing as how complicated it can be.
Launchpad aims to provide a streamlined solution to this, with one of its main features being a Web3 wallet address where users can keep their coins, NFTs and other digital objects.
And once it launches later in the year,it will also feature a play-to-earn game hub, a launchpad for presales, a trading terminal, and an AI-powered search engine specifically for crypto.
This is why its LPX presale has already begun taking off in such a short space of time, with investors able to join it by heading over to the Launchpad website and connecting their wallets.
One LPX token currently costs $0.035, although this will rise to $0.0375 in the sale's next stage, giving traders only a limited opportunity to buy the exciting new coin at the lowest possible price.
---