Pepe Coin Price Prediction as $200 Million Sends PEPE Up 7% – Are Whales Buying?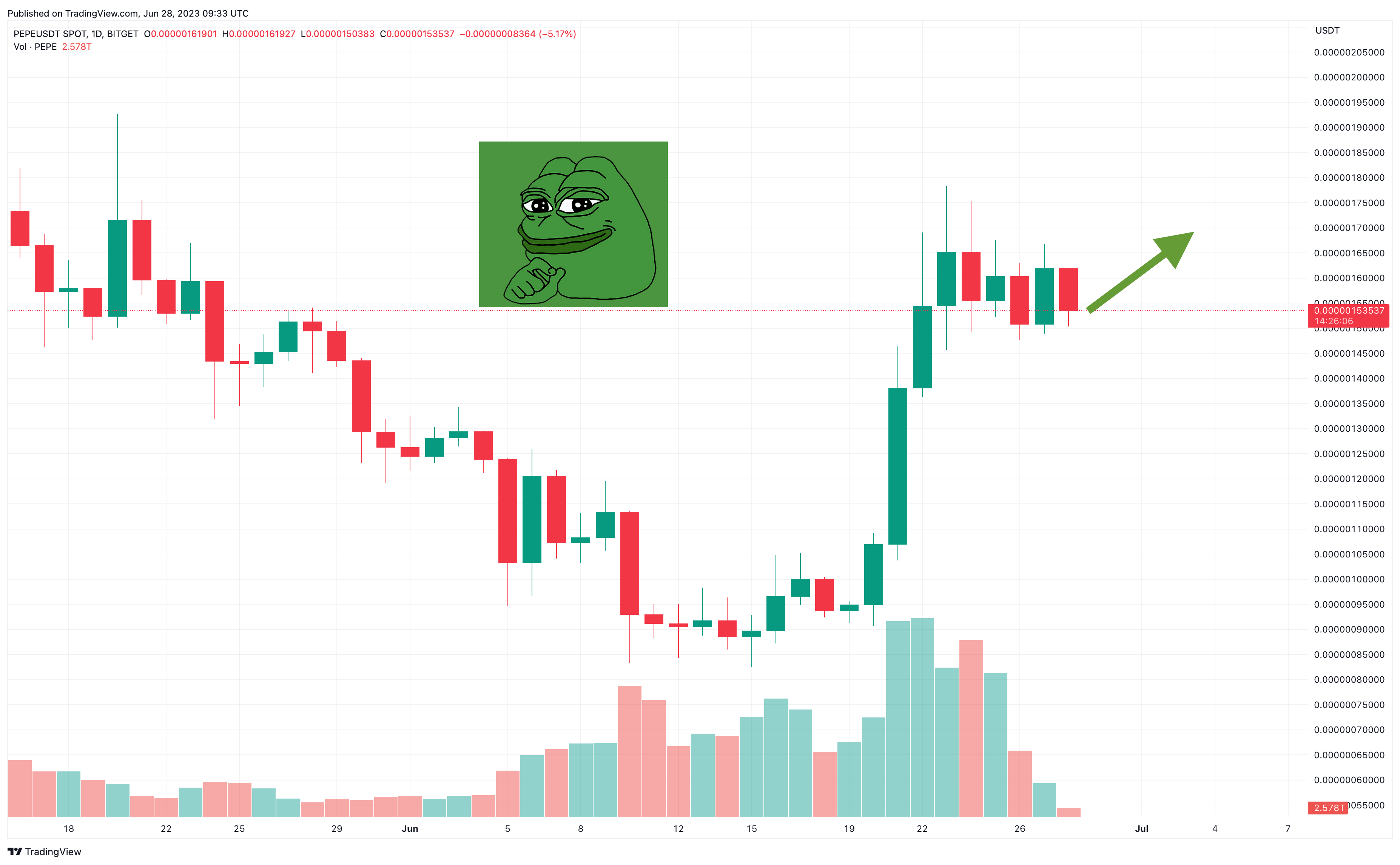 The Pepe Coin price has dropped by 2% in the past 24 hours, yet its move to $0.00000153 still means it has gained by 46% in a week, as its trading volume hovers around the $200 million level.
PEPE is also up by 65% in the last 14 days, although it remains 64% below its all-time high of $0.00000431, set back in early May.
However, its gains yesterday and over the past week show that it hasn't run out of momentum, and that it's now arguably fully established as a meme token, ready to enjoy further rallies in the future.
This is supported by on-chain data, which shows that whales are still accumulating the altcoin, which could therefore see a surge in the very near future.
Pepe Coin Price Prediction as $200 Million Sends PEPE Up 7% – Are Whales Buying?
PEPE's chart remains strong, even with the dip of the past 24 hours.
For example, the coin's relative strength index (purple) has pointed upwards again in the past hour, after falling below 50 yesterday.
This suggests that the coin will quickly regain the momentum of last week, as does the fact that its 30-day moving average (yellow) remains well above its 200-day average (blue), something which indicates that buying pressure is still on the coin's side.
It's also worth pointing out that PEPE's support level has increased over the past week, meaning that its fall in the past day shouldn't really get any worse and that it's in a strong position to begin rising again from a higher base.
Of course, PEPE's status as a meme token indicates that it will not rise again for any fundamental reason (e.g., related to its 'utility'), yet it seems to have retained enough of a community and enough market interest to book further gains.
For instance, data reported by Lookonchain shows that whales continue to accumulate the altcoin in the expectation of profits further down the line.
This is encouraging, if only because whales tend to set the direction of future price movements, although it needs to be remembered that they certainly aren't infallible.
Still, with whales continuing to buy large amounts of the coin, it has a good chance of seeing further gains in the near future.
From its current level of $0.00000153, it could easily return to $0.0000020 in the next few weeks, before seeing more substantial gains in the coming months and towards the end of the year.
New Meme Tokens
Despite PEPE's potential for further gains, it's unlikely that it will see another massive rally, seeing as how it has already risen by 2,666% compared to its all-time low of $0.000000055142 (as recorded by CoinGecko).
This means that if traders are hoping for truly substantial gains, they may have to turn to even newer meme tokens, with those currently holding their presales showing the biggest potential for the biggest gains.
Possibly the best example of this is Wall Street Memes (WSM), an Ethereum-based cryptocurrency that has already raised $11 million in its presale, which hasn't even been going for a month yet.
WSM has strong links with the meme stocks movement, which in 2021 infamously fomented the GameStop and AMC rallies.
It's because it has this strong association with this online community that its presale has already been so successful, with its official Twitter account now boasting in excess of 255,000 followers.
This gives it a very strong foundation for being successful when it lists, in that a meme token really needs a big community if it's to enjoy sustained and repeated rallies.
Investors can join its presale by going to the official Wall Street Memes website and connecting their crypto wallets, with WSM buyable using USDT, ETH or fiat currency.
Presently in its 18th stage, the presale is now selling 1 WSM for $0.0304, a price that will move to $0.0337 by the end of the offering.
But this may rise even higher once the meme token lists on exchanges, helping its early investors to make a market-beating profit.
Disclaimer: The Industry Talk section features insights by crypto industry players and is not a part of the editorial content of Cryptonews.com.
---