Orange Comet Announces Partnership With Sir Anthony Hopkins
Disclosure: Crypto is a high-risk asset class. This article is provided for informational purposes and does not constitute investment advice. By using this website, you agree to our terms and conditions. We may utilise affiliate links within our content, and receive commission.
Disclaimer: The text below is a press release that is not part of Cryptonews.com editorial content.

One of Britain's most recognizable and well-known actors, Sir Anthony Hopkins has a new, creative venture that doesn't involve the Big Screen. It's a project that delves into the world of Non-Fungible Tokens (NFTs) with his exciting partnership with Orange Comet.
The Eternal NFT Collection
Sir Anthony Hopkins is not only known for his great film achievements, but now he will become immortal on the blockchain as he introduces a collection of unique NFTs to continue to cement his legacy not only in the physical world but also in the Metaverse.
Even though Sir Anthony Hopkins is widely known for his work as an actor; winning two Academy Awards for his films The Silence of the Lambs (1991) and The Father (2020), he is a true Renaissance man delving into other ways to create art. Sir Anthony Hopkins began painting in 2005 and had a solo show at Harte International Galleries in Hawaii. In 2009 at a Bloomsbury Auction in New York, the renowned Burt Britton Collection bought a self-portrait the actor had painted that same year, as a part of their permanent collection.
Sir Anthony's works include an array of vibrant abstract paintings with his style continuing to evolve over time. The Eternal Collection draws inspiration from this art and his long and iconic film career to create thought-provoking images and animations. The collection embodies ten different personalities that Sir Anthony Hopkins was able to explore: 'Jester,' 'Lover,' 'Ruler,' 'Rebel,' 'Giver,' 'Hero,' 'Explorer,' 'Creator,' 'Magician,' and 'Sage'.
The Legendary drop will have a total of 1000 pieces and multiple utilities including a once in a lifetime opportunity for ten lucky collectors to obtain Signature Animation NFTs. The 10, 1 of 1 Signature NFTs will include a zoom call with Sir Anthony himself as well as an autographed Dreamscapes Art Book which offers the owner a peek into the artistic mind of the beloved Welsh actor and features a compilation of images, paintings, and drawings created by Sir Anthony Hopkins.
The other 990 NFTs in the Legendary collection are just as amazing and unique. They include one of a kind images based on the 10 archetypes and also come with exclusive utility.
The 84 year old has already given insight on some of the archetypes that will be available on October 13 on OpenSea.
The Ruler: "The ultimate leader: all about power, control, & dominance. The one that gives people a good reason to listen, and is rarely misunderstood."
The Hero: "We are all both saints & sinners, conflicted with the light and dark inside of us. The hero battles with himself, an inner battle with his own demons."
The Sage: "The seeker of knowledge, a mentor brought to impart wisdom unto others. His core desire is to find truth, to use intelligence and analysis to understand the world."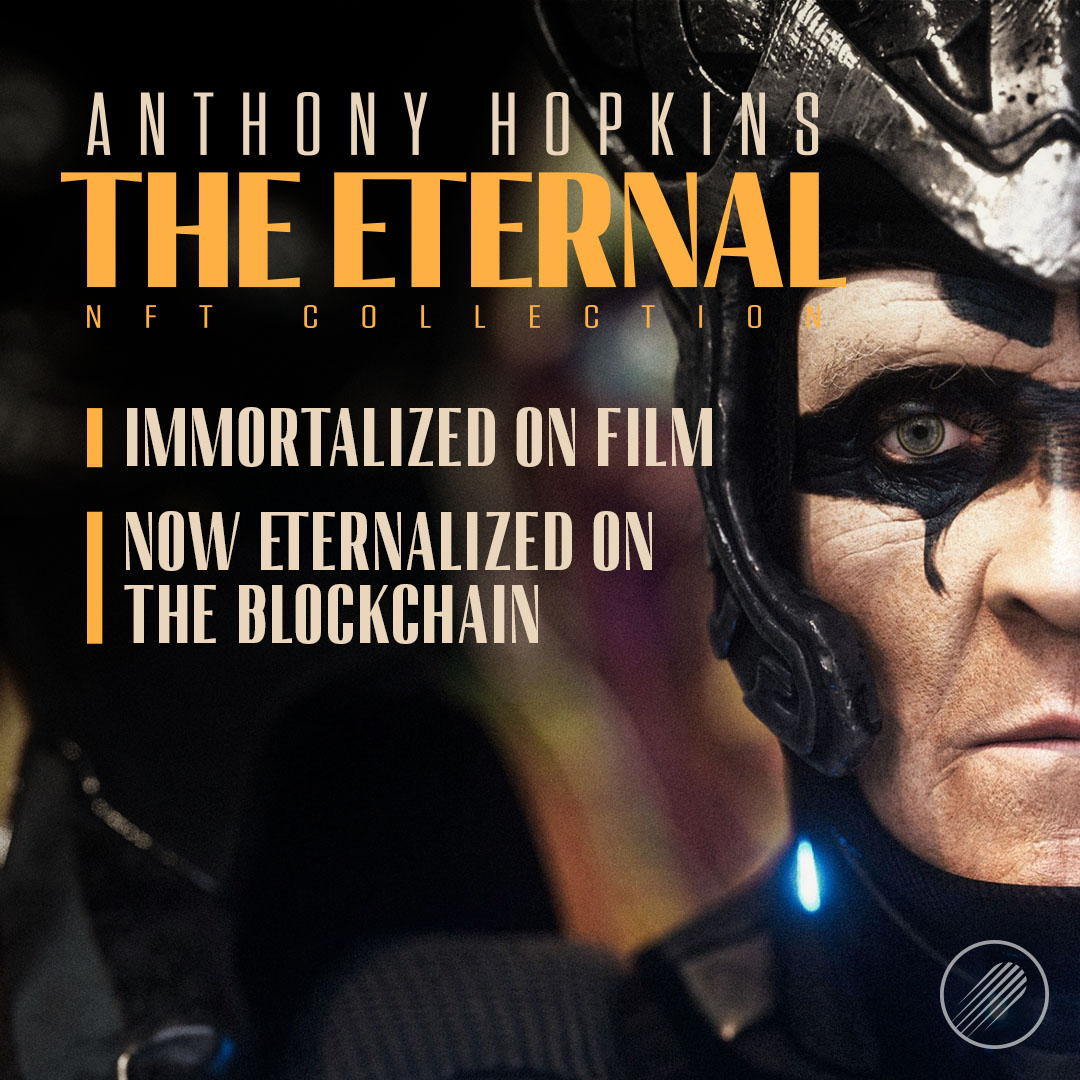 In June of this year, Sir Anthony Hopkins asked his social media community how to get into the NFT space. He voiced how talented all the artists in the NFT world are, and even inquired on Twitter for people to give him suggestions on what his first NFT purchase should be. That tweet received over 5,000 Retweets and over 34,000 Likes.
In response, Beeple, a prominent designer in the NFT space famously known for creating and selling the most expensive NFT for $69 million, tweeted an original design and tagged the actor. Sir Anthony responded by greeting Beeple and, really showing his fans how authentic his interest in the NFT world is. As the saying goes, it seems you're never too old to learn something new.
At a press junket to discuss his new artist endeavors, the two-time Oscar Award winning actor talked about the future of NFTs and his decision to tap into the world of the Metaverse. He said, an NFT, "offers an incredible opportunity to connect with an audience in an entirely different way… I'm probably the oldest guy in the NFT community and on social media, which proves all is possible at any age." Sir Anthony Hopkins also updated his Twitter username to "AHopkins.eth," back in June of this year, relaying his excitement and knowledge of the blockchain.
"As an artist, I am inspired by the power of art, music, cinema, and the illusionary dreamlike quality of life," Sir Anthony has said, "The Metaverse offers an incredible opportunity to connect with an audience in an entirely different way."
He has formed a partnership with Inner-City Arts, whose mission is "to engage young people in the creative process in order to shape a society of creative, confident, and collaborative individuals," and has pledged a donation from the proceeds of The Eternal Collection to this worthy cause.
The collection will mint on OpenSea, the largest retailer for NFTs in the world on October 13.
Available on OpenSea >> Here
Sign up for the latest info >> Here

---