Optimism Price Prediction as Coinbase Launches Layer 2 Network Using Optimism Tech – OP to the Moon?
Disclosure: Crypto is a high-risk asset class. This article is provided for informational purposes and does not constitute investment advice. By using this website, you agree to our terms and conditions. We may utilise affiliate links within our content, and receive commission.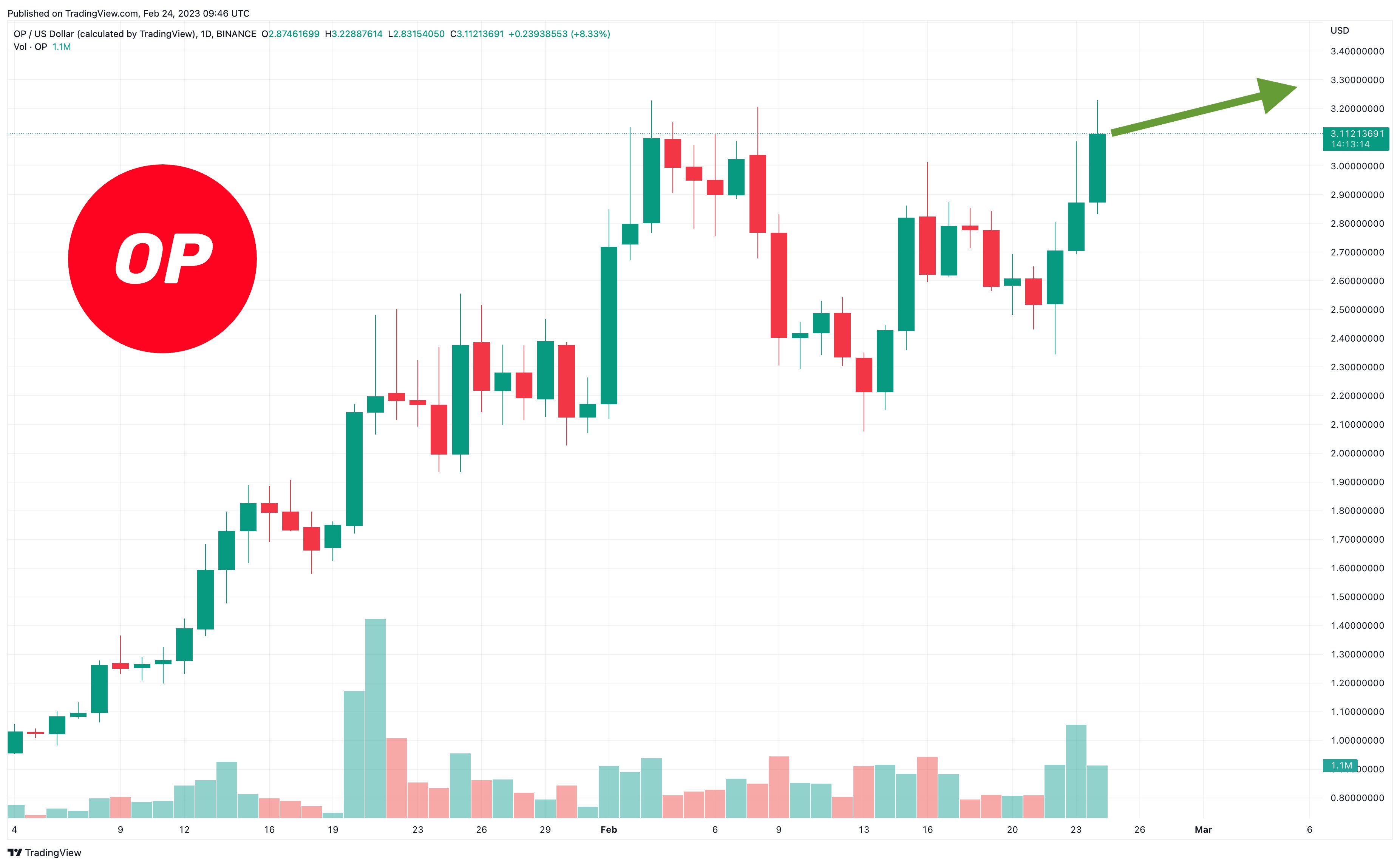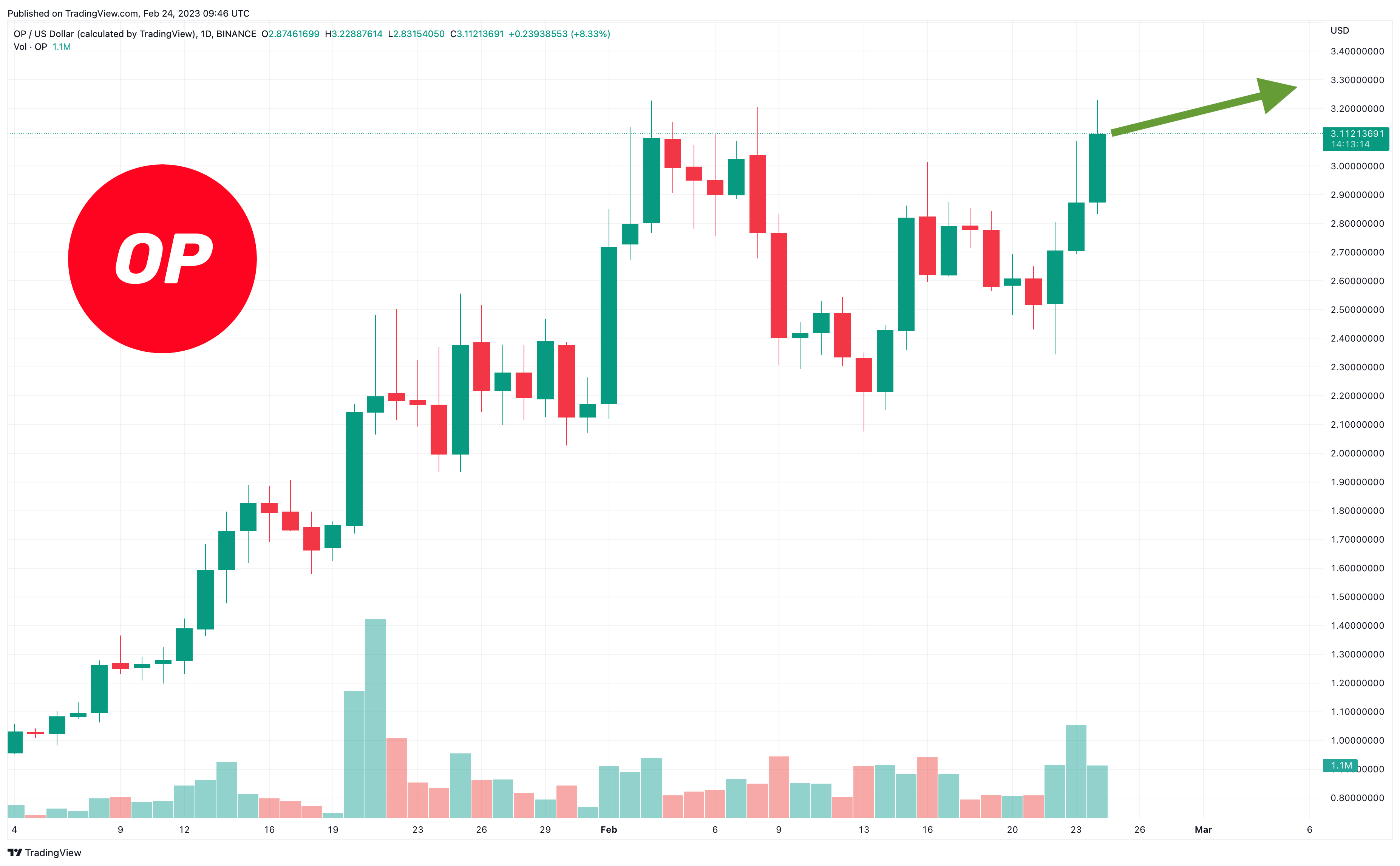 The Optimism price has shot up by 11% in the past 24 hours, boosted by the news that Coinbase will be launching its own layer-two network for Ethereum using Optimism-based technology. At $3.14, it has risen by 20% in a week and by 58% in the last 30 days, with growing usage of the Optimism network itself also helping to support gains.
Coinbase's use of Optimism's open-source OP Stack for developing its layer-two sidechain could help to boost the Optimism ecosystem significantly in the coming months, particularly with Coinbase now joining Optimism as a core developer for the latter's development stack. And with the growth of Ethereum also helping to boost usage of Optimism, native token OP could end up being one of 2023's biggest gainers.
Optimism Price Prediction as Coinbase Launches Layer 2 Network Using Optimism Tech – OP to the Moon?
OP's chart reveals that the altcoin has begun what could be a very significant rally. Firstly, its 30-day moving average (red) has recently risen over its 200-day average (blue), suggesting a breakout that has really only just begun.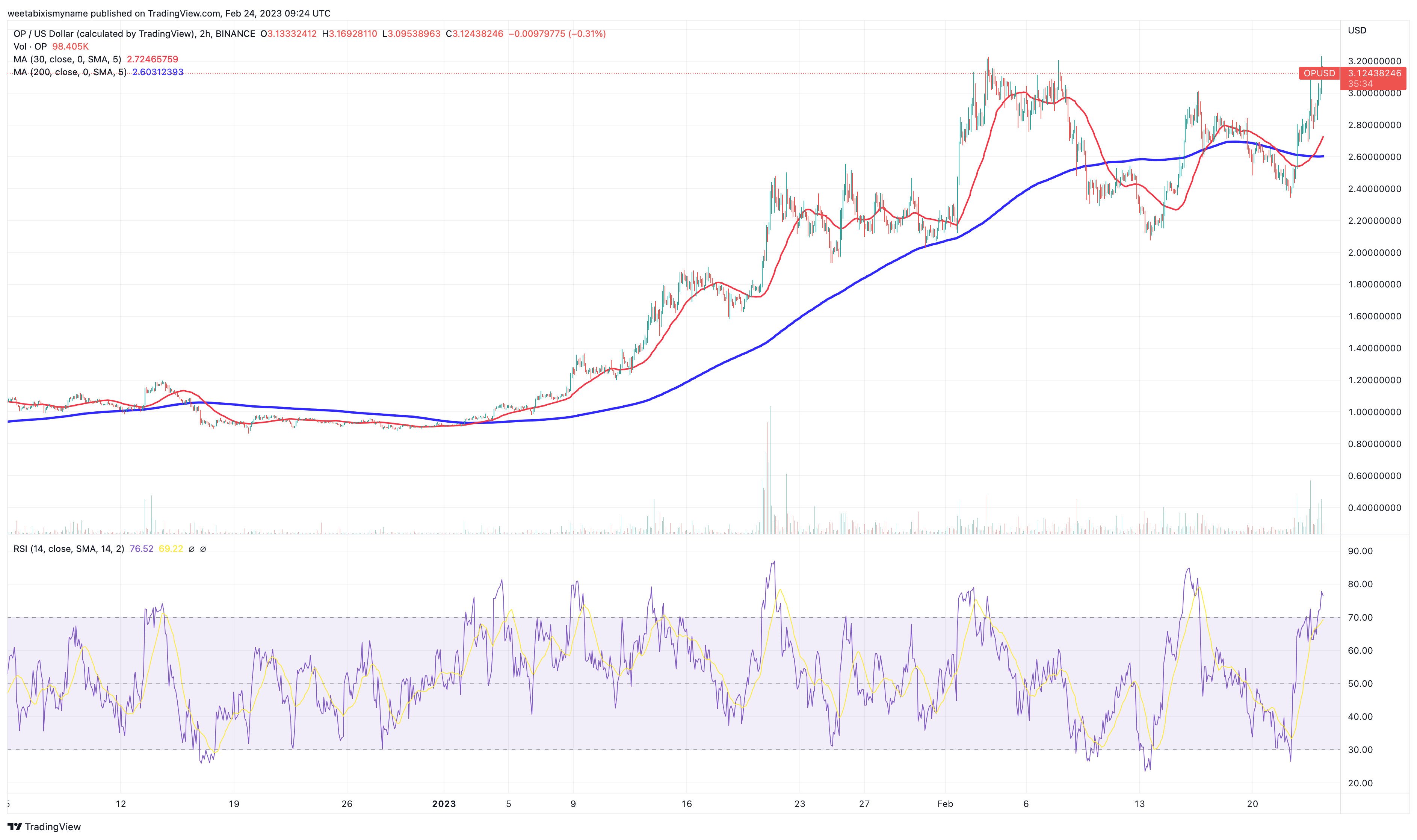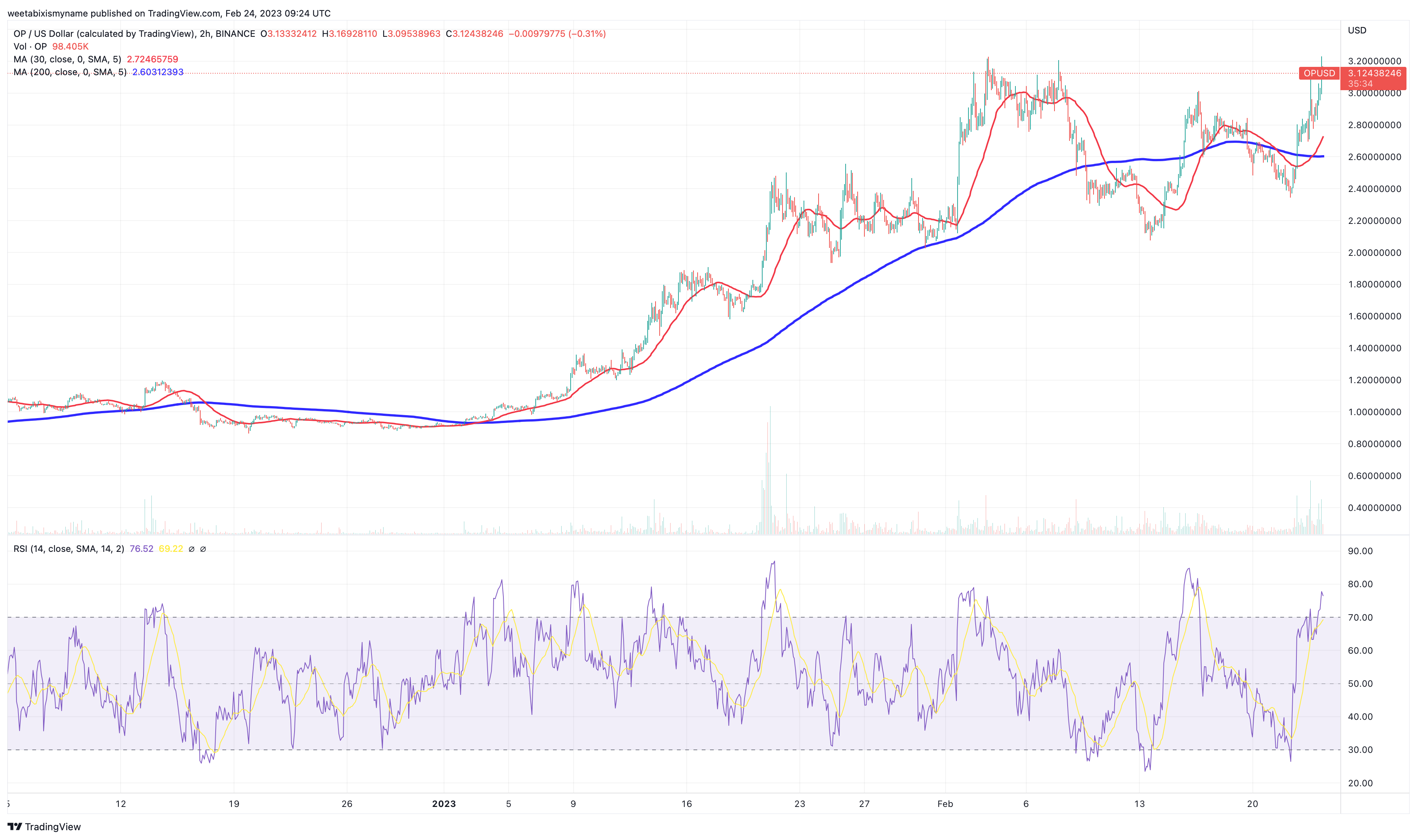 On top of this, OP's relative strength index (purple) has just passed 70, indicating some very strong buying momentum. Given that the RSI hasn't reached 80 (or higher) yet, OP still has plenty of room to continue to rise before it becomes overbought.
If OP can break through the $3.15 resistance level, its rally may continue into the weekend, bringing with it further gains and potentially consolidation around a new, higher level. Of course, this also depends on general market bullishness, but OP certainly has enough momentum on its own to witness more rises in the very near future.
And regardless of whether OP rallies more in the short term, it's clear that yesterday's news about Coinbase and its Base layer-two network is a massive win for Optimism. With America's biggest exchange effectively joining the Optimism ecosystem as one of its core developers, Optimism will likely experience steadily rising adoption over time, indicating more demand for OP.
As written in the blog accompanying Coinbase's announcement, "Base is built on the MIT-licensed OP Stack, in collaboration with Optimism. We're joining as the second Core Dev team working on the OP Stack to ensure it's a public good available to everyone."
Even though Coinbase will be building its own layer-two sidechain, the use of core Optimism code will basically mean that many of the dApps that launch on Base may also have compatibility or interoperability with Optimism. So even if Base grows to become one of the biggest layer twos in crypto, its growth should feed into the growth of Optimism itself.
Everybody is talking about Optimism right now.

Coinbase just announced they're launching a new L2 blockchain called "Base" built on the $OP stack.

In this thread, we'll look at

1⃣ What Optimism is
2⃣ Why $OP is a top choice for DeFi
3⃣ DeFi protocols with huge potential

🧵/23 pic.twitter.com/s9DDYpQWIv

— Route 2 FI (@Route2FI) February 23, 2023
The market seems to agree with this assessment, given that OP has risen by over 10% in the last 24 hours, as well as by over 230% since the start of the year.
Most of this gain isn't down to Coinbase's news from yesterday but from the consistent growth Optimism has enjoyed as a layer-two network for Ethereum. Indeed, its total value locked in has expanded by around 82% since January 1, reaching $914.26 million as of writing.
This signals how Optimism has become one of the biggest layer-two networks for Ethereum in the cryptocurrency ecosystem. And with Ethereum likely to only cement its position as the dominant layer-one in the coming years, it's also likely that Optimism will only grow with it.
As such, OP could be expected to rise to $3.19 in the coming days, with this price being its current all-time high (set as recently as February 3 of this year). From there, it could potentially reached $3.30 or $3.40 by the middle of the year, and possibly much higher by the close of 2023.
https://www.twitter.com/Token_Matrix/status/1629046784063406081
Optimism Alternatives
As bullish as OP looks right now, there are other high-potential coins currently available in the market. Accordingly, we've reviewed such tokens in this list of the top 15 cryptocurrencies for 2023, as analyzed by the Cryptonews Industry Talk team.

The list is updated weekly with new altcoins and ICO projects.
Disclaimer: The Industry Talk section features insights by crypto industry players and is not a part of the editorial content of Cryptonews.com.
---