Only 1.5 Weeks Before Metropoly Launches, Last Few Weeks to Enter Presale
Disclaimer: The text below is a press release that is not part of Cryptonews.com editorial content.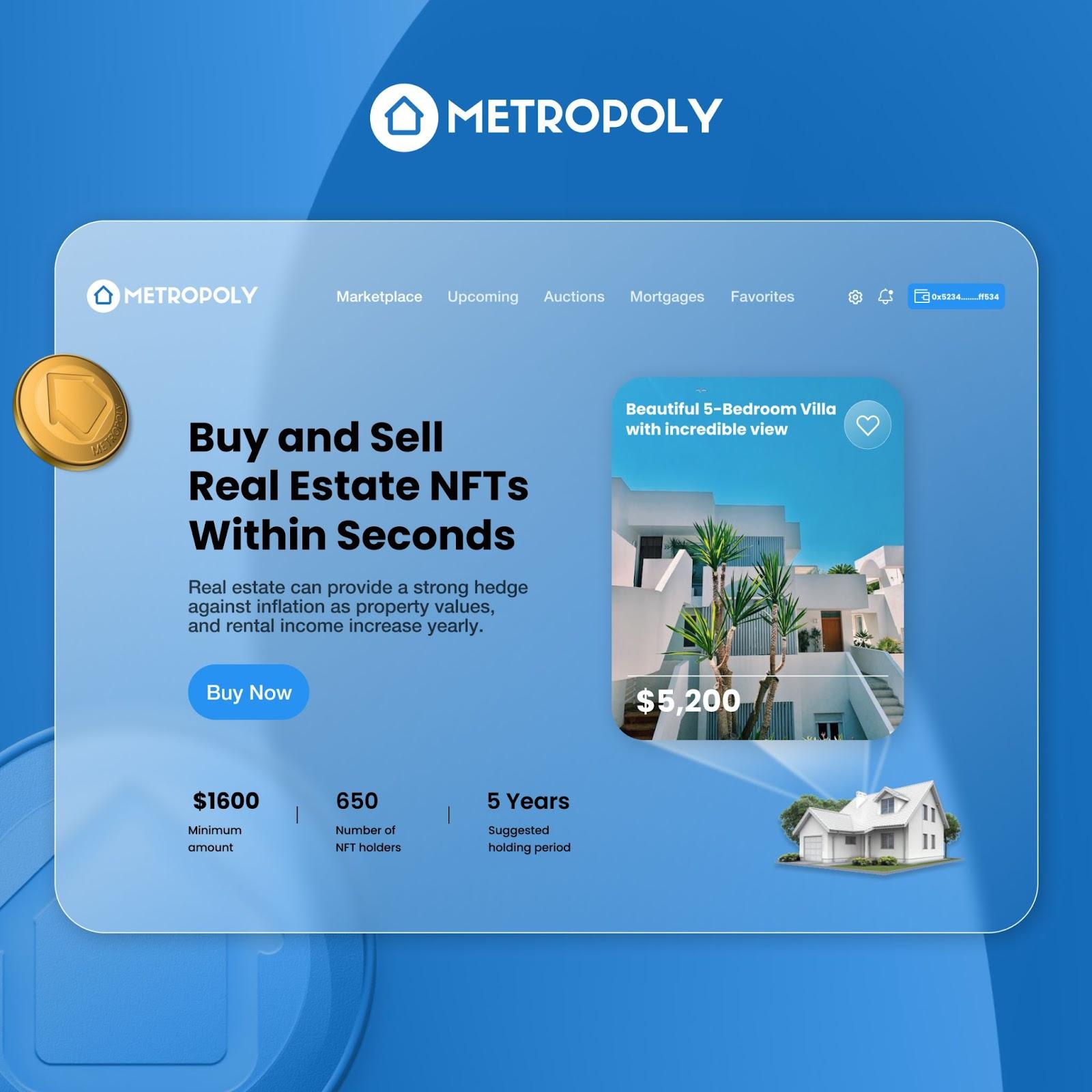 Real estate investment has been attractive for a long time, but it has become increasingly difficult to enter due to high housing prices and stagnant income ratios. In the United States, the median house price-to-income ratio has exceeded 7.71, surpassing the figures seen during the 2008 economic crisis and those recorded two decades ago, posing significant obstacles for investors looking to secure their future.
Metropoly is the foremost of blockchain-based real estate platforms and it is worthwhile to explore how this platform aims to disrupt the industry and make real estate investment more accessible.
Check Out METRO Presale and Beta Platform
Metropoly has made significant advancements in the real estate industry by leveraging blockchain technology to enable fractional real estate investment. The platform's presale is currently ongoing, and it is set to transition to the next phase soon. During the presale, the project has already raised more than $1.2 million. Investors have the opportunity to purchase the platform's ERC-20 utility token called METRO, which has a total supply of 1 billion tokens. The price per token is $0.08, and USDT, ETH, or BNB can be used to acquire it.
By participating in Metropoly's presale, investors can become members of the exclusive Platinum Member's Club, which comes with several benefits, such as early access to the Metropoly Beta and a Metropoly NFT. The benefits increase with the investment amount, and higher-tier investors can receive real estate NFTs worth $10,000 and cashback on rental income.
Metropoly's popularity is surging on various social media platforms, thanks to its many attractive features that are drawing in users. The platform's potential is demonstrated by the availability of a prototype platform for users to test, along with the fact that SolidProof has validated the platform's contract code, and CertiK has authenticated the identities of the team members.
The platform is about to launch to the public soon, with a set launch date of May 1st. This means you should enter as quickly as possible to get ready for the launch and investment in real estate.
Metropoly highlights the potential of blockchain technology to revolutionize the real estate sector by introducing cutting-edge solutions. The platform offers a hassle-free and user-friendly option that eliminates the need for convoluted bureaucracy, making it possible for anyone to participate in the real estate market, regardless of their investment size. Whether an individual has a modest sum of $100 or a significant amount, Metropoly allows everyone to benefit from investing in real estate.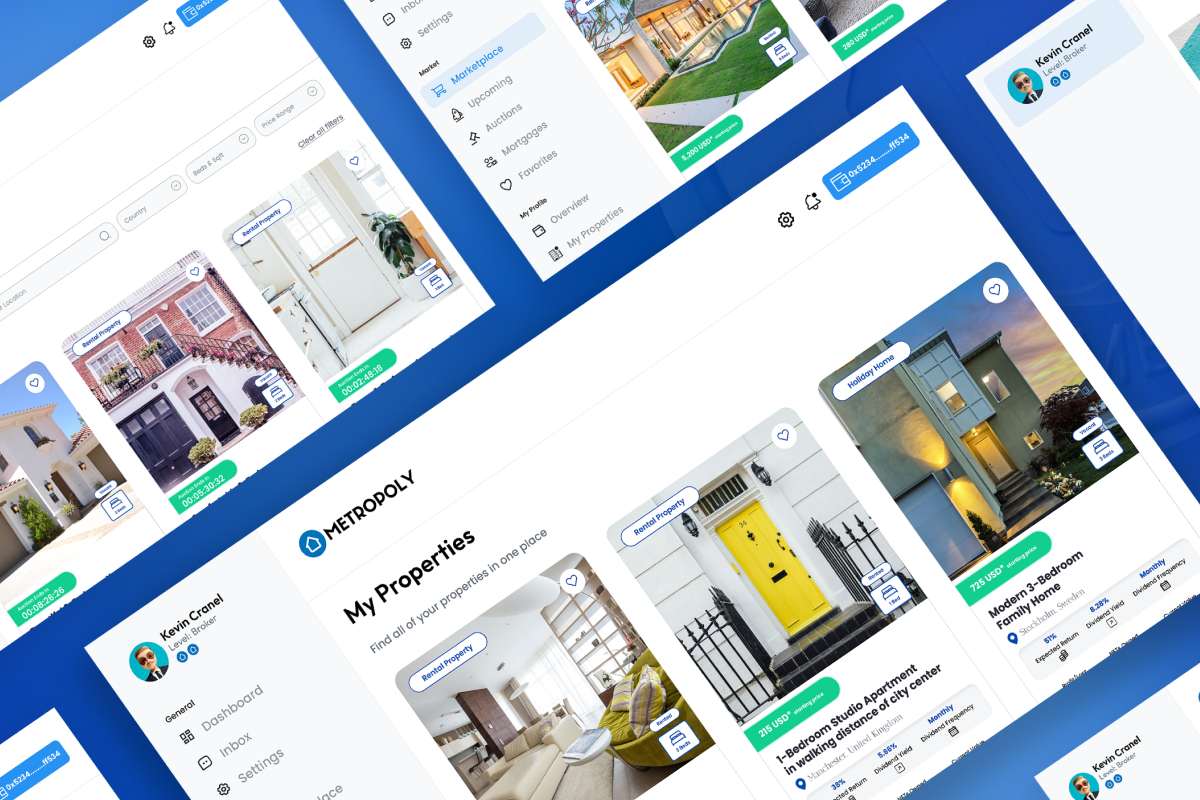 Metropoly provides an accessible and user-friendly platform for fractional real estate investment, enabling individuals to purchase property fractions starting at $100. The investment process is simple, requiring users to link their wallets, browse the marketplace for properties ranging from villas to apartments and penthouses, and buy a fraction.
Users can currently access the platform's beta version, which enables them to explore available properties, participate in ongoing auctions, and review the payouts tab. The Metropoly marketplace will feature properties from various parts of the world and include a leaderboard highlighting users' real estate fraction ownership, performance, and dividend payouts. It's important to note that the properties showcased in the prototype are solely for demonstration purposes.
In addition to offering a user-friendly fractional real estate investment platform, Metropoly presents an exceptional opportunity for users to win a $1 million apartment in Burj Khalifa through its $1 million giveaway. This property has the potential to generate rental income of up to $100,000 annually, making it a highly desirable prize. Users can participate in the contest by completing social and marketing tasks, such as tweeting about Metropoly, subscribing to the Discord and Telegram channels, and signing up for the newsletter.
All Sorts of Properties Available
Transferring real estate investment knowledge from one generation to the next has been a traditional practice. However, younger individuals face significant challenges investing in real estate due to its complex nature and high costs. This limits their ability to enjoy the numerous benefits associated with real estate investment, such as protection against inflation, diversification of investment portfolios, and investment in profitable tangible assets.
It's crucial to understand the potential of real estate as a source of passive income and a hedge against inflation. By investing in real estate, younger generations can establish a dependable income stream and secure their financial stability. A new blockchain-enabled real estate market is emerging to address these issues, providing a cost-effective and convenient way for individuals of all ages and financial circumstances to invest in real estate.
Metropoly is leading this movement by launching an NFT marketplace for real estate assets. The NFTs offered by Metropoly are fully backed by tangible properties, enabling everyone to enjoy the benefits of real estate investment.
Join the Real Estate Revolution
Real estate investment has proven to be a profitable venture despite the market's volatile nature. However, its complexity poses a challenge for the average person looking to invest. To address this issue, Metropoly, a blockchain-based platform, has emerged to offer a user-friendly and accessible means of real estate investment. With the ability to purchase properties from various locations around the world in a matter of minutes, Metropoly has the potential to disrupt the traditional exclusive investment market, making real estate investment accessible to everyone. As the presale stage approaches its end, it is advisable to consider exploring Metropoly.
---