One More Sign Suggests Possible End of the Crypto Winter
The bitcoin market may be about to see another wave of buying, one measure of sentiment among traders suggests.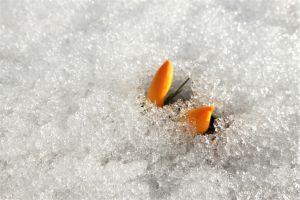 According to data from crypto exchange Bitfinex, the ratio of short-to-long trades in the bitcoin market has hit 0.68 – the lowest level since early August last year. A short-to-long ratio below 1 indicates that there are more traders who believe in higher prices, than those who believe in lower prices.
While a "long trade" involves buying an asset in anticipation that its price will rise, a "short trade" happens when a trader places a bet that the price of an asset will fall, by borrowing the asset and then selling it in the market. The trader's goal is then to buy back the asset at a lower price later, and pocket the price difference as his profit.
During the past six months, we have often reported on this ratio reaching record-high levels as a sign that there may be too many traders positioned on the long side of the trade, which may lead to sharp reversals in the price. This time, however, the ratio is far from extreme levels, suggesting that the recent bitcoin rally may still continue for some time.
Bitcoin short-to-long ratio on Bitfinex. The blue horizontal line indicates equilibrium between short and long trades: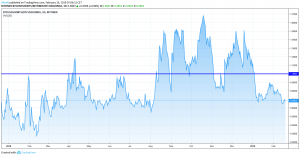 Meanwhile, the total value of the short trades on Bitfinex has also dropped. More than just indicating that the bullish sentiment has increased, this also suggests that the overall interest in bitcoin trading is picking up.
As of press time on Tuesday (UTC 06:20 AM,) the total value of BTC/USD longs on Bitfinex was BTC 27,906, down slightly from more than BTC 38,000 on Monday – the highest level in 11 months. Meanwhile, the value of all short positions on the same exchange was just 19,152 BTC, indicating that the sentiment is shifting to more bullishness for bitcoin. However, it remains to be seen how long it will last.
Bitcoin short trades in red and bitcoin long trades in blue on Bitfinex (using 7-day moving averages):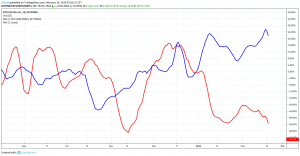 Moreover, market sentiment towards top coins is also improving, as reported on Monday.
After jumping by almost 5% in the past 24 hours, Bitcoin is still trading above USD 3,900, while ether surpassed USD 147 and XRP is up to USD 0.32.
---