OMG They Burned Kenny - New Southpark Crypto Presale Launching Soon, Will it 3x Like Mr Hankey Coin?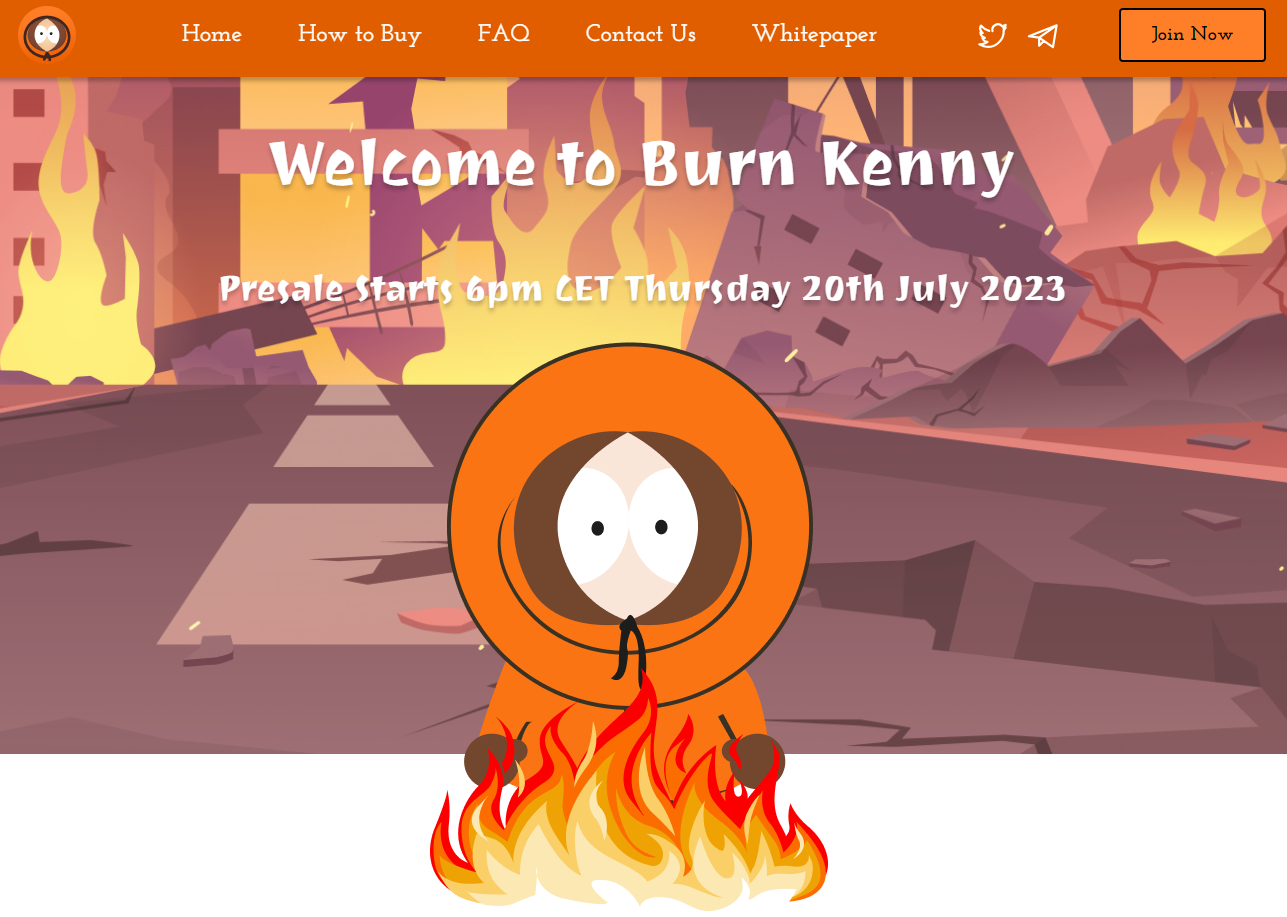 "OH MY GOD, THEY KILLED KENNY!"
A new meme coin based on the running South Park gag of character Kenny's multiple untimely deaths called Burn Kenny is about to launch an exciting presale.
Meme coin degens looking for the next small cap gem to explode can get their hands on their $KENNY coins from 18:00 CET on Thursday.
Burn Kenny is looking to raise $500,000 via a 40% of the initial $KENNY token supply, with 2.666 million tokens up for grabs at a flat price of $0.0001875.
That means the presale values $KENNY at a tiny market cap of just $1.25 million, leaving masses of room for explosive upside once the token launches on decentralized exchanges.
Better yet, and in-fitting with its name, Burn Kenny has an in-built burn mechanism designed to create deflation and lift the $KENNY price over time.
30% of the token supply has been set aside for future token burns.
The remaining 30% is dedicated to decentralized exchange (DEX) liquidity.
That's important because, in the absence of plentiful liquidity, meme coin degens often face the hurdle of inefficient buying and selling and significant potential losses due to price slippage.
Significantly, Burn Kenny's team has also pledged to lock this liquidity, ensuring that there is no rug pull.
Allocating such a large percentage of a new meme token's supply to a DEX liquidity lock is a rare move in the scam-ridden shitcoin space and should help bolster confidence in the project.
Follow Burn Kenny on Twitter and Telegram now to ensure you are among the first to be notified regarding presale and DEX launch news.
Will Burn Kenny 3x Like Mr Hankey Coin?
South Park-themed meme coin presales have been performing well recently.
Just last week, a meme coin based on South Park character Mr Hankey was able to achieve 3x gains versus its presale price of $0.00125.
As can be seen on DEXTools, $HANKEY reached as high as $0.0034.
Will Burn Kenny replicate or surpass Mr Hankey Coin's success?
Well, its understood that Burn Kenny is actually being launched by the very same marketing team that brought us not just Mr Hankey Coin, but also Thug Life Token ($THUG) and SpongeBob ($SPONGE), which recently did 3x and 100x gains respectively.
The marketing team in question was able to pull off these remarkable feats by securing partnerships with dozens of influencers and reputable crypto news websites.
Expect them to have similar success in spreading the word far and wide regarding Burn Kenny.
In fact, the team's efforts are already evident.
All you have to do is type Burn Kenny into Google search and you will see websites such as CoinGape and Cision and many more covering the token.
YouTubers are also already on the band wagon, with Cryptonews.com's inhouse analyst Ari having already taken a look at the token here.
Given the team's track record in delivering impressive meme coin pumps, there is a strong likelihood of $KENNY achieving at least 3x gains.
Meme coin degens should thus lose no time in getting involved in the project's exclusive, limited availability presale, which could sell out even faster than Mr Hankey Coin's presale did last week.
For reference, Mr Hankey Coin's presale (also of $500,000) sold out in a stunning under 10 hours.
---