NOW Wallet – A Wallet with a Wealth of Features
Disclaimer: The text below is an advertorial article that was not written by Cryptonews.com journalists.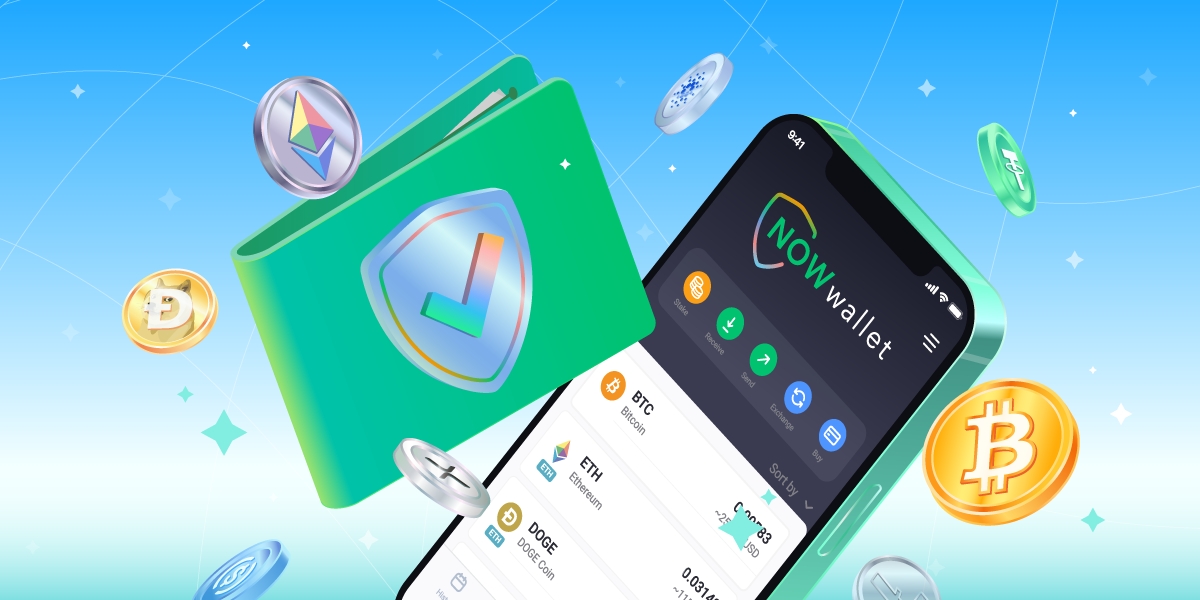 You most likely already have a crypto wallet if you're into crypto trading. They store your private keys – the passwords that allow you to access your cryptocurrencies – and keep them safe and accessible. They facilitate the sending and receiving of cryptocurrencies like Ethereum and Bitcoin, and are available in various forms, from paper wallets to hardware wallets like Ledger, which uses a USB-like dongle, to software wallets like ChangeNOW's NOW Wallet, a mobile app that strikes a balance between an attractive, user-friendly interface and innovative features.
The NOW Wallet app is available to download for free on Google Play and the App Store. It was developed by the talented team behind ChangeNOW and is a non-custodial solution, which means there's no risk of a third party gaining access to your funds.
Here are some of the other features and benefits of ChangeNOW's popular NOW Wallet:
Unlimited exchange transactions
Transactions are completed in five minutes (on average)
24/7 customer support
Guaranteed privacy and security
Supports a wide range of coins and tokens, including BTC, ETH, DOGE, BNB, XMR, TRX, ADA, XRP, USDT, Sol, and Theta (all supported by ChangeNOW either).
Supports the staking of BNB and BEP-2 NOW Tokens
Allows for the safe and secure storage of NFT collections
Users receive 0.1% cashback from every NOW Token purchase with ChangeNOW Pro
Another benefit of NOW Wallet is its ability to intuitively connect to Ethereum DApps using a QR code. This feature is called WalletConnect. NOW Wallet can support DApps that are based on any of the 4 public chains: ETH, POLYGON, AVAX C-chain, and BSC.
Before we dive into what WalletConnect is and what it does, let's cover the basics.
What are DApps?
When cryptocurrencies made some lucky investors millionaires overnight, the scramble to get in on the action shifted the focus away from blockchain and how to develop this interesting new technology. Blockchain has far more to offer than just powering digital currency – it has the potential to revolutionize the web by changing the way we work, commute and communicate.
A Decentralized Application (DApp) is an application that is built on and powered by decentralized protocols such as Ethereum. It means that DApps run on a peer-to-peer (P2P) network, such as a blockchain, using smart contracts at the backend. They are not controlled by a single authority, so they are open-source and operate independently.
Some of the benefits of DApps are:
They are not owned or controlled by anyone.
There is never any downtime.
They are secure against cyberattacks, particularly distributed denial-of-service (DDOS) attacks that try to disrupt normal traffic to a site by sending more requests than it can handle. As DApps are decentralized, the perpetrator would not have enough resources to orchestrate this kind of an attack on several sites at the same time.
They cannot be shut down.
What Kind of DApps Are There?
There are DApps for every category, including gaming, finance, productivity, and much more. Currently, the top five DApps (by the number of users) are the following:
PancakeSwap (BSC) – The most popular DApp, PancakeSwap is a decentralized exchange that's built on the Binance Smart Chain.
Alien Worlds (WAX, BSC) – The most popular blockchain-based NFT game that features a decentralized Metaverse connected to Ethereum
Axie Infinity (RONIN, ETH) – An NFT-based game where users trade and upgrade monsters (Axies) and compete in battles to earn rewards.
Splinterlands (WAX, HIVE) – A collectable trading card game.
Katana (RONIN) – The top decentralized exchange on the Ronin blockchain developed specifically for Axie Infinity.
Now that we've discovered what DApps are and what they do, let's find out how WalletConnect can help you connect your NOW Wallet to the DApps you want.
What is WalletConnect?
WalletConnect is an open protocol for connecting mobile crypto wallets, such as NOW Wallet, with decentralized applications (DApps). It is simple to integrate and can connect to any wallet or DApp with a QR-code scanner or deep linking through Javascript, Swift, or Kotlin SDKs.
Some of the top features of WalletConnect are:
Chain Agnostic – It can Interoperate with any blockchain and offers support for new blockchains and rollups out-of-the-box.
Multi Chain – This means that WalletConnect can simultaneously connect to a wallet with one or more chains and send transactions to different chains at the same time, eliminating the need for chain switching.
Multi-Session - Manage as many sessions as you need. A flexible API is provided to build the desired UX.
One-time Pairing – This establishes multiple sessions from a single pairing, meaning only one connection is needed for an infinite number of sessions.
Reduced Bandwidth – WalletConnect's websocket management efficiently re-uses resources to multiplex all messages through a single socket – with no interruptions!
Decentralized Messaging – WalletConnect's message relaying uses the Waku network to gossip messages through all available nodes – which means no more dependence on centralized servers.
Permission System – This feature explicitly requires wallets to meet the compatibility standards of all the signing methods that your DApp needs.
Guaranteed Delivery – WalletConnect's smart caching mechanisms ensure guaranteed message delivery in diverse network conditions.
Platform Agnostic - Works everywhere, including across browser, desktop, mobile, and gaming apps, to name a few.
Connect with Your NOW Wallet
You'll need a crypto wallet with some crypto in it before you can use DApps. When you make a connection between a DApp and your wallet, the DApp will see its contents.
We suggest you use your NOW Wallet to connect to DApps (you can get one here if you don't already have one). Its ease-of-use and convenient interface provide the best user experience. Also, users don't need to worry about the security and privacy of their funds, as the app is non-custodial, which means that it does not collect any personal data.
NOW Wallet also supports the storage of any tokens on 6 networks - ETH, BSC, Polygon, Avax C-Chain, TRX, KLAY, as well as NFTs. All these features make it an extremely convenient place to store all your assets. It also supports fiat-to-crypto purchases and a wide list of coins including BTC, ETH, XMR, XRP, USTD, MATIC, KLAY, APE, ETC, THETA, LTC, ADA, TRX, BTT, DOGE, XTZ, GAS, ETC, RVN, and BCH.
A Step-By-Step Guide to Connecting NOW Wallet to DApps
Access the website of the DApp that you wish to connect to. You will need a QR code or a link to access the DApp. Most DApps should have a 'connect' button in the top right corner. Click on Wallet Connect to generate the QR code. The example below is how to connect to OpenSea, which is currently the largest NFT marketplace.
Now, open WalletConnect in your NOW Wallet app.
Create a new connection by pressing 'New Connection'.
Then scan the QR-code for WalletConnect.
Or select 'Add manually' and enter or paste the link to the DApp.
When the app recognizes the DApp it will send a prompt. Approve the connection to the DApp by pressing the green 'Approve' button.
If you have successfully linked the DApp, it will appear in the Active Connections list on WalletConnect. You can press on the icon to display further useful information on the DApp, such as Time and Date Connected, Address, which Network it is on, and a short description of the app and what it does.
It's always good to disconnect your account from the DApp you are connected to once you have successfully completed your transaction or finished playing your blockchain game.
---