NostrSwap: The Game-Changing DEX Resolving BRC-20 Congestion and Introducing Zero-Network Fees
Disclaimer: The text below is a press release that is not part of Cryptonews.com editorial content.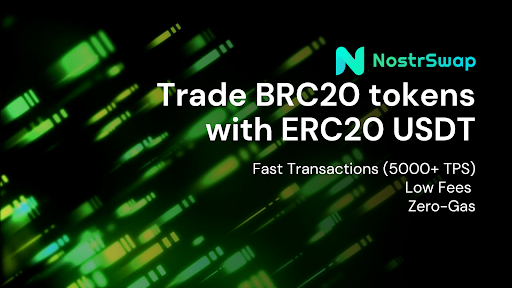 [24 May 2023] - NostrSwap, the world's first decentralized exchange (DEX) built on the powerful Nostr Protocol, is set to revolutionize the BRC-20 ecosystem by solving congestion issues and introducing a groundbreaking zero-network fee solution.
The popularity of BRC-20 coins has soared, with a market capitalization of $447,230,599 and a 24-hour trading volume of $207,446,993 (as of 24 May 2023, according to brc-20.io). However, this surge has come with its challenges, including high transaction fees and network congestion.
Transaction fees for BRC-20 tokens have skyrocketed, with some transactions taking hours to confirm, causing frustration among users. Moreover, the limited availability of DEXes supporting BRC-20 tokens has further added to the obstacles faced by traders. The current dex solution charges a service fee of 1.6% per transaction, highlighting the need for an efficient and cost-effective alternative.
Enter NostrSwap, the innovative DEX designed to address these pain points. Built on the resilient Nostr Protocol, NostrSwap offers a fully decentralized off-chain P2P marketplace for direct trading of BRC-20 tokens. Leveraging the power of Nostr Protocol, NostrSwap achieves zero-network fee transactions, providing users with an unprecedented trading experience.
Users can effortlessly trade BRC-20 tokens through the "Chat-To-Trade" feature on various Nostr Protocol frontend clients, including Damus.io, Amethyst, Snort.social, and Iris.to. This user-friendly approach ensures seamless and intuitive trading, all while eliminating network fees.
NostrSwap also enables easy swapping of ERC-20 tokens for BRC-20 tokens, with transactions incurring a minimal fee of 0.1%. In the near future, the platform plans to launch an Automated Market Maker (AMM) model, allowing liquidity providers to earn partial platform fees directly from transactions. These developments are aimed at enhancing the overall user experience and further expanding the NostrSwap ecosystem.
"With NostrSwap, we are introducing a new era of decentralized trading, addressing the pain points faced by BRC-20 token traders," said Kyle Kise, CMO at NostrSwap. "Our zero-network fee transactions and intuitive trading interface empower users to trade with ease and efficiency, fostering a vibrant and cost-effective ecosystem."
NostrSwap is committed to continuous innovation and development, enhancing its trading infrastructure to provide the best possible user experience. Stay tuned for the official launch of NostrSwap and be part of the future of decentralized trading.
For media inquiries, please contact:
Kyle Kise
[email protected]
About NostrSwap:
NostrSwap is the world's first decentralized exchange (DEX) built on the Nostr Protocol, a cutting-edge off-chain solution. NostrSwap enables users to trade BRC-20 tokens and offers zero-network fee transactions, revolutionizing the way users interact with the BR-C20 ecosystem. Through its user-friendly interface and continuous development, NostrSwap aims to provide seamless and cost-effective decentralized trading solutions for the global crypto community. Learn more at doc.nostrswap.com
---