Next Shiba Inu is Love Hate Inu – Raises $3.5 Million as CEO Reveals Exchange, VIP KYC Plans And More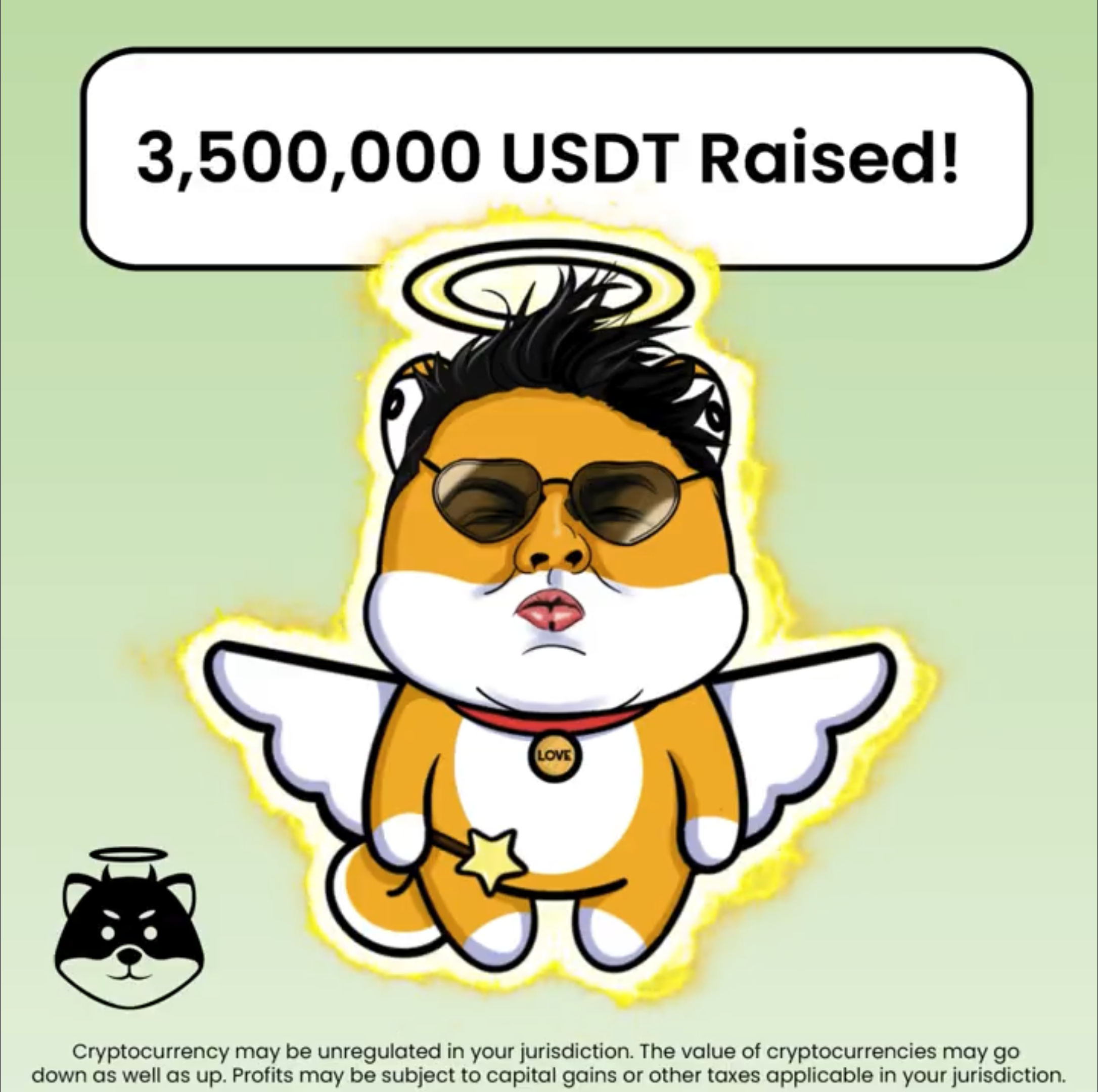 Tuesday April 11th, 2023 – Love Hate Inu ($LHINU), the unique meme coin utilizing a vote-to-earn model, has successfully raised $3.5 million in under a month.
There are less than 72 hours before the price rises from $0.000105 to $0.000115 in Stage 5, so interested buyers need to move fast to grab the current price.
The latest milestone achievement comes after it was announced last week that adviser to the UK All Party Parliamentary Group on Crypto and Digital Assets, Carl Dawkins, formerly head of growth at top 10 ranked meme coin Tamadoge, is its new CEO.
Dawkins has hit the ground running for the project by doing the rounds on Twitter Spaces.
On April 8th, 2,500 tuned into a BitBoy (Ben Armstrong) Twitter Spaces at which Carl guested.
A wide-ranging discussion looked at the state of the crypto industry in the US, from the IRS to the US Treasury declaring crypto a threat to national security.
Dawkins held forth throughout the program, sharing his expertise and expert analysis with those in virtual attendance.
A couple of days later, on Monday April 10th, Dawkins held an AMA for the Love Hate Inu community of Twitter Spaces.
Learning valuable lessons from flying too close to the sun
The conversation lasted over an hour, covering subjects such as exchange listings, how to mitigate selling when the coin lists and, more generally, how Dawkins planned to bring to bear learnings from other projects.
The question of one of his recent projects, Tamadoge, came up and how it briefly became the third-placed meme coin by trading volumes and what he had learnt from that.
Reaching a high of $0.19 and a fully diluted market cap of $380 million, Tamadoge fell prey to profit-taking as short-term speculators looked to the exit. It was too much too soon, in Dawkins's considered opinion.
Dawkins went on: "I'm really pleased the new team are fulfilling the roadmap and they are making a success of a great project."
He then explained how the staking mechanism in Love Hate Inu, which is an integral part of how the voting system works, will encourage token holders to stick with the project.
He also noted that no project can control the market, but by looking to attract a more sophisticated audience and against the background of our generally healthier market, dumping by short-term profit seekers should be less of an issue.
CEO already has exchanges lined up and wants fair shake for all investors
The Love Hate Inu CEO was also keen to point out that the project wanted to avoid a situation, which happened with Tamadoge, where there was a listing on a large exchange that excluded US traders.
Instead, Dawkins is looking to make sure that decentralized exchange Uniswap is among the first wave of listings, so everyone is able to get in on the action.
Dawkins is already in discussions with exchanges with at least two already lined up. "But there's no point just listing on any exchange that comes along," said Dawkins.
"There are some I don't like and others that have a lot going for them, so we need to be a bit selective."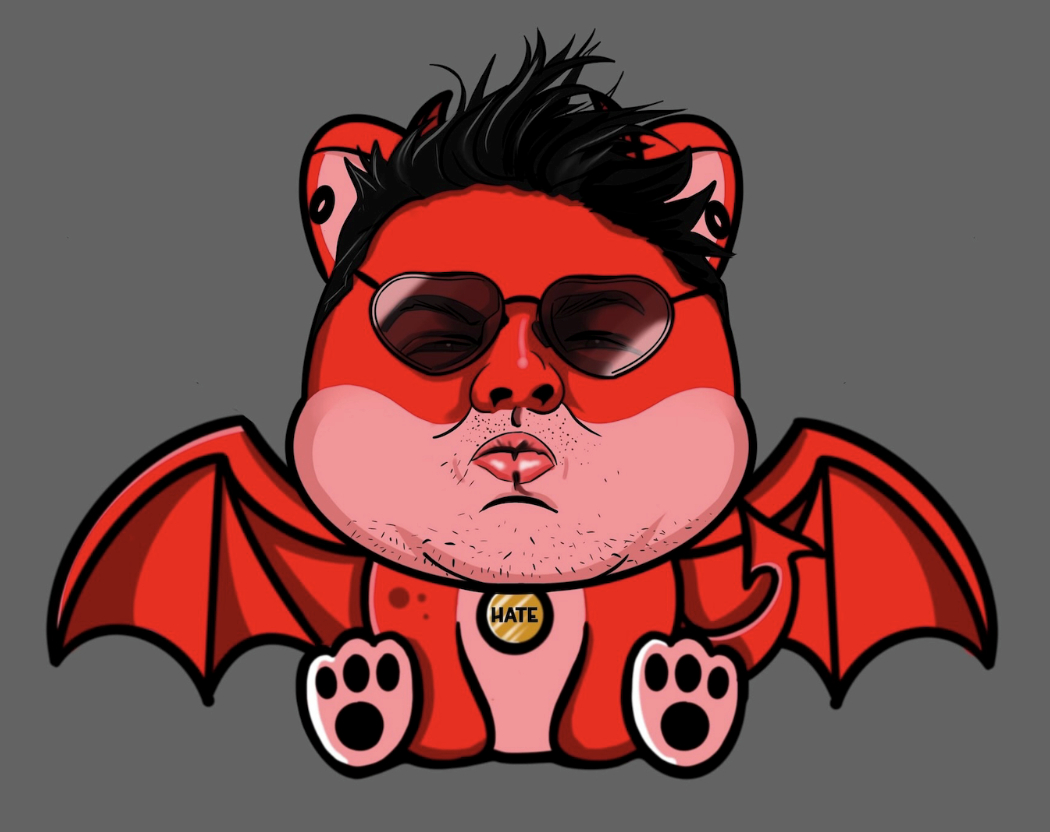 Voting on project governance issues is also in the mix
In the AMA (ask me anything) with community members Dawkins also emphasized how voting would not be purely about trending issues and personalities.
He revealed that there would also be polls on project governance issues too. For instance, the community could be involved with decision-making around what to spend marketing budgets on.
Altogether 1,200 people took part in the Love Hate Inu Twitter Spaces AMA. Dawkins told attendees to look out for similar AMA events on other project social channels, such as Discord and Telegram.
One other aspect that stood out in the AMA was the positive feedback from those taking part regarding the project's prospects.
There seemed to be a near uniformity of view that the Love Hate Inu has hit on a winning formula for achieving viral popularity.
One participant asked if there would be more characters coming from the project art team, to which the answer was a very definite "hell yes" from Dawkins.
Love Hate Inu now has 34,000 followers on Twitter and a recent tweet celebrating the $3.4 million milestone (since surpassed) garnered 2756 retweets and more than 3,000 likes.
Dev team plowing ahead with product build out, such as VIP KYCs for companies
AMAs aside, in other news from the project, the main message is that product development is ongoing.
That's important because it means the team is not waiting for the hard cap to be reached and is instead plowing ahead with development.
On the product side then, Dawkins shared that the dev team is currently working on a VIP KYC system for companies that want to conduct more serious polling activity.
Partnerships are being negotiated to deliver the KYC system but details cannot be divulged at this time. The VIP polls will have the functionality to provide participants with in-real-life rewards.
Combined with the staking requirement for voting, companies and those looking at poll results and surveys can be sure that the result is not skewed by bots or manipulated in some other way.
Polls and voting on the LHINU platform will have a security and community confidence that no other system will be able to match.
Dawkins gave the example of Love Hate Inu running a poll on "How many of you would trade on XXX exchange if LHINU was listed on it?"
The results of such a poll would show in a verifiable way to the exchange in question that the project could deliver x real customers, with real crypto holdings for its trading venue.
Get in now before the next Love Hate Inu presale price rise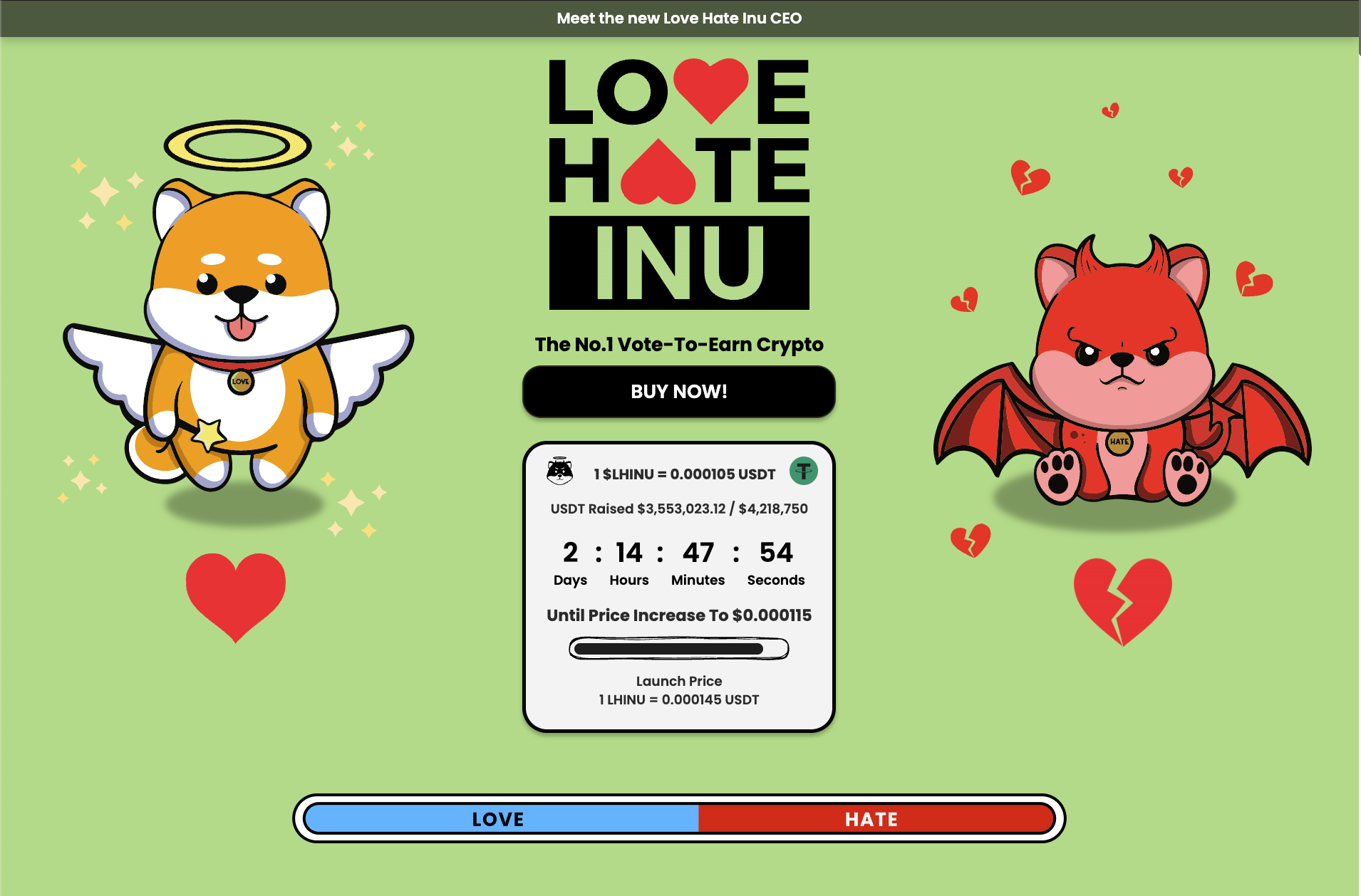 The $LHINU token is currently in Stage 4 and can be bought for $0.000105. All told, there are eight presale stages and interested investors will need to move quickly to nab the current price.
There are less than 72 hours to go until Stage 4 ends – it might be sooner if the remaining $700,000 to be raised is met before then.
As the pace of the fundraising quickens, analysts are already talking about Love Hate Inu as the best crypto to buy now.
Given its unique utility setting it apart from other meme coins, Love Hate Inu could very easily be the next Dogecoin or Shiba Inu.
The $LHINU presale started at a price of $0.000085 in Stage 1 and when the presale ends will be priced at $0.000145.
Buyers who were first off the mark could realize an instant gain of 70% when the coin is listed on its first exchanges.
Even so, if you buy now, before the price rises in Stage 5, you will still be in line for a 38% paper gain.
Let's not forget how Shiba Inu's price went ballistic, from $0.000000000153 in August 2020, to $0.00001035 today – a 7,228,658% gain or approximately 722,900x.
Low cost and flexible survey platform blows away the opposition
The attraction of $LHINU is its survey and polling platform built on the simple premise of love v hate.
But Another point Dawkins mentioned in the AMA was how polls would not be confined to binary outcomes.
"Unlike politics where you often just get red or blue, we want to make sure there are other shades of opinion, other options.
Love Hate Inu's token decentralized technology will make it not just cheaper to run than legacy systems, it will also be more flexible and manageable.
With this tech, Love Hate Inu is well on the road to transforming the survey space – an industry valued at $3.2 billion.
Love Hate Inu lets you vote on anything you like, securely and transparently.
For sure, it makes casting a vote fun with its meme coin good looks and viral propensity, but don't let that fool you into missing the real story – a powerful technology to upend the survey industry.
Brands, as well as consumers, can launch polls on the platform.
Brands will be able to incentivize participation by rewarding individuals with a range of digital and even non-digital goods.
In addition, your voting frequency is rewarded – so the more you vote, the more you earn.
As mentioned earlier, security is underpinned by staking. To vote in the polls you must stake the $LHINU token for 30 days.
A fair presale offering a generous token allocation of 90% of supply
Love Hate Inu has a generous allocation of tokens to the public amounting to 90% of the total supply of 100 billion.
Because of this decision it means there is no danger of a rug pull – where the developers run off with your funds and leave nothing behind.
You can buy Love Hate Inu using ETH, BNB or USDT (Tether stablecoin).
In another bonus for presale investors, there is no vesting period for the $LHINU token, meaning buyers will receive 100% of their purchase before the public listing.
There's no doubt users will be able to have a lot of fun with Love Hate Inu, that's for sure – but it is also a deadly serious business proposition that is highly likely to make its long-term investors substantial gains as the bull market gathers pace.
But regardless of whatever the external market conditions and near-term price movements might be, Love Hate Inu has the business model to succeed.
Combining the power of the blockchain with the pulling power of Shiba Inu meme coins, Love Hate Inu could be the savviest investment destination of 2023
---