Next Dogecoin, Love Hate Inu Raises $5 Million – Countdown Begins for Price Increase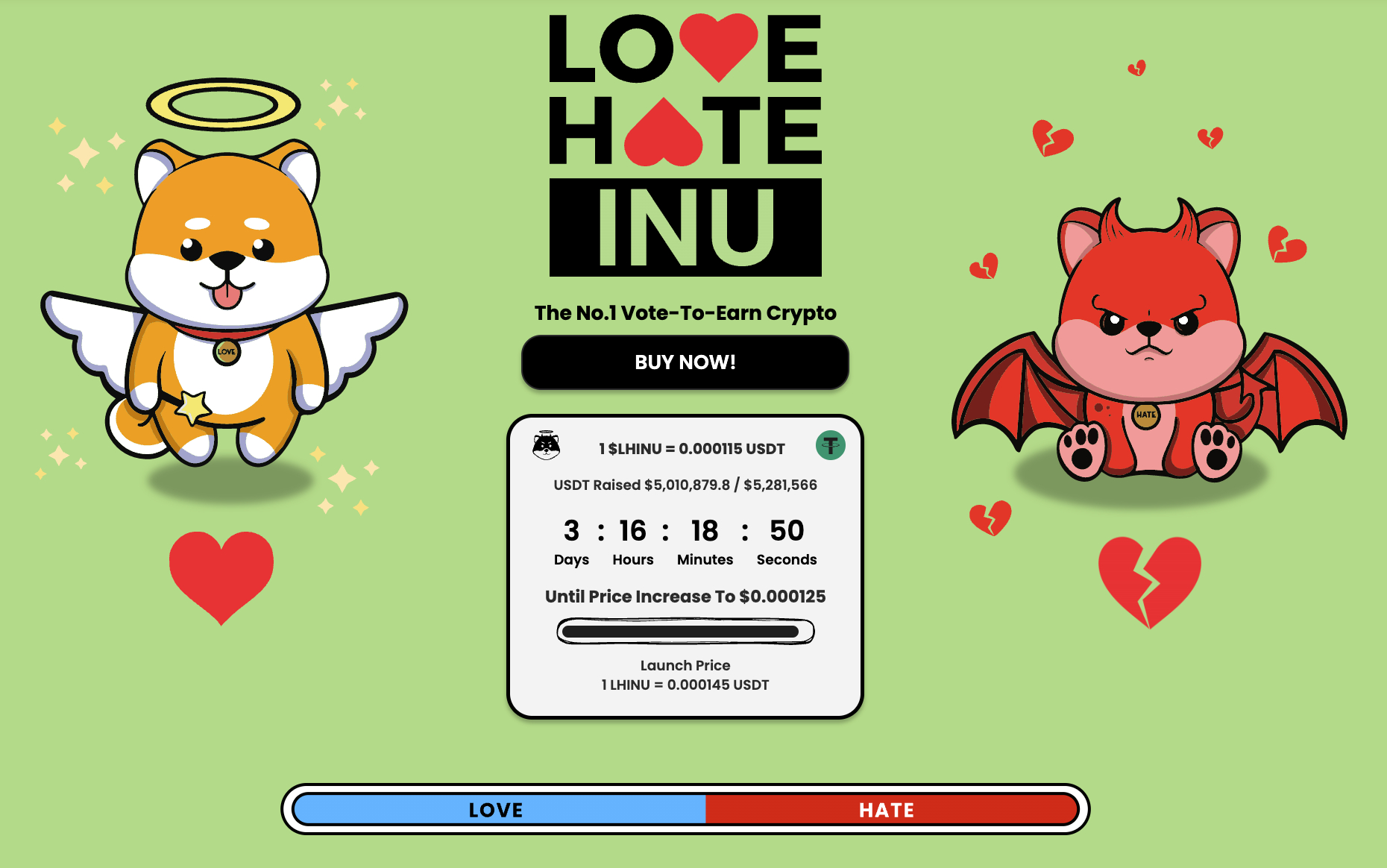 Thursday April 20th, 2023 – Love Hate Inu, the sensational meme coin that's taking the crypto world by storm has raised a staggering $5 million in its ongoing presale as eager investors snap up its $LHINU tokens.
Contributors to the blockchain-powered vote-to-earn project are bowled over by the genius and simplicity of the Love Hate Inu business model.
Far from being another vacuous meme coin, Love Hate Inu has hit upon a viral formula that everyone can understand: vote on the people and things you love or hate.
FOMO is taking off. On presale now for $0.000115, $LHINU is fast approaching its Stage 6 price of $0.000125, 8% above the current price.
The launch price of Love Hate Inu is 0.000145, giving today's buyers an uplift of 26% when the sale ends, even before trading begins on the first exchanges.
For those with an eagle eye on hot presale offerings who bought in Stage 1, the end-of-sale gain will be 70%.
Love Hate Inu will join the top flight of meme coins
However, the return on investment for Love Hate Inu is likely to be much greater than even those initial presale return numbers can convey.
The real reference price for a meme coin like $LHINU, which has such a tantalizing use case, is Shiba Inu or Dogecoin.
Shiba Inu is the second-largest meme coin. It was launched in August 2020 and has since grown in value by an incredible 722,900x.
Both SHIB and DOGE had little going for them by way of utility, and that is still arguably the case with Dogecoin. But they both became viral sensations.
Love Hate Inu combines the virality of the top Inu meme coin brands with the attraction of a voting system that has the potential to upend the traditional survey industry.
No wonder investors are falling over each other to buy $LHINU.
Love Hate Inu CEO Carl Dawkins: "What I love about Love Hate Inu is how it epitomizes virality"
The project's footprint continues to grow rapidly, helped in no small part by the appointment of CEO Carl Dawkins.
Dawkins, an adviser to the UK All Party Parliamentary Group on Crypto and Digital Assets, took another recent meme coin launch, Tamadoge, from nowhere to make it the third-ranked meme coin by trading volume.
Indeed, that coin is up 82% in the past 24 hours.
Now Dawkins is turning his attention to making a success of Love Hate Inu.
"What I love about Love Hate Inu is how it epitomizes virality. We are having so much fun with this already," Dawkins explained.
"Look at our demo vote on Andrew Tate. So far we have seen 7,654 people take part.
Imagine how this takes off when we start marketing and when one of the personalities gets involved and starts interacting on social media.
"We genuinely believe we have a project here that can bridge the gap between crypto and the mainstream in terms of adoption.
"And it isn't just a gimmicky thing we are building. Love Hate Inu is building a platform that can not just compete with the legacy players in the survey and polling industry, but knock the ball out of the park."
"Love Hate Inu is the sort of project crypto was made for"
Dawkins enthused: "It is no exaggeration to say that Love Hate Inu is the sort of project that crypto was made for. It's a secure online voting system whose results you can trust, and it is bot-proof, too – it has a lot going for it.
"We are in talks now to put together the deals for a VIP KYC onboarding for companies that will want to use us for serious polling and survey work as part of their market research and brand engagement strategies.
"Judging by how quickly we got to $5 million, I'm not the only one who is super pumped about Love Hate Inu."
To participate in the voting competition, head over to the Love Hate Inu homepage and below the presale info area, click on the 'Vote Now to Win' button.
All you have to do next is click the 'Vote Love' or 'Vote Hate' button. Once you have voted, enter and verify your email address. Voters can then share on their socials how they voted.
The poll's real-time rolling tally shows a 50:50 split right now.
Previously the Tate lovers were in the lead by some margin.
Get rewards for voting – and the more you vote, the more you earn
When the platform is live, users of Love Hate Inu will be able to have a say on trending topics, address critical issues, and contribute to the creation of the latest meme sensations while earning valuable tokens at the same time.
By staking $LHINU tokens, users can participate in the latest polls and earn tokens for voting. Over time, the community will decide on which polls they want to create.
Because its staking mechanism is secured by smart contracts, it prevents spam and manipulation as well as the voting process is both verifiable and anonymous.
Maybe Elon Musk should take a look at Love Hate Inu, given the thousands of bots still on Twitter and his love of all things Shiba Inu?
Users will be pleased to hear that the economics of the Love Hate Inu ecosystem is designed in such a way that the more you vote, the more you earn.
And not only that, 90 percent of the $LHINU token supply will be in the hands of holders once the presale is over.
Finally, it is worth noting that the voting system can be used for the platform's own governance purposes.
In a recent AMA with community members, Dawkins emphasized how voting would not be purely about trending issues and personalities.
He explained that there can be polls on project governance issues.
For instance, the community could be involved with decision-making on the sort of design features to adopt and so forth, or even things like where to spend the marketing budget.
Instead of complicated decentralized autonomous organization (DAO) structures that benefit the biggest stakeholders, Love Hate Inu would be a fair system.
How to buy the Love Hate Inu – the next Shiba Inu
Love Hate Inu's presale is one of the most popular of the year so far – analysts are picking out Love Hate Inu as one of the best cryptos to buy today.
Love Hate Inu is also a fair presale because 90% of the total supply of 100 billion tokens are on offer to the public.
The generous allocation means there are no worries about the possibility of a rug pull by scammy developers or team members.
Investors can buy Love Hate Inu using ETH, BNB or USDT (Tether stablecoin).
There is also no vesting period for the $LHINU token, which means buyers receive 100% of their purchase before the public listing.
If you are looking for an altcoin with the potential to see parabolic price growth, Love Hate Inu has to be one of the strongest bets in crypto right now.
---