Newest Meme Coin Sonik Raises $1.75m, Get Ready For Claim And Listing on Thursday 7th at 9am UTC
Disclaimer: The text below is a press release that is not part of Cryptonews.com editorial content.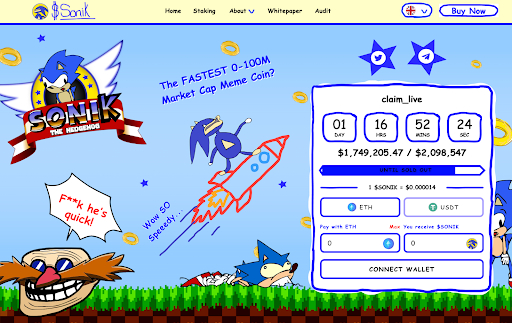 Tuesday, September 5th, 2023 – The newest meme coin to generate headlines across the cryptosphere is Sonik Coin – it lists on Uniswap on Thursday September 7th at 9am UTC, and presale buyers will be able to claim their tokens at the same time.
Sonik has raised $1.75 million in the space of just two weeks after strong support from contributors who have, in total, so far invested $1,729,000.
The presale will continue until the listing and claim date/time arrives. There is, therefore, less than $300,000 left to be snapped up before the coin lists on the Uniswap decentralized exchange. $SONIK tokens are still priced at $0.000014.
Listing events can be hyper-volatile moments in a coin's life. So to be sure of being in with a chance of capturing maximum upside, it makes sense to try and get skin in the game via a presale.
The hard cap target for this presale is $2,098,547. A countdown clock has been added to the homepage so that prospective buyers are aware of how long they have to make their decision – which, at the time of the screenshot above, was 1 day and 16 hours.
Sonik meme coin has the viral energy to make it a leading meme coin, given the Sonik vibe in the gaming and online mind-space.
In many ways, the website provides a teaser of what's to come for Sonik Coin.
Buyers are further encouraged by the team auditing the project's smart contract. That, plus its pledge to lock liquidity, is also helping to sweetendeal the deal with investors.
To buy $SONIK, connect your Web3 wallet to the project's official website, and (via the Ethereum network) you can buy the coin with $ETH or $USDT.
https://twitter.com/Sonikcoin/status/1699044838262423899
$SONIK buyers stake a third of the entire presale allocation, earning 48% APY
At the time of writing, 49.5 billion tokens of the total token supply of 299,792,458,000 have been staked. Fifty percent of the token supply is available for purchase in the presale, which means more than a third of presale buyers have chosen to stake their tokens.
Stakers are earning an APY of 48%, even before the coin has listed on a decentralized exchange.
Meme coins continue to be one of the most traded coin sectors in the crypto complex, and Sonik is set to be the latest hot addition.
Sonik Coin plans to join the likes of Dogecoin and Shiba Inu as meme coin favorites.
The $SONIK is crafted to align with the sort of degen humor typical of the meme coin space. Its irreverent in-your-face art is evidenced on its website, almost guaranteeing its viral appeal.
Driving interest in Sonik Coin is a feature most meme coins don't have – stake-to-earn utility to generateearn passive income for token holders.
https://twitter.com/Sonikcoin/status/1699054789659885862
$SONIK to be the fastest meme coin to reach a $100 million market cap?
As mentioned, Sonik Coin is selling 50% of a total 299,792,458,000 token supply in presale and looking to raise just under $2.1 million.
That token supply seems like a random number, but there is a method in the team's quirky madness – 299,792,458,000 is the speed of light in meters per second.
Sonik wants to be the fastest meme coin crypto to reach a market capitalization of $100 million, so light-speed travel makes perfect sense!
The token's viral potential and its yield-bearing properties mean it is well-placed to be one of the top meme coins.
As contributions to the presale continue to accelerate toward the $2.1 million finish line, the small-cap gem is certainly the one to watch.
Moreover, by buying and staking today, presale buyers start earning yield immediately. The yield is dynamically adjusted in real time, as can be seen on Sonik Coin's public staking dashboard.
After the coin launches on Uniswap, new stakers will also be subject to the seven-day lock from when they start staking. Stakers can withdraw their deposit and rewards from the staking contract at any time after the seven-day lock ends.
The staking program will see rewards distributed to stakers over a four-year period.
Sonik Coin could be the next 100x meme coin
The presale price of $0.000014 values the coin at a fully diluted market capitalization of $4.2 million, which means there's plenty of headroom for a price pump.
If $SONIK succeeds in its aim of a speeding to a $100 million market cap in record time, that would represent a gain of around 24x for presale investors.
Alternatively, $SONIK could reach a market cap of $200 million, which would mean a return of around 50x for presale investors.
Because of the hugely speculative nature of meme coins, even more so than other altcoins, which has led some to liken buying in the sector to being akin to betting, the opportunities for parabolic gains are relatively high.
Coins such as Pepe and Shiba Inu have all seen gains of more than 100x. Many others continue to launch weekly that return 100% gains or more for presale contributors on their first day of trading.
The project has allocated 10% of its token supply to decentralized exchange (DEX) liquidity, which means there will be no difficulties executing trades efficiently.
It is definitely worth mentioning, too, that the project intends to lock liquidity on Uniswap. That means contributors to the presale will not need to worry about a rug pull by bad actors.

CryptoCoins says Sonik Coin is embracing meme magic
And the marketing team's efforts are already paying off.
Dozens of major crypto influencers have also been backing the meme coin. The 353,000-strong CryptoCoins Youtube channel believes Sonik is exactly the sort of fun coin with the chance of capturing some of 'embracing meme magic'.
Crypto analysis YouTube channel CryptoGains, with 107k subscribers, is tipping Sonik Coin for 20x gains.
Meanwhile, top crypto YouTuber Michael Wrubel, who has over 300,000 subscribers on his channel, says the token could be the "next $1,000,000 meme crypto".
Last but not least, Sonik Coin has also secured features in high-profile crypto news websites such as Finbold, CryptoPotato, and Captain Altcoin.
Top FX trading and financial site FXStreet says Sonik Coin is a crypto to watch.
The Twitter following has grown by leaps and bounds in the past few days to over 2,290, and its Telegram channel subscriber base has just hit 3,400.
You've been warned – be very speedy to make sure you don't miss the last chance to buy the Sonik meme coin.
---