New Reality TV Show Follows Fortunes of Crypto Investors
A South Korean reality television show that focuses on crypto investors, bitcoin (BTC) enthusiasts and miners has debuted on screens across the nation.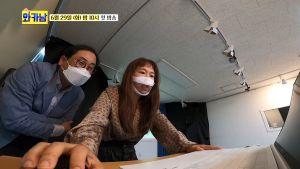 The show, which aired for the first time this week on TVChosun, the television arm of the nation's biggest media groups, Chosun, is entitled Man Using His Wife's Credit Card (literal translation), Newsis reported. It is presented by Lee Hwi-jae and Park Myung-su, two of the nation's most popular TV MCs.
The first episode featured a celebrity couple – the comedienne Hong Hyun-hee and her interior designer and YouTuber husband Jason. The latter is an avid crypto investor, and a camera team followed them to crypto "study groups."
Hong was shown trying her own hand at crypto trading – experiencing the joys and pain of fluctuating token prices. And the couple met up with a crypto miner, who explained how they make money from mining tokens.
In a promotional video for the series, Hong was also shown putting a member of her family through his paces on a crypto exchange.
Tensions rose as the couple attempted to make some quick gains on a trading app in a television studio. Jason saw his crypto earnings rise up to 400% on his stake, but after prices fell, saw his profits shrink to just 70% of the money he put in.
A member of the show's production team was quoted as stating:
"We wanted to explore changing lifestyle trends and provide some information on safe and beneficial crypto investments. We hope it will be a good opportunity for investors and prospective investors across the country to learn a lot about cryptocurrency."
Per Nielson Korea data, the show achieved a respectable 5.4% of the viewership share. The next episode is slated to air next week.
Crypto has been getting plenty of airtime on South Korean screens of late: Twenty Hacker, a major movie about a hack on a fictional crypto exchange was recently released in cinemas and on streaming platforms, both domestic and international – and featured the K-pop stars Viini, Cho Hyun-young, Im Na-young and Lee Su-woong.
And a big-budget 10-season crypto-themed series named Pumping Time is currently in production.
____
Learn more:
- Fox Takes Advertisers Into NFTs With New Series By Rick&Morty Mastermind
- A GameStop Movie Is Coming – and the Winklevoss Are Going to Produce it
- Bitcoin Camp Losing Nail-biting Game Launched By GOT Arya Actress
- Kate Winslet Joins Cast Of OneCoin Crypto Scam Movie
- 'Bitcoin Billionaires' Winklevoss To Co-Produce Film About Themselves
- Bitcoin Goes Mainstream (Again) in Billions Season 5 Premiere
---