A New Form of Passive Income Generation Hits the Market with Metropoly
Disclaimer: The text below is a press release that is not part of Cryptonews.com editorial content.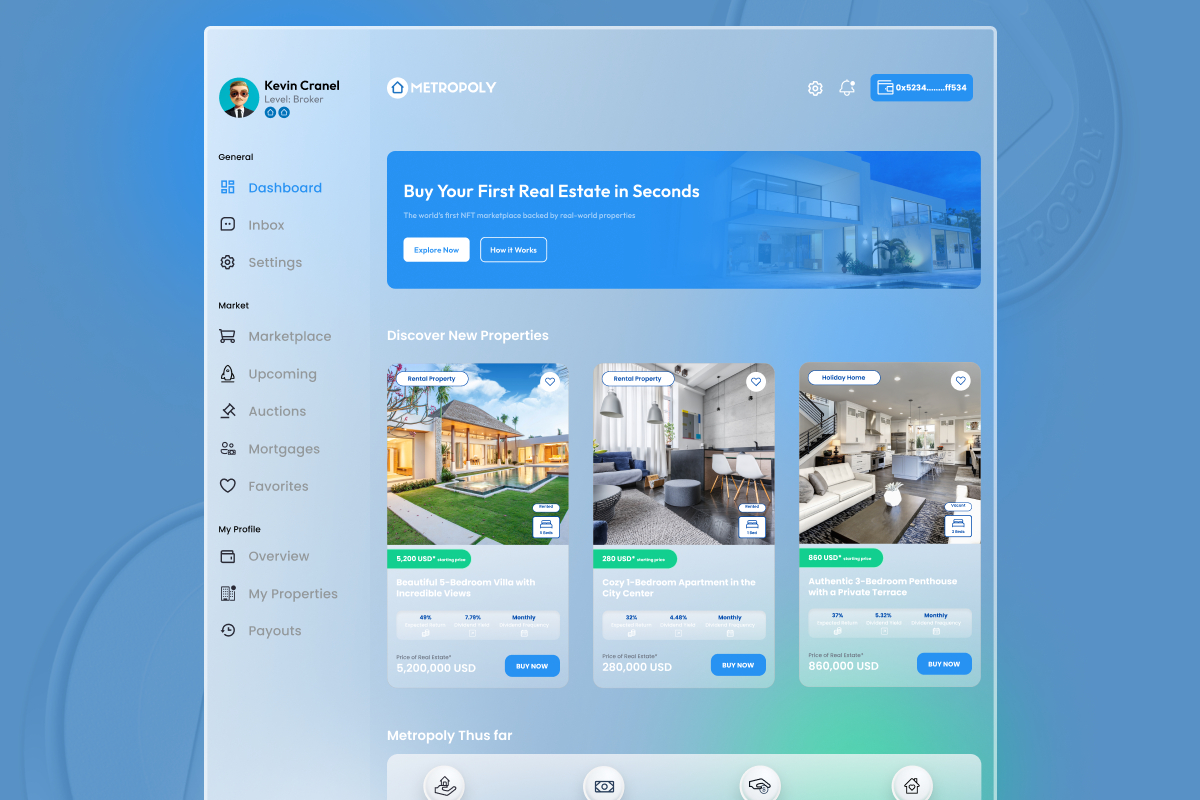 In 2023, Web3 is poised to become the dominant trend worldwide. Though it has already gained significant traction across the globe in 2022, its full potential will be realized this year as resources are devoted to its development. The results of this investment will take time to manifest, but significant outcomes can be expected in the medium term.
In addition, the real estate industry is experiencing a surge of interest in decentralized technology. While this concept has been discussed for some time, the emergence of new technical ideas, such as NFTs, has reignited enthusiasm and innovation in the field. Despite real estate being a longstanding investment staple, soaring prices in recent decades have made it unaffordable for many younger investors. However, Metropoly's real estate NFT marketplace has the potential to cause a significant disruption in the Web3 landscape, according to many experts in the field.
Passive Income Through Metropoly Can Be Transformative
It's evident that the real estate market is largely unaffordable with some regions charging over $2 million for a simple 2-bedroom house, making it inaccessible to the average person. Fortunately, Metropoly offers several features that address this issue.
Through its blockchain-based platform, Metropoly allows people of all ages to enter the real estate market, enabling them to benefit from using real estate as a hedge against inflation and generating passive income. This platform enables young people to acquire homes for future security while providing an alternative or replacement to pensions for the elderly.
The Metropoly marketplace offers NFTs that are fully backed by actual properties, ensuring their value. The platform's fractional investment feature is what makes real estate investing accessible to everyone, and it's an idea that has been gradually gaining popularity. With fractional investing, users can purchase small portions of a property for as little as $100.
To begin investing in real estate with Metropoly, users can simply connect their wallet, browse through the available properties, which include apartments, penthouses, and villas, and make their purchase with investments starting as low as $100. Metropoly also offers a beta version of the platform for users to preview the marketplace's operations, such as viewing ongoing auctions, payouts, and properties for purely illustrative purposes. Additionally, there is an all-time leaderboard that displays the number of fractions of real estate owned, its performance, and dividends received.
Metropoly's marketplace will showcase various types of properties from different parts of the world, including premium apartments and villas, which are expected to attract interest from a diverse group of investors. As the platform grows, it may even attract major property developers from across the globe.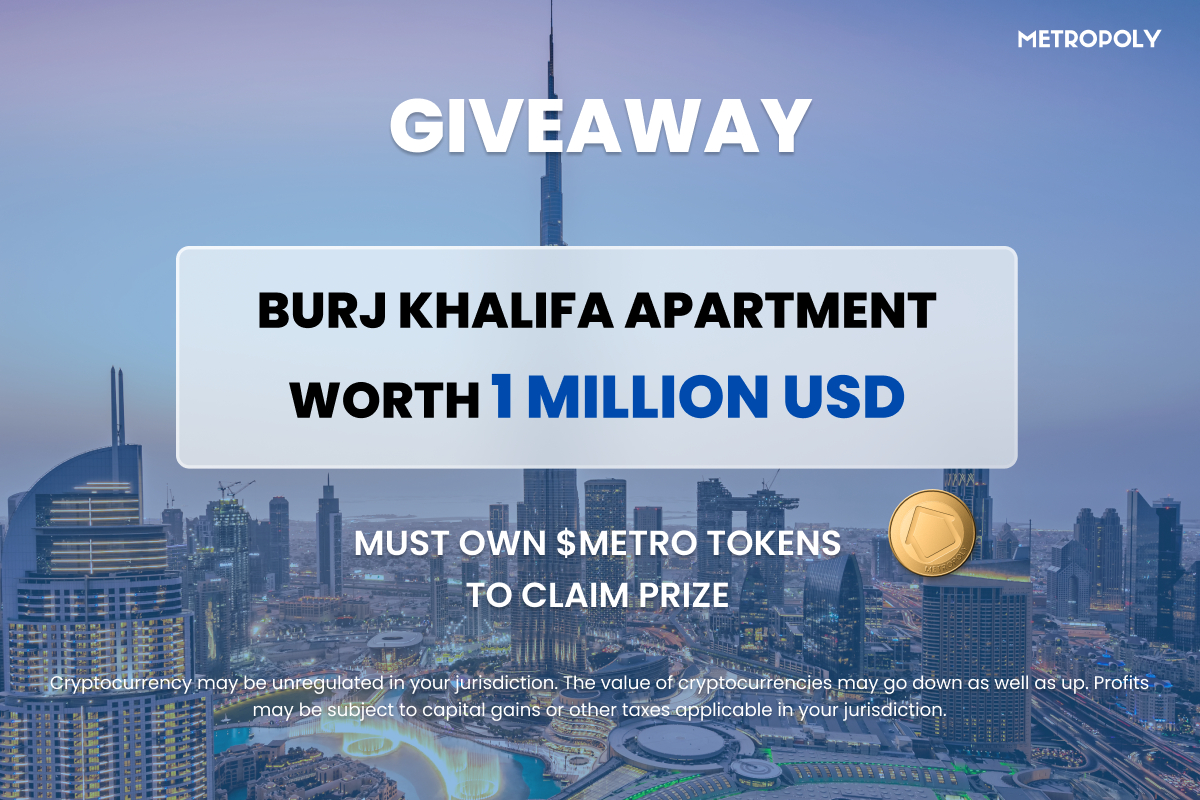 In addition to its impressive property offerings, Metropoly is also gaining significant exposure through its lucrative contests, such as the $1 million giveaway of a premium apartment in the Burj Khalifa. This exciting opportunity is sure to generate a lot of buzz and interest among potential investors.
By winning the $1 million premium apartment in the Burj Khalifa, the lucky recipient could potentially earn rental income of up to $100,000 per year. To participate in the contest, users must complete a variety of social and marketing tasks, such as tweeting about Metropoly, joining the Discord or Telegram channel, and subscribing to the newsletter, among others.
The METRO Presale is Running Out Quickly
The presale of Metropoly has been highly successful, and there aren't going to be many METRO tokens left with the way it is going. This ERC-20 utility token has a maximum supply of 1 billion tokens and is available for purchase at a rate of $0.0625 per 1 METRO token. USDT, ETH, and BNB are all accepted as payment methods. To take advantage of this ecosystem and all its associated benefits, interested parties are advised to invest early.
Regarding the perks, investors who participate in the presale are granted membership to the Platinum Member's Club, which offers a variety of advantages. Among these advantages is early access to the Metropoly Beta and a Metropoly NFT. The benefits of the Platinum Member's Club increase with the size of the investment. The upper tiers offer benefits such as real estate NFTs valued at $10,000 and cashback on rental income. Investors who invest earlier in the presale will also receive larger bonuses.
A New Way to Earn Rental Income in the 21st Century
Metropoly's value proposition is clear and compelling, offering a much-needed solution to the challenges of real estate investment. Its fractional investment model makes it accessible to investors of all ages and backgrounds and could force traditional real estate companies to rethink their outdated systems.
By democratizing real estate, Metropoly could play a pivotal role in re-engaging the wider public with the crypto market. These types of practical use cases are precisely what is needed to foster greater trust and adoption of blockchain technology.
Check Out the Metropoly Presale
---