New Crypto Shitcoin Mr Hankey Going Viral Before $500k Presale Launch, Has South Park Meme Coin Season Begun?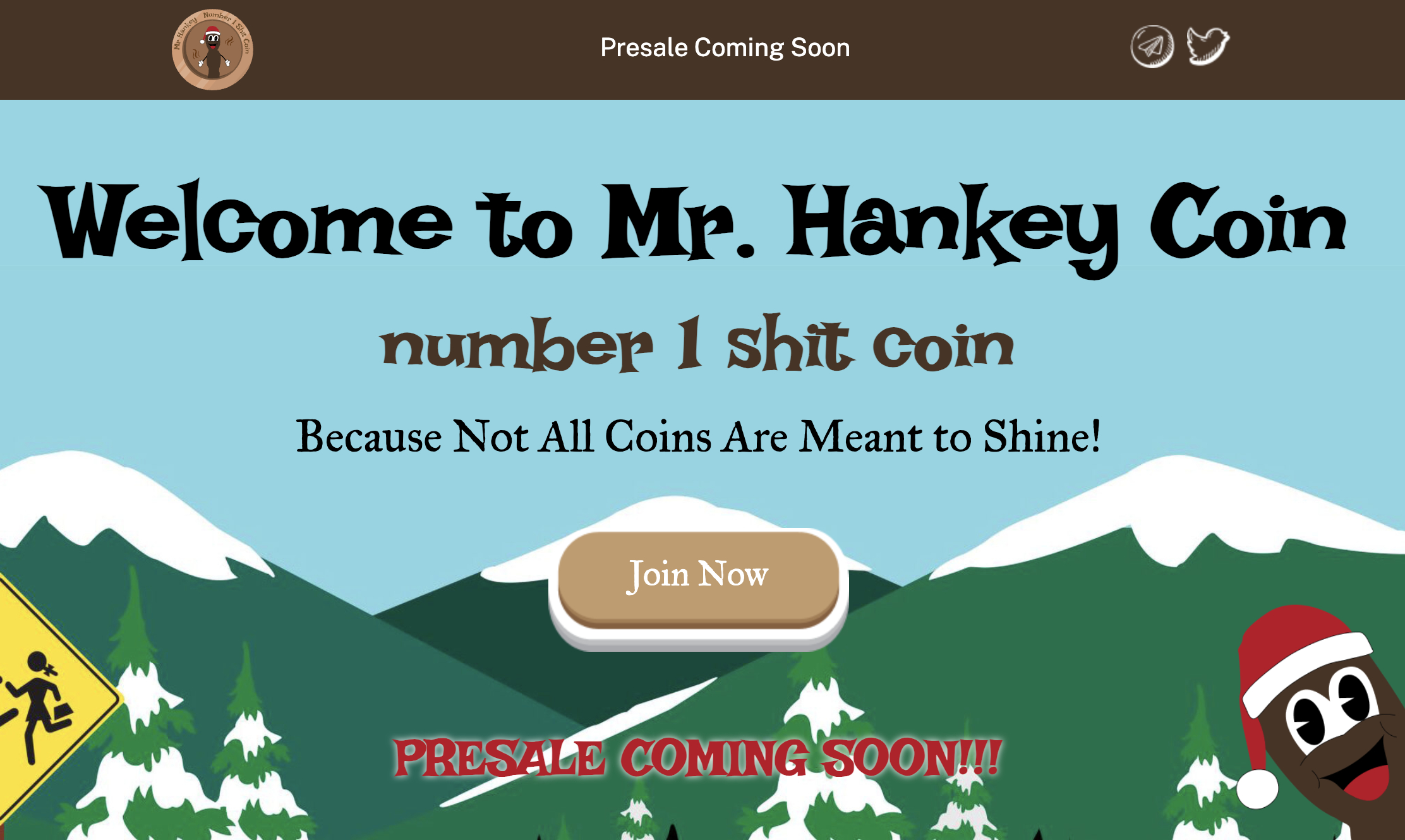 New crypto shitcoin Mr Hankey Coin ($HANKEY) is lighting up the market and its presale hasn't even started yet, as rumors circulate about the next PEPE coin. It looks very much like the South Park meme coin season has begun.
The presale could begin as soon as Thursday at 6pm UTC (2pm Eastern Time, 8pm CEST, 7pm BST), so there's plenty of time to get your research done, so read on for more info.
To make sure you don't miss out on the secret drop and the limited token supply available, follow the Mr Hankey Twitter account and join the Telegram group to not miss this secret drop, very limited and expected to sell out fast.
It is understood that Mr Hankey Coin is looking to raise a modest $500,000 in its soon-to-launch presale fundraising. The beauty of that for buyers is that it makes a pump more likely, especially when combined with good liquidity.
Also, there are rumors that the people behind $SPONGE and $PEPE might be at work behind the scenes in the plumbing of this shitcoin.
Launching with a low hard cap and plentiful liquidity
There is a 1 billion token supply of which 40% will be made available in the presale and 40% allocated to liquidity.
Without plentiful liquidity, no matter how attractive a meme coin might appear, it will be hard to take advantage of its potential because buying and selling will be inefficient, with huge slippage in prices.
Prospective buyers will be pleased to know that the team is committed to providing a token trading environment boasting well-oiled market liquidity. It means that Mr Hankey Coin will be launching on decentralized exchanges (DEXs) with more than enough liquidity to fulfill all market orders.
Liquidity is expected to be locked at launch, which means there is no chance of a rug pull.
Crypto experts think it has all signs to be one of the better & fair launches in July and could 100x at launch.
Modest hard cap target means presale will sell out in days and demand will carry over to launch
The relatively small $500,000 raise target for the presale increases the probability of a surge in price when the token comes to market. Such an outcome is more likely because of the limited availability of the token in presale, which means pent up demand and FOMO will be sustained into its market launch.
Easy to buy, and with a healthily small presale – Mr Hankey Coin is likely to launch as soon as this Thursday (July 13th), so buyers should have their funds in place and ready to allocate. The presale is highly likely to sell out in a matter of days.
Going viral, My Hankey will shine like no other in the 2023 shitcoin season
Bitcoin is consolidating at higher levels and that has opened up the beginnings of a new altcoin season, helping to underpin the buying pressure for Mr Hankey Coin.
To be honest, the meme coin season never really went away and is now being bolstered by new speculative fund inflows.
Tokens like Mr Hankey Coin that can boast viral potential is what matters in the meme coin space. Mr Hankey Coin has bucket loads of fun and virality – and the potential to make you 100x gains.
Mr Hankey Coin brings a whole new meaning to 'dirty money'. 'Holy crap', this really could be the most viral coin of 2023 and beyond.
'Not all coins are meant to shine' like Mr Hankey Coin!
If you have visited the website, you know what we just did there – borrowing liberally from the copy on the Mr Hankey Coin site to highlight how its brand positioning as the best shitcoin ever, could easily set it on a 10x or 100x gains trajectory for its early investors.
Mr Hankey Coin has the marketing backing to deliver a buzzing community
Shitcoins as a thing began, obviously, as a term of abuse but today they signify an opportunity – they cover the most speculative end of the market spectrum, typically defined by their low or non-existent utility.
But here's the thing – a fun shitcoin may have no utility in its first iteration, but if it succeeds in building a loyal and growing community, then it provides a real platform for product development and delivery.
Still, bringing into being a buzzing community is rarely something that just happens all by itself.. Whether it is $PEPE or $SHIBA, usually there is the helping hand of savvy marketing behind every successful token.
Surveying the cryptosphere, Mr Hankey Coin has started to pop up in some unexpected yet welcome spaces.
For instance, it has been featured on Poocoin – ok we might have expected that – but, more seriously perhaps, on the likes of data sites Dexscreener and CoinGecko as well as top crypto news outlets such as Beincrypto, as well as here on Cryptonews.
Those sightings alone suggest that the coin has a serious marketing engine behind it that can help to propel $HANKEY into the ranks of top hot trending coins when it launches.
Join the community today to get notifications so you don't miss out
However, in the fast-moving game of hunting for the next $PEPE coin, speed is of the essence. That's presumably why the team is whipping up interest prior to the official launch of the presale.
To make sure you are among the first to be notified when the presale starts and when the coin launches on exchanges, it is imperative to join the community today. There is a Twitter account that you can start following now.
You can also join the Mr Hankey Coin Telegram group by clicking on one of the many 'Join Now' buttons on the website.
We've covered everything you need to know about Mr Hankey Coin, but if you want to dig a little deeper into the shiny stuff by conducting your own due diligence, check out the Mr Hankey Coin brown paper.
Disclaimer: The Industry Talk section features insights by crypto industry players and is not a part of the editorial content of Cryptonews.com.
---