10 Potential New Upcoming Bybit Listings in 2023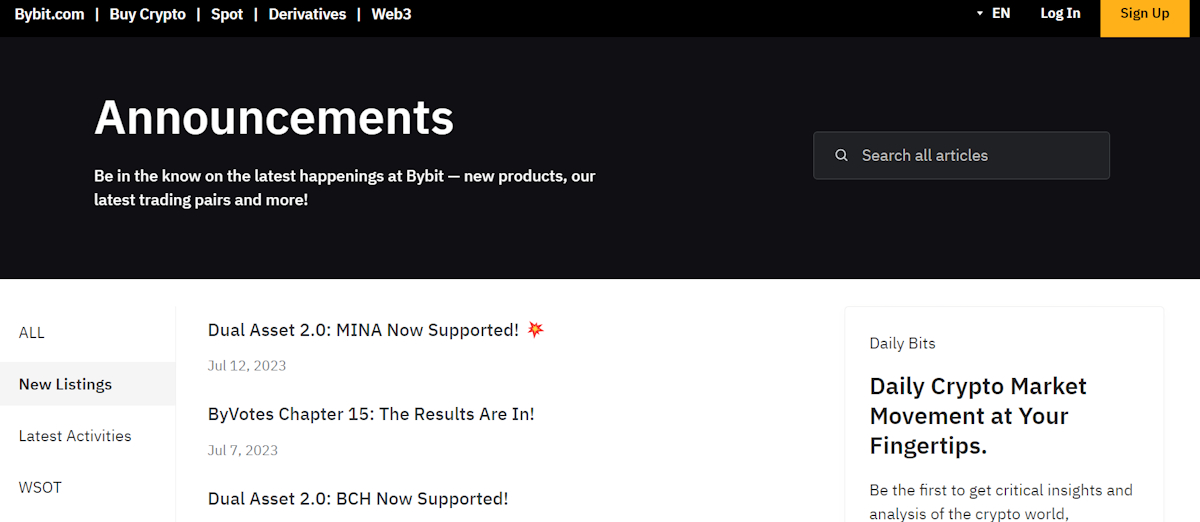 Bybit is one of the largest cryptocurrency exchanges globally, with more than $600 million worth of trading volume in the prior 24 hours. This means that newly listed coins on ByBit often witness a surge in demand.
In this guide, we explore 10 new Bybit listings to keep an eye on in 2023. We also explore why investing in newly listed coins can yield attractive returns for Bybit users.
10 Potential New Bybit Listings to Invest in Now
Having researched the market extensively, the following projects could become new Bybit listings in 2023.
Wall Street Memes: Having raised more than $14 million in presale funding, Wall Street Memes (WSM) could be the next Bybit new coin listing. This project wants to bring financial inclusiveness to the masses. It claims to already have over one million community members and that its memes are viewed over 40 million times per month. Those looking to buy WSM tokens at presale prices still have a chance to invest at a discount.
Thug Life: Another meme coin that is trending in the crypto space is Thug Life (THUG). This is a brand-new meme coin project built on the Ethereum blockchain. It is based on a gangster concept, and 70% of THUG tokens will be sold during the ongoing presale. So far, more than $1.2 million has been raised from early investors.
yPredict: yPredict (YPRED) has developed an all-in-one ecosystem for data insights. Backed by artificial intelligence and machine learning, the platform will appeal to traders, quants, and analysts that seek high-level data. The yPredict presale has raised nearly $3 million, and early investors can still secure a huge discount. Currently, YPRED is available at $0.09, but it will be listed on an exchange at $0.12.
Launchpad XYZ: We also like the look of Launchpad XYZ (LPX). This new cryptocurrency project is developing an ecosystem for Web 3.0 investors. Retail clients will find insights on trending tokens, provided by artificial intelligence. Launchpad XYZ also provides access to fractionized assets, exclusive presale launches, and sold-out NFT mints. LPX tokens are currently being sold at presale prices, and over $1 million has already been raised.
Ecoterra: One of the most eco-friendly cryptocurrencies - Ecoterra (ECOTERRA), is launching a recycle-to-earn framework. This means people will receive tokenized rewards for recycling plastics, glass, and other recyclables. Ecoterra recently completed its presale, having raised more than $6.2 million. ECOTERRA tokens will soon be launched on LBank, BitMart, and Uniswap. Other exchange listings are currently being worked on.
DeeLance: This project is revolutionizing the global employment market through a decentralized freelancing platform. Clients and workers can connect via the blockchain, resulting in transparent and cost-effective working agreements. DeeLance (DLANCE) tokens will fuel the ecosystem and can now be bought at presale prices.
Pepe 2.0: Pepe 2.0 (PEPE2.0) is a new meme coin inspired by the success of Pepe the Frog. It is the most recent new ByBit listing, going live on July 6th, 2023. Pepe 2.0 currently has a market capitalization of just over $26 million.
EGO: Another recent ByBit listing is EGO (EGO) - the native cryptocurrency of the Paysenger social network. The project is building a decentralized platform for artists, enabling them to monetize their works and fan relationships.
Metatime Coin: Metatime Coin (MTC) is a new blockchain project that was recently listed on ByBit. It can handle more than 700,000 transactions per second, making it one of the most scalable blockchains in the market. Moreover, transaction times are near-instant.
TomTomCoin: Launched in January 2022, TomTomCoin (TOMS) is one of the latest ByBit listings. TOMS has a small market capitalization of just $4 million, which will appeal to growth investors. TomTomCoin is backed by a real-world company - Tom N Toms, which has over 500 coffee shops globally.
Analyzing the Most Likely Upcoming ByBit Listings This Year
The 10 projects listed above will now be analyzed in full. Read on to discover the best new ByBit listings for 2023.
1. Wall Street Memes - New Meme Coin Project Raising Over $14 Million in Presale Funding
Wall Street Memes is tipped to become one of the best meme coins of 2023. This is a brand-new project, enabling early investors to gain exposure from the ground up. Many investors have already done so, considering that the Wall Street Memes presale has raised over $14 million.
There is still time to invest, and currently, each WSM token is available for $0.0316. The project concept is simple - Wall Street Memes wants to challenge the status quo of Wall Street. It is based on the infamous WallStreetsBets Reddit forum, which was responsible for the 2021 meme stock frenzy.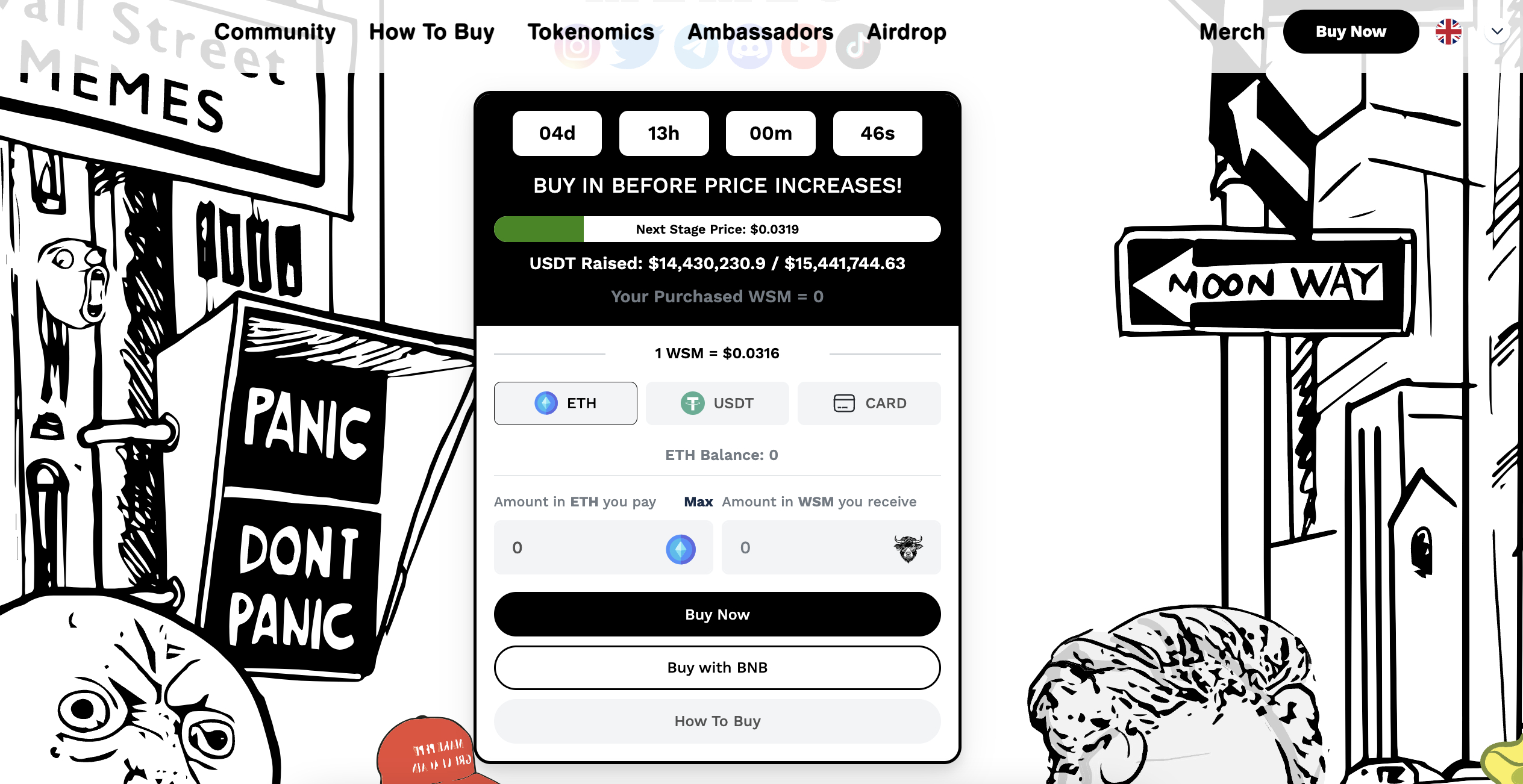 One of the biggest selling points is that Wall Street Memes has a huge global audience. It claims to already have over one million people in its community. Moreover, Wall Street Memes claims to receive over 40 million impressions each month. Wall Street Memes aims to replicate the success of other popular meme coins.
This includes Shiba Inu and FLOKI - both of which have a strong community following, just like Wall Street Memes. In terms of its roadmap, Wall Street Memes is aiming for multiple exchange listings after the presale. This will include both centralized and decentralized exchanges. Potentially, the project could be one of the next ByBit new crypto listings.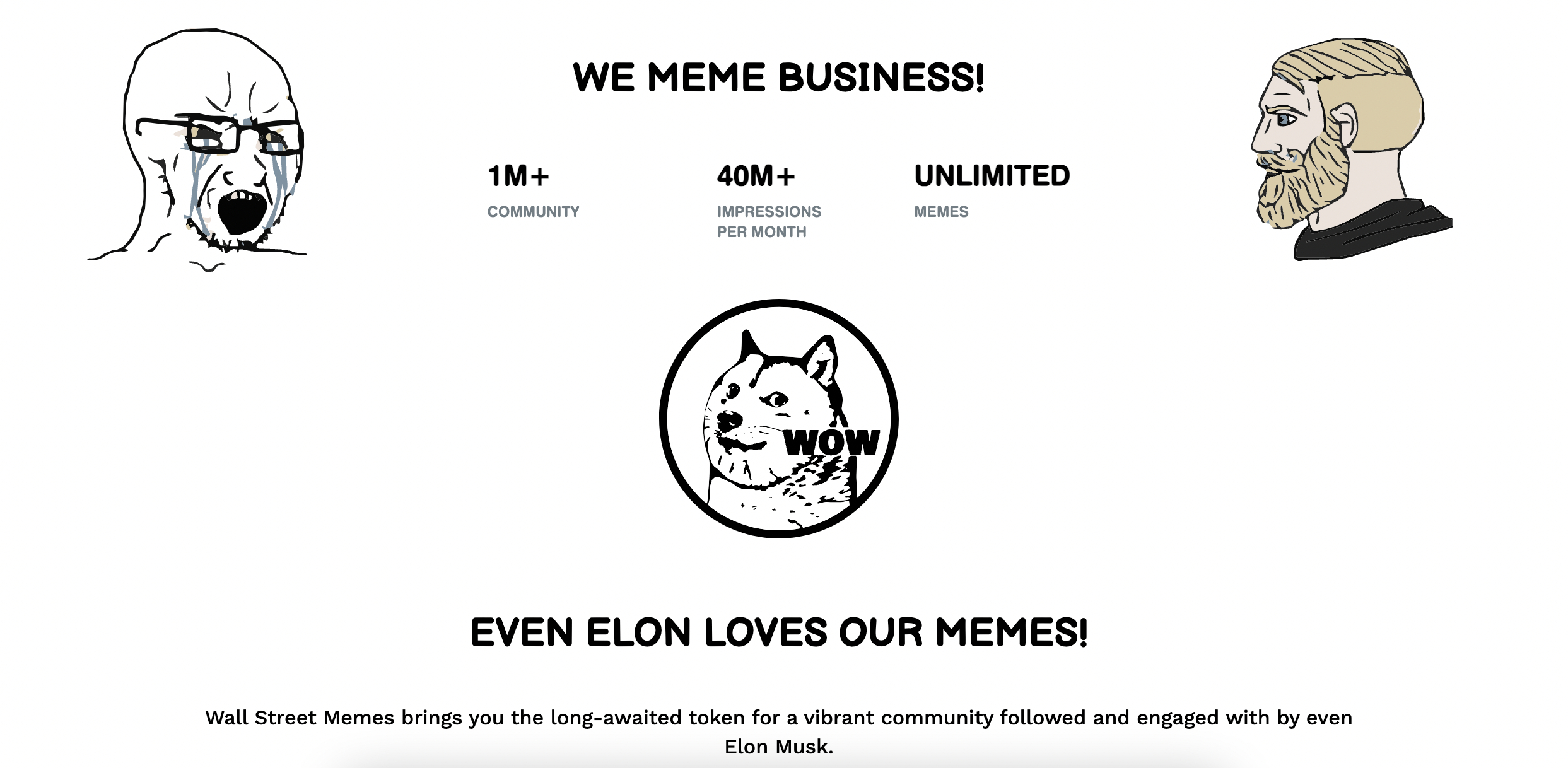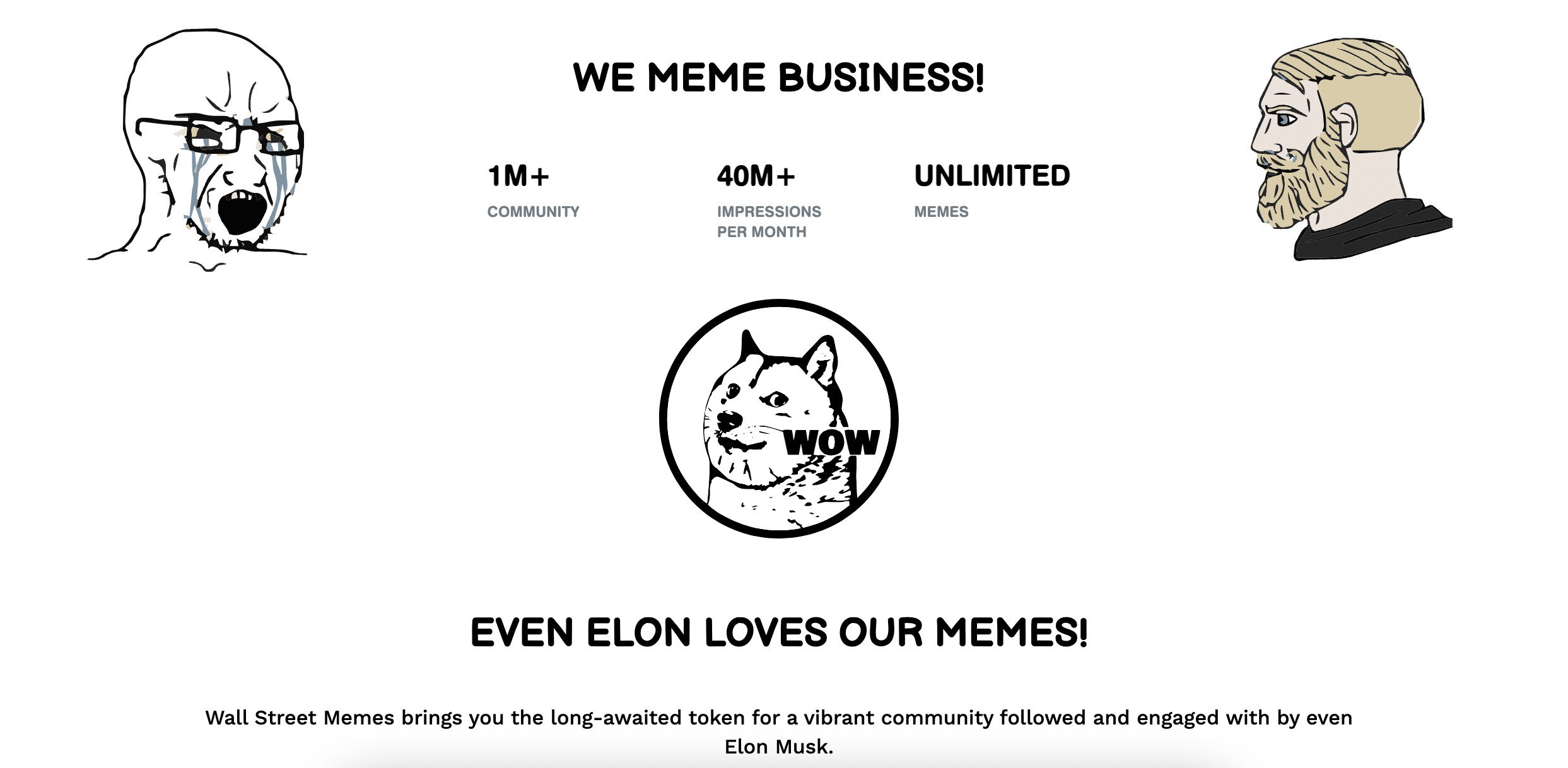 Furthermore, Wall Street Memes will also target new partnerships and continue building its loyal community. That being said, investors should remember that meme coins, in general, are risky. Moreover, the team behind Wall Street Memes has decided to remain anonymous.
While this could be considered a red flag, some of the best cryptocurrencies to buy were created by anonymous developers, including Bitcoin. Nevertheless, those that have considered the risks can buy WSM tokens with ETH or USDT. The Wall Street Memes presale also accepts debit and credit cards, but only after a KYC process.
2. Thug Life - Trending Meme Coin Project - Over $1.2 Million Already Raised
Meme coins continue to outperform the broader crypto market, so Thug Life is also worth considering. This meme coin project is based on a gangster theme. Its website also displays images of Snoop Dogg, as well as Pepe the Frog, Hasbulla, and a Shiba Inu dog breed. Although Thug Life does not have any use cases, the project is all about creating hype and FOMO.
As explained on the Thug Life website, "Join the $THUG movement, get that FOMO, turn screw-ups into profits." Thug Life already appears to be achieving its goals, with an ever-growing community and a successful presale campaign. Its presale has already raised over $1.2 million, allowing early investors to secure a discount.
Currently, the Thug Life presale is offering THUG tokens at $0.0007 each. This means that for just $100, presale investors will receive nearly 143,000 tokens. This makes THUG one of the best penny cryptocurrencies to buy. In terms of tokenomics, Thug Life has a total supply of 4.2 billion THUG. 70% of this figure will be sold during the presale.
Should the presale reach its funding goals as expected, it will raise just over $2 million. This will give the project a starting market capitalization of $2.9 million. After the presale finishes, THUG tokens will be listed on a crypto exchange. That said, Thug Life is yet to release specific details about its initial exchange listing.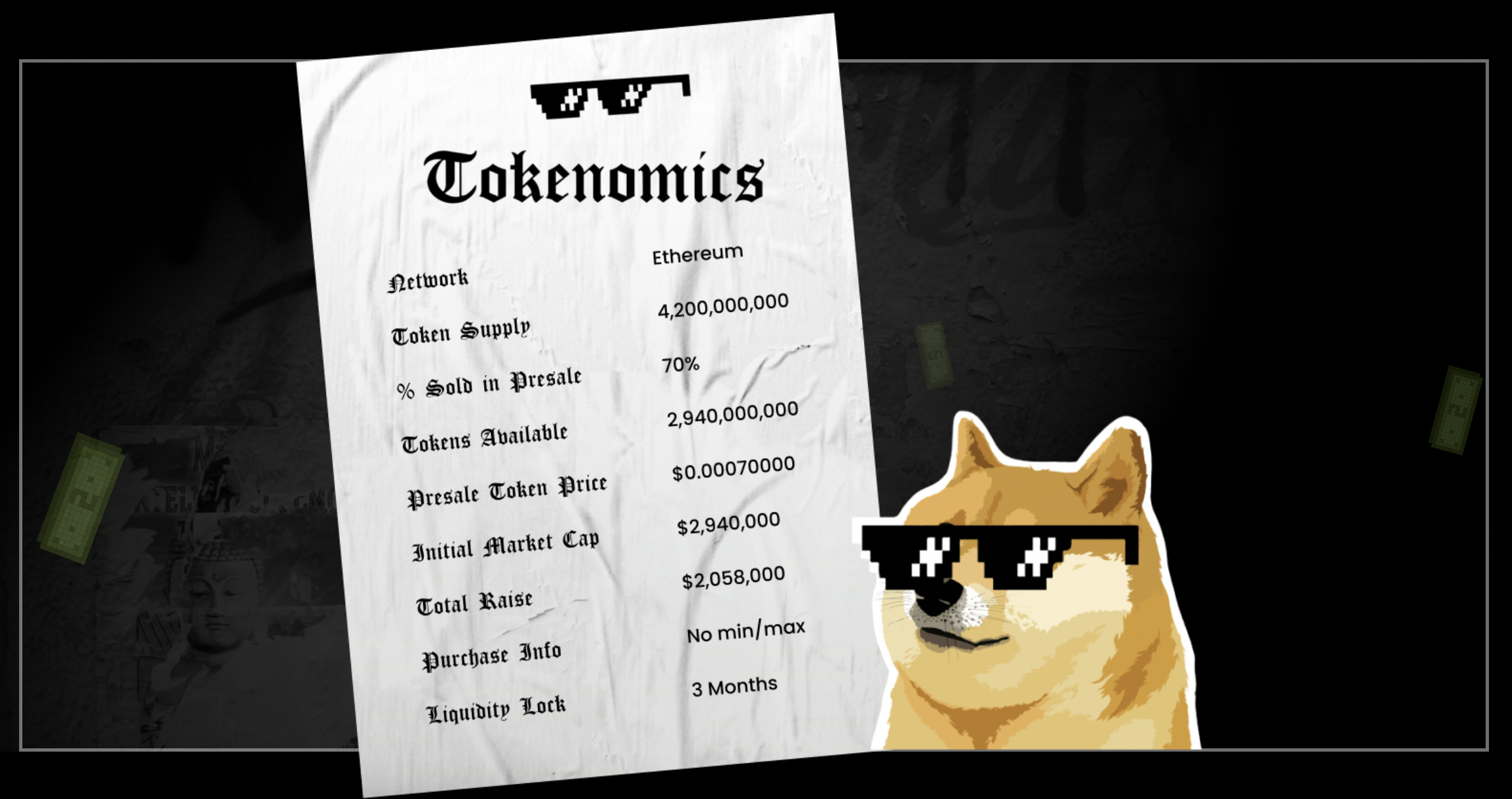 Moreover, investors should remember that THUG has no real-world utility. This means that people will only buy THUG for speculative reasons. Therefore, never invest more than one can afford to lose. Those wishing to proceed will not need to meet a minimum presale investment. Any amount is accepted, but be sure to cover GAS fees. The Thug Life presale accepts ETH and USDT.
3. yPredict - Crypto Trading Insights Backed by Artificial Intelligence and Machine Learning
We found that yPredict also has the potential to become one of the next new ByBit listings. This project is also in presale, having already raised nearly $3 million from early investors. In a nutshell, yPredict has developed an all-in-one ecosystem that provides crypto trading insights.
The insights are generated by artificial intelligence and machine learning, and aimed at analysts and data scientists. This includes real-time trading signals that provide full details on what orders to deploy.
For example, the yPredict model might suggest short-selling BTC/USD at $31,000. The signal will also provide the take-profit and stop-loss order prices. Moreover, yPredict also provides users with sentiment analysis. This enables users to assess broader sentiment on specific cryptocurrencies.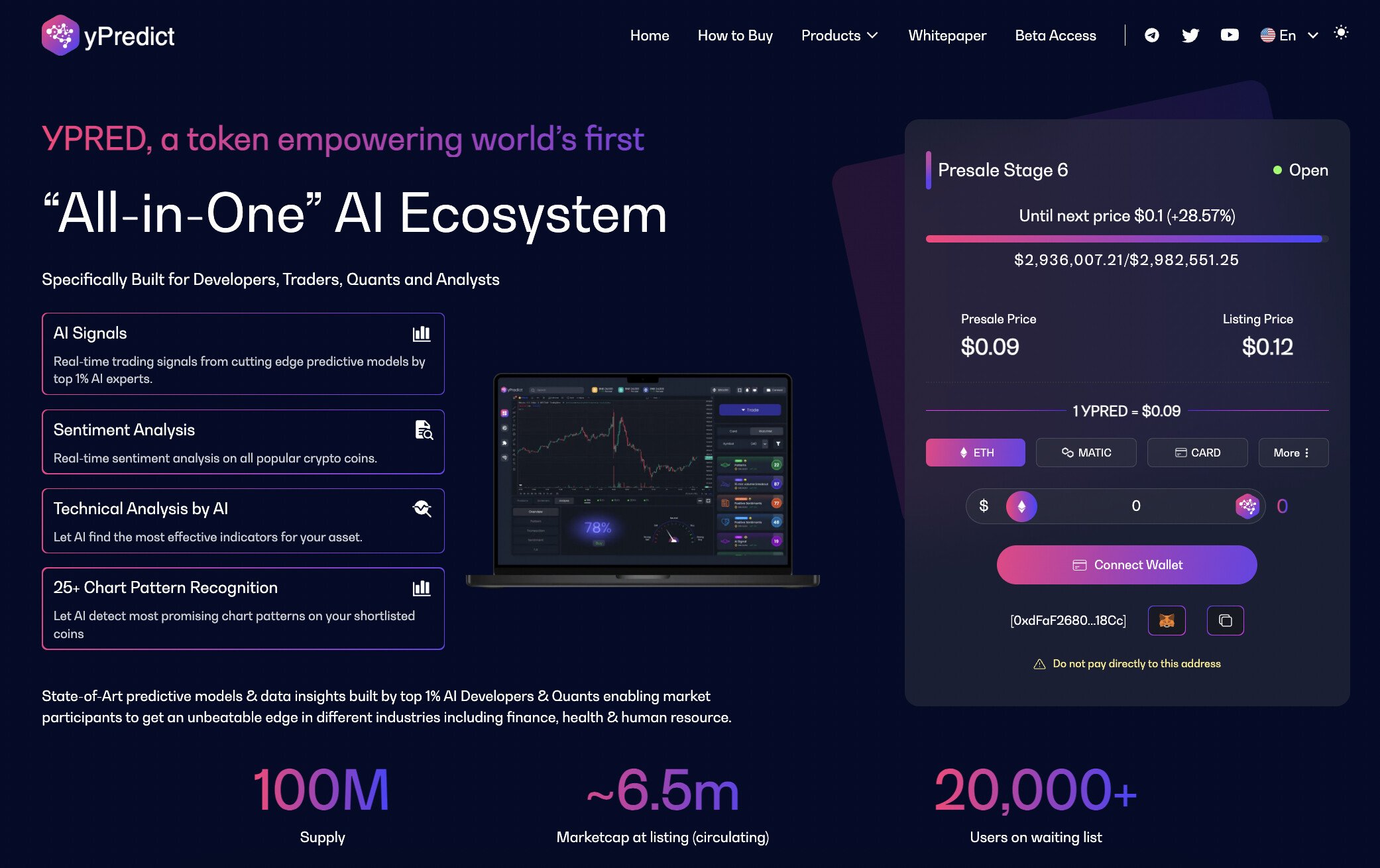 yPredict also automates the technical analysis process. It will send an alert when the user's preferred indicators come across a notable reading. The user can then decide whether or not to trade it. We like that yPredict predictive models are tested by the community before launching.
If the model passes the test, users can then purchase it with YPRED tokens. YPRED is currently available to buy at presale prices of just $0.09. After the presale, YPRED will trade on exchanges at $0.12. This offers an upside of 33% when buying at the current price.
4. Launchpad XYZ - Decentralized Ecosystem for Web 3.0 Investments
Launchpad XYZ is one of the best utility tokens in the market. It is a newly launched project developing an ecosystem for Web 3.0 investors. More specifically, casual investors that have historically been priced out of the market.
There are many features on Launchpad XYZ, including the ability to invest in fractional assets like real estate. Investments are tokenized and tradable on the Launchpad XYZ DEX. Moreover, the platform provides real-time data on hundreds of popular tokens with actionable insights.
Launchpad XYZ ranks tokens based on over 400+ data points, including social media sentiment and moving averages. We also like that Launchpad XYZ provides access to private crypto presales. These are presales that are usually only available to large-scale investors.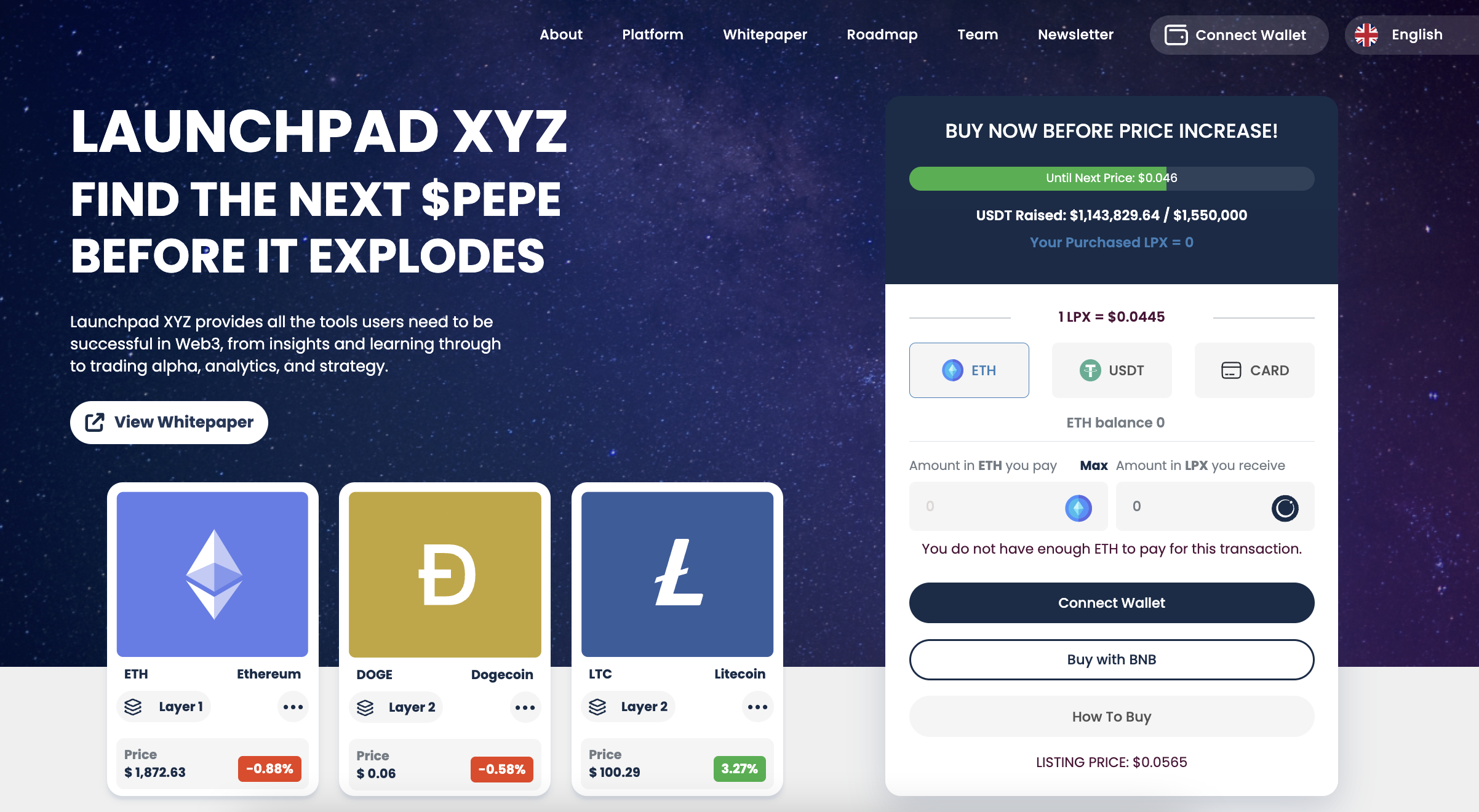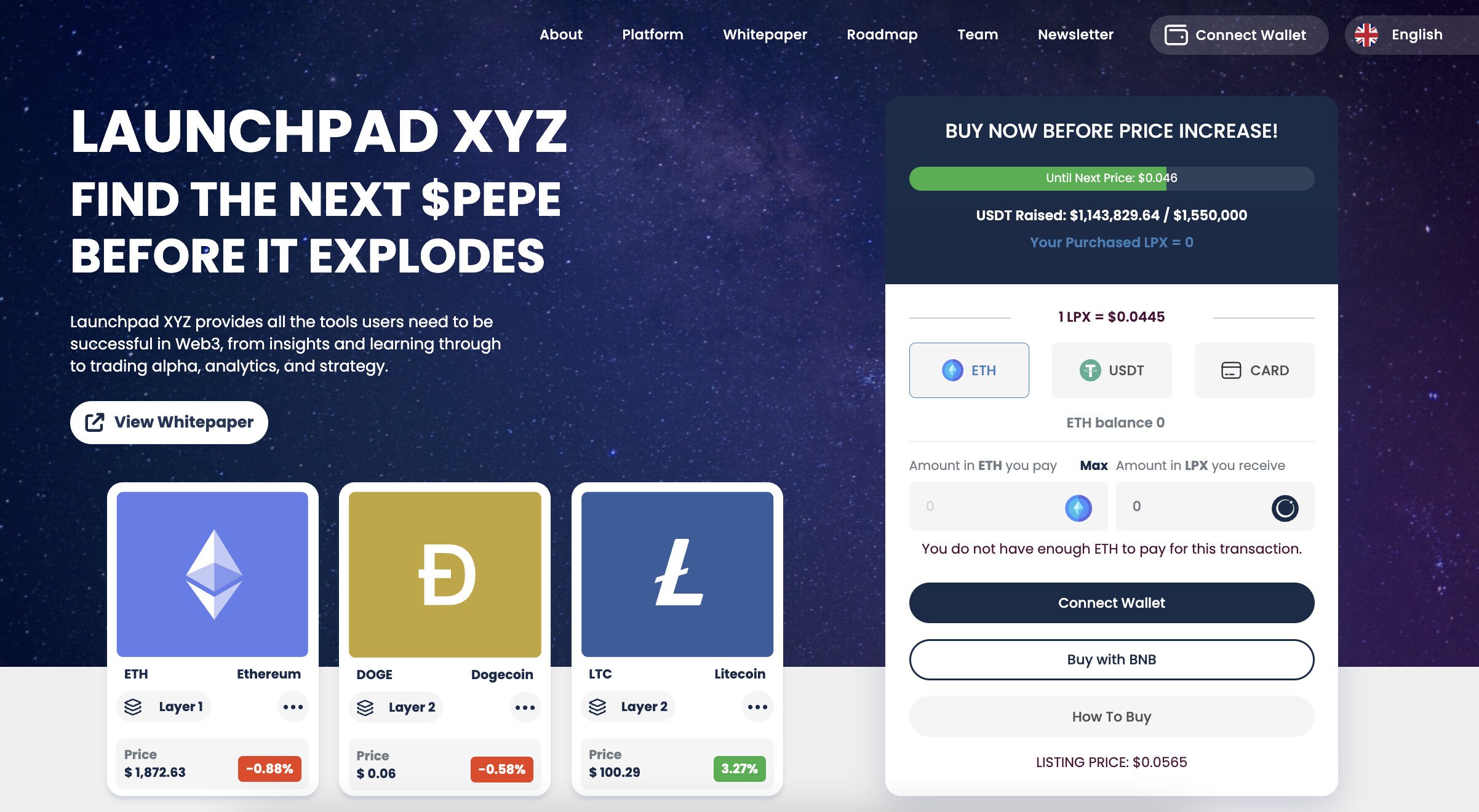 But when using Launchpad XYZ, everyone has a fair chance to invest. This is also the case with new NFT mints and unreleased play-to-earn games. Those holding and staking LPX tokens will not only have access to premium features but earn passive rewards.
Currently, Launchpad XYZ is running its presale. The presale has already raised over $1.1 million. LPX is available at $0.0445 per token, but this will soon increase once the current batch is sold. Launchpad XYZ has confirmed that LPX will list on exchanges at $0.0565 after the presale.
5. Ecoterra - Green Crypto Project Rewarding People That Recycle
Ecoterra is another new project that could potentially be listed on ByBit. This is one of the best cryptocurrencies in the green and sustainability niche. Ecoterra has developed an ecosystem that incentivizes people to recycle their consumed and unwanted goods.
For instance, clothing, glass bottles, and plastics. The concept is known as recycle-to-earn, and rewards are paid in the project's native token, ECOTERRA. First, users will need to download the Ecoterra app to find their nearest reverse vending machine (RVM).
Through the app, the user will need to scan their recycled items. After depositing the items in the RVM, the app will credit the user's wallet with ECOTERRA. The number of tokens awarded will depend on the type of item being recycled and the volume.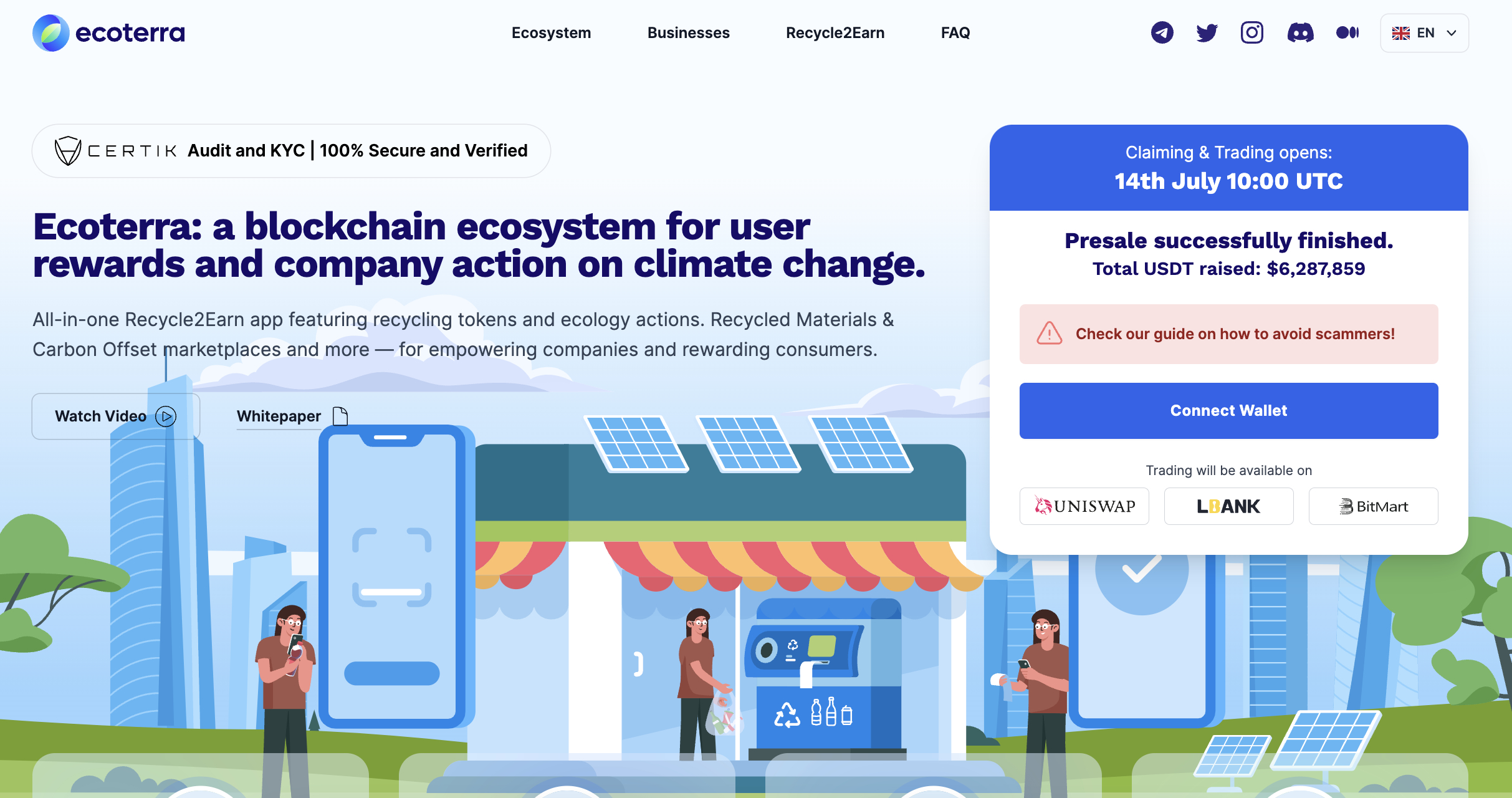 The Ecoterra ecosystem will also include services aimed at the B2B sector. For instance, companies will be able to purchase recycled raw materials. When paying in ECOTERRA tokens, discounts will be offered.
Ecoterra has just completed its presale - having raised over $6.2 million. Exchange listings have been announced, including LBank, BitMart, and Uniswap.
6. DeeLance - Bridging the Gap Between Web 3.0 and Employment
DeeLance is revolutionizing the employment sector through its decentralized freelancing platform. Built on the blockchain, DeeLance will connect employers and workers in a fair, transparent, and cost-effective Web 3.0 environment.
In fact, DeeLance solves many of the issues currently facing freelancing agreements. According to DeeLance, clients currently pay up to 20% when hiring on Fiverr. Deelance charges just 2% for the same service.
Moreover, DeeLance notes that Fiverr charges up to 20% to freelancers. DeeLance charges freelancers just 10%. Additionally, DeeLance payments are not made in fiat currency, meaning faster and more efficient transactions. Instead, payments are conducted in DLANCE.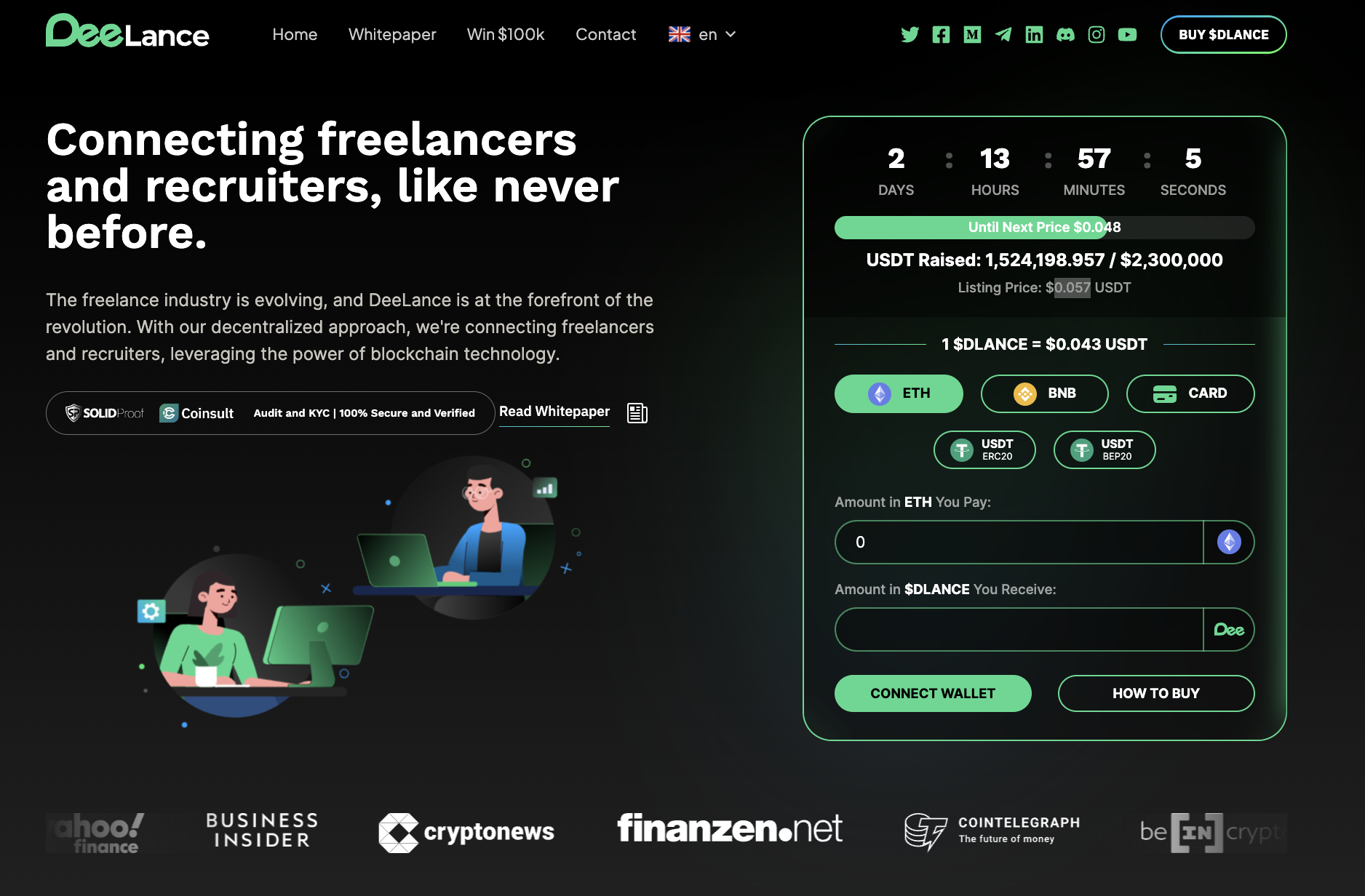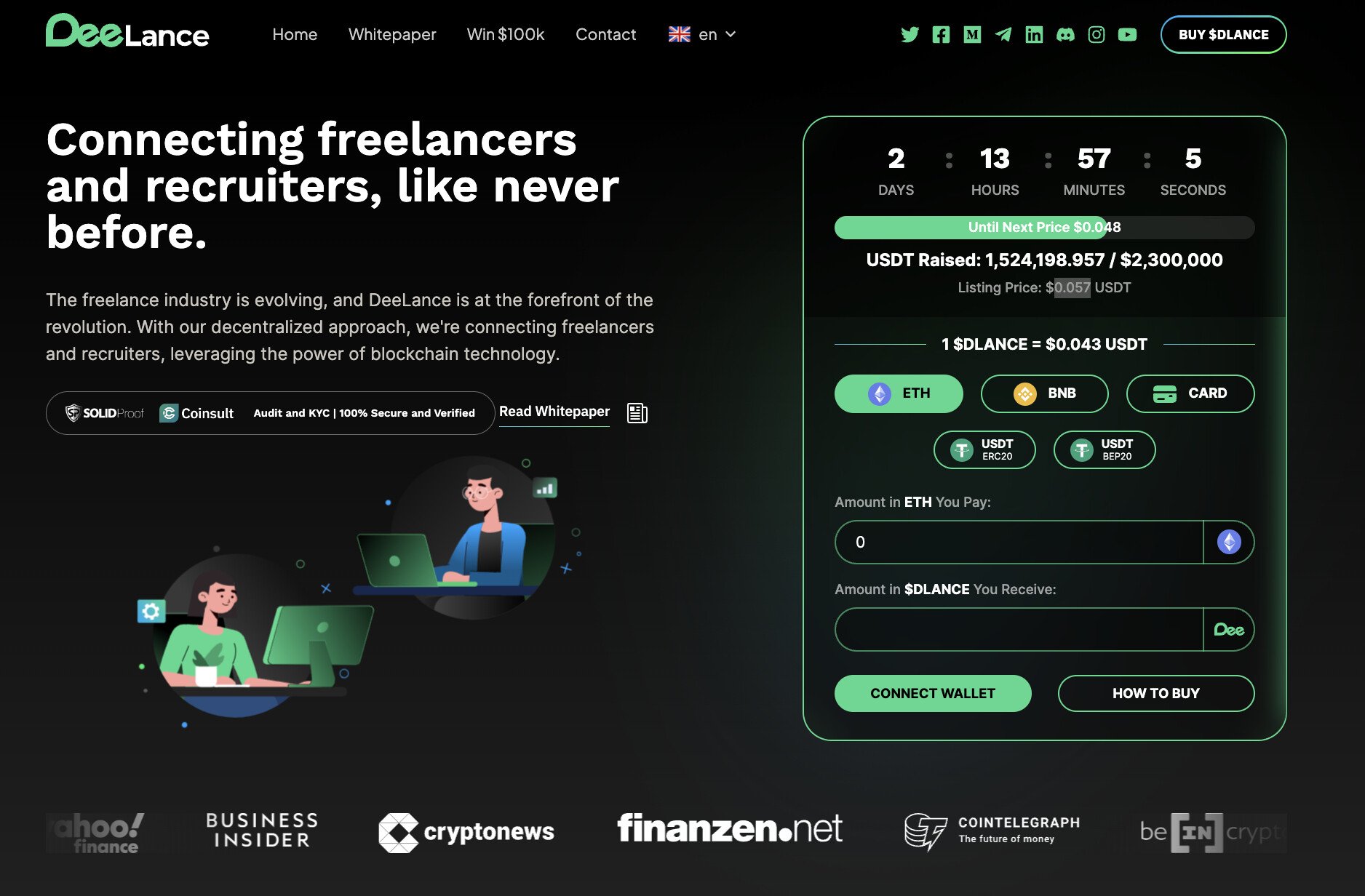 This is the native token fueling the DeeLance ecosystem. We also found that DeeLance is building a metaverse. Clients and freelancers can conduct virtual meetings and even tokenize works with NFTs.
DeeLance is currently selling DLANCE tokens via an ongoing presale that has raised $1.5 million so far. The current price is $0.043 per token, but DLANCE will be listed on exchanges at $0.057 after the presale. Therefore, an immediate upside is available when investing today.
7. Pepe 2.0 - Newest Cryptocurrency to be Listed on ByBit
As per the new ByBit listings page, Pepe 2.0 is the latest cryptocurrency to be added to the exchange. Pepe 2.0 is a brand-new meme coin that was launched on June 30th, 2023. It was influenced by the original Pepe coin, which is one of the fastest-growing cryptocurrencies this year.
Pepe 2.0 has every chance of following suit and has already generated notable gains since launching. For example, CoinMarketCap data shows that Pepe 2.0 was initially priced at $0.000000004362.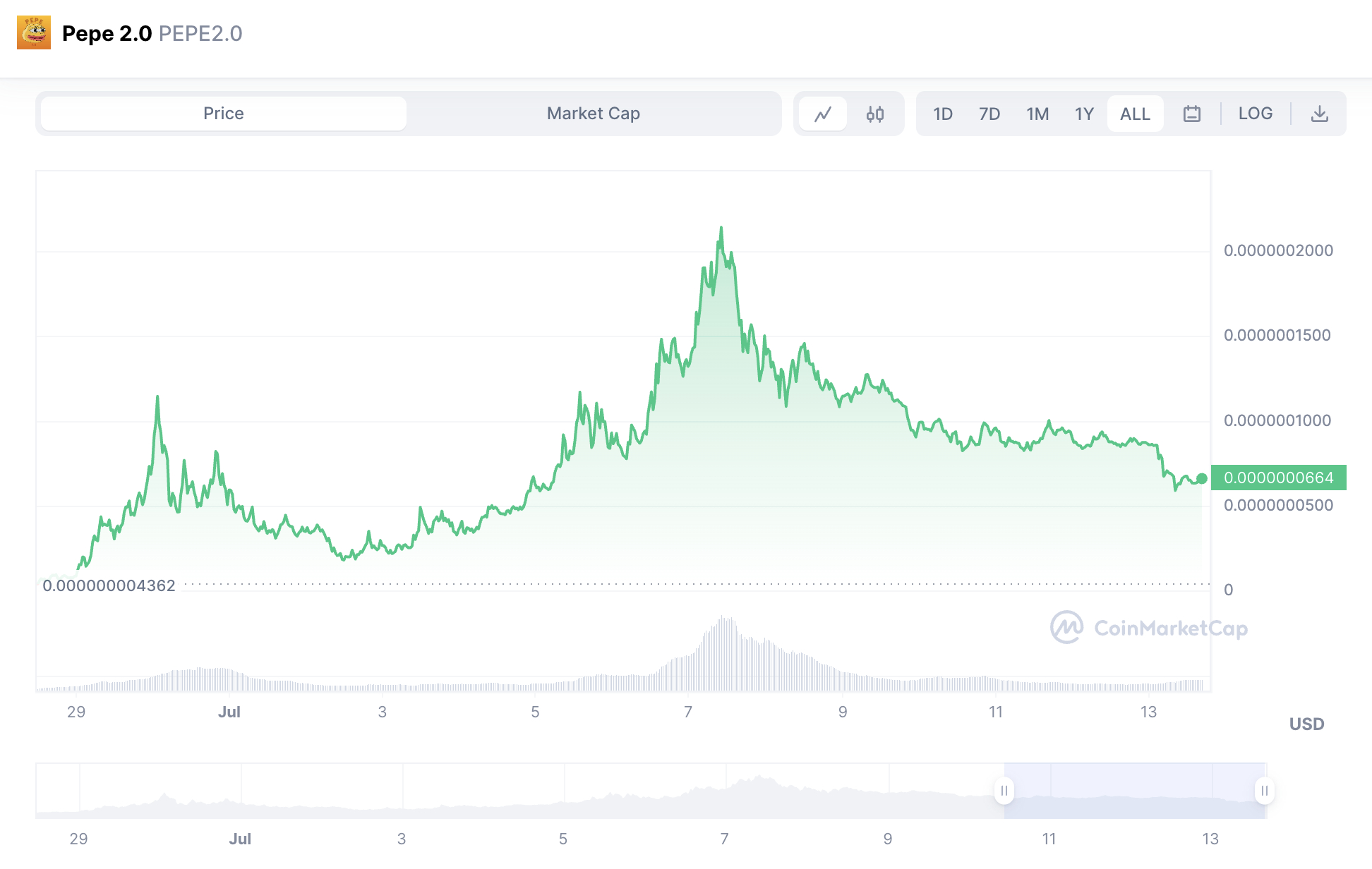 Just seven days after launching, Pepe 2.0 hit highs of $0.0000002219. This translates to returns of nearly 5,000%. Although Pepe 2.0 has since entered a market correction, it is currently trading at $0.00000006637. This means that early investors are still over 1,400% in the green. Ultimately, Pepe 2.0 highlights that even meme coins without any use cases can be listed on ByBit.
8. EGO - Native Token of the Soon-to-be Launched Paysenger Social Network
EGO is a new cryptocurrency that backs the Paysenger social network. This is a decentralized social platform that enables artists to monetize their works. Unlike centralized platforms, artists have full control over their creations.
This means that they can set their own prices and engage directly with their fans. There is no censorship, and monetization payments are fast and fair. All payments on the Paysenger social network are executed in EGO, ensuring efficient and low-cost settlements.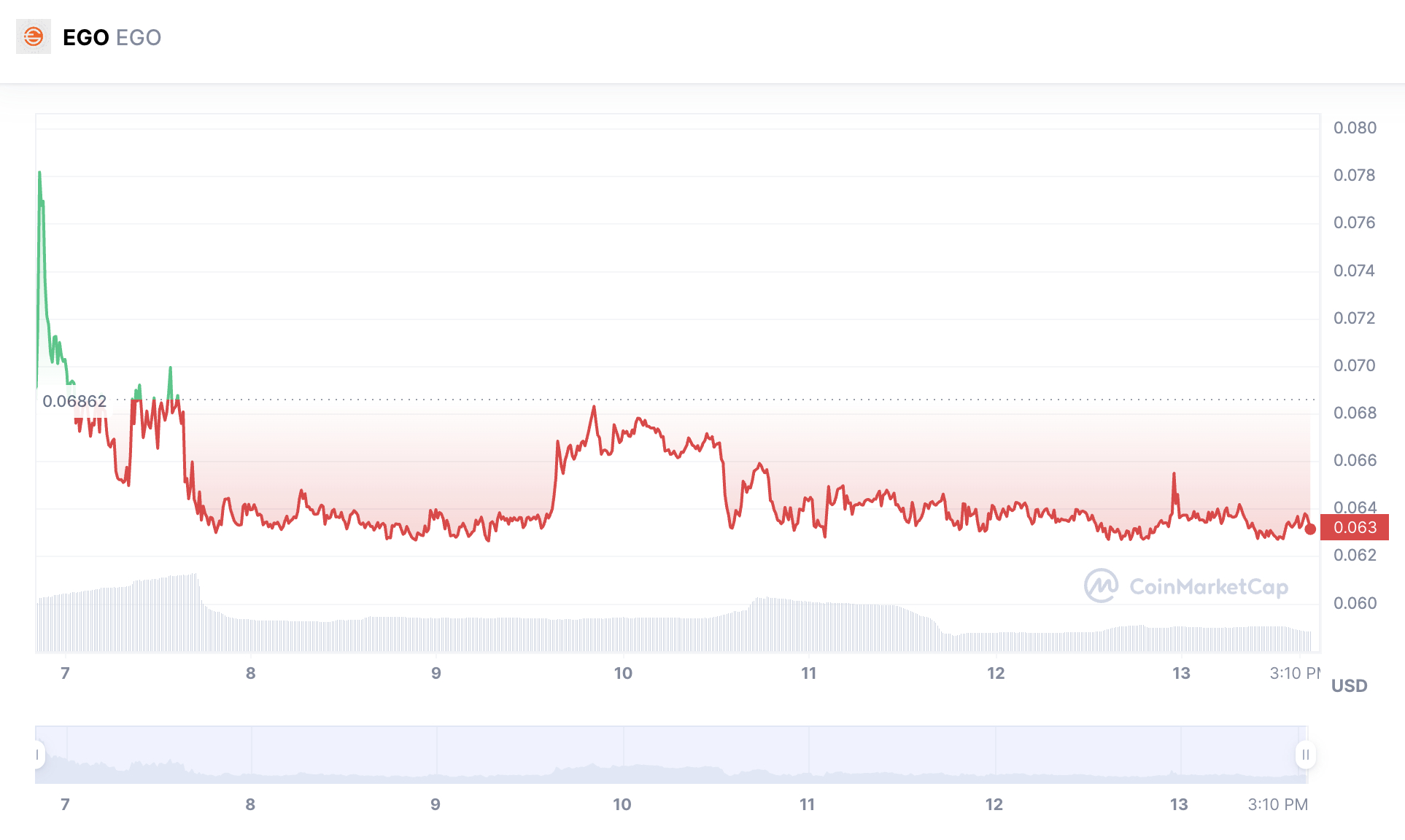 In light of these innovative features, EGO tokens were listed on ByBit on July 6th, 2023. That said, the price of EGO has actually declined since the announcement. CoinMarketCap data shows that on the ByBit listing date, EGO was priced at $0.06862. Today, EGO is trading 8% lower at $0.06317.
9. Metatime Coin - New Blockchain Ecosystem With Scalability of Over 700,000 Transactions per Second
Metatime Coin is a blockchain ecosystem that uses the proof-of-meta hybrid mechanism. While its blockchain is still in development, Metatime Coin claims it will be able to handle over 700,000 transactions per second. If achievable, this will make it one of the most scalable blockchains in the space.
Moreover, Metatime Coin claims that transaction fees will be near-fee-free. Another feature of Metatime Coin is that miners can verify transactions with a mobile device, making the ecosystem more equal.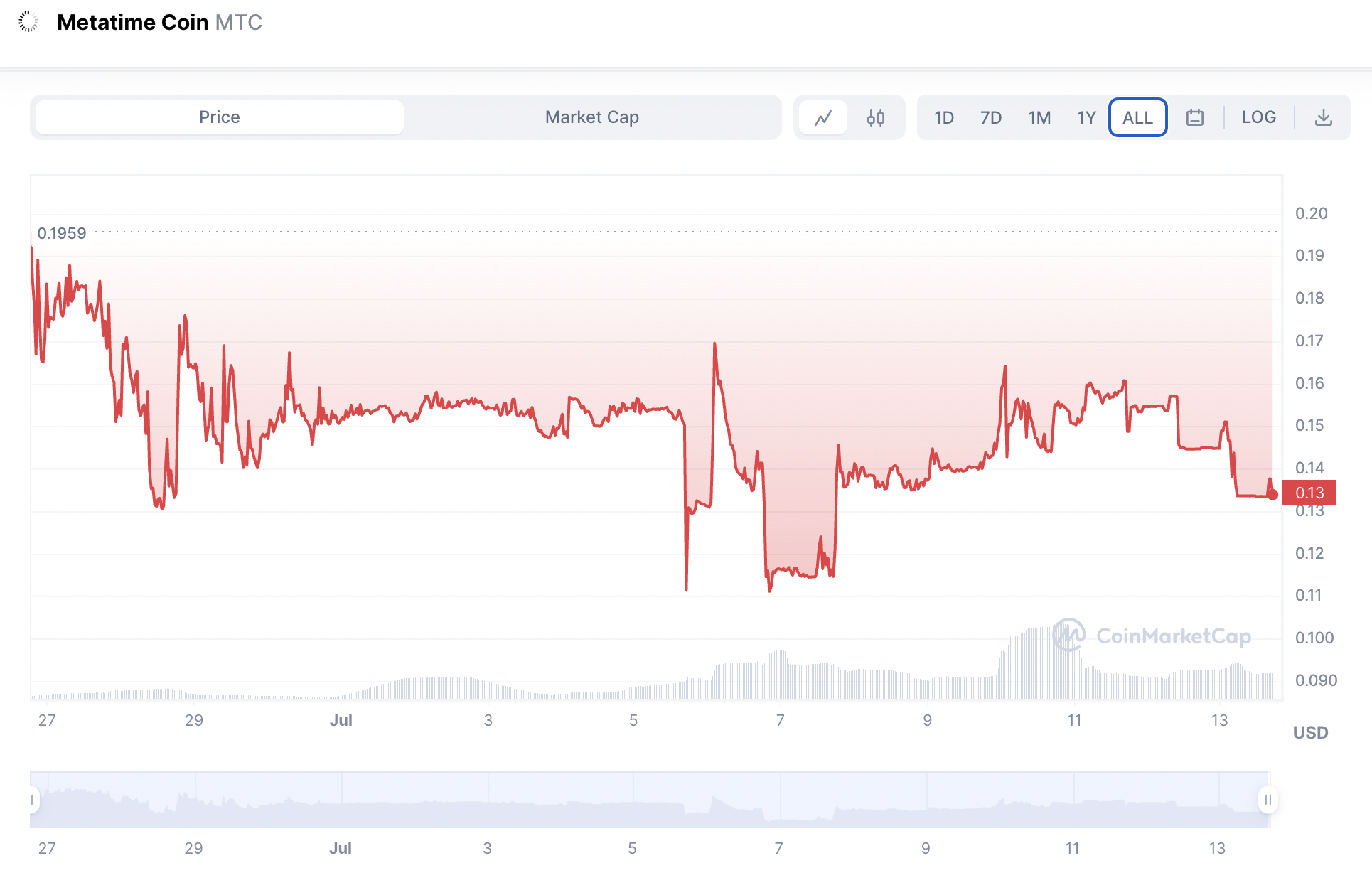 According to CoinMarketCap data, its native MTC token was launched in June 2023 at $0.1959. The token - which currently operates on the Binance Smart Chain, is now trading at $0.134. This means that MTC is down 30% since it launched. Nonetheless, Metatime Coin was listed on ByBit on June 26, 2023.
10. TomTomCoin - Native Utility Token of the Tom N Toms Coffee Franchise
TomTomCoin was launched in January 2023 and is the native token of Tom N Toms. Founded in South Korea, Tom N Toms is an established coffee franchise with over 500 stores in multiple countries. This includes Thailand, Singapore, Qatar, China, Mongolia, and the US.
In terms of utility, TomTomCoin can be used as payment in all of its 500+ coffee shops. Moreover, TomTomCoin can be used for staking via the provider's app. According to CoinMarketCap data, TomTomCoin has a market capitalization of just $4 million.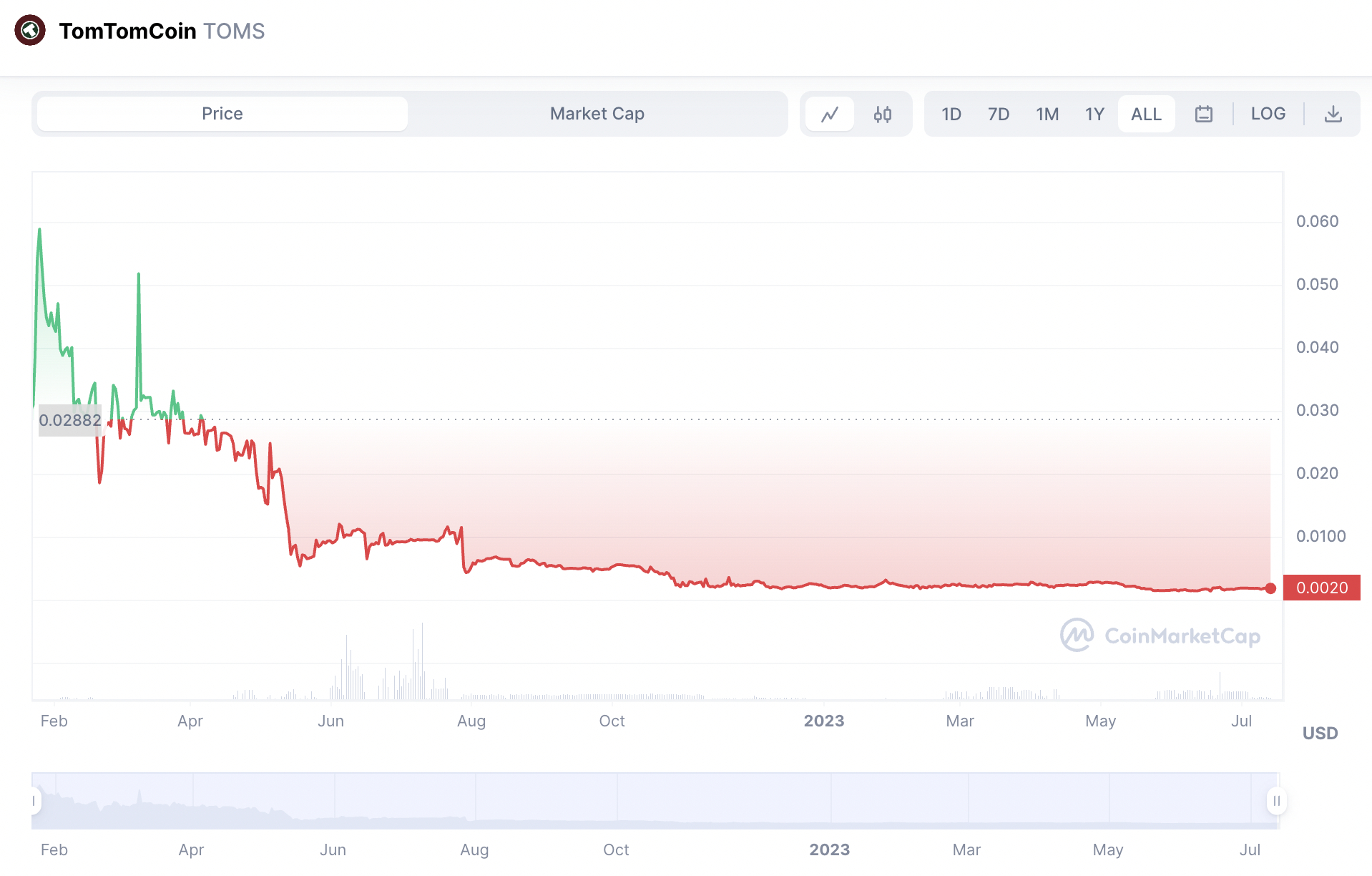 It is currently priced at $0.001953 per token. This is down over 90% from its original listing price of $0.02882. Nonetheless, Bybit appears to like the concept, as TomTomCoin was listed on the exchange on June 21st, 2023.
How Often Does Bybit Add New Cryptocurrencies?
Bybit is sporadic with its new listing announcements. That said, we found that Bybit is a lot more active with new listings when compared to Binance.
In July 2023, Bybit has already added two new cryptocurrencies to its exchange - Pepe 2.0 and EGO - which we discussed above. In the previous month, Bybit also listed two cryptocurrencies - Metatime Coin and TomTomCoin. In May 2023, Bybit listed five cryptocurrencies.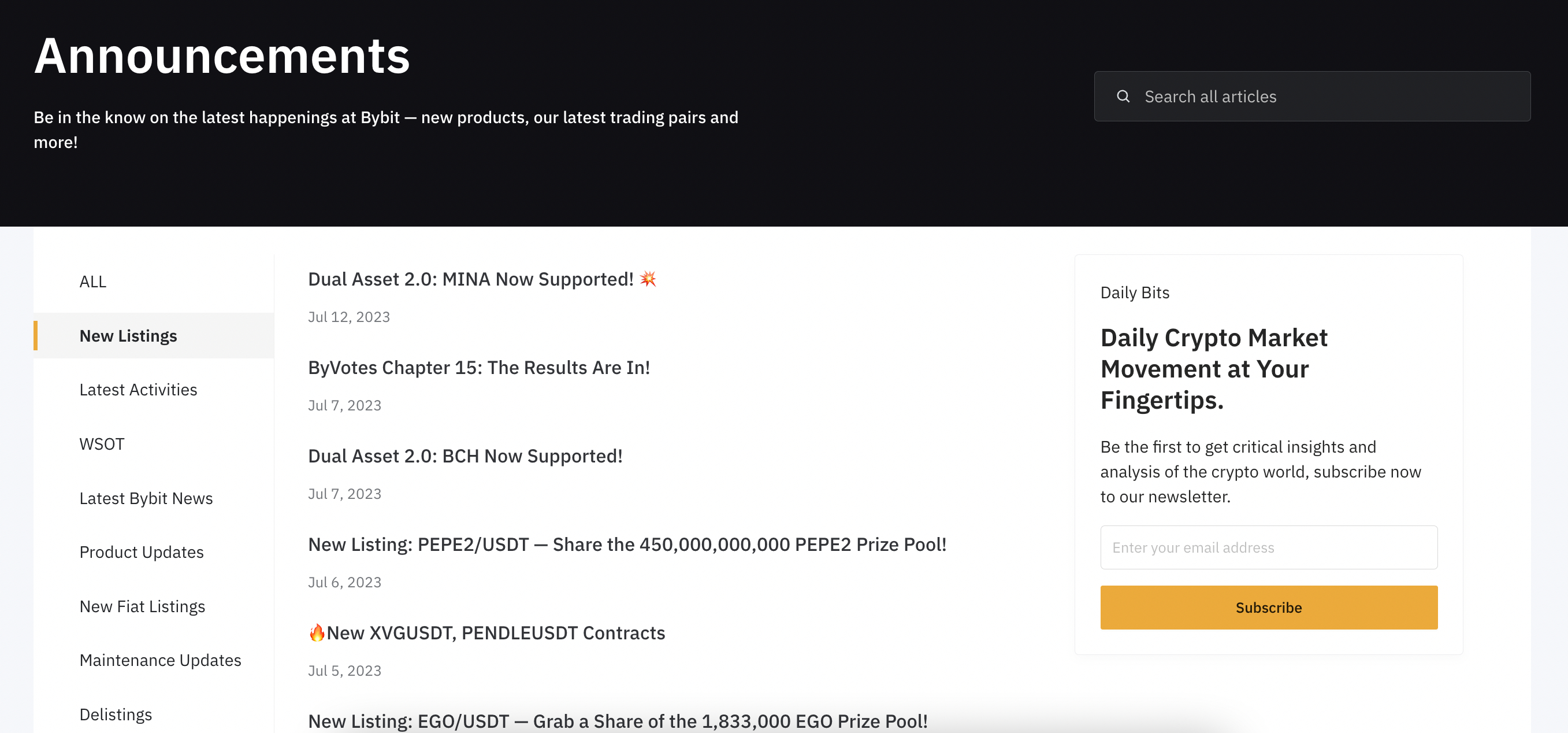 We found that there is often a common denominator with new Bybit listings; In many cases, it lists cryptocurrencies that are trending. For example, most of the cryptocurrencies it has recently listed are newly launched meme coins. These are projects without any identifiable use cases.
This is why new projects like Wall Street Memes and Thug Life could be next. After all, these presale projects have already raised $14 million and $1.2 million in their respective campaigns.
Why Investing in Upcoming Bybit Listings Can Generate Returns
When a new exchange listing is announced, this often generates hype for the respective cryptocurrency. This is especially the case with Bybit, considering it's one of the largest crypto exchanges globally.
Let's explore some of the reasons why upcoming Bybit listings can generate attractive returns for investors.
Huge Exposure to a Global Audience
Bybit is a tier-one exchange that attracts significant trading volumes. CoinMarketCap data shows that in the prior 24 hours alone, more than $600 million was traded on Bybit.
Moreover, Bybit has more than 10 million users, and the exchange offers some of the lowest fees in the industry.
As such, when new cryptocurrencies are added to Bybit, this gives it exposure to a huge audience.
Listing Announcements Can Generate Hype
When new cryptocurrencies are launched, they often get listed on smaller exchanges. This is because the project does not have a track record, so tier-one exchanges are reluctant to accept them.
That said, Bybit continues to add newly launched cryptocurrencies to its exchange. And when it does, this often results in hype and FOMO. This can lead to rapid price appreciation in the days following the listing announcement.
Positive Market Sentiment on Bybit New Coins
Being listed on a tier-one exchange like Bybit is no easy feat. This means that when a new cryptocurrency is accepted, this creates positive market sentiment for the project.

The cryptocurrency project can use this to its advantage when attracting new investors. Moreover, the Bybit listing adds an element of legitimacy to the cryptocurrency's concept.
Trading Competitions
The best new coins on Bybit will launch a trading competition once the listing goes live.
For example, Pepe 2.0 - which is one of the most recent listings, is offering a 450 billion PEPE2.0 prize pool.
To be eligible, traders need to achieve volumes of at least 150 million PEPE2.0.
This incentivizes traders to buy and sell the newly listed cryptocurrency.
Moreover, this can amplify the overall trading volume that the cryptocurrency generates. This can be beneficial for the project, as some tier-one exchanges have minimum volume requirements.
How to Find the Next Coins to List on Bybit
Now that we have discussed the benefits of being added to the exchange, let's explore how to find upcoming Bybit listings.
Official Bybit Announcement Page
We found that there are many rumors of upcoming Bybit listings in the crypto space. However, rarely are any of these rumors legitimate.

On the contrary, scam projects will often announce they have been accepted by Bybit, even though this is simply not the case. The reason for this is to attract new investors to their project.
Crucially, the only way to find upcoming Bybit listings is on the official announcement page.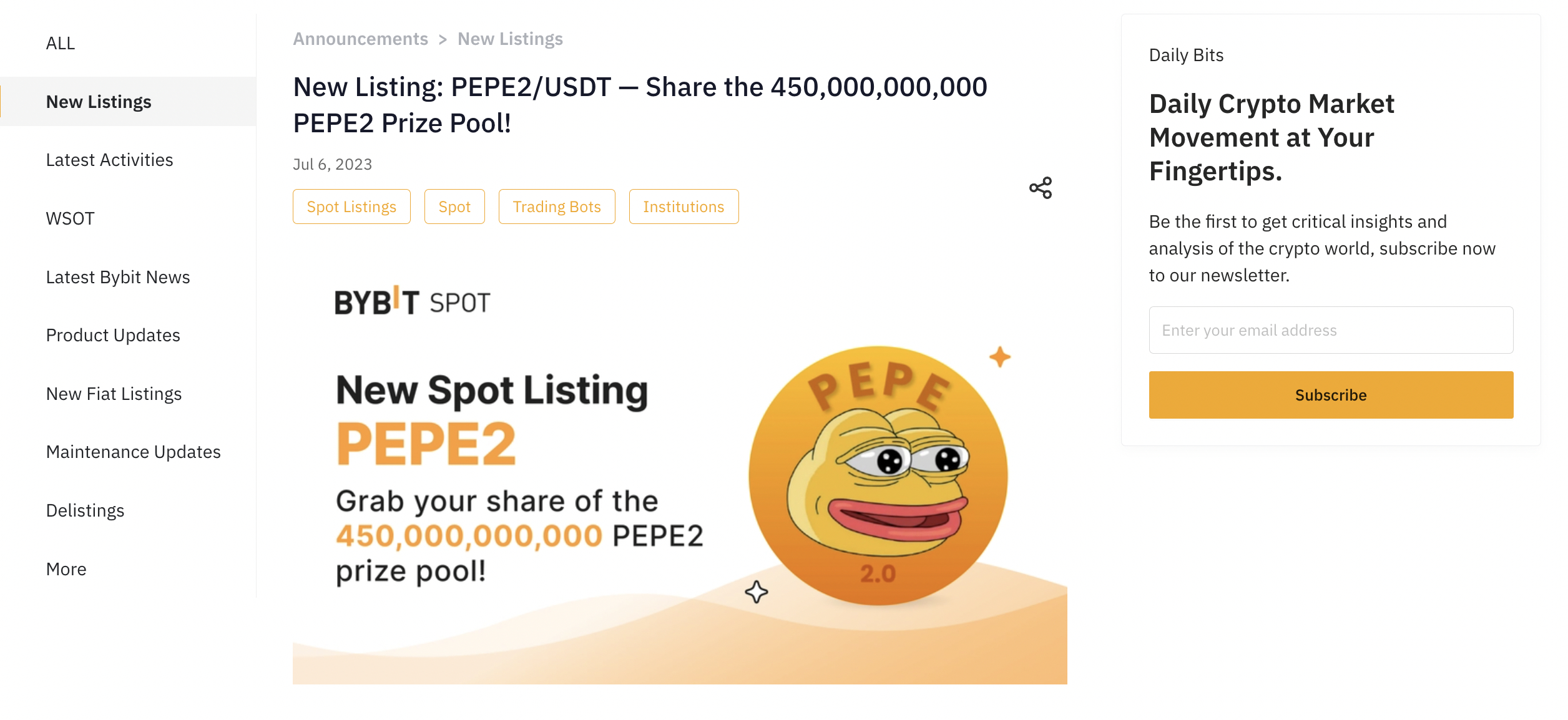 The listings page is a bit clunky, as it also includes newly added pairs and financial derivatives. New listings added to the spot exchange will be marked as "New Listing", followed by the pair.
Within each listing, Bybit will display three dates and times; when the cryptocurrency can be deposited, traded, and withdrawn. If applicable, it will also list details about the project's trading commission.
Bybit New Listings Alerts
As noted above, new Bybit listings are added sporadically - meaning there is no set schedule. This can make it challenging to stay up-to-date with new listing announcements.
After all, investors will be required to keep checking the Bybit listings page manually.
A workaround to this is to join a Bybit listing alert service. These are third-party platforms that scrape data from the Bybit listing page in real-time.
This means that users are notified when the listing page makes a new announcement. This way, investors can trade the announcement at the earliest possible time.
Look for New Trending Projects
We mentioned earlier that Bybit has a track record of listing cryptocurrencies that are trending. In many cases, these are meme coins that do not offer any use cases or utility. But because the respective coin is trending, Bybit will consider listing it.
This is why Wall Street Memes could soon be the best new crypto on Bybit. Not only is Wall Street Memes trending, but its presale campaign has been a huge success. It has already raised over $14 million, albeit, the last batch of WSM tokens is now being sold.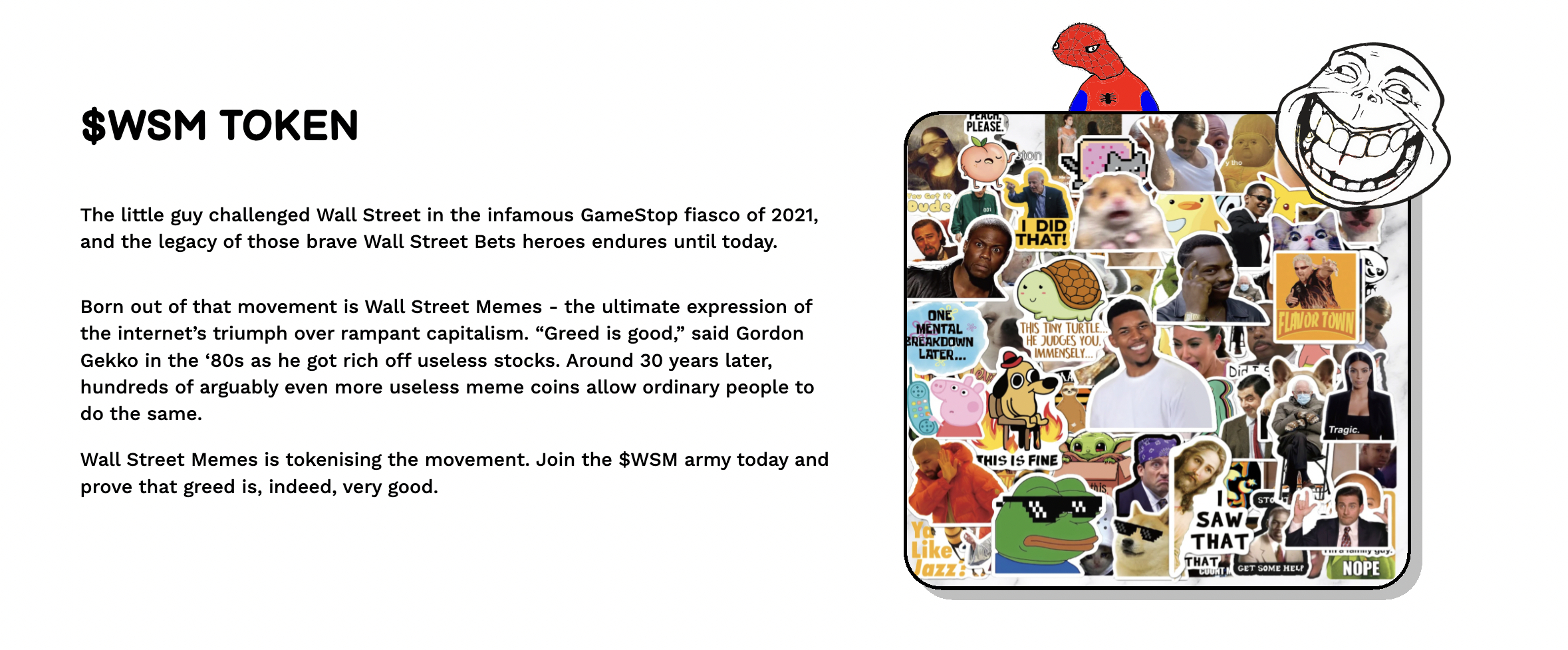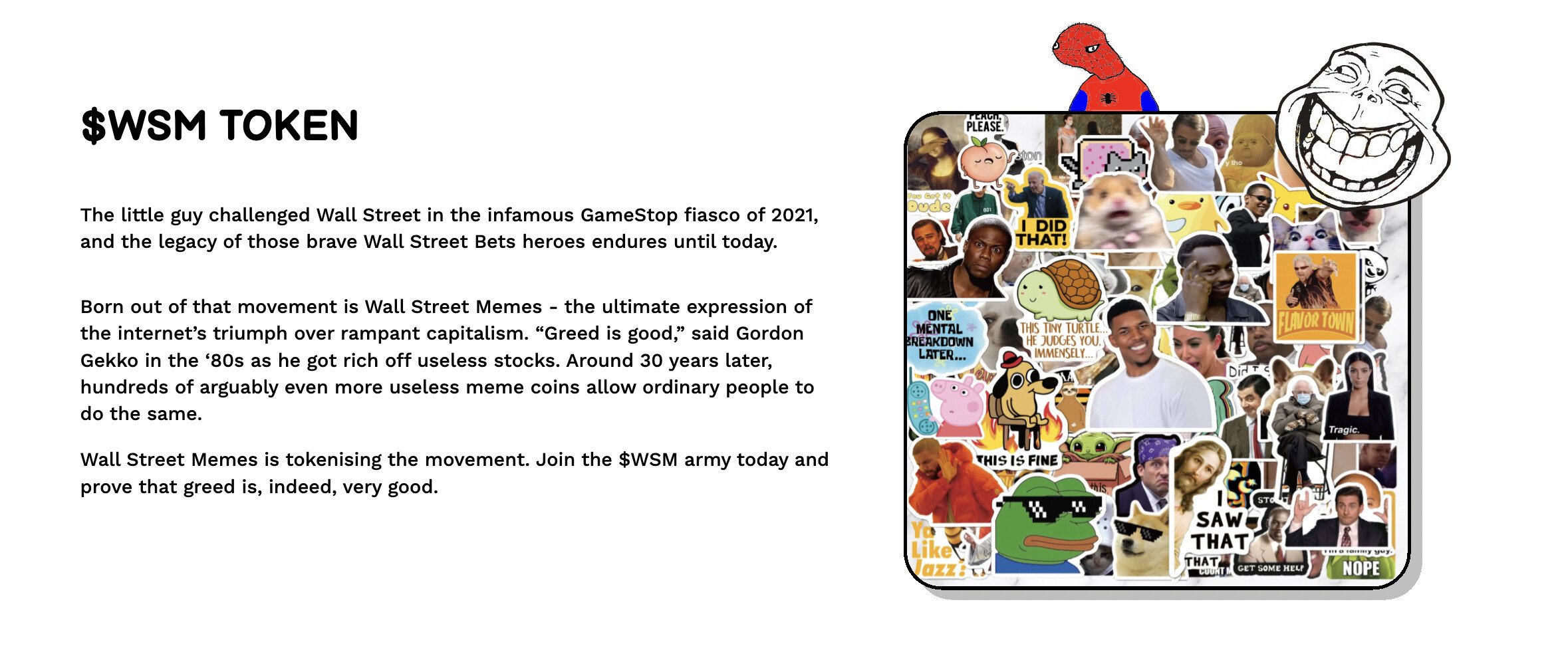 After the presale finishes, Wall Street Memes will be listed on exchanges. The specific exchanges are yet to be announced.
Conclusion
In summary, we have discussed the best new cryptocurrency released on Bybit in 2023. We have also explored some potential new listings that could be announced in the coming weeks and months.
In particular, Wall Streets Bets has a great chance of being added to Bybit. After all, Bybit favors projects that are trending. Wall Street Memes is still in presale, although it's already raised more than $14 million.
References
https://coinmarketcap.com/currencies/pepe-2-0/
https://coinmarketcap.com/currencies/tomtomcoin/
https://www.reddit.com/r/wallstreetbets/
https://www.theguardian.com/business/2022/aug/13/meme-stock-frenzy-gamestop-bed-bath-beyond-amc
https://www.bnbchain.org/en/smartChain
https://ethereum.org/en/developers/docs/gas/
https://announcements.bybit.com/en-US/?category=new_crypto&page=1
https://coinmarketcap.com/currencies/ego-paysenger/
https://coinmarketcap.com/currencies/metatime-coin/
https://tomntoms.com/eng/company/brand-product.html
https://coinmarketcap.com/exchanges/bybit/
FAQs
What new coins are listing on Bybit?
Some of the latest coins to list on Bybit include Pepe 2.0, EGO, Metatime Coin, and TomTomCoin. The next Bybit listings for 2023 haven't been announced yet but could include Wall Street Memes and Thug Life.
How do I find new listings on Bybit?
The only way to find new listings on Bybit is via its official announcement page.
---