This New Blockchain Platform Is Making EV Charging More Sustainable – Next Big Thing?
Disclosure: Crypto is a high-risk asset class. This article is provided for informational purposes and does not constitute investment advice. By using this website, you agree to our terms and conditions. We may utilise affiliate links within our content, and receive commission.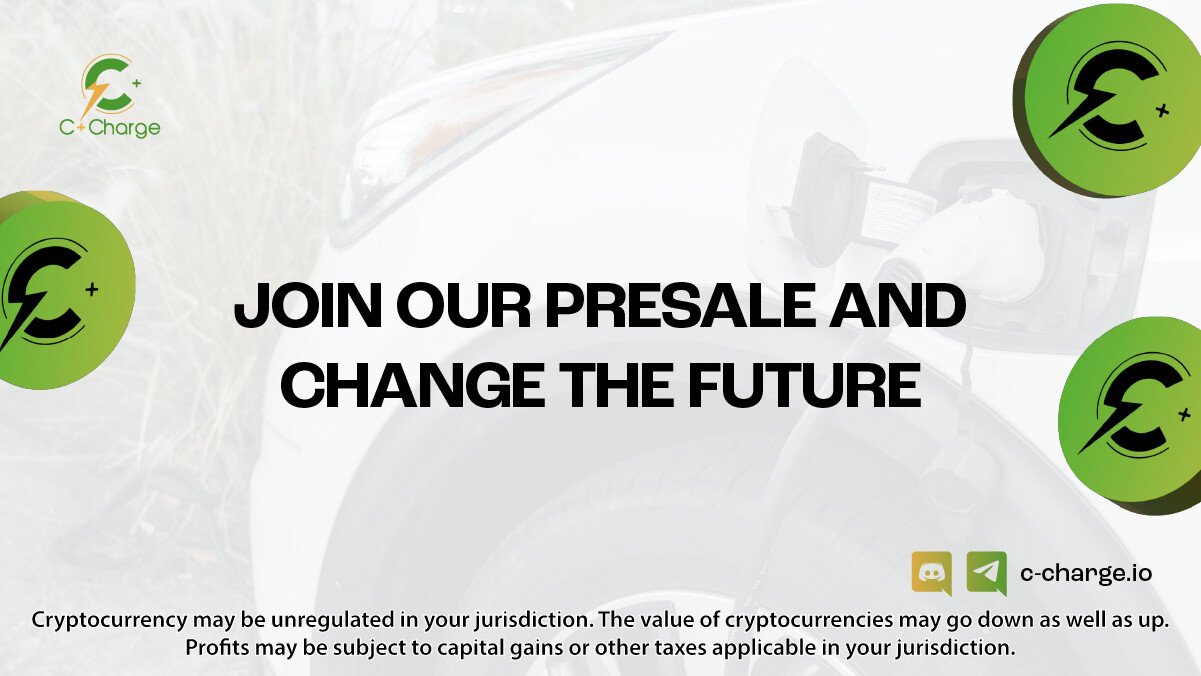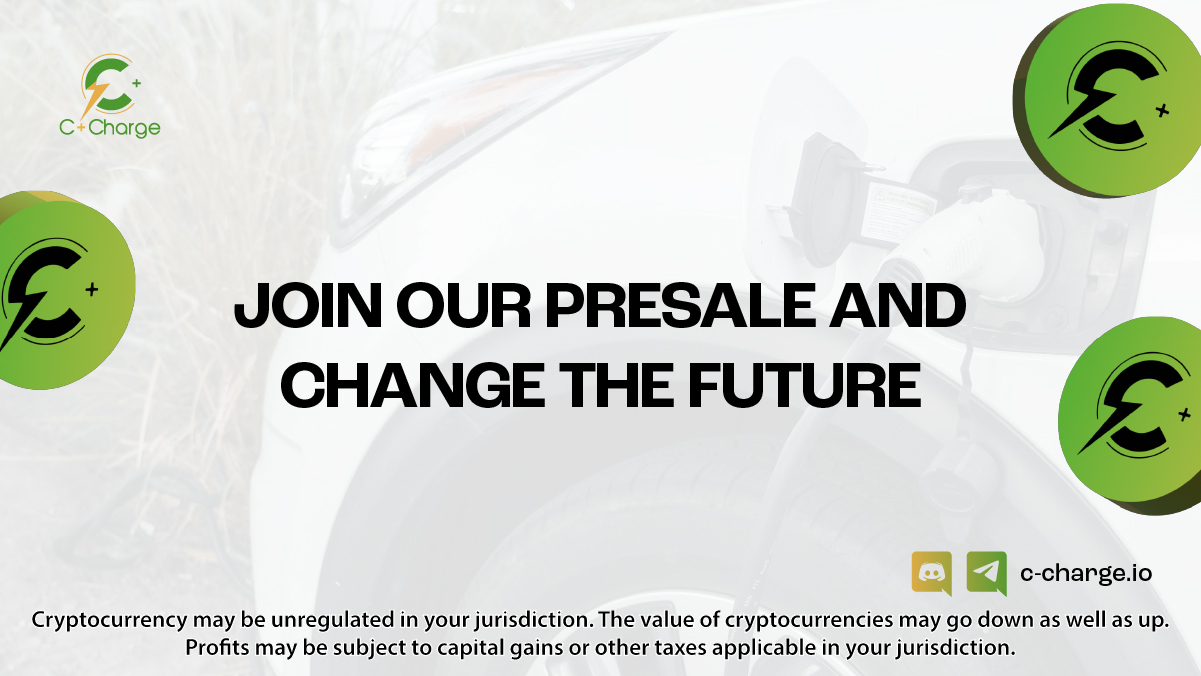 The global push towards a greener future has made electric vehicles (EVs) an increasingly popular mode of transportation. However, the current infrastructure for electric charging stations is struggling to keep up with demand, hindering the growth of the industry.
Enter C+Charge, a revolutionary new blockchain platform that aims to streamline and incentivize EV charging by becoming the industry standard for charging payments.
With this innovative solution, C+Charge is poised to play a crucial role in the electric vehicle revolution.
The green energy startup's native token, $CCHG, is currently on presale and has raised over $2.64 million so far.
Crypto-Fueled Green Initiative
Following the release of Tesla's Model S, automakers worldwide have entered the EV market to introduce their premium electric vehicles. As a result, the number of charging stations and the associated payment system is now extremely limited.
Also, customers are not currently charged according to a set standard, and there is a lack of consistency in the payment gateways used by various charging stations.
To address these practical problems, C+Charge has developed a blockchain-based solution and offers a dynamic utility coin with practical applications.
The green initiative has developed a strong peer-to-peer (P2P) EV charging station payment system on the blockchain. As a result, EV drivers won't be uncertain about charging charges and will simultaneously earn.
🚗⚡🔌The U.S. Postal Service has announced its investment in the 66,000 #EV fleets and associated infrastructures to fight climate change by 2026

Join our #presale and learn more about the #EV and #blockchain #technology integration⬇️https://t.co/ixe18bPqzI#ReFi #CCHG pic.twitter.com/k00Y8stUZg

— C+Charge (@C_Charge_Token) March 9, 2023
The ideal solution will be to create a charging station powered by clean, renewable energy, and C+Charge is exploring multiple solar-powered charging station manufacturers to enable them to be off the grid and sustainable.
These solar-powered pods are the most suitable chargers for the C+Charge network, as they align to create a sustainable environment through electric-powered mobility.
Creating Blockchain-Powered Charging
C+Charge positions itself as an actual user of Web 3 technology. It proposes an electronic wallet-based payment architecture for charging EVs instead of the conventional ledger-backed network design.
Transactions are decentralized, which enables C+Charge to create value in the real world.
Smart contracts serve as the foundation of payments, allowing transactions to occur when certain criteria are met. This encourages the growth of carbon credits within the ecosystem for EV charging stations, with these credits being distributed directly to consumers.
C+Charge's main selling point is its mobile application. It is a centralized platform that handles various end-to-end charging-related activities while also meeting the charging needs of EV users.
What is included in the newest UK gov Green Industrial Revolution plan?

🔌Accelerating the shift to private EVs
⚡Electrifying public transport
♻️Carbon emission capture, usage & storage investment

Join our #presale and receive all the latest updates⬇️https://t.co/ixe18bPYpg

— C+Charge (@C_Charge_Token) March 8, 2023
Along with monitoring payments, the app will handle the entire end-to-end charging procedure. This features the most recent pricing, an updated wait time estimate, a tracker for carbon credits, and a charging station locator.
Thanks to the blockchain-based network and app, EV drivers will benefit from transparent pricing, which eliminates unexpected charges, hidden fees, and pricing uncertainty.
Users can expect complete network transparency, resulting in a better user and customer experience.
To make this process smoother, the eco-friendly project is partnering with several established companies in the EV space.
For the C+Charge-operated stations, the team has partnered with Phihong to supply charging equipment. Phihong is a leading global manufacturer of charging equipment for the automotive industry's giants.
Buy $CCHG for Sustainability
$CCHG, like most other cryptocurrency initiatives, powers the entire ecosystem, and users will be able to pay for EV charging costs at appropriate stations and participate in larger network activities.
The digital asset is currently on presale and has raised over $2.64 million so far.
At press time, $CCHG is priced at $0.019 per token. However, stage six will elapse in 5 days, and the token price will increase to $0.02.
The project has also kicked off its token-burning program for all tokens not bought during its designated presale stage. The first burn happened on February 22, with 35,658,291 tokens burned from Stage 2, while the second burn saw 71,474,007 tokens burned from Stage 3.
To purchase this token, investors must have a MetaMask wallet installed on their browser, and Trust Wallet or another wallet supported by Wallet Connect is recommended by C+Charge. The token can be purchased with ETH, BNB, and USDT as payment methods.
📣Hey C+Charge Crew!

BIG ANNOUNCEMENT – We are going LIVE on @BitmartExchange soon 🚀

Join our community now and don't miss out on all news about our first #exchange #listing!https://t.co/ixe18bPqzI pic.twitter.com/OtXf9b4eZf

— C+Charge (@C_Charge_Token) March 6, 2023
The C+Charge developers recently announced plans to list directly on the BitMart exchange on March 31.
BitMart, which debuted in March 2018, is ranked 20th in the world by the top crypto data site Coinmarketcap.com. Based in the Cayman Islands, the exchange has a 24-hour trading volume of more than $727 million.
Disclaimer: The Industry Talk section features insights by crypto industry players and is not a part of the editorial content of Cryptonews.com.
---