New Bitcoin Mining Giant Emerging in US With USD 651M Deal
US-based listed Bitcoin (BTC) mining company Riot Blockchain said it's buying Whinstone, the owner and operator of North America's leading Bitcoin hosting facility, from Northern Data for USD 651m.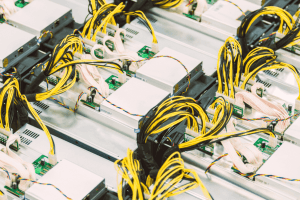 The company said it has already signed a definitive agreement and expects to close the transaction in the second quarter of 2021. According to the agreement, USD 80m payable in cash and remainder in shares of Riot common stock. Upon closing of the transaction, Northern Data, which acquired Whinstone in 2020, will own approximately 12% of the total outstanding common stock of Riot, the company said.
Riot claims that upon the closing of this acquisition, the company is expected to be the largest publicly traded Bitcoin mining and hosting company in North America, as measured by total developed capacity.
"Whinstone will serve as the foundation of Riot's Bitcoin mining operations, upon which we will drive our goal of increasing the American footprint in the global Bitcoin mining landscape," Jason Les, CEO of Riot, was quoted as saying in the announcement.
Whinstone's site has a total power capacity of 750 MW, with 300 MW currently developed, per Riot. Whinstone hosts Bitcoin mining operations for three institutional clients who, by the end of 2021, are expected to utilize up to 300 MW of aggregate power capacity.
Also, Whinstone generates engineering and construction services revenue from hosting clients on site, including revenue derived from the fabrication and deployment of immersion cooling technology for Bitcoin mining.
The Whinstone team is comprised of approximately 100 employees who have built Whinstone's Texas operations from greenfield to commercialization in less than twelve months, per Riot.
"By becoming a minority shareholder in Riot going forward, through its equity stake in Riot, Northern Data will be able to benefit from the synergies generated by the transaction and continues to directly participate in the growth of Bitcoin value potential. Simultaneously, Northern Data will be able to use the cash proceeds from the transaction to focus on, and further implement, its decentralized, multi-site, scalable and ESG [environmental, social, and governance]-focused strategy," said Aroosh Thillainathan, CEO of Northern Data.
Separately, Riot Blockchain announced a large-scale contract for the purchase of 42,000 S19j Antminers for USD USD 138.5m from mining equipment producer Bitmain. Riot's Bitcoin mining hash rate is now estimated to reach 7.7 exahash per second (EH/s) once fully deployed - a 93% increase over the company's previously estimated committed hash rate capacity of 4.0 EH/s by October 2021. Riot is scheduled to receive a minimum of 3,500 S19j Antminers a month starting in November, and will continue through October 2022. It's currently receiving monthly shipments as scheduled through October 2021 from a previous purchase as well.
____
Learn more:
- Bitcoin Mining in 2021: Growth, Consolidation, Renewables, and Regulation
- Proof-of-Disagreement: Bitcoin's Work vs. Ethereum's Planned Staking
- This Is How Satoshi Nakamoto Defended Bitcoin Mining & Converted A Skeptic
- This Is How Institutional Players Help Bitcoin Mining Industry Grow
- Bitcoin Miners Are Using New Strategies to Hedge Risks
___
(Updated at 15:28 UTC with the last paragraph.)
---