This New Altcoin is Creating a Phenomenal Buzz Among Bitcoin and Ethereum Whales
Disclaimer: The text below is a press release that is not part of Cryptonews.com editorial content.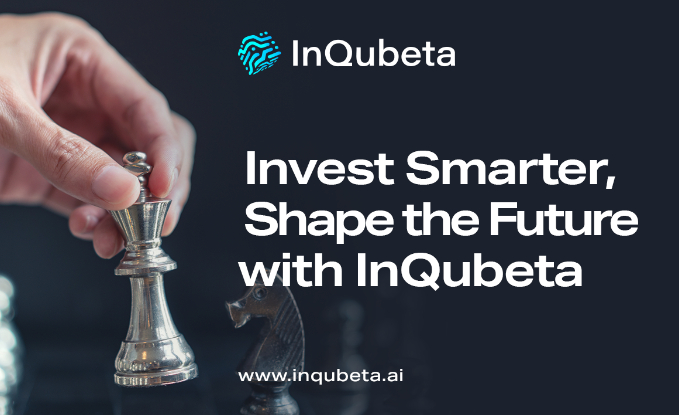 The InQubeta (QUBE) presale has generated so much attention, Ethereum (ETH) and Bitcoin (BTC) whales are paying close attention to its token sales, despite the growth both tokens have seen in 2023.
Bitcoin prices have risen by up to 40% while Ethereum prices have grown even more.
However, 2023 projections for both tokens don't have them keeping up with InQubeta's presale growth thanks to the incremental price changes structured into it.
Investors that buy-in early get to grow their investments 4x by the time the presale closes.
That's one of the most promising opportunities in the cryptocurrency space right now.
Multiple factors like InQubeta's link to artificial intelligence (AI), its fixed token supply at 1.5 billion, and the accessible investment opportunities it provides have driven its presale success.
It provides more accessible investment avenues than mainstream channels, guiding funds to AI startups that need them while making investments in one of the fastest-growing sectors more accessible.
InQubeta Presale Getting a Boost from Ethereum and Bitcoin Whales
The InQubeta network is built on the Ethereum blockchain, so it enjoys its transparency, security, and flexibility.
The platform channels the power of non-fungible tokens (NFTs) and smart contracts to create investment opportunities that anyone with a cryptocurrency wallet can participate in.
Its approach sidesteps the obstacles that prevent millions of people from using mainstream investment channels like minimum investment amounts that exceed the average person's yearly paycheck.
The AI industry is set to cause more disruption than any other technology has in the past and it is guaranteed to create investment opportunities like any other tech breakthrough.
U.S. Commander-in-Chief Joe Biden recently projected AI would lead to more transformation in the next ten years than technologies like the internet, computers, and cryptocurrencies have in the past five decades.
Investors who pick AI startups that end up innovating in major ways can expect to earn exponential returns, much like people who backed cryptocurrencies like Bitcoin or those who backed dotcoms like Amazon in the late 90s.
InQubeta's platform makes investment opportunities in artificial intelligence more accessible than ever, directing more funds into companies that will push the technology further while opening up opportunities to those who have been denied entry into mainstream investment firms or prefer the decentralized nature of InQubeta's platform.
The Process
Securing equity in an AI firm is as straightforward as buying NFTs on the InQubeta marketplace.
Companies that need funding make these tokens and list them on the market where investors can buy them with $QUBE tokens.
Like stocks, these NFTs represent shares of the companies behind them, and some come with extra rewards like discounts on products developed.
Ethereum (ETH) Surpasses Previous 2023 Highs
Ethereum has enjoyed more growth than Bitcoin in 2023, surpassing previous highs set earlier in the year.
Ethereum has benefited from the success of cryptocurrency projects developed on its platform like Chainlink (LINK), Polygon (MATIC), and InQubeta.
Polygon was recently crowned one of the most innovative companies in the world by TIME, while InQubeta has taken over the cryptocurrency space.
Bitcoin (BTC) Investors Getting Bullish as it Pushes Past Price Ceilings
Bitcoin investors becoming bullish has had a positive effect on the crypto space as many altcoins also enjoy price growth.
However, neither Bitcoin nor Ethereum offers comparable returns to InQubeta as the most optimistic price predictions don't have either keeping up with QUBE's presale growth, much less the exponential price increases expected after its launch.
Summary
Green candles are starting to reappear on cryptocurrency trading charts as investor confidence in the space rises thanks to governments like the U.K. embracing crypto trading as a regulated financial activity.
Investors can expect the prices of $QUBE tokens to rise exponentially this year and beyond with over a trillion dollars expected to be directed into AI by 2030.
---