Neonexchange Works on Digital Cashless Economy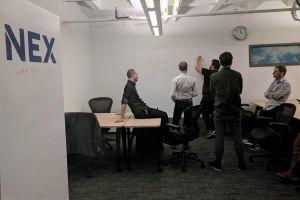 In our Quick review series we introduce interesting initial coin offering projects that might inspire you to do your own research and decide whether an idea and its development is worth your investment. This is not an endorsement
Today we are looking at Neonexchange (NEX).
What problem(s) does it target?
NEX is a platform for complex decentralized cryptographic trade and payment service creation. Their goal is to facilitate crypto trading at large, from usage of applications to investing, passing by funds management and invoicing solutions. What this enables is a digital cashless economy that they call the smart economy, where users are in control of their funds using these advanced technological tools to perform the tasks they need, whereas current banking solutions are no longer needed.
Who are the team members?
Five of their team members are also the co-founders of the City of Zion project, a group of open source developers, designers and translators which support the NEO, China-based smart contract platform, core and ecosystem. The team also boasts two PhDs and a wide range of previous experience.
At what stage is the project?
Awaiting a token sale.
What are the main future milestones in their roadmap?
MainNet trading release in the third quarter of this year, cross-chain wallet conversion set for the same time, cross-chain support for trading BTC, LTC, and RPX on NEX in the fourth quarter as well as launching an index fund.
Fundraising status:
Upcoming token sale, although the exact date is not known, and only winners of the NEX Token lottery may participate.
Most important partnerships?
Red Pulse, an event-driven research firm, covering market events impacting Chinese companies, sectors and the overall economy.
How large is their community?
While they have no Telegram channel or official subreddit, they often post on the NEO subreddit. As they said in their Ask Me Anything thread on Reddit, "We dislike the idea of project oriented Telegrams. There are too many opportunities for scammers. We may have a subreddit in the future, but not anytime soon." They do have a Twitter account with almost 64,000 followers, where they update their community about everything that is going on.
What are other similar projects?
Switcheo, Etherdelta, Binance's decentralized version.