Mr Hankey Meme Coin Goes Viral as South Park-Related Tokens Take Off – Here's How to Buy Early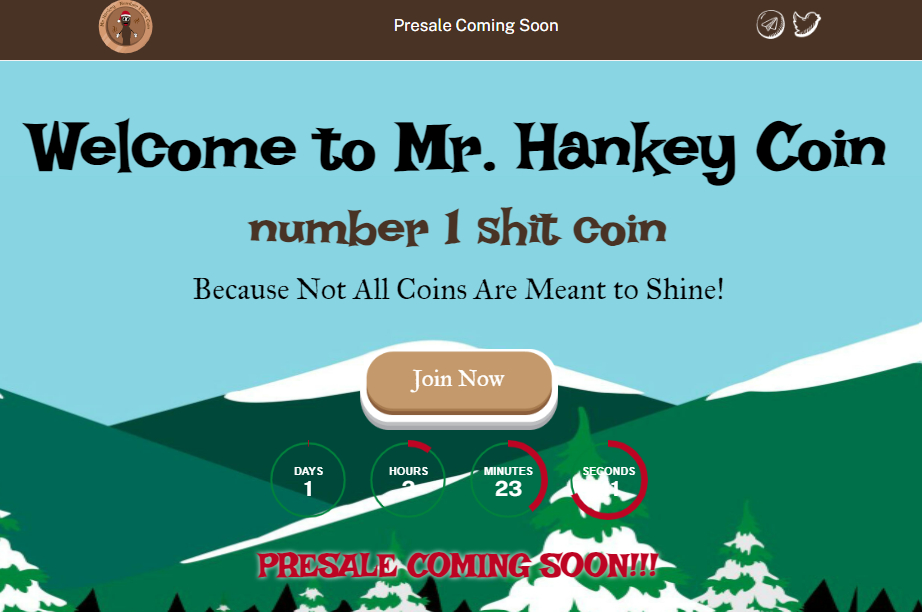 A brand-new meme coin themed on South Park's Mr Hankey, a sentient, jolly piece of feces and the cartoon's former Christmas deity, has been going viral in the last few days.
Mr Hankey Coin, which is proudly marketing itself as the crypto industry's best shitcoin, is launching a stealth presale in just over one day's time.
And ahead of the event, the project has been going viral across social media.
The official Mr Hankey Coin Twitter page (@MrHankeythecoin) already has over 5,600 followers, while the project's Telegram is fast approaching 1,000.
Web3's hottest new shitcoin is understood to be looking to raise a modest $500,000 via a sale of 40% of its 1 billion token supply.
That means the presale values the shitcoin at a very modest $1.25 million, leaving plenty of room for potential upside.
Skeptics should note that we have already seen tokens related to the Simpsons and SpongeBob SquarePants surge - South Park is just as big as these shows and has left a similarly significant cultural imprint.
We have even already seen a few South Park-themed tokens show potential.
An Eric Cartman-themed coin that didn't even manage to get 500 followers on either Twitter or in its Telegram channel was still able to hit a market cap of $150,000 back in May.
Mr Hankey Coin could be the trigger for the first real surge in interest in South Park-related tokens.
Massive DEX Liquidity Lock - Is Mr Hankey the Next 100x Meme Coin?
The Mr Hankey Coin team is committed to providing a smooth token trading environment boasting well-oiled market liquidity.
The project has pledged to dedicate 40% of its token supply to decentralized exchange (DEX) liquidity.
Importantly, the project has pledged to lock this liquidity at the launch of the token, ensuring that there is no rug pull.
In the absence of plentiful liquidity, meme coin degens often face the hurdle of inefficient buying and selling, as well as big potential losses due to price slippage.
The shitcoin's plentiful liquidity and low presale valuation are just two of a host of reasons why it could be the next 100x crypto.
The limited availability of the token in presale means that pent-up demand and FOMO will be sustained into its DEX launch.
Moreover, the token's fun South Park theme is still a relatively unsaturated corner of the meme coin space.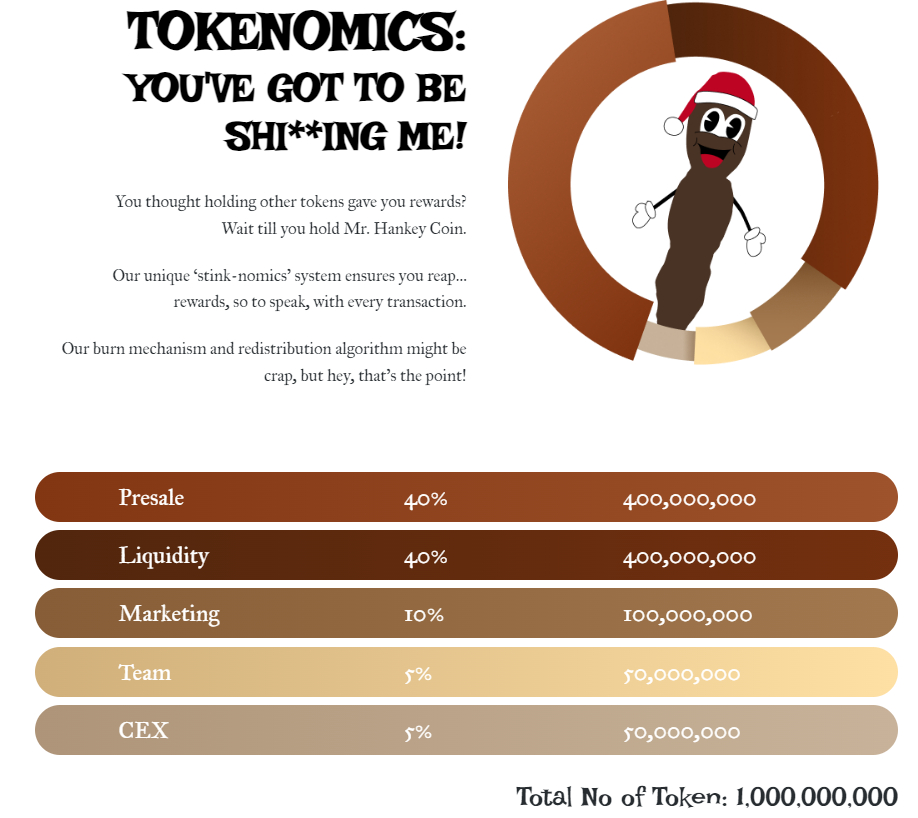 Big Marketing Push
Given the importance of building a strong and engaged community in the success of any meme coin project, perhaps the biggest reason to be bullish on Mr Hankey Coin is that it appears to be backed by a savvy marketing team.
Rumours are already circulating the teams behind $SPONGE and $PEPE might have a hand in Mr Hankey Coin.
Whoever the team is, they appear to be hard at work spreading the word about what could end up as one of the hottest meme coin launches of the year.
For instance, it has already been featured on top crypto news outlets like Beincrypto and here on Cryptonews.com, as well as across data sites Dexscreener and CoinGecko.
Those sightings alone suggest that the coin has a serious marketing engine behind it that can help to propel $HANKEY into the ranks of top hot trending coins when it launches.
Don't Miss What Could End Up Being 2023's Best Presale Opportunity
In the fast-moving world of crypto gem hunting, speed is of the essence.
With just $500,000 in Mr Hankey Coin tokens up for grabs in the presale, meme coin degens who dawdle could quickly miss their opportunity to secure their tokens when the price is low.
Follow Mr Hankey Coin on Twitter and Telegram now to make sure you are among the first to be notified when the presale starts and when the coin launches on exchanges.
Though meme coin degens are defined by their lack of interest in conducting due diligence into tokens before aping in, we at Cryptonews.com nonetheless encourage potential investors to dig a little deeper into the project before the presale launches.
Mr Hankey Coin's brown paper can be viewed here.
Disclaimer: Crypto is a high-risk asset class. This article is provided for informational purposes and does not constitute investment advice. You could lose all of your capital.
---