Most Profitable Crypto to Buy & Hold Right Now
Disclosure: Crypto is a high-risk asset class. This article is provided for informational purposes and does not constitute investment advice. By using this website, you agree to our terms and conditions. We may utilise affiliate links within our content, and receive commission.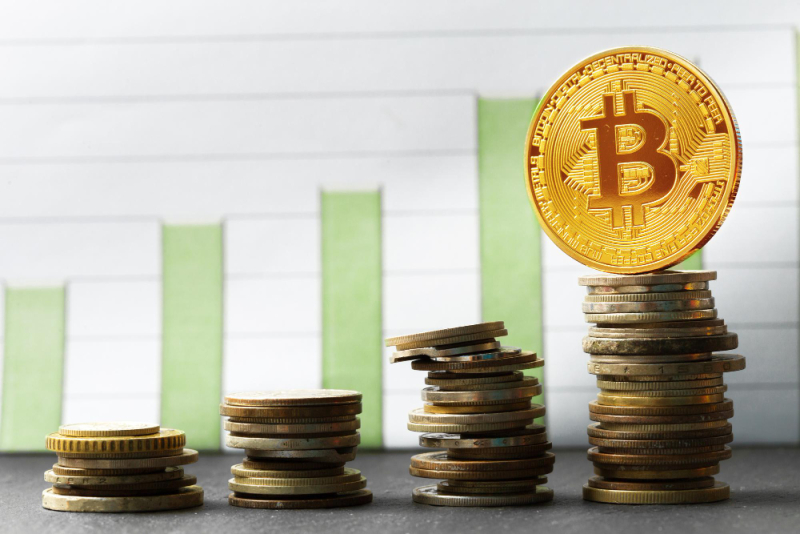 Disclaimer: The Industry Talk section features insights by crypto industry players and is not a part of the editorial content of Cryptonews.com.
Many crypto investors buy speculative assets, hoping to profit from the hype around the coin. Choosing the most profitable cryptocurrency to invest in increases an investor's chance of earning rewards.
The most profitable cryptos have a history of providing returns, and we found 14 coins that have done exactly that. We reviewed each project, highlighting their price history and the benefits of their utility.
The Most Profitable Cryptos to Invest in 2023
Before we delve deep into the most profitable tokens, let's take a quick look at each crypto project to find out their unique traits.
Bitcoin ETF Token ($BTCETF) – A new crypto presale designed around the spot Bitcoin ETF approval events by the SEC. It offers a generous 500% staking APY and up to 25% token burn mechanics, raising close to $500K within the first week of the presale.
Bitcoin Minetrix ($BTCMTX) – The platform lets users earn passive Bitcoin mining revenues by offering an unparalleled stake-to-mine mechanism. It removes the initial hurdles of hardware and costs for beginners. The platform achieved the $800K milestone in its presale within just two weeks.
Wall Street Memes ($WSM) – New meme token project set to revolutionize the traditional financial market and with a million-strong social media following – its presale has now concluded after raising over $25 million.
Launchpad XYZ (LPX) – All-in-one Web3 ecosystem allowing users to access various services and activities. More than $1 million raised so far.
Scorpion Casino (SCORP) – Crypto casino that allows users to earn rewards through its redistribution mechanism to provide passive income. $425k raised during its presale.
yPredict (YPRED) – Next-gen trading and research crypto analytics platform that utilizes artificial intelligence and machine learning. More than $2.75 million raised in its presale.
DeeLance (DLANCE) – A decentralized freelancing platform. Access low commissions and fees, crypto payment options, and interact on a metaverse ecosystem – more than $1.5 million raised.
Tamadoge (TAMA) – Meme and crypto gaming project that offers wide utility to the token holder. Hold $TAMA to purchase NFTs and earn rewards on a P2E ecosystem.
Swords of Blood (SWDTKN) – AAA and role-playing cryptocurrency game. Earn rewards by competing against other platform members. 
Solana (SOL) – Efficient ecosystem facilitating large-volume transactions. This blockchain can handle up to 10,000 transactions per second. 
Cardano (ADA) – Top proof of stake platform earning investors high profits. The $ADA token is among the top 10 cryptos in terms of market cap. 
Ethereum (ETH) – Second biggest cryptocurrency in terms of market cap, only behind Bitcoin. This blockchain is used for deploying smart contracts and building DApps. 
Dogecoin (DOGE) – Popular meme token that has sky-rocketed in the past few years. 
Bitcoin (BTC) – Pioneering crypto providing rewards for the longest duration. BTC is the largest token in terms of market capitalization.
Analyzing the Most Profitable Cryptocurrency to Buy
Buying and selling cryptocurrency for profit is a long term strategy only if investors know the right coins to trade. Let's find out what the 10 most profitable cryptocurrencies offer investors besides high returns.
1. Bitcoin ETF Token – Most Profitable Crypto With Over 500% Staking APY And Up To 25% Token Burn Mechanics
Bitcoin ETF Token is a token presale aiming to reward holders based on events around the spot Bitcoin ETF approval by the Securities and Exchange Commission (SEC). With every milestone reached around the Bitcoin ETF, the team will burn 5% of the total supply with the goal to burn up to 25%. Typically, this deflationary measure helps the token price in the long run.
Buy $BTCETF tokens on the Bitcoin ETF Token website by connecting your MetaMask wallet, and use ETH, USDT or card to complete the transaction. The presale site lets you buy $BTCETF tokens with MATIC and BNB but this isn't recommended because you won't be eligible for the staking APY.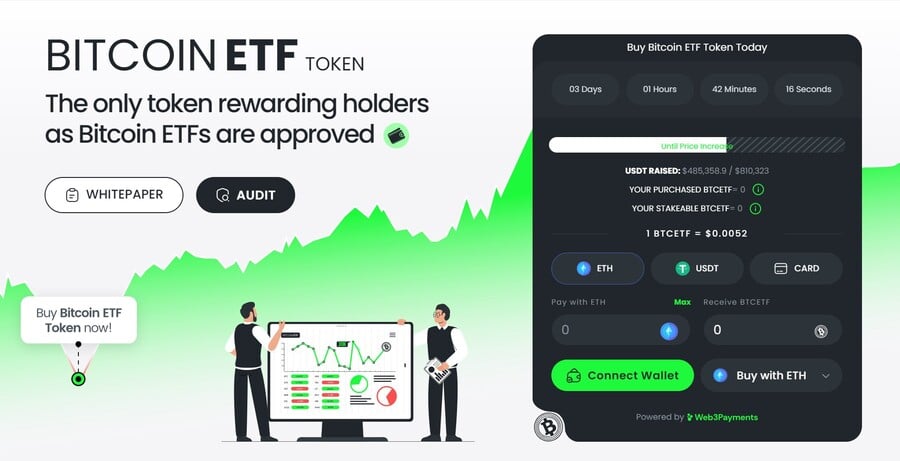 Similar to other presales, the $BTCETF presale runs in 10 stages where each stage will have a higher token price than the previous stage. In the first presale stage, $BTCETF tokens will sell for $0.0050 and in the last stage for $0.0068. If you buy during the first stage and sell at a price of the last stage, you'll earn 36% right off the bat.
Don't worry if you buy in later stages, though. With an APY of 500%, you can earn more tokens by staking them. Of course, this number won't stay high. With more tokens being bought and staked, the APY will drop, which makes it prudent to stake as early as possible to take advantage of the high APY.
Follow Bitcoin ETF Token on X and join the Bitcoin ETF Token Telegram channel to get the latest news about the spot Bitcoin ETF approval as well as for the presale. Also, read the Whitepaper to learn more. 
| | |
| --- | --- |
| Presale Started | 6 Noe 2023 |
| Purchase Methods  | ETH, USDT, BNB, MATIC and Card |
| Chain | Ethereum |
| Min Investment | None |
| Max Investment | None |
2. Bitcoin Minetrix –  Crypto Token Transforming Bitcoin Cloud Mining with an Eco-Friendly Approach
Bitcoin Minetrix is a trending new profitable crypto in the Bitcoin cloud mining domain. Its efficient and eco-friendly approach with strong investor support makes it one of the most cryptos in the market with an upside potential.
Their presale has caught significant investor attention, raising over $800,000 within the first two weeks of its launch. The token's introductory presale rate is $0.011 and is expected to touch $0.0129 by stage 20 of the presale.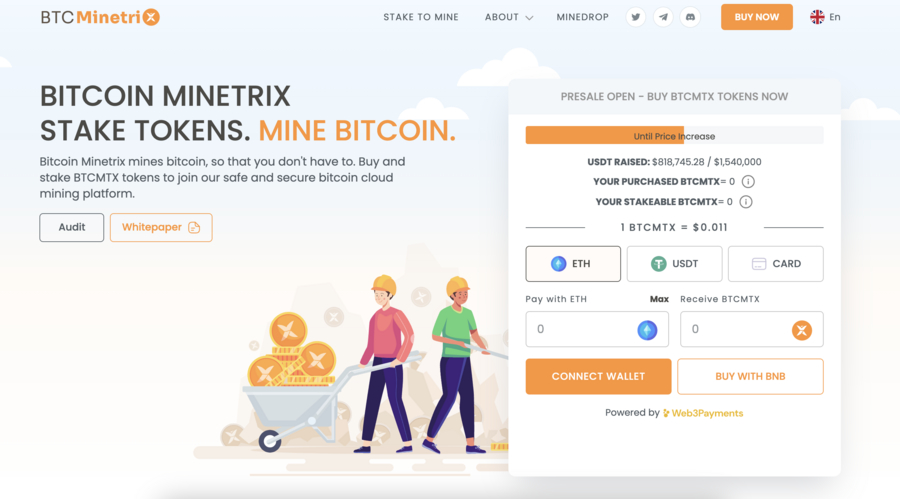 In an era where the environmental implications of Bitcoin mining are under investors' radar, Bitcoin Minetrix offers a unique solution while allowing users to earn passive income. 
Their cloud mining mechanism is eco-friendly, removing traditional energy-intentive methods. This reduces the carbon footprint and presents a more cost-effective avenue for individual miners.
Traditional Bitcoin mining is known for its challenges—high costs, complex setups, and environmental strain. Bitcoin Minetrix tackles these with its novel "Stake-to-Mine" model. 
By staking the native $BTCMTX token, users receive non-tradable mining credits. Upon burning these credits, Bitcoin rewards are unlocked. 
This approach removes the need for physical hardware, democratizing mining and making it feasible for a wider audience.
Of the total 4 billion $BTCMTX tokens, 42.5% is set aside for mining, 7.5% for staking, and a dedicated chunk for community initiatives.

The Bitcoin Minetrix whitepaper also highlights the importance of user experience. The platform offers an intuitive dashboard, granting users a clear perspective on their mining statistics, such as hashing power, mining credit metrics, and potential daily, weekly, or monthly returns. Whether on desktop or mobile, users can smoothly oversee their mining activity.
Bitcoin Minetrix's tokenized system offers tangible mining credits for staked tokens, securing against potential cloud mining scams. 
Users also enjoy the flexibility of unstaking and liquidating their tokens per market conditions. To get the latest updates and platform news, enter Bitcoin Minetrix's Telegram group or follow it on X (previously Twitter)
| | |
| --- | --- |
| Presale Started | 26 Sept 2023 |
| Purchase Methods  | ETH, USDT, BNB |
| Chain | Ethereum |
| Min Investment | $10 |
| Max Investment | None |
3. Wall Street Memes – Emerging Community-focused Meme Crypto With Upside Potential
The next spot on our list belongs to Wall Street Memes, a meme coin that has been all the rage in recent months.
Despite multiple factors at play, WSM's compelling branding and widespread support stand out as the most influential reasons behind this explosive start.
The Wall Street Memes presale recently ended on a high note, raising in excess of $25 million. Following its 26 September OKX listing, the coin's value rose by a staggering 275% in a short span of four days.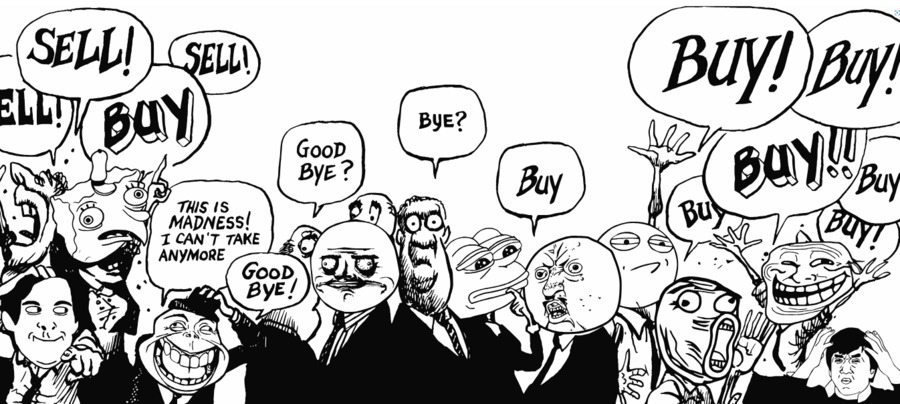 Wall Street Memes is the latest project from a crypto developer team known for their successful 2021 NFT launch. 
Under the name Wall St Bulls, their 10,000 non-fungible tokens collection caused a sensation in the crypto investment market. This Ethereum-based line was all gone within half an hour, gaining worldwide recognition.
This success encouraged the team to launch its flagship meme coin in 2023. The mission fueling this project is similar to Wall St Bulls, based on what the WSM whitepaper explains. 
It's meant to empower retail investors to turn the extraordinary meme popularity into profit.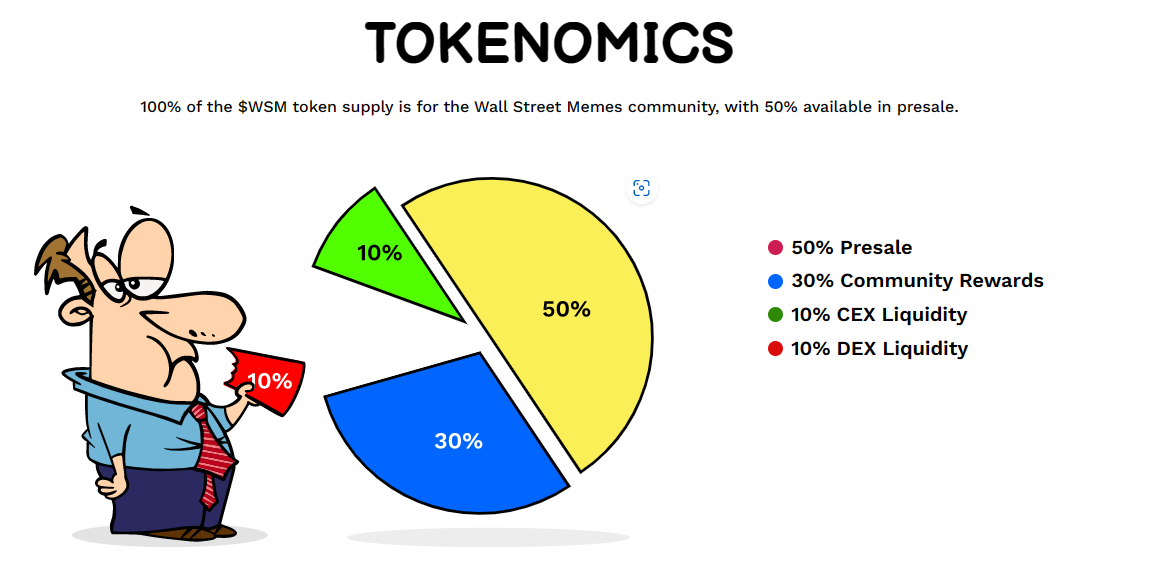 Judging by the network's following, this objective resonated with over a million people across multiple networks. Even Elon Musk, a proponent of meme coins like Dogecoin, tweeted about it. 
However, social media followers and Musk's involvement aren't the only driving forces behind WSM's popularity. Wall Street Memes' latest airdrop also played a role in making it the most profitable crypto to buy today.
The network announced a $50,000 token giveaway shortly after its presale launch. According to the rules, five winners will be awarded equal amounts of tokens by the end of the year. 
Interested investors should follow WSM's official Telegram and other social media accounts and purchase its coins.
4. Launchpad XYZ – Web3 Ecosystem Available to buy for Presale 
The next cryptocurrency with potential is $LPX, the native token of Launchpad XYZ. This cryptocurrency platform acts as a portal for entering and accessing other Web3 ecosystems. 
The $LPX token can be used to get guaranteed access to different presales, discounts on crypto exchanges, and more, and has so far raised more than $1 million in its presale.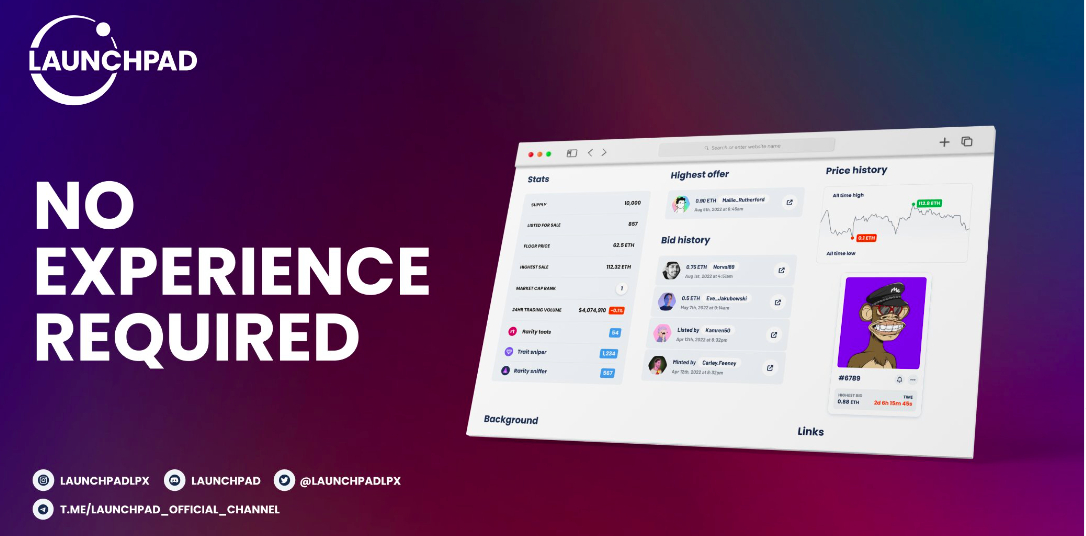 On Launchpad XYZ, users can get their own Web3 wallet. Users must only provide their email address or phone number to set up the wallet. On the wallet, one can swap tokens, get self-custody of assets and interact with other decentralized applications (DApps).
Launchpad XYZ will also give access to a decentralized exchange where you can access hundreds of crypto pairs. You can also access limited perpetual contracts and hold $LPX to get discounts on trading fees. 
Through this Web3 portal, users can get access to Web3 presales as well. By staking a minimum monthly average of 10,000 $LPX, you get guaranteed access to certain presale tokens. After purchasing, the tokens will appear on your Launchpad XYZ wallets. 
Launchpad XYZ also allows users to get rewarded through a trading edge game. Learn and test out trading strategies, and earn $LPX tokens as rewards on the ecosystem. Other use cases of $LPX include purchasing fractionalized real estate and art.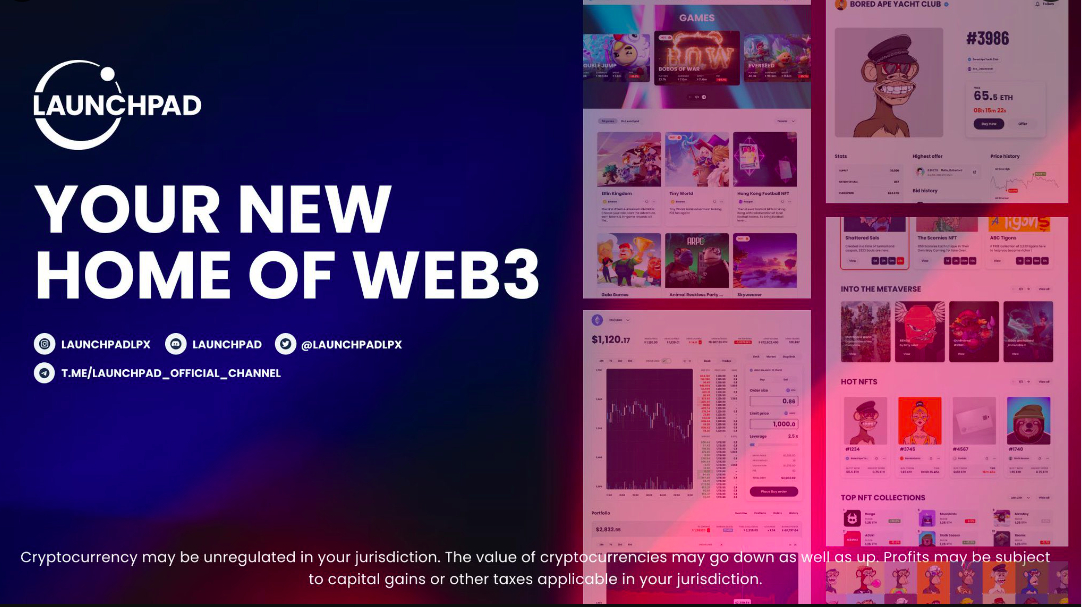 From a total supply of 1 billion, 250 million tokens have been allocated equally across ten rounds. Currently, $LPX is priced at only $0.0445 per token. By the final presale round, the price will increase to $0.07 per token.
Read the Launchpad XYZ whitepaper and join the Telegram channel to stay updated with this cryptocurrency. 
| | |
| --- | --- |
| Presale Started | April 25 2023 |
| Purchase Methods  | ETH, USDT, Card |
| Chain | Ethereum |
| Min Investment | N/A |
| Max Investment | N/A |
5. Scorpion Casino – Crypto Casino with Redistribution Model for Rewards
In recent years, the crypto casino market has undergone remarkable growth, witnessing the swift emergence of several projects that gained immense popularity in a short period. However, there is a new project and platform on the horizon set to revolutionize this specific market.
Scorpion Casino leads the way as the pioneering betting platform driving the industry's evolution. Its core objective is to deliver a seamless and enjoyable gaming experience to users while ensuring that everyone has an opportunity to earn.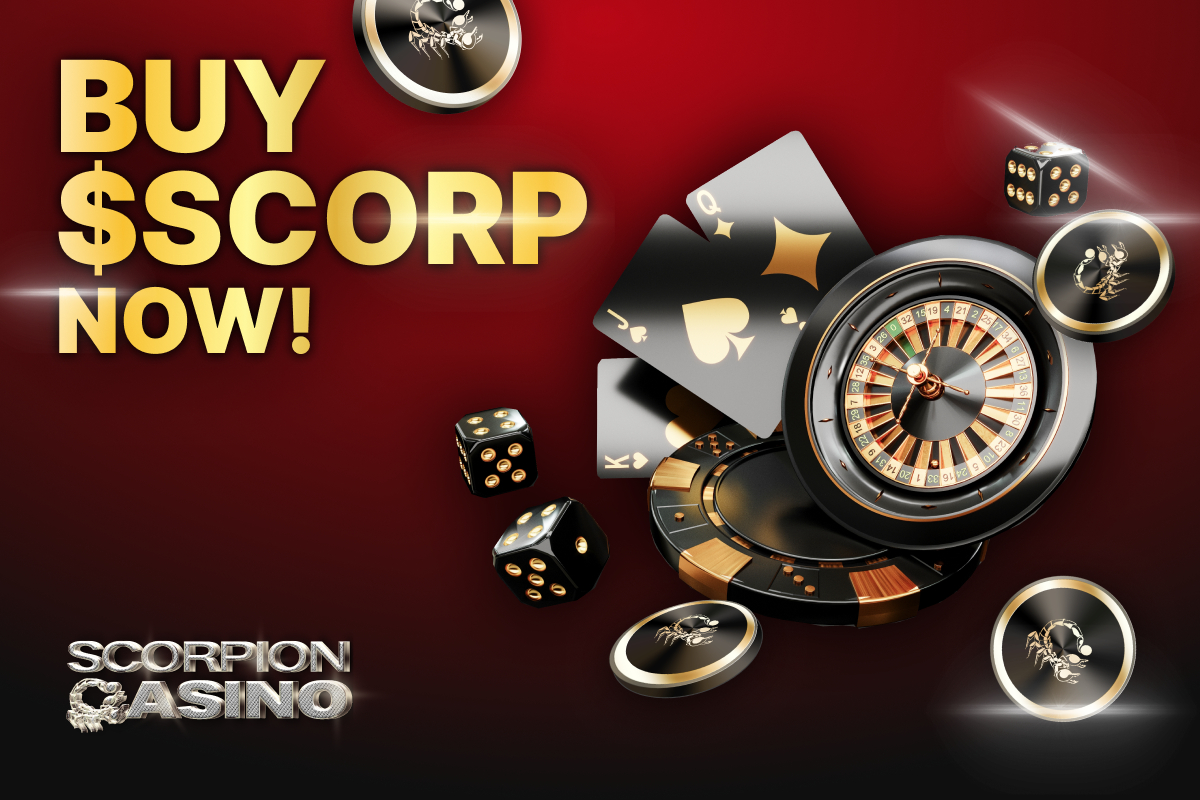 With the global online betting platform being valued at an astonishing $530.2 billion, Scorpion Casino stands poised to make a substantial impact and capture a significant market share. Additionally, the projected growth of the online betting market to $145.6 billion by 2030 further highlights its significance and potential.
Scorpion Casino currently consists of three key features: the Scorpion Casino platform, the affiliate system, and the SCORP token. The platform itself operates as a licensed sports betting and casino platform based on cryptocurrency. In contrast, the affiliate system serves as a referral and reward mechanism, while the SCORP token functions as a governance and reward token for users.
Scorpion Casino offers users a comprehensive selection of gaming options, boasting an extensive library of over 200 casino games and 160 live games. These games are fully licensed and adhere to stringent fairness standards. Among the available games, players can enjoy popular choices such as slots, blackjack, roulette, poker, and immersive live casino experiences. Additionally, the platform has established partnerships with renowned providers including Evolution, NetEnt, Play N Go, Novomatic, EGT, and AMATIC. Sports enthusiasts can also indulge in diverse sports betting options covering football, tennis, American football, horse racing, basketball, golf, boxing, and MMA.
All of this will allow the project to break down the barriers in the casino industry. Players can get additional benefits by joining the Elite Scorpion Members Club, which grants features like VIP service, cashback, extra staking rewards, and extra SCORP tokens.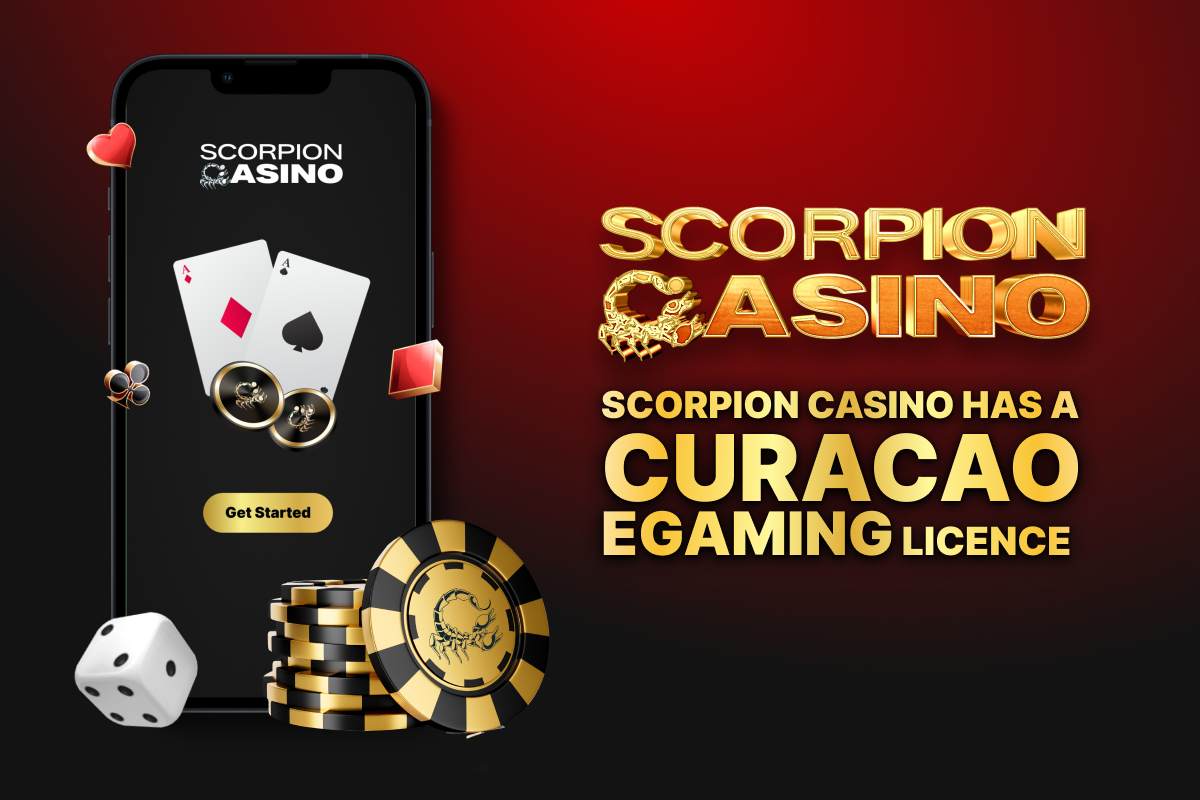 The SCORP token assumes a pivotal role within the ecosystem, providing users with four key benefits. First and foremost, it serves as the exclusive payment method within the ecosystem. Additionally, token holders have the opportunity to generate passive income. The token also unlocks weekly bonuses and free games for users and plays an integral part in the affiliate system.
As for the token supply, the SCORP token has a total of 1 billion in circulation. Out of this supply, 280 million SCORP tokens have been allocated for the presale, while 300 million tokens have been earmarked for affiliate rewards.
The Scorpion Casino team has devised a roadmap detailing their upcoming plans. These plans encompass live affiliate events, partnerships, marketing campaigns, and collaborations. Their focus for the latter half of the year revolves around scaling the platform to achieve substantial growth and expansion.
| | |
| --- | --- |
| Token Symbol  | SCORP |
| Presale Supply | 200,000,000 SCORP |
| Token Type | BEP-20 |
| Payment Method | ETH, USD, BNB |
| Listing Price | $0.05 |
6. yPredict – Cryptocurrency Analytics Platform with Ongoing Presale
yPredict is a cryptocurrency analytics platform where members can access data-driven insights on the cryptocurrency markets. 
On the artificial intelligence and machine learning-powered platform, users can purchase monthly subscriptions to predictive models with $YPRED, the native token.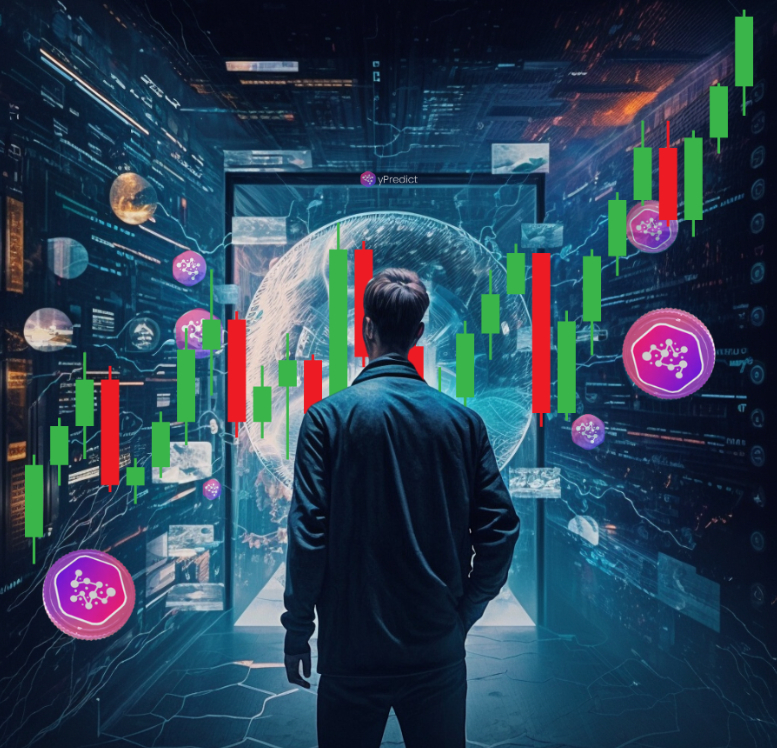 The models are offered on a financial marketplace and have been generated by financial quants and AI experts. Each model is only put in the financial marketplace after being verified by the yPredict DAO (Decentralized Autonomous Organization). 
The models offer AI-based trading signals, which predict the potential movement of certain digital assets. The platform also leverages AI tools such as sentiment analysis to analyze the potential trajectory of certain cryptocurrencies. Another tool used is a patent pending chart recognition algorithm, which determines whether certain cryptos are likely to be bullish or bearish. 
The $YPRED token also offers multiple use cases on the ecosystem. Users can leverage their tokens to take part in a play-to-earn ecosystem. In this ecosystem, users can make directional bets on the future of the crypto markets. The top performers are rewarded with $YPRED tokens. 
Users can also increase their knowledge of the cryptocurrency markets by learning through yPredict's Learn2Earn ecosystem. Members can take assessments and quizzes and earn more $YPRED tokens for successfully passing the tests. 
There is also a 7% tax on selling the token, which may stop users from frequently buying and dumping the token. From the funds collected, 1% of the tax is sent towards liquidity, 1% for development, 3% for marketing, and 2% for research. 
Since the start of the presale, yPredict has raised more than $2.75 million. Currently, the token is priced at $0.09 but will jump to $0.12 per token by the final presale round. Read the yPredict whitepaper and join the Telegram group to learn more about the project. 
| | |
| --- | --- |
| Presale Started | February 13 2023 |
| Purchase Methods  | ETH, MATIC, BNB, USDT, Card |
| Chain | Polygon |
| Min Investment | N/A |
| Max Investment | N/A |
7. DeeLance (DLANCE) – Profitable Utility Token Bringing Freelancing Ecosystem to Web3
DeeLance is a Web3 project that aims to remove the bottlenecks of the current freelancing space and make it more worthwhile for the freelancers. 
The project attacks the centralization aspects prevalent across many platforms like the UpWork and Fiverr, where freelancers often don't get paid or sometimes are deemed unskilled – losing their account as a result.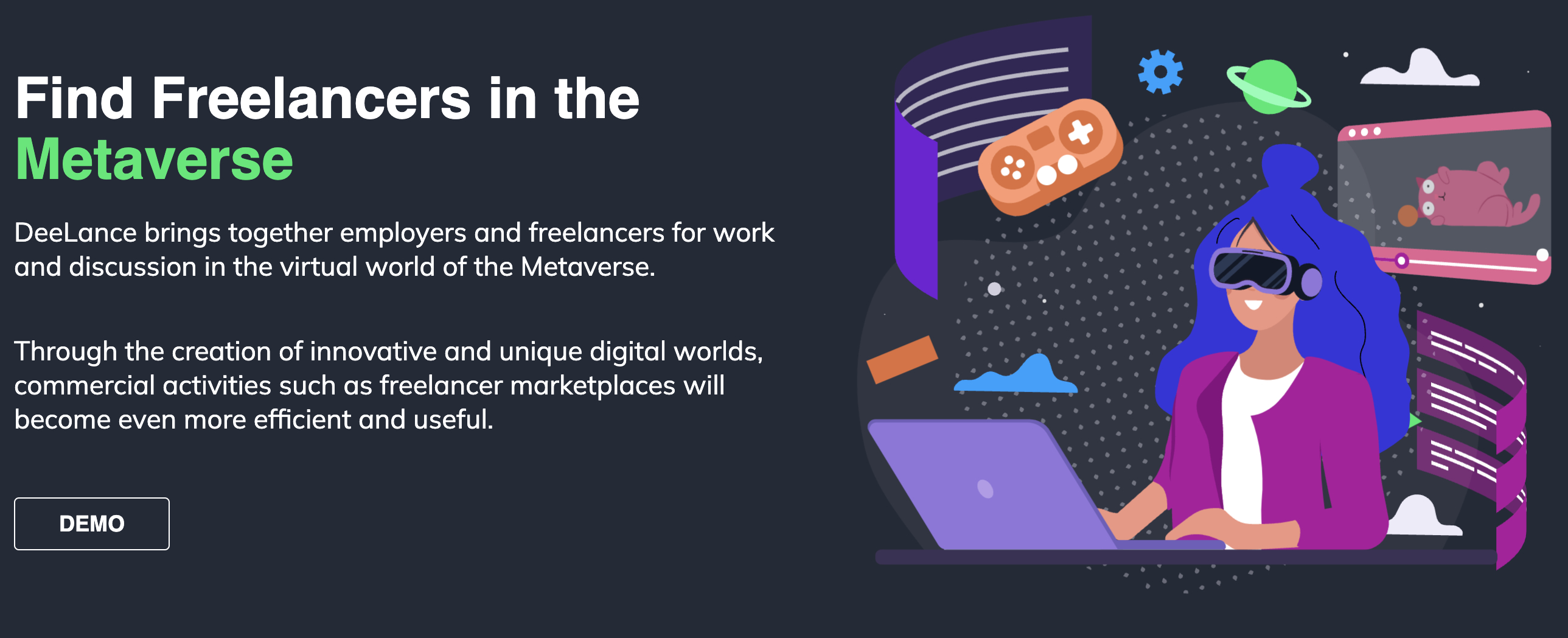 With DeeLance, freelancers and companies can come together on a platform with a decentralized ownership. Every freelancer who posts their work on the platform will do so in the form of NFTs. Tokenizing their works, freelancers will be able to add their signatures to their works via smart contracts, allowing them to receive payment instantly once their work is bought by the clients. 
Companies will be able to advertise their requirements in a better way using DeeLance tools that offer various features allowing the job descriptions to be precise, and reaching out to the talent that is capable of handling it. 
That focus on an NFT marketplace is why DeeLance can thrive. Add to that, there is a DeeLance metaverse under construction. This virtual world will be divided into ownable plots and infrastructures that people can own to conduct business meetings. The metaverse will also become a venue for business meetings, and interviews.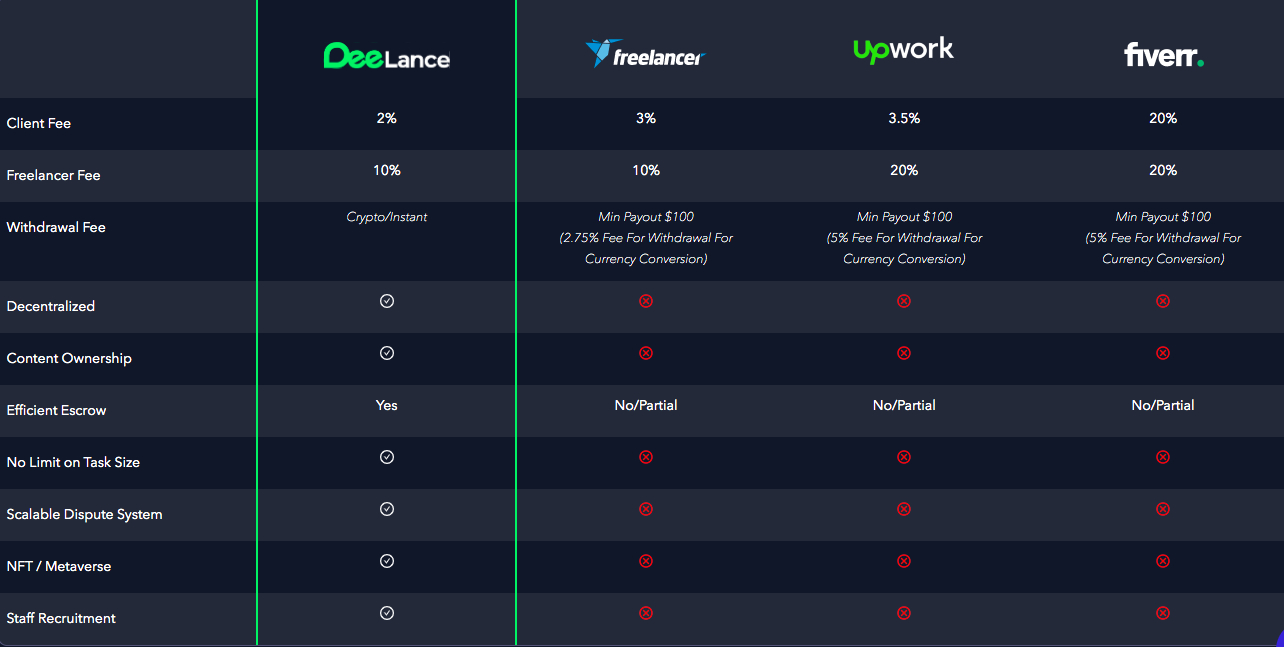 The entire DeeLance ecosystem is powered by DLANCE tokens. It is an ERC-20 asset that is used to access the facilities of the DeeLance Web3 freelancing portal, which gives the asset more utility than other standard cryptos. 
The upside potential of this project is high, which is why people have already started to rally around it during the presale. The presale has raised over $1.5 million at press time.
8. Tamadoge (TAMA) – NFT Game Offering Rewards and 18x Returns
Tamadoge might initially appear to be another meme coin. But it separates itself from Dogecoin and Shiba Inu by offering players in-game rewards and entertainment. Most investors agree that Dogecoin has little utility, but Tamadoge enables players to climb the leaderboard by raising digital pets.
Players that nurture their pets into adulthood the fastest and then win battles receive TAMA tokens. Grooming pets involves walking, feeding and exercising them. Players can also breed pets to earn rewards.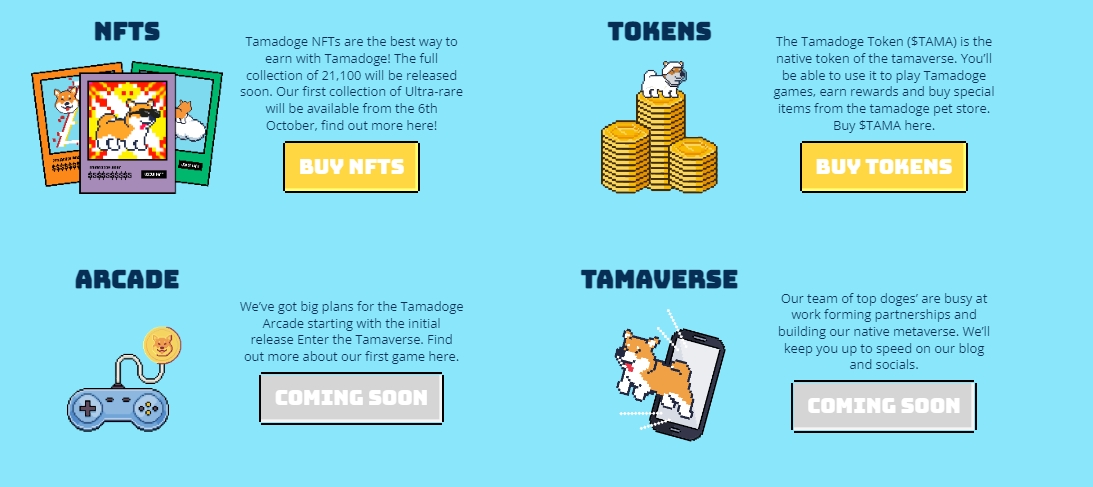 Tamadoge proved it would be one of the best cryptos to buy during its crypto presale. It sold out in under two months and was scheduled to last until Q2 2022. The presale raised $19 million, but the initial coin offering (ICO) was even more spectacular.
TAMA was listed on OKX on 27 September 2022. Early investors bought TAMA coins for $0.01 during the presale, then watched the coin surge to $0.19 during the ICO 
That's 18x returns for investors during a crypto winter. 
The other way Tamadoge distinguishes itself from most meme coins is with its deflationary status. Only 2 billion coins are in circulation, and that will decrease over time with the 5% token burn of transaction fees in the pet store. 

Tamadoge NFTs have now also been released on OpenSea, including common, rare and ultra rare collections.
Other developments coming to the platform are more P2E Arcade games – so far half a dozen have been released – and an augmented reality (AR) app. The app will make the interaction between players and pets more realistic. 
Stay in touch with this project's latest developments by subscribing to the Tamadoge Telegram channel.
9. Swords of Blood (SWDTKN) – Next Big Crypto Game with High Profit Potential
Swords of Blood is a play-to-earn MMORPG project that combines the fun gameplay fundamentals of a hack-and-slash game with Web 3 to give players not only a great game with a deep lore, but also a way to earn a profit in crypto from gaming.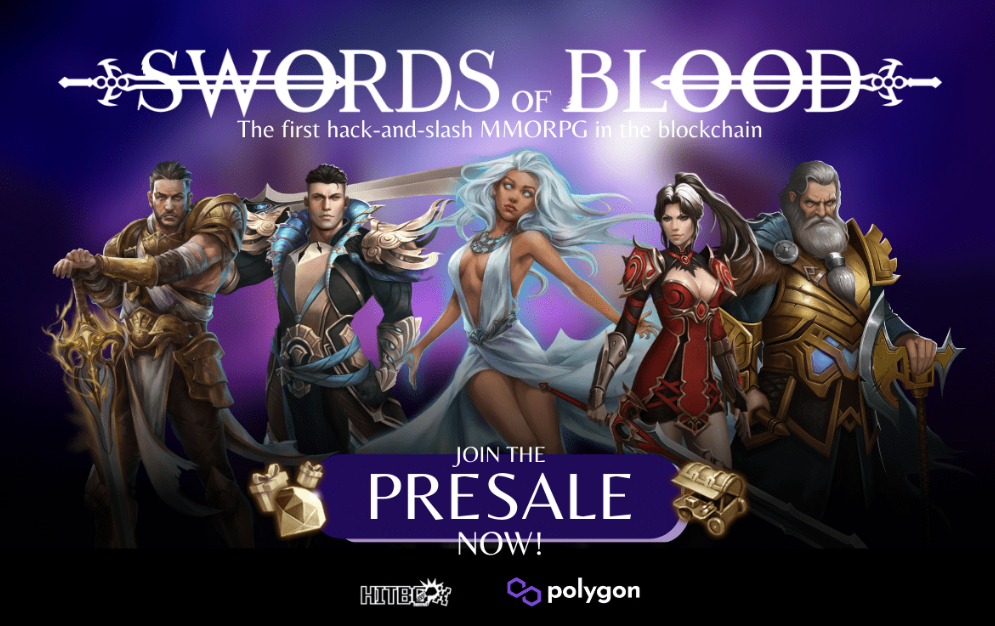 Players get to choose their class in this RPG game before getting started – battle mage, warrior, rogue, or a mix of these classes before venturing deep into creative dungeons and locations full of enemies where slaying the enemies and solving puzzles comes with a dynamic collection of loot that will make your player character even more powerful. 
Blockchain games have been criticized for not being fun to play. Swords of Blood, being an extension of a Web 2 game that was launched in 2019, is aiming to change that thanks to its experience.
Powering this P2E game is the $SWDTKN token, which has multiple utilities, including staking and the ability to buy upgrades from the in-game marketplace. Its also on presale currently, allowing early investors another way to profit. Click the link below to learn more about this GameFi asset. 
10. Solana (SOL) – Efficient Ecosystem Facilitating Large-Volume Transactions
Using the Solana network offers developers and peer-to-peer users several advantages. This network is ideal for developers wanting a platform to build scalable applications. Solana enables users to send funds globally for mere pennies.
Besides the low costs, Solana provides a platform that's extremely efficient. Large volumes of transactions can be processed in seconds. Currently, Solana's network processes around 4,000 transactions per second. But the platform is working on upgrading its system to process 65,000 transactions per second.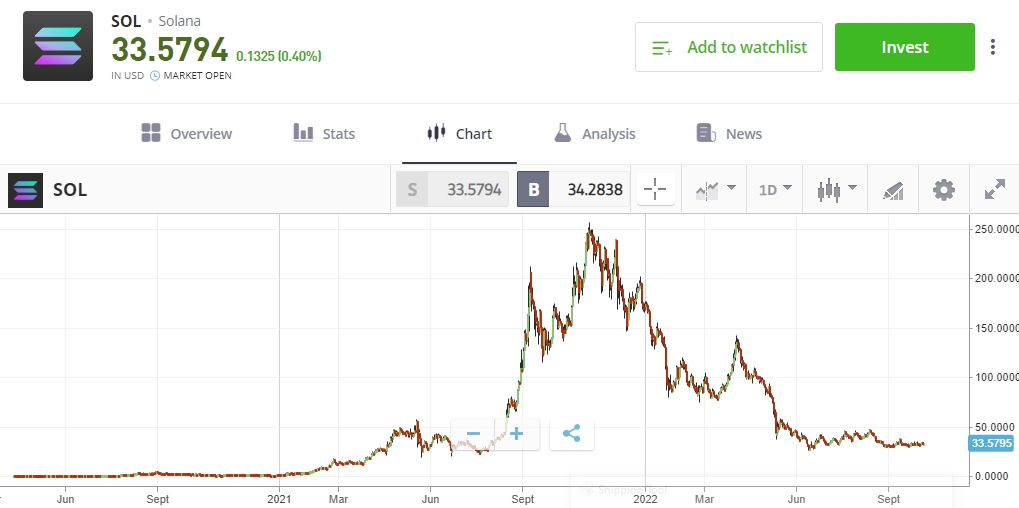 Users can also take advantage of safe transacting because Solana's network is spread over thousands of independent nodes. Besides providing a reliable and effective ecosystem, Solana boasts a highly lucrative coin.
SOL is one of the cryptos to watch because it has provided investors with massive returns. That's because many investors recognized the utility the project offers and the real-world problems it solves.
Investors who bought SOL in January 2021 watched the coin go on an epic bull run, eventually providing more than 20,000% returns by November of that year.
11. Cardano (ADA) – Top Proof of Stake Platform Earning Investors High Profits
Cardano's proof of stake platform was designed to be flexible and scalable for facilitating smart contracts. Developers use Cardano to build games, decentralized applications (dApps) and cryptocurrencies.
By using the proof of stake consensus, Cardano rewards the highest number of ADA tokens to validators depending on their investment in the pool and the length of time that the coins were locked in.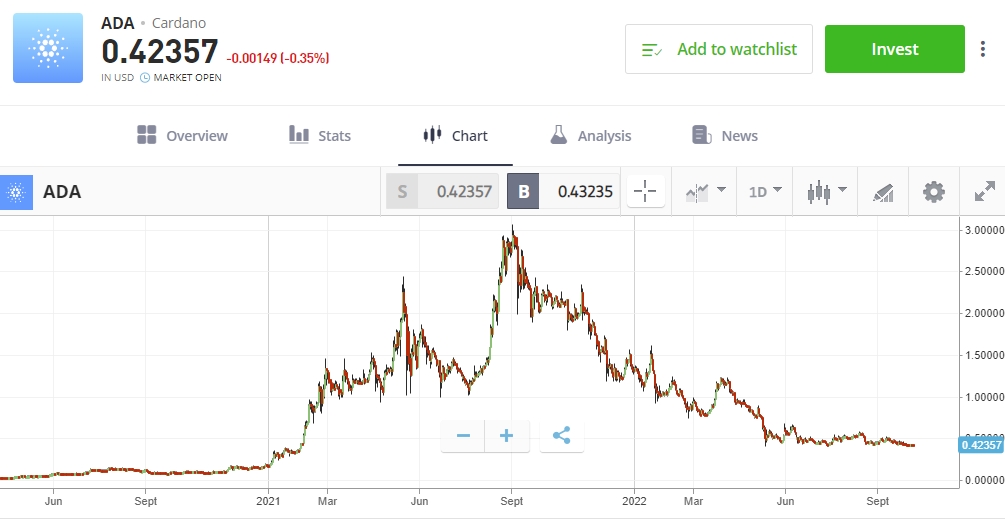 The network enables developers to design native coins that operate on the same architecture as the ADA coin. These native tokens are regarded as superior to other coins on the blockchain because they're more secure and have lower transaction fees.
ADA Is one of the cryptos with the most potential to go on an epic bull run. It's proven that twice in the last five years. At the end of 2017, Cardano's price pump resulted in investors bagging returns of more than 5,000%. The most recent bull run was at the end of 2020. The coin surged more than 2,000% by September 2021.
12. Ethereum (ETH) – Second Biggest Coin Facilitating Smart Contracts
Ethereum hosts thousand of dApps and is a leading smart contract provider. Its smart contract functionality enables a project's stakeholders to communicate with each other without the control or interference of a central authority.
Ethereum used the proof work consensus, requiring miners to verify transactions. But the network changed to a proof of stake platform during the infamous Ethereum Merge. The motivation behind the move was to reduce Ethereum's carbon footprint and make the entire ecosystem more environmentally friendly.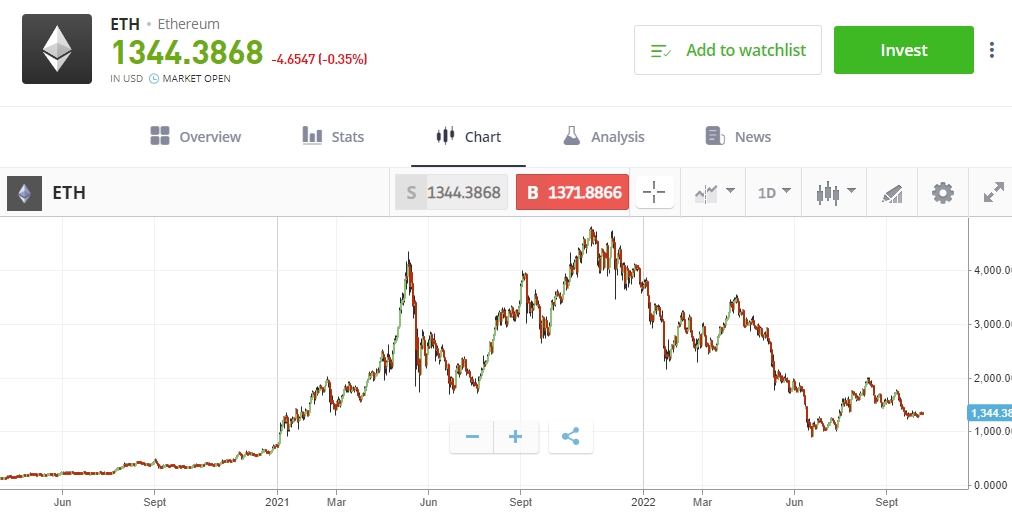 Switching to the new consensus has enabled stakers to earn rewards by staking ETH. Other upcoming developments to Ethereum's network are lower transaction fees and more efficient transactions. 
Ethereum is the second-largest crypto by market capitalization. It usually follows Bitcoin during its bull run, and it did just that at the end of 2020. Investors who bought ETH in September 2020 received returns of just over 1,400% by November 2021.
13. Dogecoin (DOGE) – Ultimate Meme Coin Receiving Celebrity Endorsements
Many investors regard Dogecoin to be the best meme coin because of the returns provided. Although Dogecoin's bull run was based purely on speculation since the coin doesn't have much utility, it has made an impact on the crypto community.
It's listed on the major exchanges and was the talk of the town during the meme coin era. A key reason the coin's price surged was due to celebrity endorsements, especially by Elon Musk. Dogecoin became even more popular once it was listed on Robinhood and Tesla announced it would accept it as a payment method.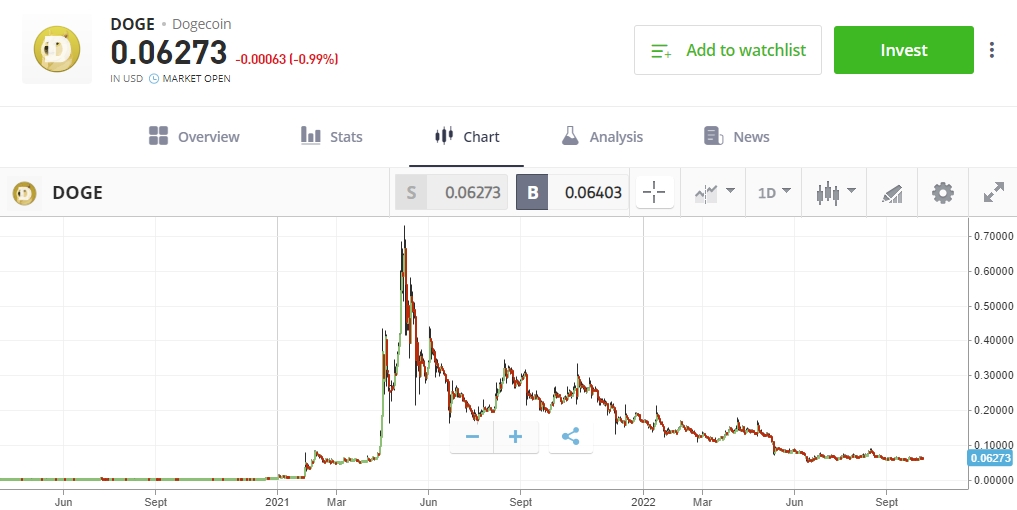 Numerous meme coins were developed as a result of Dogecoin's popularity. Many tried to feed off its hype by claiming to be a better alternative but no meme coin project emulated Dogecoin's returns. 
The coin surged at the end of 2017 and pumped to 2,000% by the beginning of 2018. But that bull run paled in comparison to its latest price pump. The coin surged again at the end of 2020, providing investors with more than 20,000% returns by May 2021.
14. Bitcoin – Pioneering Crypto Providing Rewards for the Longest Duration
Bitcoin was the first decentralized cryptocurrency and is the highest profit crypto since it's been on the blockchain the longest. It's a long term crypto that has become more popular throughout the years, and it has increased its returns to investors.
It's the leading cryptocurrency by market capitalization and has been on several bull runs. Bitcoin's 2013 bull run provided investors with more than 1,000% returns. At the time, it was unheard of for a financial asset to yield such high returns in a short period. And Bitcoin was only one of the few cryptos to have a bull run that year.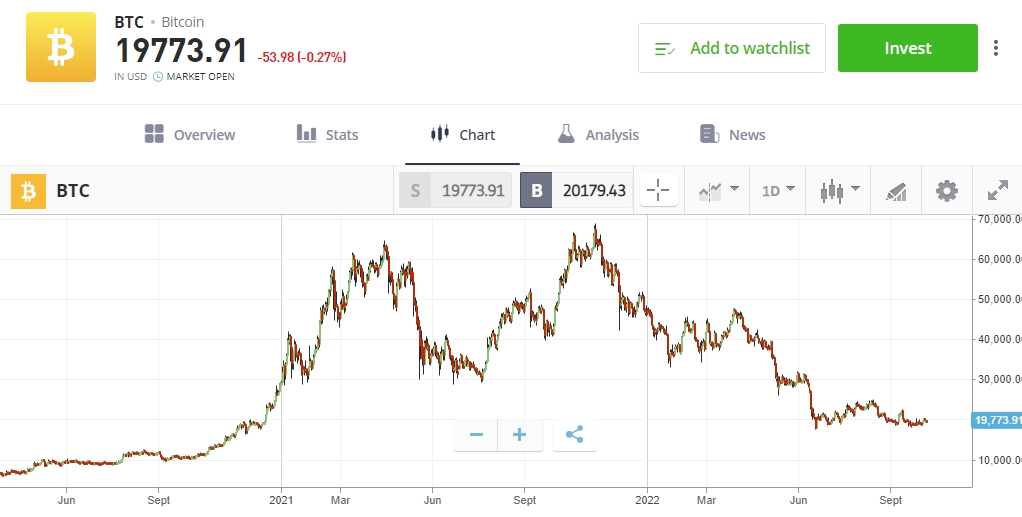 Not only did Bitcoin's 2017 bull run offer massive returns again, but it was the catalyst for many of the best altcoins to surge as well. Many investors entered the crypto market in 2017 because of the attention that Bitcoin's bull run received.
Bitcoin was the leading crypto during the most recent bull run. During the 2020 global lockdowns, asset prices plummeted, and many investors lost hope in receiving returns in the near future. 
Bitcoin didn't need long to recover, as it began making higher lows towards the end of the year and eventually led the 2021 crypto bull, reaching its all-time high of $69,000 in November that year. With that said many investors are now asking themselves how much should I invest in Bitcoin.
How to Find Highly Profitable Crypto
The highest profit cryptocurrency usually had several bull runs. Investors can analyze the charts of assets to gauge their price action. It's common for the most volatile cryptos to provide the highest profits.
Investors can also use several methods to open buy positions as cryptos are surging.
Signals
Numerous crypto signals groups send alerts to subscribers about cryptocurrencies on the move. The alerts inform investors about the entry price and the potential profit-taking level.
Traders can also customize their own settings in TradingView. This charting platform enables traders to sort assets according to the percentage change in daily movement. Cryptos with the highest price movements appear at the top and in green, making it easy for traders to notice.
CoinMarketCap
CoinMarketCap tracks the listings and price movements of cryptocurrencies on the blockchain. It also ranks cryptos according to their market capitalization. The top 10 cryptocurrencies on the list captured the biggest share of the market and have done so because investors have demanded those coins.
Dogecoin wasn't one of the top 10 cryptos before its latest bull run, but investors buying the coin during its hype resulted in it becoming one of the biggest coins on the market.
Presales
Blockchain projects that had a successful crypto presales are usually then also profitable during the ICO. The Bitcoin ETF Token presale quickly reached the the $500,000 mark at press time – showing a high level of early investor demand.
Most Profitable Time to Buy Crypto
Buying low and selling high is the most profitable investment strategy. The part of that equation investors struggle with the most is finding the bottom. Many investors believe that ICO prices are the bottom, but lower prices are found during presales.
Only a small group of investors know about each project's crypto presale. During the ICO is when the rest of the market finds out about it. But discounted prices are available at the onset of the project, especially during the beta presale.
Conclusion
Before knowing how to trade cryptocurrency for profit, investors need to identify volatile assets. Those assets are likely to provide the highest profits for investors. Although the most profitable cryptocurrency to buy are usually one of the top 15 coins by market capitalization, we found a few that are currently in presale.
One of the most profitable cryptocurrencies right now is Bitcoin ETF Token. Since the presale started, Bitcoin ETF Token has already raised over $500,000 in less than two weeks. Buyers can grab the $BTCETF tokens for only $0.0052 at press time.
FAQ
Which crypto is most profitable short term?
Trading cryptocurrency for profit in the short term requires traders to find highly volatile cryptos. One profitable cryptocurrency in the short-term can be Bitcoin ETF Token ($BTCETF) – which has raised over $500,000 in less than two weeks.
---