MLB's Oakland A's Sell Full-Season Suite For Bitcoin
The Oakland Athletics have become the first team in Major League Baseball to sell tickets for cryptocurrency as a full-season six-person suite was picked up by crypto asset platform Voyager Digital.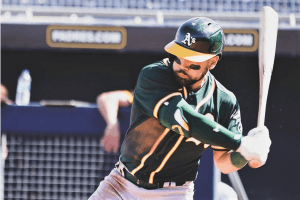 The embrace of bitcoin (BTC) and other cryptoassets could provide much-needed financial stimulus to the league which reportedly saw its revenues fall about USD 6.5bn last year to some USD 4bn due to the pandemic.
Last month, the team, which is also known as the A's, enabled its fans to spend their crypto on tickets, setting the price of a full-season suite at BTC 1. At the time of writing (09:42 UTC), BTC trades at USD 58,941 and is up by 1.6% in a day.
"Cryptocurrency is a viable and tangible currency model, and we know other forward-thinking companies and individuals will join Voyager in using this payment for ticket purchases," A's President Dave Kaval was as quoted in a statement.
Steve Ehrlich, CEO and Co-founder of Voyager, announced that the company planned to share the site with its "customer community in the Bay Area and beyond."
Between March 14, when the A's launched the initiative, and the following day the team had received inquiries from more than 60 people who declared interest in spending their crypto on a full-season suite, with most of them representing Silicon Valley companies, Kaval told The Wall Street Journal last month.
In an interview with Bloomberg TV, he announced the team planned to hold their crypto rather than exchange it for fiat.
"We're believers in it, and hopefully it continues to go up," Kaval said.
While the A's are the MLB's first team to accept payment in crypto, the latest developments show the trend is gaining traction in other North American professional sports leagues. The NBA's Dallas Mavericks and Sacramento Kings have paved the way for the adoption of crypto transactions in the basketball league.
_____
Learn more:
- More Than 1,000 Clients Paid With Bitcoin Since 2014 - airBaltic
- Bakkt Launches Bitcoin Wallet With Starbucks And More
- PayPal Launches Crypto Pay Services in US for Bitcoin, Ether, Altcoins
- Visa Starts Settling Transactions in USD Coin On Ethereum
- Second-Hand NFT Market for NBA Top Shot Packs Appears on eBay
- Super Bowl Champion Gronk Set to Auction His Own NFT Collection
- FC Barcelona Presidential Election Gets A USD 72M Crypto Twist
---