Missed The BTC Party? Don't Let the FOMO Kick In!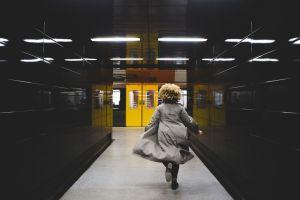 At the time of writing, the price of bitcoin sits at USD 8,254.49. That represents roughly a 42% jump, compared to some USD 5,800 where it sat a month ago. If you had bought bitcoin for 100 USD on June 25, 2018, that money would now be worth approximately 142 USD.
Is it time to start kicking yourself because you didn't buy the dip? Nobody knows, this might as well be one of the final spasms before bitcoin kicks the bucket. Or, it might be the return to December glory, USD 20,000 and beyond.
Whatever the case may be, it didn't take long for the media, and the crypto community, to take notice of the surge and act accordingly. The media are 'bullish', and pretty much everyone and their cats reported on the price jump.
The crypto public switched, almost immediately, from dark memes to WHEN MOON, WHEN LAMBO.
July 24, 2018
The total Market capitalization is reaching 300 billion USD, and currently sits at 298.6bn (UTC 09:10 AM), according to Coinmarketcap.com. Trade volume, in the past 24 hours, jumped to 20bn USD, a figure it last saw on July 18. Meanwhile, BitMEX, a major crypto exchange, claims it has broken the industry record for bitcoin trading volume, with more than 1 million bitcoin traded on the platform in 24 hours for the period closing July 24, 2018.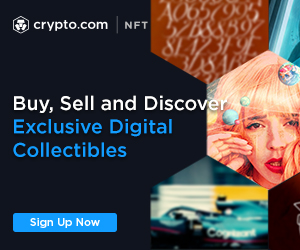 Also, bitcoin's dominance is growing, too:
Percentage of total market capitalization (dominance):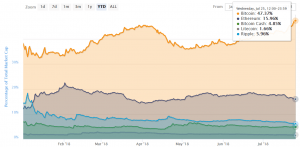 We can speculate all day as to what prompted this surge in price, but it's probably a little bit of everything. For example, Bitcoin ETF is making rounds in the media. While news from Facebook and Google are not likely to move the market, it still might help investor sentiment.
Meanwhile, Matthew Newton, analyst at eToro, a social trading platform, suggested on Tuesday that "if bitcoin can close above USD 8,000 today, we could assume that we may have a good run toward USD 10,000." It's Wednesday and bitcoin is still above USD 8,000.
"The short squeeze on the market that occurred after the pattern completed, caused some concern that we were seeing a repeat of what happened in April, when bitcoin failed to break USD 10,000. By soaring past those key barriers of resistance, it would seem history is not repeating itself and there's real strength in the move," he said.
In either case, remember these 10 dangerous traps for crypto traders, including FOMO (fear of missing out), before deciding your next move in the crypto market.