Miners Under Growing Pressure to Sell their Coins
With bitcoin losing more than 30% of its value over the last week and a half alone, bitcoin miners are increasingly feeling the pressure as well. At USD 4,300, bitcoin is now at the lowest level seen since October 2017.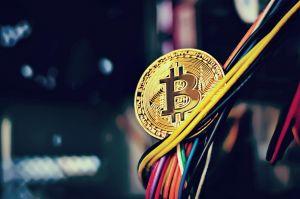 Value of created bitcoins: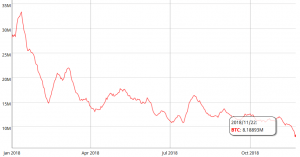 "Pretty concerning for small-time miners like me... Thankfully, I get extremely cheap power but it's hard to compete with economies of scale when some miners can buy hundreds of ASICs at a time," Reddit user PragmaticPleb wrote in a thread.
"I'm still running but the margins are thin and I might have to come out of pocket to cover some costs if the price drops even more. We'll just have to do our best to weather this bear market and hopefully we can come out on the other side when the price begins to recover," IGotThisYo replied.
Some large mining firms are already throwing in the towel. On Wednesday, it was reported that US-based mining form Giga Watt had filed for bankruptcy in Washington, still owing creditors nearly USD 7 million.
According to another article by the South China Morning Post on Thursday, the China-based mining pool F2Pool now estimates that a range of mining machines, including the Antminer S7, S9, and AvalonMiner 741, has now become unprofitable to operate in China, leading to a flood of these machines being put up for sale on the second-hand market.
Some, however, see opportunities when others are suffering. According to the same article, a miner by the name Jack Liao of the Shenzhen, China-based bitcoin mining firm Lightning Asic, has taken advantage of the slump to buy up second-hand mining machines at bargain prices.
Liao told the newspaper that he has bought up about 50,000 mining machines, most of which are Antminer S9s, for about USD 70 each. A new S9 machine goes for around USD 300 from Bitmain's website.
Moreover, according to Nikkei, China's Bitmain Technologies Holding and Ebang International Holding, the two largest bitcoin mining equipment makers in the world, are widely expected to follow peers in delaying planned floats on the Hong Kong stock market, analysts warn, as regulatory headwinds and market volatility have disrupted plans by crypto-related companies to sell shares.
Mining difficulty decreasing
As WhalePanda, an angel investor and bitcoin enthusiast, posted to Twitter, the losses that miners have suffered are already visible on the bitcoin hash rate:
As a result, the difficulty rate of bitcoin mining has also begun to decline as more and more miners are switching off their machines. The difficulty has already declined two times this year, and it is likely that the next adjustment will bring the difficulty rate even lower.
Moreover, it looks like the Bitcoin blockchain is also adding blocks at a slower rate than usual.
Mati Greenspan, senior market analyst at online crypto and foreign exchange brokerage eToro, echoed the same sentiment, saying "miners are shutting down their rigs."
And since today is "Black Friday," more or less desperate cloud mining companies, including the well-known Genesis Mining, are trying to push their mining contracts to new customers at discounted prices. However, as can be seen from the replies on Twitter, the community is not exactly impressed by the offering.
---