MindAi Set to Combine AI and Crypto into a New Exchange, Launches $TMC Token Presale
Disclosure: Crypto is a high-risk asset class. This article is provided for informational purposes and does not constitute investment advice. By using this website, you agree to our terms and conditions. We may utilise affiliate links within our content, and receive commission.
Disclaimer: The text below is a press release that is not part of Cryptonews.com editorial content.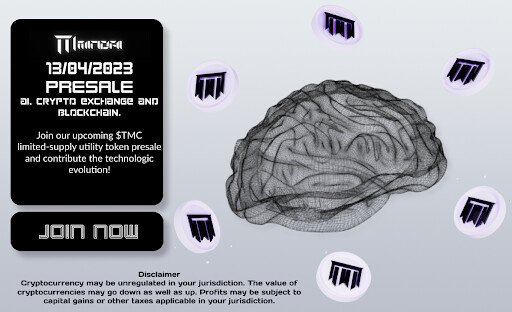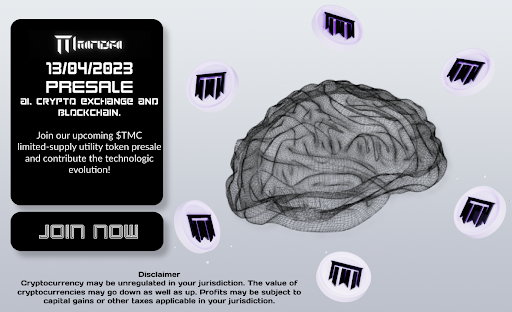 Artificial Intelligence (AI) has been one of the biggest buzzwords in the world of technology for months now. Interestingly, it was also a huge point of interest in the world of finance, leading many to start investing in this sector, which is now considered to be the next big thing.
While AI itself is extremely promising from the investors' perspective, MindAI has decided to take things to the next level and combine it with another lucrative business — a cryptocurrency exchange.
As it is well-known, the crypto industry has been blowing up for years now. While it did have extremely bearish periods, popularly called "crypto winters," the levels of adoption, development, new breakthroughs, and alike, have never stopped spiking. The crypto sector is conquering the world, and since the most recent crypto winter has just ended, this is a perfect time for a new exchange to emerge.
Why another crypto exchange is needed?
The crypto world already has plenty of exchanges, so wondering why another one is even necessary is understandable. However, there are several reasons why MindAI has decided that a new exchange is necessary.
The first one includes the events in the crypto space during the last year. Specifically, the collapse of FTX and associated companies have shown that having a fully compliant, transparent, scalable, and safe platform with products that share these attributes is fundamental.
This is necessary to protect users' assets, deliver the best possible user experience, and make the cryptocurrency space recover and grow. Furthermore, crypto exchanges are the fastest way to enter the crypto industry, as they provide a way of investing and exchanging digital assets with low fees.
MindAI also believes that a new and reliable exchange would push adoption levels further, help the industry grow, and include more quality projects. It will also focus on building a safer ecosystem, obtaining more regulatory compliance, and developing innovative features while also ensuring better security measures.
Why combine crypto and AI?
The AI industry has just blown up, and it is already massive. Its fields and subfields are developing rapidly and showing massive growth potential. Granted, it is still unknown where all of this development will take us, and right now, this can all have a positive or a negative impact on human society. However, MindAI believes combining AI and crypto delivers a positive impact, as both emerging technologies have uncountable real-world use cases.
Combining them could provide AI-powered fraud detection algorithms that monitor real-time transactions and flag suspicious activity. It could offer advanced image generation from text and speech prompts or models dedicated to providing automated online assistance. Chains data analysis could offer detailed insights on monthly and yearly transaction details. Additionally, AI oracles would send model results to smart contracts, making them even more precise and useful.
What should you know about MindAI?
MindAI is a startup focused on building innovative new systems. It focuses strongly on making such systems massively scalable in crypto and AI fields, leading to the greatest benefits for humanity.
The company is also launching its own token, known as the $TMC token, which is being offered in the biggest token presale in 2023. The token would help the company combine AI and blockchain industries and put them together with real-world use cases.
As for the company's plans for the future, it intends to build a world-class crypto exchange and additional blockchain-based products. All of this would help accelerate the world's transition to digital currencies.
What is TMC?
The important thing to note about TMC is that it is a limited supply utility token at the center of MindAI's ecosystem. It will have a number of different use cases, including offering fee discounts within the project's crypto exchange, and it will be used in payments for goods and services. It will also deliver AI-trained models fees discount and other fees in the ecosystem.
The token comes with 240 million units minted during the token generation event, while its max supply is capped at 300 million. 50% of the supply (150 million) will be offered in the presale, while 15% (45 million) is intended to be used for R&D and the academy foundation. Another 5% (15 million) will be locked in the exchange's liquidity pools for initial listings, and the remaining 30% (90 million) is reserved for the team's foundation.
Details about the TMC presale
The TMC presale will greatly help raise funds that would help MindAI achieve its vision. However, it will also help the value of the token remain stable in the market. Lastly, it would provide investors with early access to goods and services while also ensuring that a world-class crypto exchange will be built.
All of this would serve as the basis for expanding the ecosystem further and putting together AI and blockchain technologies.
The presale itself will have 8 stages, and it will end six weeks from the moment it starts. The project has set a minimum cap for buying TMC at $50. As for the token's price, it will change from stage to stage. The presale will look like this:
Stage 1: $0.15 – 40 M
Stage 2: $0.155 – 20 M
Stage 3: $0.16 – 15 M
Stage 4: $0165 – 15 M
Stage 5: $0.17 – 15 M
Stage 6: $0.18 – 15 M
Stage 7: $0.19 – 15 M
Stage 8: $0.20 – 15 M
MindAI is also set to request the regulatory approval license in Italy as soon as the presale starts. It has also registered as an innovative startup in Italy's special section of the Businesses Register (Registro Imprese). This means it is committed to using up to 15% of free cash flows in R&D to innovate constantly in the first five years of operation.
How to participate in the TMC presale and buy the tokens?
If you decide to participate in MindAI's token presale, there will be two methods of purchasing the tokens. One is with USDT, and the other one is with ETH.
In order to purchase the tokens from your desktop, you will first need to install Metamask for your browser or another wallet, depending on your preference. In this example, we will use Metamask.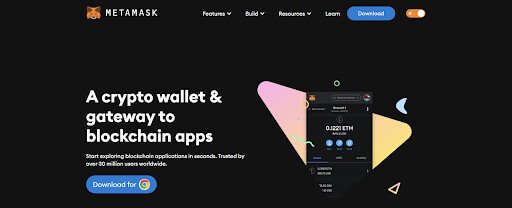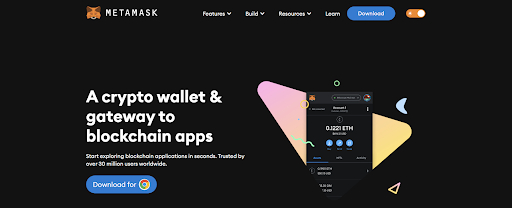 After setting up your wallet, fund it with ETH or USDT, and then connect it to the dApp by choosing a provider.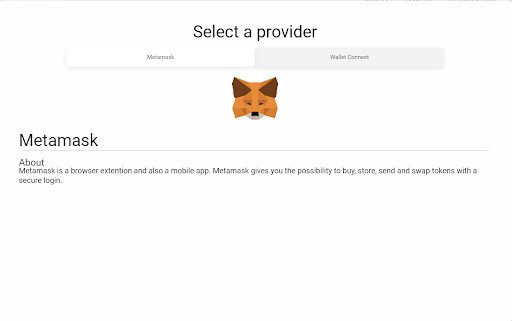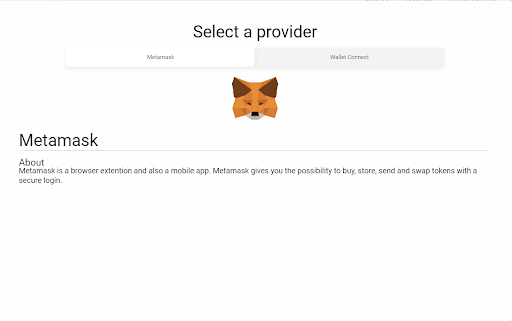 Once that is done and everything is connected, you will see several details, including the connected wallet address, the quantity you purchased, and the buttons to buy with ETH or USDT.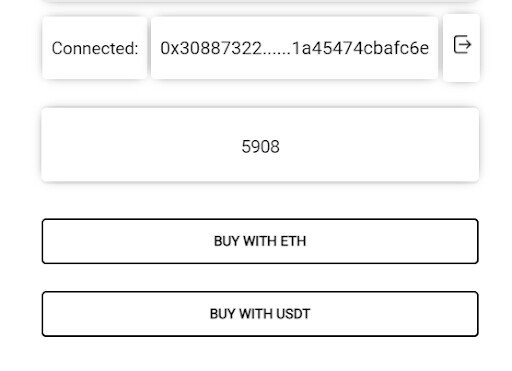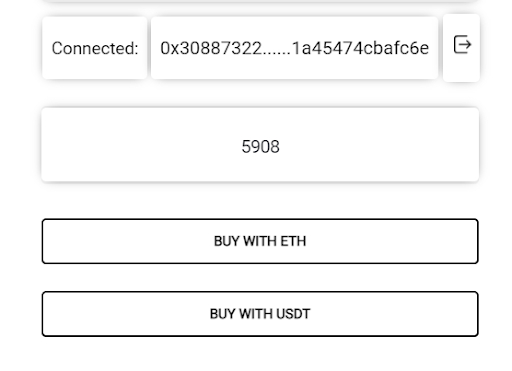 Select the preferred option, enter the amount you wish to purchase, and click Convert. After that, you only need to wait for the transaction to be confirmed. After the confirmation, click Continue and you will return to the Buy section. Alternatively, you can just close the modal to see the amount you purchased.
If you choose to buy with USDT, ensure you have enough money to avoid transaction errors. You will need to confirm two times the transaction, the first time for the allowance and the second time for the actual transaction to buy the tokens.
Alternatively, if you wish to purchase tokens from your mobile device, you will also have to select your favorite wallet and deposit ETH or USDT. Using the Wallet Built-in browser when interacting via mobile devices is recommended, as it will deliver a better experience and connect the wallet with Walletconnect.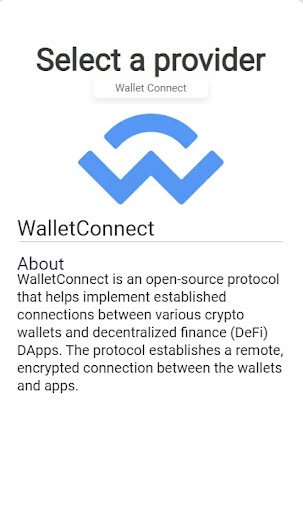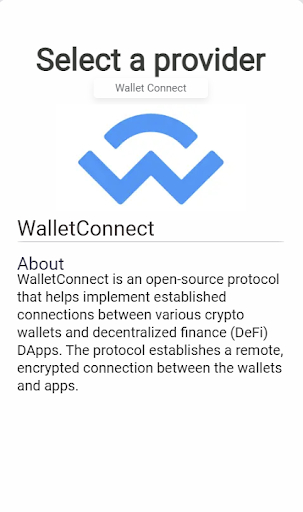 After establishing a connection, you will see the same details as desktop users — the wallet address, the quantity, and options to buy with ETH or USDT.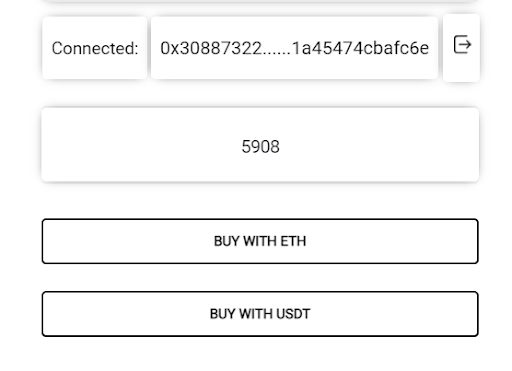 Select the preferred option, enter the quantity, tap Convert, and wait for the transaction to be confirmed. After that, simply click Continue to go back to the buying section or close the modal to see the amount you bought.
In the case of buying with USDT, you will need enough allowance when buying, as you will need two times the transaction — the first time for the allowance and the second time for buying TMC tokens.
MindAI has pointed out that the first version of its upcoming crypto exchange will come out at the end of Q2 or somewhere at the start of Q3, so it urged buyers to be patient. Also, the project will start further AI research a year after the launch.
For more information, follow the project on its social channels, including:
Website: https://officialmindai.com/
Linkedin: https://www.linkedin.com/company/officialmindai/
Instagram: https://www.instagram.com/officialmindai/
Twitter: https://twitter.com/officialmindai
Telegram: https://t.me/MindAIOfficial
---