Metropoly Ready To Make Passive Income a Dream Come True May 1st: Learn How
Disclaimer: The text below is a press release that is not part of Cryptonews.com editorial content.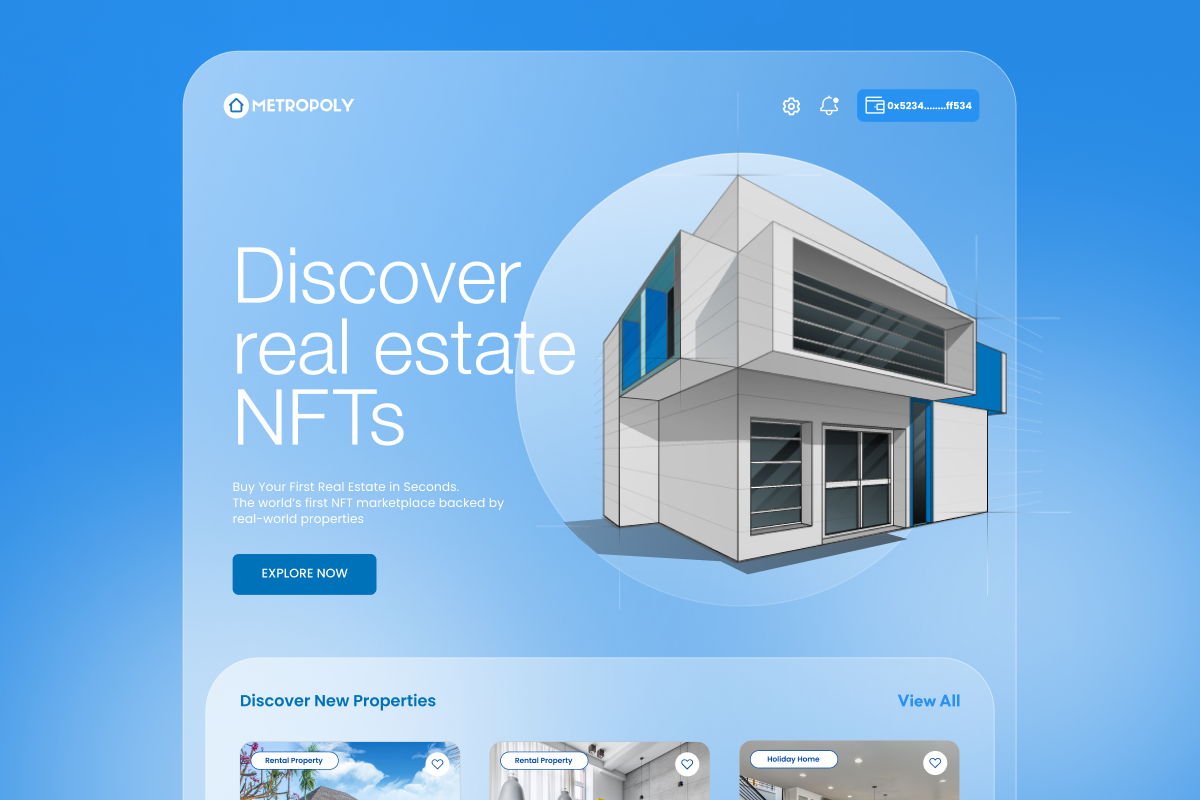 Metropoly is likely the only crypto-based project that has the capability to make passive income a dream come true through real estate investing. The project has created the world's first NFT marketplace filled with NFTs backed by real-world real estate properties.
Real estate has long been known to be one of the most stable asset classes in existence, with the world's wealthiest 1% of individuals using the asset as their primary source of wealth generation. Metropoly is making real estate investment accessible to the general public, and with that comes passive income that is generated through the rental yield at each property.
Metropoly Ready To Launch Platform May 1st
The Metropoly Marketplace is ready to launch its platform on May 1st, 2023. Once released, investors can come to the marketplace to purchase NFTs backed by real-world real estate in a matter of seconds.
With just a few clicks, users on Metropoly are able to diversify their portfolio away from cryptocurrency and into the world's most stable asset class. The platform is on a mission to change the way that real estate investment is conducted by integrating modern technology into the sector. Currently, over 90% of real estate investment deals are closed offline, most of which take over three months to finalize. With Metropoly, an agreement can be completed in seconds.
Making Real Estate Investment Accessible in the Face of Rising Interest Rates
In addition, Metropoly is also making real estate investment accessible to everybody, despite the rising interest rates across the globe. With interest rates climbing over the past year, it's becoming increasingly more expensive for investors to take a mortgage to purchase real estate.
The great thing about Metropoly is that there's no need to take a mortgage to invest in real estate because you can get started with as little as $100. This is made possible through blockchain technology which provides a verifiable method for fractional ownership. All properties in the Metropoly portfolio are dissected into small portions, which are then tokenized as NFTs sold for $100. Therefore, investors can purchase part of a property and instantly get started with their real estate journeys on Metropoly.
Despite being tokenized, all NFT holders are entitled to the same benefits they would receive if they invested in real estate through traditional methods. Capital appreciation on a property's value is one of the main sources of wealth for real estate investors, and NFT holders are entitled to take advantage of this by selling their NFTs at any time on the Metropoly Marketplace.
Making Passive Income a Reality
In addition to being able to take advantage of capital gains, all NFT holders are entitled to a passive income through their ownership of the NFT. The income is generated by one of the most stable forms of cash flow in finance through rental yield.
Each month, renters at the property pay their rent, and the NFT holder's share is proportionally distributed to their wallets in the form of stablecoins. The income is completely passive because the Metropoly team handles all of the property's maintenance and ensures a tenant is present to pay rent. They even have mechanisms to ensure there is income for NFT holders when the property is empty.
As a result, NFT holders simply have to purchase the NFT and hold it in their wallets to receive a reliable passive income source. The difference between this income source and other "passive crypto incomes" is that the rental yield won't dry up when crypto prices drop - making it the most stable passive income in crypto.
High METRO Token Demand With Presale Raised More Than $1 Million.
The presale for the native token behind the Metropoly platform, METRO, was incredibly successful - showing the high demand for the need for real estate investment in the crypto space. In total, the presale managed to raise well over $1 million in fundraising as thousands of investors joined the presale to get a piece of METRO.
The token will be the platform's main transaction and rewards token, providing it with valuable utility.
Overall, Metropoly is ready to change the dynamics behind crypto by letting users diversify their portfolios in a matter of seconds with as little as $100 to start their property portfolios.
---