Metropoly is Helping Crypto Addicts Diversify Away from Risky Assets: Learn How
Disclaimer: The text below is a press release that is not part of Cryptonews.com editorial content.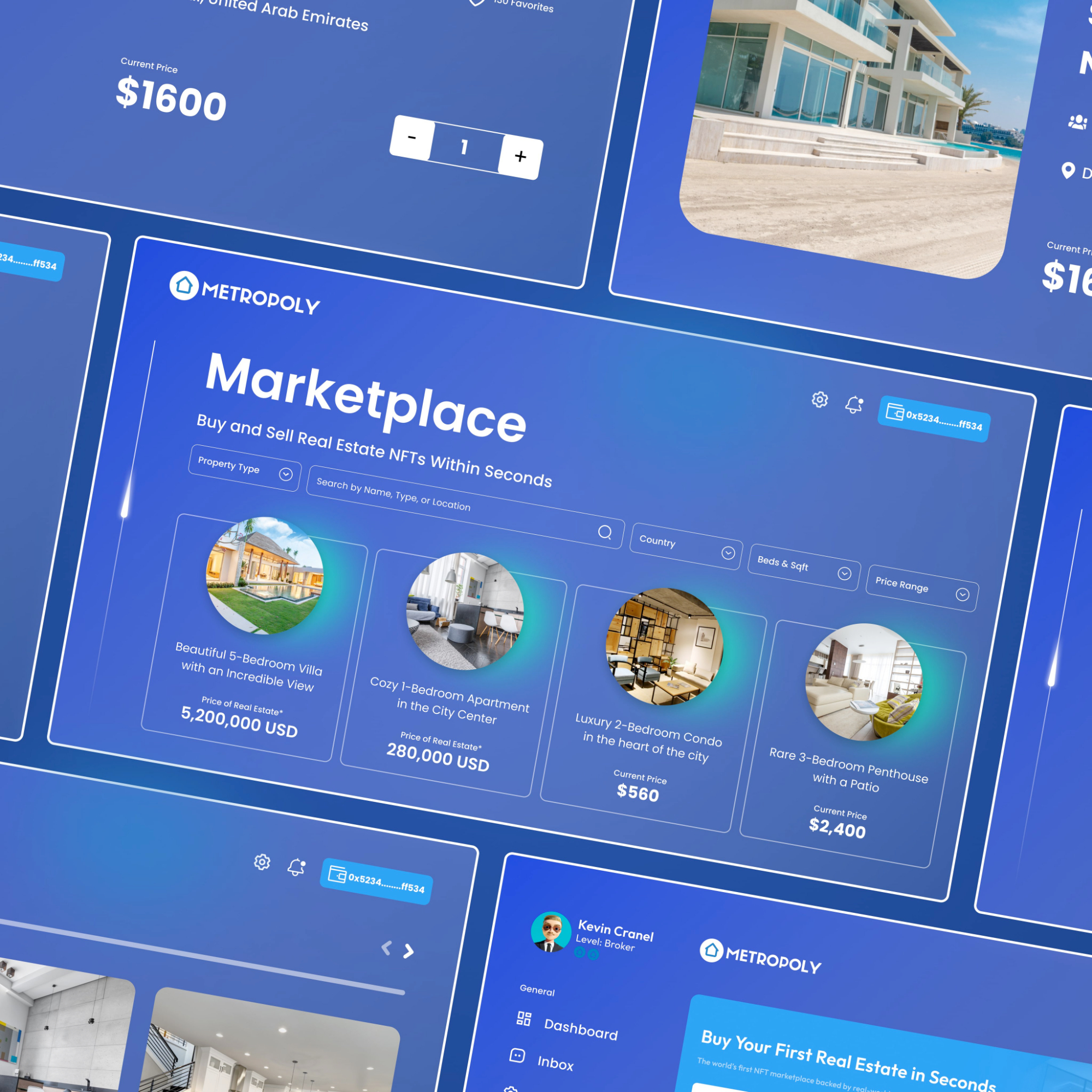 With crypto volatility rising in the crypto markets, holding crypto is becoming ever-increasingly risky. Sure, the volatility could make you 30% gains in one day, but it can also lead to an equally significant loss the very next day. As a result, crypto addicts across the board are looking for ways to diversify their holdings away from crypto.
Fortunately, one project is currently undergoing fundraising that can do just that. Metropoly, the world's first NFT marketplace backed by real-world assets, allows crypto heads to diversify some of their profits away from crypto into real-world income-generating assets through real estate.
The presale for the native token, METRO, is currently flying after raising half a million dollars after investors pile in.
Metropoly: Helping Crypto Addicts Diversify into Income-Generating Assets
All of the NFTs on the Metropoly marketplace are backed by real-world properties that can generate a truly passive income. The entire idea behind the marketplace is to create a platform that allows users to start investing in real estate in a matter of seconds.
By integrating modern blockchain technology into the age-old real estate market, Metropoly is changing the way that real estate investment is heading in the future. According to the whitepaper, around 90% of the world's real estate purchases are conducted offline, with an average lead time of around three months. Metropoly is seeking to change this dynamic by bringing real estate investment on-chain, which can be completed in just a few seconds.
The mission of Metropoly is to democratize real estate and open up the investment class to a broader audience. Typically, real estate investment has been restricted to wealthy individuals with great credit histories and deep pockets for down payments.
Through Metropoly, everyday investors can get started with building their real estate portfolios with as little as $100. Furthermore, there is no need to go through banks, fill out endless paperwork, or undergo credit checks with real estate investment on Metropoly. In addition, there are no geographical restrictions - so anybody can purchase real estate from any country.
Overall, Metropoly has now provided an avenue for crypto addicts to diversify their portfolio away from crypto through NFTs. The real estate market is one of the best methods to diversify a crypto portfolio and protect unused capital from inflation. In fact, the wealthiest 1% of individuals in the world state their fortunes were generated through the property market as the asset class provides the most sustainable yields and consistent returns. With Metropoly, crypto addicts simply have to use some of their tokens to purchase a real estate-backed NFT, and they've instantly diversified away from crypto.
Metropoly NFTs Generate a Genuine Passive Income
The best thing about purchasing real estate through the Metropoly marketplace is that they're truly passive income cash flow generators. Furthermore, investors can get started with just as little as $100, which is made possible through the magic of fractionalization.
Fractionalization is the process of breaking down an asset into little pieces and distributing each piece individually. For example, all the properties on the Metropoly marketplace are broken down and then tokenized in the form of NFTs, which can be bought for as little as $100.
Holding one of the real-estate-backed NFTs provides the holder with everything you would expect when investing in real estate. For example, all NFT holders are able to sell their NFTs at any time to take advantage of any capital appreciation in the property. Metropoly takes the process one step further by removing illiquidity and allowing NFT holders to instantly sell their NFTs for 70% of the market value. Alternatively, NFT holders can auction off their assets and receive the highest bid.
However, the best advantage of owning one of the Metropoly NFTs is that they generate a genuinely passive income, something that the majority of crypto projects can never offer. Passive income assets are in high demand, and real estate has a long track record of being a cash flow generator through rental income.
The NFTs on the Metropoly marketplace is genuinely passive income streams because the Metropoly team handles all of the property maintenance. The team also ensures a tenant pays rent every month, meaning an investor just has to buy the NFT to start earning. The rental yield is distributed proportionally among NFT holders of the property and is delivered in USDC tokens.
Metropoly Presale Flies Past $500,000 Milestone
Metropoly is currently hosting a presale that is flying off the shelf after crossing the $500,000 milestone in mid-February. The presale is selling the native token, METRO, which will be the utility token that powers the entire Metropoly ecosystem and will be used as a payment and reward method on the platform.
The presale is currently in the ninth stage and is selling each METRO token for a price of $0.0625. The minimum investment amount is currently set at $100, and investors can purchase METRO using USDT, ETH, or BNB.
Once the presale hits the $1 million milestone, the next stage will begin, and the price for METRO will increase. Therefore, those that purchase in the earlier stages of the presale will already have profits to bank once the presale ends and the token hits tier-1 exchanges. The team has already stated that they expect to list the token on tier-1 exchanges at a price of $0.1. Furthermore, presale investors are automatically enrolled in the Platinum Member's Club, providing several advantages, including access to the Metropoly Beta Marketplace, an exclusive NFT, and cashback on Metropoly Marketplace real-estate NFT purchases.
Overall, Metropoly is well positioned to help crypto addicts secure their future finances by letting them divest away from crypto and into secure real estate properties.
---