Metaverse Leaders Sandbox (SAND) and Decentraland (MANA) Surge as HedgeUp (HDUP) Skyrocket Out of Space
Disclaimer: The text below is an advertorial article that is not part of Cryptonews.com editorial content.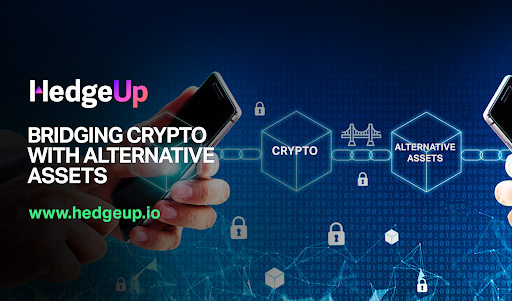 The metaverse refers to the future internet era, where users use avatars to interact in shared 3D spaces. It is expected to be a more immersive experience encompassing all kinds of online interactions, including communication, games, and even work.
Early this year, Decentraland's MANA token and The Sandbox's SAND token hit all-time highs, continuing their recent surges.
Decentraland and The Sandbox are Ethereum-based virtual world games where players can purchase and customize land plots in a shared, perpetual online world.
MANA and SAND are not the only crypto assets up over the last 24 hours. HedgeUp, an alternative investment NFT marketplace, is skyrocketing and looking to dominate the crypto space with its alternative investment option in 2023.
Let us look at these three projects as many industry experts consider them future leaders in the crypto space.
HedgeUp (HDUP)
HedgeUp is the first alternative crypto investment. HDUP enables users to invest fractionally into alternative investment assets worldwide.
HedgeUp has allowed many investors more access to alternative investments, closing the gap between the crypto market and old-school wealth investments.
HedgeUp (HDUP) is driven by simplicity. The platform allows crypto investors to invest in alternative products such as diamonds, wine, fine art, luxury watches, whiskey, gold, aviation, and more, giving anyone and everyone access to the multi-billion-dollar alternative investment sector.
Many crypto experts believe that HedgeUp has what it takes to become the next big thing in the crypto space.
The platform's native token, HDUP, offers holders many benefits. Investors and users can stake as low as $1 in HDUP tokens to access the alternative investment marketplace. Do you want to be part owner of a private jet or fine art? Now you can with HedgeUp.
The firm also allows users to enjoy many other features, including a HedgeUp platinum card, exclusive access to equity NFT releases, bonuses and staking rewards, and online master classes.
HedgeUp (HDUP), given its increasing popularity and real-world utilities, has the potential to become a top-rated token in 2023 and beyond.
The token presale is now live, allowing investors to be part of a project many crypto experts believe will become the next big thing in the crypto space.
Sandbox (SAND)
Sandbox is a Metaverse and virtual project that allows users to create, buy, sell, and monetize assets within the in-game world.
Sandbox is not just one game but a collection of user-generated content and games. Sandbox allows users to create their games and in-game assets.
What separates Sandbox from many other companies is that Sandbox provides creators full ownership and monetization of their creations.
Sandbox is built on the Ethereum blockchain and has native tokens and virtual land. Sandbox's native token, SAND, is an ERC-20 token used for transactions within the Sandbox marketplace and DAO governance.
Also, the token can be used to buy Sandbox land, which is primarily used to host games. Although users can create games, they must purchase land to publish a game for public usage.
Decentraland (MANA)
Decentraland offers a virtual world where users can buy, sell, and interact with virtual goods, digital real estate, and virtual services.
Decentraland can be described as a virtual representation of the real world, with 3D avatars of people, virtual buildings, peer-to-peer communication, virtual services, and "real" ownership of assets.
One of the most critical features of Decentraland, and the inspiration behind its name, is its decentralized nature.
Rather than having its management and operations controlled by the company, Decentraland is controlled by a decentralized autonomous organization (DAO). This allows only the users to govern and own the project collectively.
Decentraland is built on the Ethereum (ETH) blockchain and has two native tokens (MANA and LAND). These tokens not only serve in-universe functions but are also a requirement for those who want to make decisions through the DAO.
For more information on HedgeUP click the links below:
Presale Sign Up: https://app.hedgeup.io/sign-up
Official Website: https://hedgeup.io
Community Links: https://linktr.ee/hedgeupofficial
---