Meme Coin with a Mission: How NuggetRush (NUGX) is Turning Internet Culture into Real-World Impact
Disclosure: Crypto is a high-risk asset class. This article is provided for informational purposes and does not constitute investment advice. By using this website, you agree to our terms and conditions. We may utilise affiliate links within our content, and receive commission.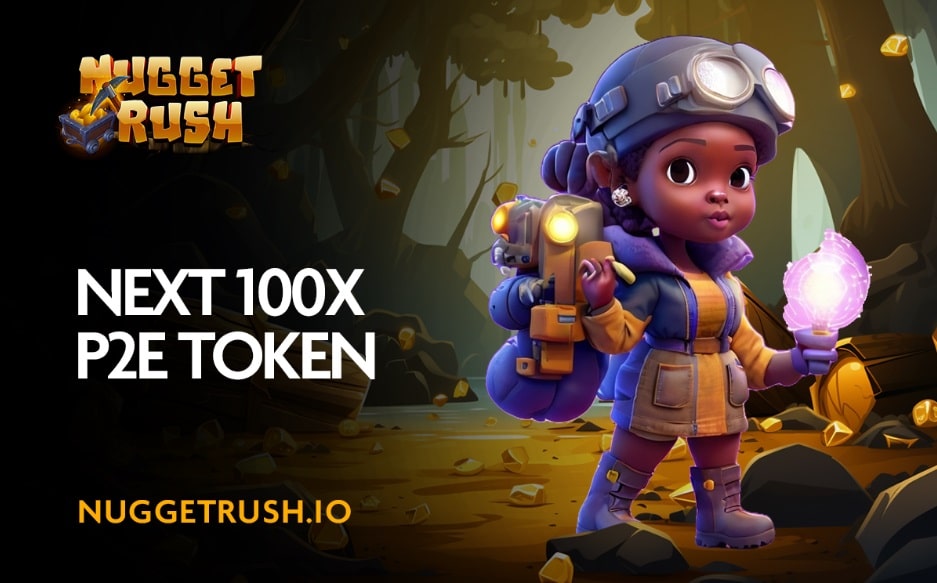 TLDR
NuggetRush is a cryptocurrency that combines gaming and supporting artisanal miners in underdeveloped areas.
The platform enables players to earn while playing, assisted by its unique ecosystem.
NUGX's target upon launch is $0.020, representing a substantial 100% increase from its current price.
NuggetRush (NUGX) is a community-driven blockchain play-to-earn (P2E) game committed to nurturing a massive community of gamers and NFT fanatics. Unlike the usual meme coins and P2E games, NuggetRush offers tangible benefits, particularly to underprivileged nations. The project features a vibrant marketplace and gameplay that lets investors generate passive income.
We've touched the basics, but let's unveil what it's all about.
A New Era of GameFi for Investors

Meme coins have evolved to deliver real-world benefits by leveraging advanced technology in their operations. On that note, NuggetRush (NUGX) represents one of the newest entrants in this rapidly evolving market, helping turn internet culture into real-world impact.
Notably, NUGX is designed on the Ethereum (ETH) blockchain, guaranteeing global transparency, security, and diverse possibilities for players.
On that note, NuggetRush is a venture where the appealing features of meme coins, gaming mechanics, and blockchain technology converge. This combination transforms this token into more than just a game; it becomes a treasured experience. Hence, it is a good crypto to buy now.
Powerful Gameplay Features

NuggetRush is a cryptocurrency that offers a comprehensive gaming experience, rewards players, and supports artisanal miners in underdeveloped economies. Its commitment to fostering an empowered community attracts significant interest in the market.
This project enables players to engage in an exciting game while boosting their earnings. Interestingly, NUGX's unique ecosystem has attracted the interest of certain traders.
This community-owned blockchain play-to-earn project is a fusion of gaming and finance, offering a unique combination of features. The platform integrates elements of gold mining, cryptocurrencies, and advanced gaming within its multifaceted ecosystem.
NuggetRush's gameplay empowers users to oversee and direct their mining operations. Players get a modest land plot and vital tools such as geophysical surveys, soil sampling, and traditional prospecting techniques.
Gamers utilize this equipment to look for virtual landscapes with high mineral potential. In such promising locations, players can operate machinery, create tunnels, and do excavations.
Gaming Mechanics

This platform's gaming mechanics boost collaborations since gamers can partner with other players and join guilds to increase their earnings. In that context, NuggetRush's GameFi integration makes it easy to change in-game rewards into real-world assets.
NUGX token holders earn rewards through different methods, including quests, ranked play, battles, tournaments, and additional avenues. NuggetRush (NUGX) has a community-building strategy that is both potentially lucrative and self-sustaining. It collaborates with gold merchants capable of directly delivering RUGM rewards to miners' designated locations.
Another notable feature of NuggetRush (NUGX) is that the characters in the game are non-fungible tokens (NFTs). This platform's characters are unique and exciting, each designed with diverse strengths and weaknesses.
Away from the game, these characters are acknowledged as NFTs due to their appealing visuals and rarity. Thus, they are the most popular NFTs in the current market. Furthermore, players can buy and trade their NFTs on NuggetRush's marketplace alongside other distinct items and mined minerals.
NUGX Price Analysis

The project takes great pride in its intricately crafted tokenomics model, providing a total token supply of 500 million tokens.
So far, NUGX has successfully sold over 14.3 million tokens in Stage 1 of its presale at $0.010 per token. This accomplishment and NUGX's well-planned roadmap and utility position its blockchain ICO as a leading investment option in the play-to-earn gaming sector. NUGX aims for a token price of $0.020 upon its launch, marking a 100% increase from its current presale price.
Visit NuggetRush Presale Website
---