Meme Coin Value: DigiToads Hacken Audit Is Why Investors and Enthusiasts Are Pouring Millions Buying TOADS
Disclaimer: The text below is a press release that is not part of Cryptonews.com editorial content.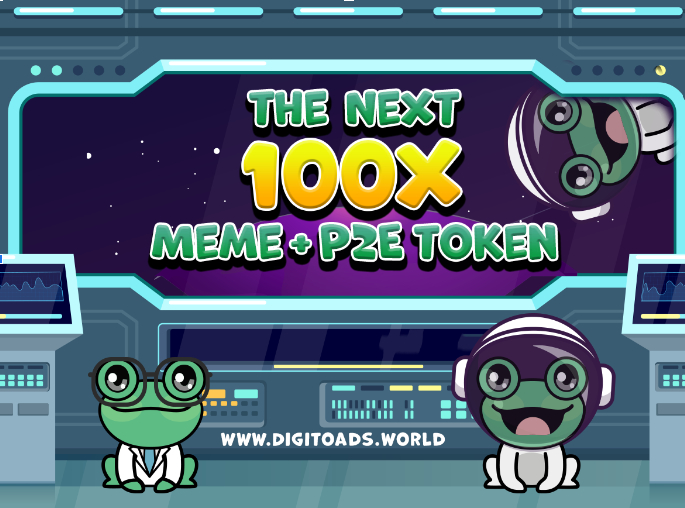 Memecoins are known to be one of the ultimate ways to make it in the crypto space.
By investing early, investors further increase their chances of profit, making their investment even more compelling.
Meanwhile, DigiToads offers investors a unique chance at earning significant profits by being a meme coin with immense potential and also an emerging token in the presale stage.
Consequently, this has contributed to the intense participation in its presale, with its Hacken audit further contributing to the millions of TOADS tokens sold.
In this article, we will divulge the various factors that have contributed to the increasing participation in DigiToads' presale and why it is poised to skyrocket. Sit tight.
DigiToads: Why it Has Been Experiencing an Influx of Investors
DigiToads (TOADS) is a meme token that also combines the utility of other play-to-earn and NFT cryptocurrencies.
As a meme token, DigiToads promises significant growth as it rides on the bullish wave of meme coins.
As a utility coin that covers NFT and P2E, it is imbued with important use cases that will ensure it stays in demand and helps maintain bullish momentum.
DigiToads' ecosystem comprises NFT and P2E, which makes it even more competitive within the crypto space.
As an NFT ecosystem, DigiToads will allow users to mint its limited NFTs, which feature 3,500 unique NFTs.
NFTs can be staked on the platform to assist with the growth and security of the ecosystem in exchange for rewards from the staking pool.
Furthermore, as a P2E ecosystem, DigiToads hosts a thrilling Web3 game that allows players to collect, nurture, and battle DigiToads.
By playing its exciting Web3 game, players will earn rewards that will serve as a source of residual income for gamers.
Players will be rewarded with the funds made from in-game purchases, which will be given after the end of each DigiToads season.
As a utility token, DigiToads will power the ecosystem. It will be used for in-game purchases and minting NFTs on the platform.
This has also contributed to investors and enthusiasts purchasing millions of TOADS tokens, as it is not only a meme coin but a utility token with tangible use cases.
Furthermore, as a deflationary token, the value of DigiToads is poised to soar as its supply reduces over time, making it a valuable coin.
Other perks that come with DigiToads, besides staking rewards and earning from gaming, include voting rights.
As a high-growth coin, DigiToads is poised to soar, with analysts predicting it will reach $1 in the coming months.
Lastly, and more importantly, Hacken audited the smart contract and deemed it safe. This is the cherry on top and has contributed immensely to the participation in its presale.
This is evident in the millions being poured into the presale by investors and enthusiasts alike. The presale is currently at its cheapest price, which costs just $0.047 at the time of writing.
With DigiToads on the cusp of adoption and skyrocketing, you can purchase the presale by clicking on the link below.
Final Thoughts
DigiToads has solidified its stance as one of the strongest tokens to come out of the meme coin ecosystem.
With its additional utility that covers NFT and P2E and its Hacken audit, DigiToads has been experiencing an influx of investors and enthusiasts, which has contributed to millions of tokens being sold.
Prospective investors still have a great chance of investing in the presale, as it is still ongoing. To participate, simply click on the link below.
---