MATIC Price Up 175% in a Month; Other Binance IEOs Also Rallied
MATIC, the token of blockchain scalability network, Matic Network, is up by more than 170% in the past month. However, a similar trend can be noticed in certain other Binance exchange's IEOs (initial exchange offerings). Meanwhile, Matic has been quite busy with recent developments, events and partnerships.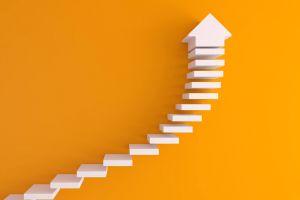 At pixel time (10:30 UTC), Matic, ranked 54th by market capitalization, trades at c. USD 0.041 and is almost unchanged in the past 24 hours. It's up by 55% in a week and by 175% in a month. It was trading sideways most of November, rallying on November 22. It went from USD 0.0137 to its highest price in the last quarter of USD 0.0427 on December 8.
MATIC price chart: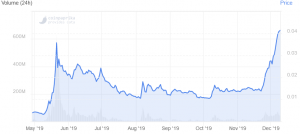 However, when we look into some other IEOs, we see that Fetch.AI (FET), after dropping on November 16, started climbing on November 22, then rallied on November 25. It had larger fluctuations than Matic though, and in total it appreciated 60% in a month. Elrond (ERD) went up 28% in the last seven days, and 33% in the last month, seeing a smaller rise on November 22 and a larger one on November 25.
The price of Harmony (ONE) appreciated 38% in a week and 31% in a month. Though it did rise around November 24, its rally happened in the last few days. Celer Network (CELR) too went up 5.6% in a week, but 28% in a month, also starting to rise on November 22. On the other hand, Band Protocol (BAND), though appreciating 17%, dropped 10% in a month.
Meanwhile, Matic seems to be hard at work itself. In the past month, besides the activity that can be noticed on GitHub, Matic launched Counter Stake — an incentivized public validator network to test the staking process, with a 3 million-Matic token reward pool. A few days before that, on November 21, the platform congratulated BetProtocol, a blockchain gaming startup that uses Matic Network as their scalability solution, for a successful private token sale and USD 3 million raised.
In mid-November, Battle Racers, an arcade-style racing game housed in Decentralised Metaverse, announced that it'll be switching to a sidechain built by Matic Network so to use Matic's Layer 2 scaling solution, with early access going live on November 25 and the season 1 sale a week later. Additionally, the exclusive CryptoKitties event is planned for December 11.
Additionally, Chain Guardians game, building on Matic Network, held a limited sale event on Matic. The platform also teamed up with Blockade Games on November 25, joining their Blockchain Game Developer Platform as a recommended blockchain partner available at launch for game developers in early 2020, alongside Ethereum and Loom Network. A day later, TROY, the global prime broker specialized in crypto trading and asset management, announced a strategic partnership with Matic, aiming to improve scalability and user experience.
More partners have been announced soon after: on November 20 it was Zawadi, a mobile ticket delivery platform enabling ticket holders to store their tokenized tickets on the blockchain; on November 22, a collaboration with Debit Card by Monolith, a decentralized banking alternative powered by Ethereum, which allows users to spend Matic worldwide; on December 2, fantasy sports game TradeStars where users can own, create and trade NFTs (non-fungible tokens) which represent real-life sports personalities; and on December 6, they partnered with MintFlint, a platform which allows users to subscribe to traders and get notified when they buy/sell coins.
Meanwhile, in the last 30 days, MATIC futures have been listed on India's derivatives exchange, Delta Exchange, allowing users to trade MATIC futures with up to 20x leverage through MATIC/BTC pair, the platform said; the token got listed on WhiteBit6, enabling the trade of MATIC tokens against MATIC/BTC, MATIC/USD and MATIC/USDT pairs; and it was listed on Pionex where users can trade MATIC with MATIC/ETH, MATIC/BNB and MATIC/USDT pairs.
Additionally, among a number of other events, the platform's team joined ETHWaterloo Hackathon, offering bounty challenges with prizes totalling USD 4,000 for hackers who place in the top 3, they said, while they also attended the Binance Super Meetup in Singapore, as well as India's largest community hackathon, the InOut 6.0, as prominent supporters.
---