Crypto Market Sentiment: Slow Recovery Underway
Disclosure: Crypto is a high-risk asset class. This article is provided for informational purposes and does not constitute investment advice. By using this website, you agree to our terms and conditions. We may utilise affiliate links within our content, and receive commission.
The cryptocurrency market sentiment starts yet another week below the half-way mark, with a 4.84 average for the top 10 coins by market capitalization, according to Omenics (previously – Predicoin,) a crypto market sentiment analysis service. This is slightly higher than last week's 4.71, which was the lowest point for the market in months.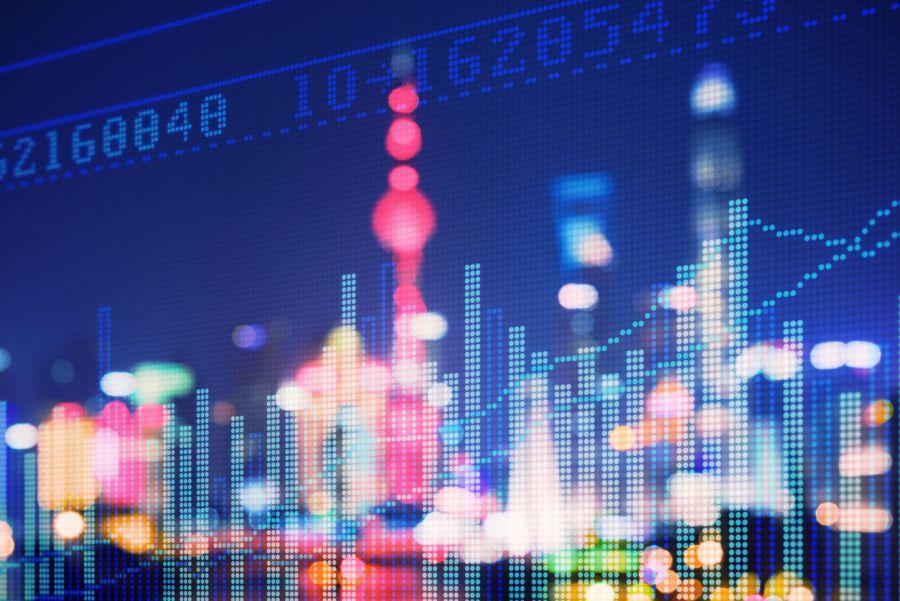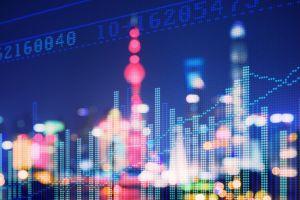 Bitcoin is again at the top of the scale in the top 10, having bounced back to its score of 6.6 from two weeks ago, after a brief stint at 6.1 last week – just past the border of the somewhat positive zone. Not a single other coin is even close to this zone and only three sit firmly in the middle of the neutral zone at 5: Ethereum, Litecoin, and EOS.
The silver lining of the situation is that none of the top 10 coins are in the somewhat negative zone either, even though they are all between 4 and 5. The absolute lowest score belongs to Tether at 4.1, as the coin is still struggling after its recent legal drama. Stellar and Cardano are not too far off with 4.2 each, while the rest are faring slightly better: XRP stands at 4.6, while Bitcoin Cash and Binance Coin are both eyeing the better half of the neutral zone with 4.8 and 4.9 respectively.
Sentiment change among the top 10 coins*:
Interpreting the SentScore's scale:
– 0 to 2.5: very negative
– 2 to 4: somewhat negative zone
– 4 to 6: Neutral zone
– 6 to 7.5: somewhat positive zone
– 7.5 to 10: very positive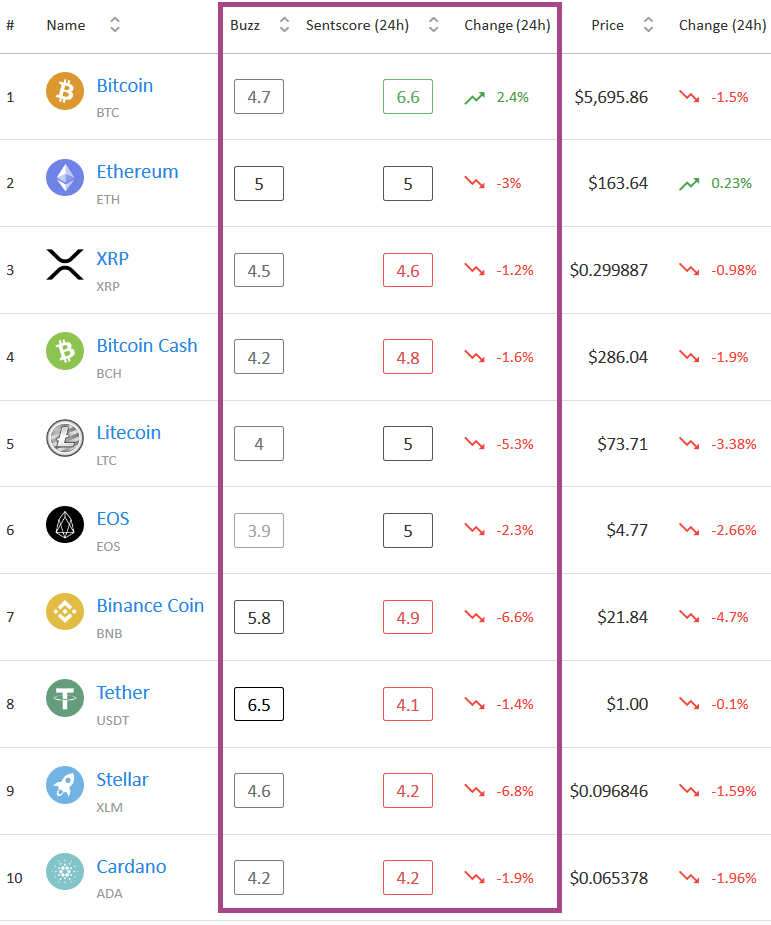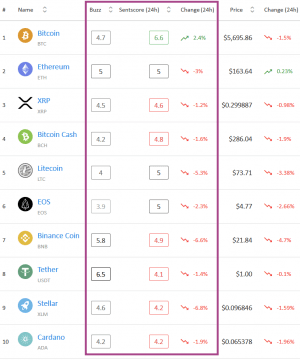 As for weekly changes, the market is quite evenly divided, with five coins having improved their score, while the other five saw theirs drop. The biggest improvement belongs to XRP with 9%, followed by Stellar at 8.4% and EOS at 7.1%. XRP owes most of its success to news with a score of 6.8, while it's dragged down by technicalities which scored 2.6. Stellar and EOS follow a similar pattern: news at 6.7 and 6.8, respectively, are their highest scores, while technicals stand at the lowest with 2.5 and 2.8 each. Other "winners" are Bitcoin with 4.4% and Tether with 5.3%.
Bitcoin SentScore: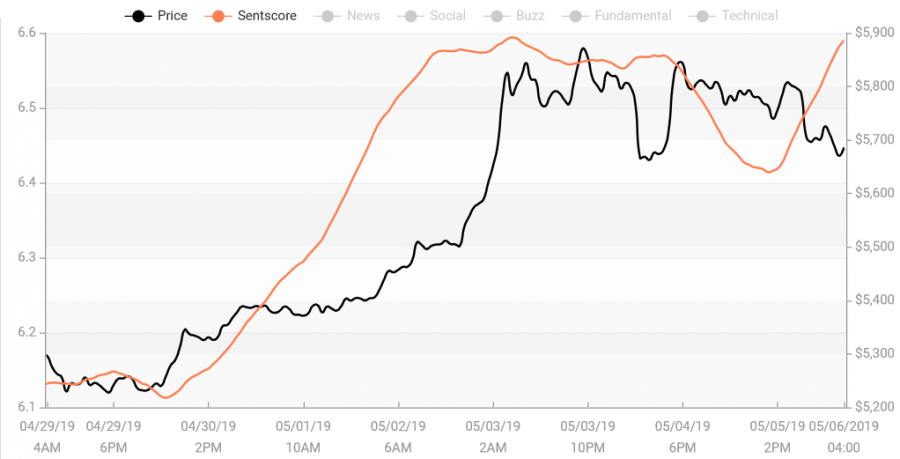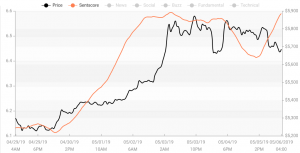 On the losing list, however, the top spot belongs to Binance Coin, which lost 4.1% of its score, and it's followed by Bitcoin Cash and Ethereum, both of which dropped by 3%. Binance Coin's most lacking category is fundamentals, at 3.7, while buzz and technical both stand at 6 and improve its overall score. Bitcoin Cash's fundamentals are also the lowest of all its scores at 3.2, while news at 6.3 are what's dragging it upwards, and Ethereum's technical side is at an incredibly low 2.2, while they too can thank news at 7.2 for not scoring even lower. The other "losers" of the week are Cardano with 1.9% and Litecoin with 1.5% drops.
___
* – Methodology:
Omenics measures the market sentiment by calculating the SentScore, which aggregates the sentiment from news, social media, technical analysis, viral trends, and coin fundamentals based upon their proprietary algorithms.
As their website explains, "Omenics aggregates trending news articles and viral social media posts into an all-in-one data platform, where you can also analyze content sentiment," later adding, "Omenics combines the 2 sentiment indicators from news and social media with 3 additional verticals for technical analysis, coin fundamentals, and buzz, resulting in the SentScore which reports a general outlook for each coin." For now, they are rating 30 cryptocurrencies.
___
Read more: How Useful Are Crypto Sentiment Indexes?
---